Brooklinen provided me with a set of their Classic Hardcore Sheet Bundle for free to review, but my opinions are always my own.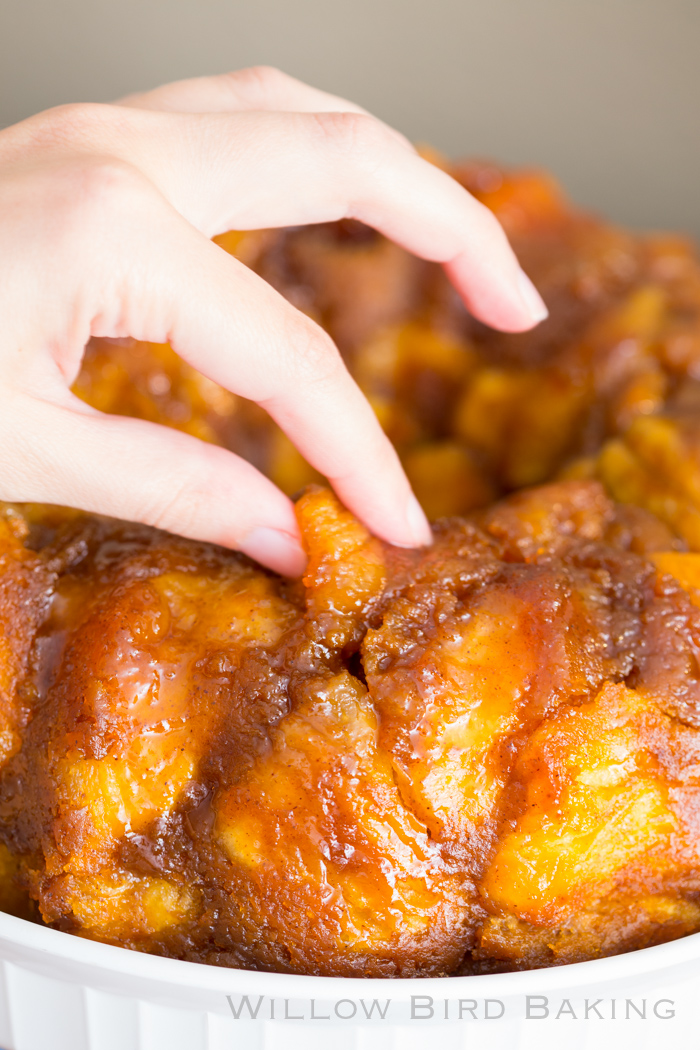 Pumpkin Pie Monkey Bread
Four years ago, I had just moved into my new apartment in Cornelius, North Carolina, and made my first recipe in my new kitchen: German Chocolate Cheesecake. Today, I'm surrounded by boxes in varying states of unpackedness in my new apartment in San Diego (La Mesa, to be more specific), California, and I just made my first recipe in my new kitchen: Pumpkin Pie Monkey Bread! Most of my apartment is still in disarray, but I'm eager to share with you the ONE room I've finished, my bedroom. I'm super proud of how cute it turned out! I always love when people post tours of their newly decorated spaces, so I thought you might like to see mine.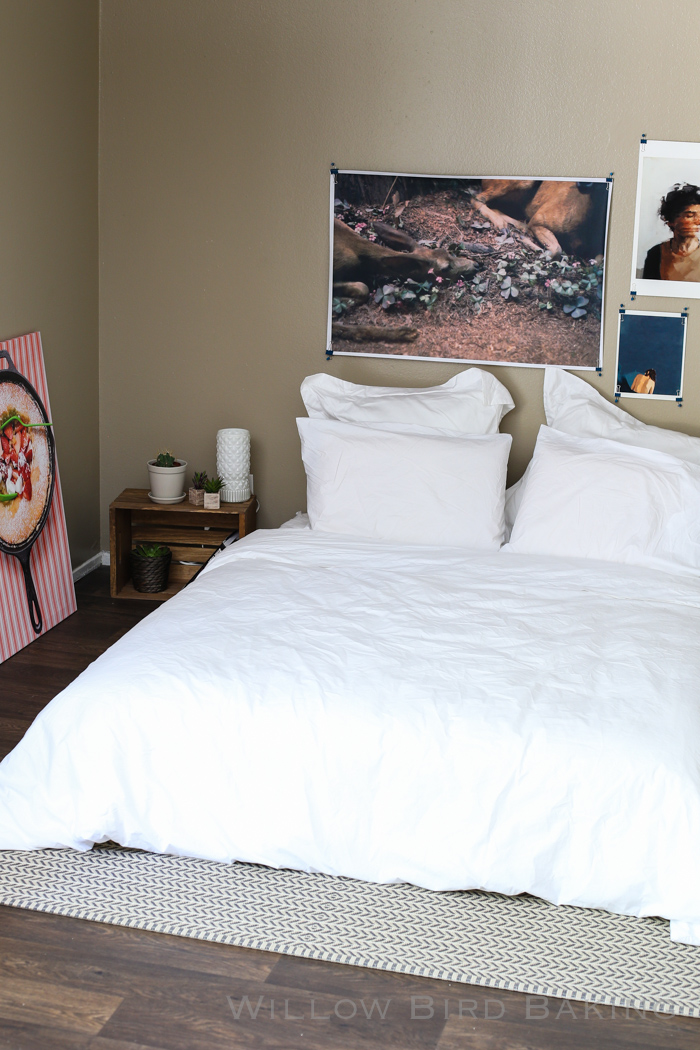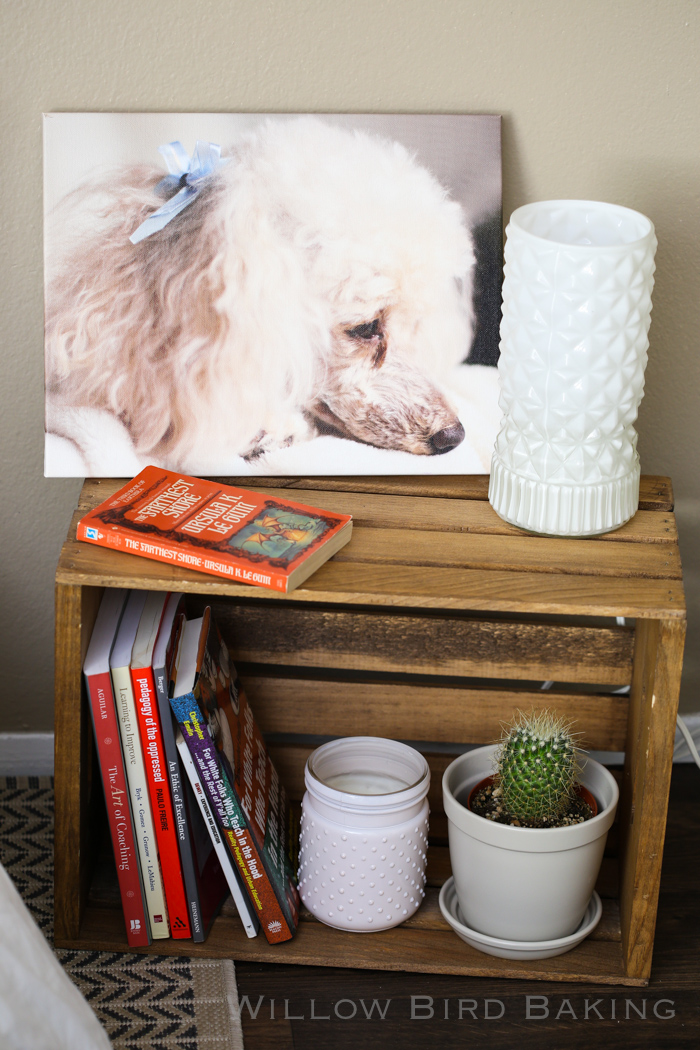 Classic Hardcore Sheet Set with Duvet cover from Brooklinen ($179.25); photo canvas print created by EasyCanvas (large $52, small $26); rug from Ikea ($80); art prints by Kai Samuels Davis ($30), Claire Elsaesser ($20), and Debbie Carlos ($60); lamp from Ikea (similar, $13); crates from Craigslist ($10 each); plants from Ikea; pink magnolia scented candle from Target ($13)
We wanted to go the floor bed route for several reasons. First, Byrd is getting older and seemed creaky climbing up and down the stairs to our large bed in North Carolina. Second, I can't get over how effortlessly cool floor beds look. Finally, beds cost money, something we have very little of right now. I'm so happy with our decision. It looks hip, took no effort whatsoever, and now Byrd can hop right on up.
Speaking of money, we're on a tight budget in California (everything's twice as expensive here, and there are taxes and fees and hidden costs around every corner). This meant we had to decorate on a budget. I prioritized a couple of places where we were willing to splurge: comfy bedding and beautiful art. Everything else had to be a deal.
My most surprising budget find was that Ikea rug! I had a fluffy white rug in mind for this space, but this was the cheapest big rug I could find — half as expensive as most of the others I came across. I was disappointed at first, but when I got it home, I realized how much I actually love it. It ties the space together so nicely. I'm so glad I didn't have enough money for the rug I thought I wanted.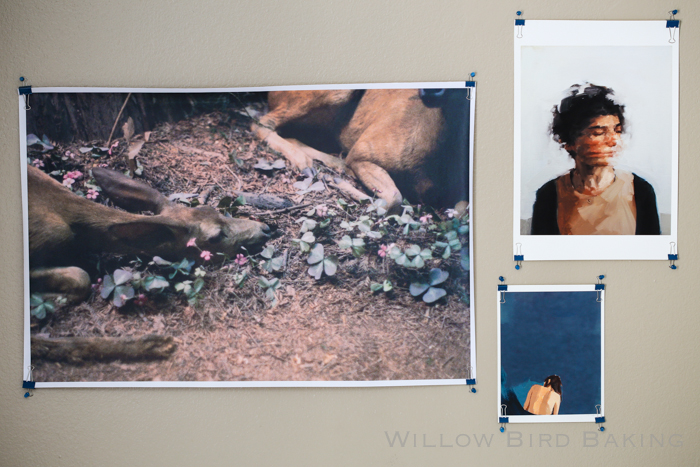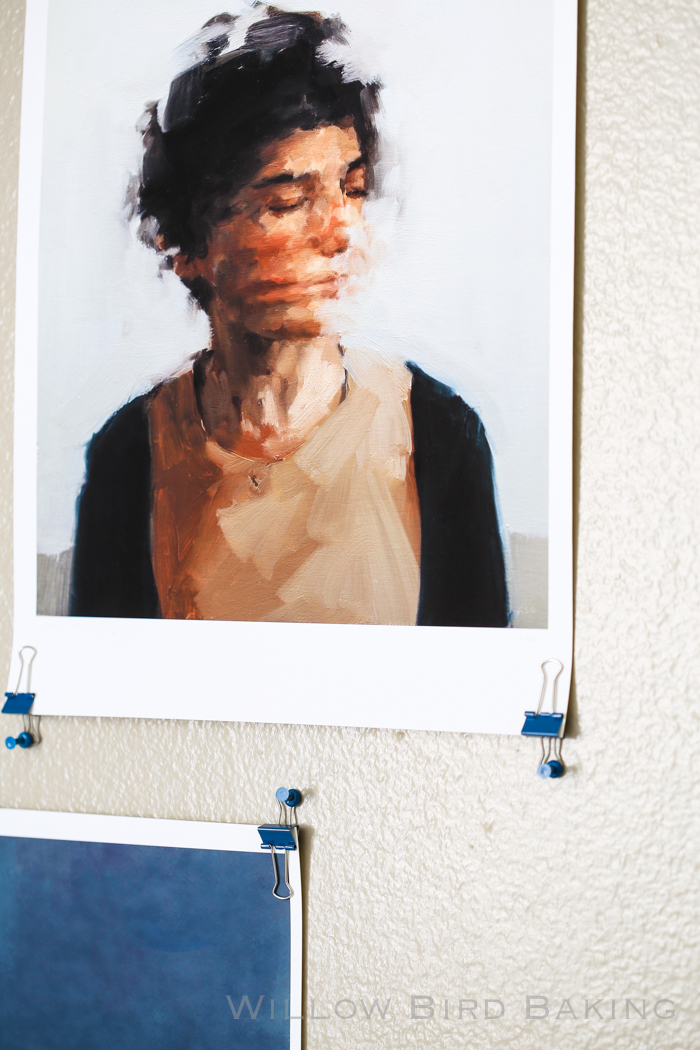 Art was one place where we splurged. For some people this would mean buying original art, but for us, even buying prints and posters was a splurge right now. Still, it was so worth it. Nothing changes a space like having a piece of someone's spirit in it. I chose this poster, "Resting" by Debbie Carlos as the main focal point. I wish I would've gotten a print instead because the paper is a little flimsy, but the photograph itself is evocative and beautiful. By the poster are two giclee prints I love: "The Beginning" by Kai Samuels Davis, and "Waves" by Claire Elsaesser. The muted palette (restful blues, peaches, pinks) of the pieces contributes to the peaceful mood I hoped to create in our sleeping space.
One cheap hack that arguably looks cooler than the expensive option is hanging art with binder clips and push pins. I found this nice matching set at Target for $5 and hung the art using a level.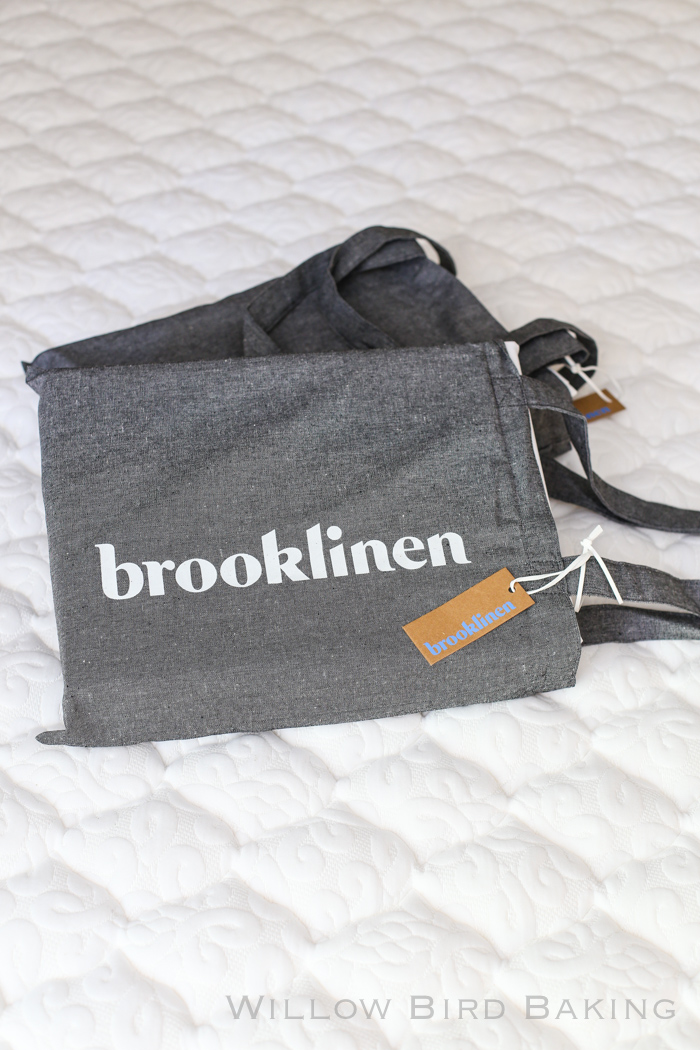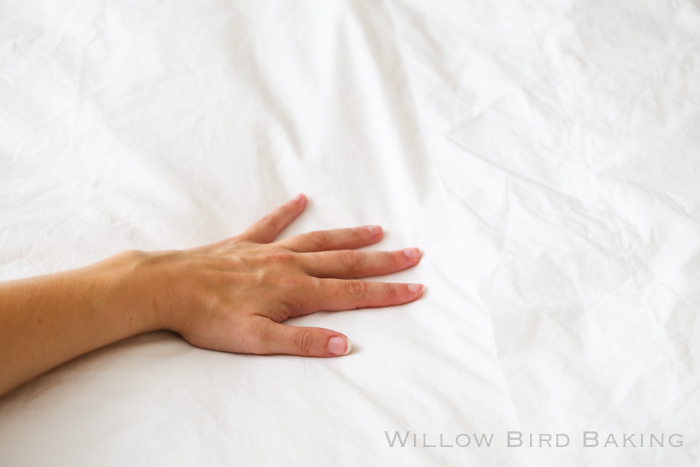 Another area we knew we wanted to splurge was bedding. We're hoping to keep our mattress and linens for the long haul, so we wanted them to be beautiful and comfortable. We were ready to spend quite a bit (or let's be real, charge quite a bit) for this initial investment, but we actually found a mattress we loved that wasn't too expensive. By far my favorite thing in our space, though, is our new Brooklinen sheets. AND they're not even the most expensive option out there. For super high-quality sheets, these are very affordable. And it's true what they say: they really are the best sheets ever.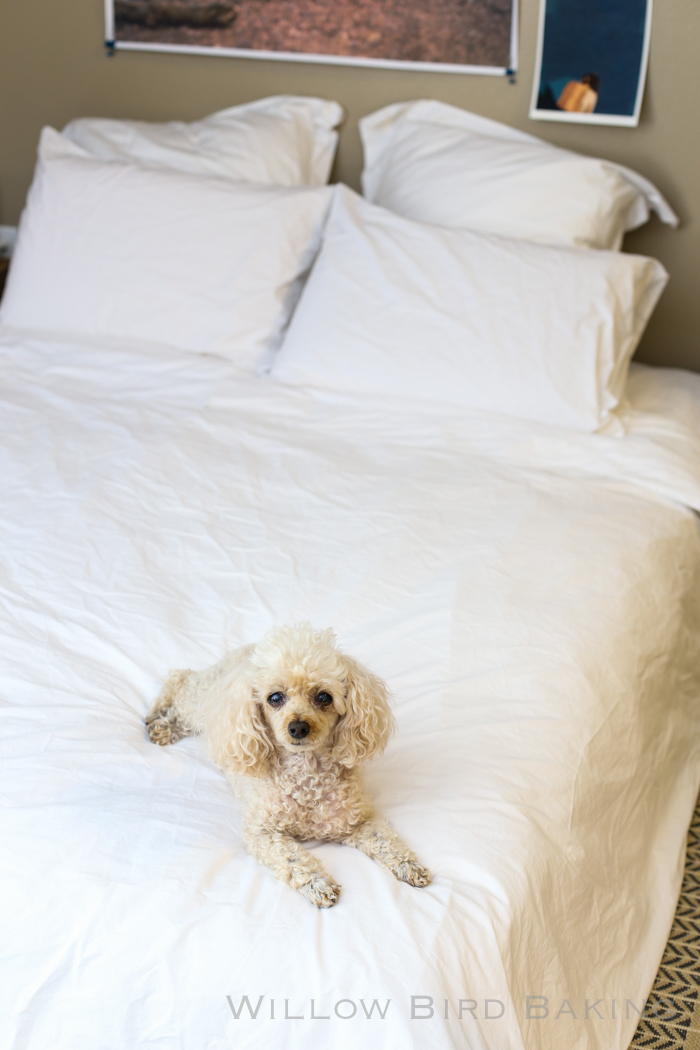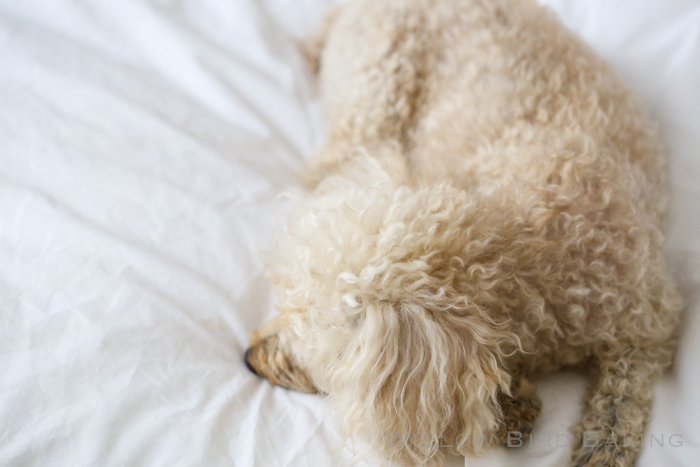 Little Byrd thinks so too!
Brooklinen has two weaves: percale and sateen. I originally wanted the Sateen (luxe) line, but after I read that the percale sheets had a "matte finish with a cool, crisp feel," I knew those were perfect for San Diego! Sure enough, we LOVE the cool feel of them. I also love the crisp look of all-white bedding, and knowing that I can change it up with throw pillows and blankets if I get bored. All in all, we are so happy with our new bed!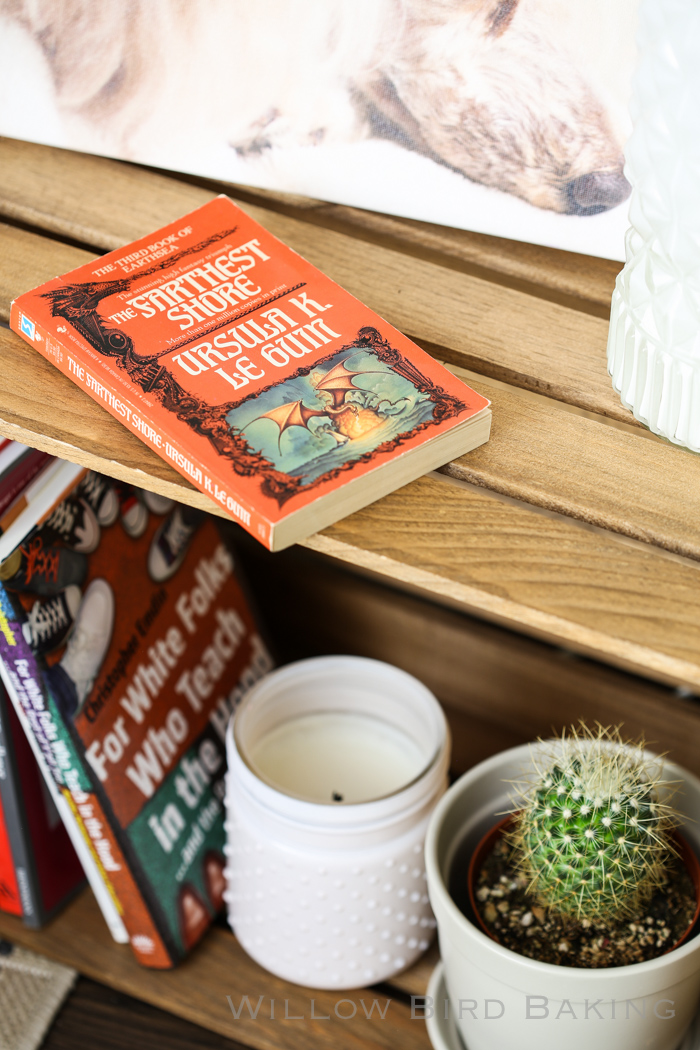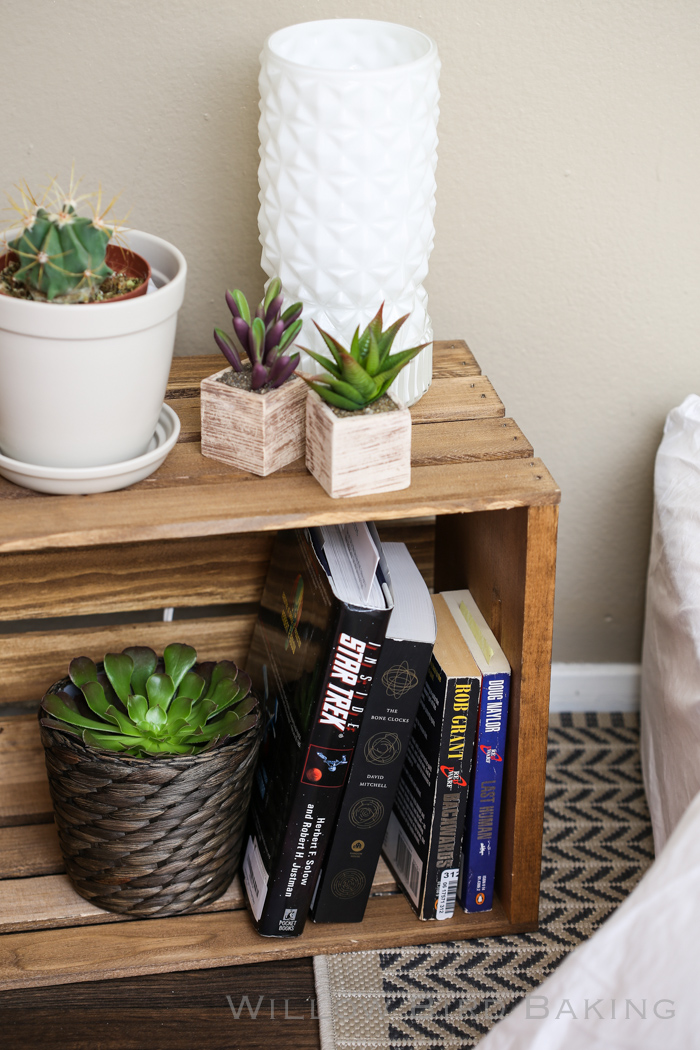 One thing our bedroom makeover confirmed for me is that beautiful decor really can be super cheap. Inexpensive additions like plants and some thrifted crates made our space feel complete. A bonus of using these crates as nightstands is that they're kind of mini bookshelves — perfect for housing bedtime reading.
We're still waiting on some macrame plant hangers to add to the peaceful vibe in the room, but we're already so happy with the space. Now to tackle the living room, which is still filled with moving boxes…!
Do you enjoy decor tours? Would you like to see more of our space as we decorate?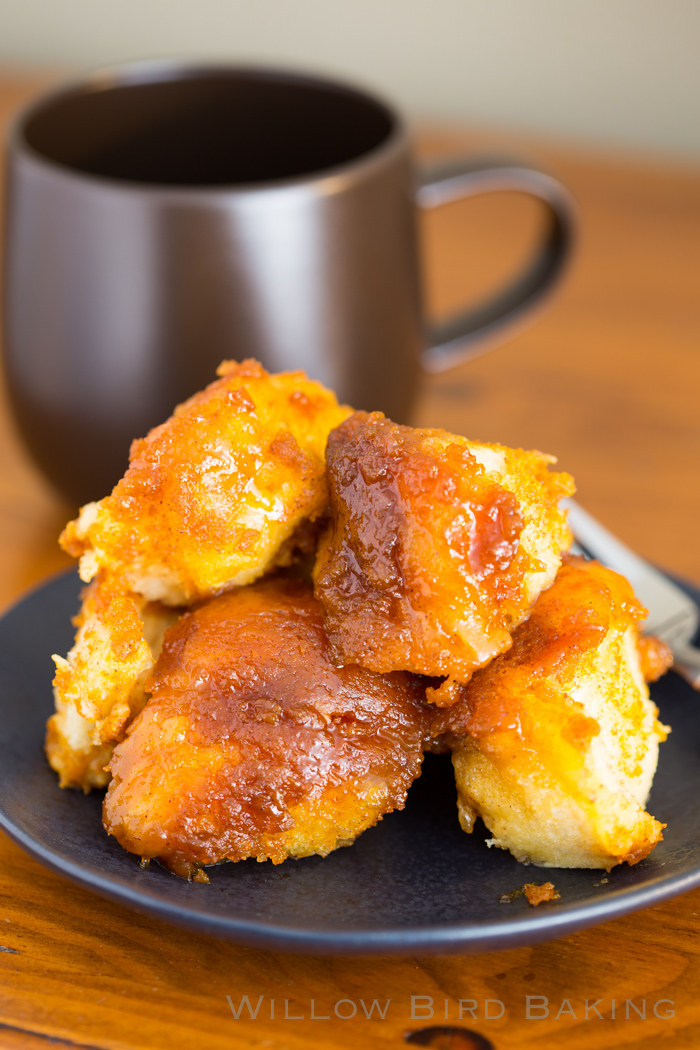 Now onto the pumpkin! You all know how much I LOVE pumpkin, so even though it's 85 degrees here lately, I wanted my first recipe in my new kitchen to be an amazing pumpkin dessert. This Pumpkin Pie Monkey Bread definitely fits the bill. It is shockingly good considering how darn easy it is! You can whip this baby up in 45 minutes, including bake time. It has all the goodness of classic monkey bread and all the pumpkinness of pumpkin pie — rolled into one! Enjoy!
One year ago: Pumpkin Spice Latte Snack Cake
Two years ago: Easy Coconut Sheet Cake with Whipped Coconut Icing
Three years ago: Lemon Raspberry Gooey Butter Cake
Four years ago: German Chocolate Cheesecake
Five years ago: Gooey Cookies & Cream Bars
Six years ago: Chili-Lime Roasted Chickpeas
Seven years ago: Red Velvet and Oreo Kisses


Pumpkin Pie Monkey Bread (and My New Bedroom Reveal!)
If you love monkey bread and you love pumpkin, I have an INCREDIBLY DELICIOUS treat for you!! This is a MUST-MAKE! I use Pillsbury Grands! Biscuits
for this recipe. (This is an Amazon affiliate link, which means I earn income if you make a purchase using this link. Thanks for supporting Willow Bird Baking!)
Author:
Willow Bird Baking
Ingredients
Monkey Bread Ingredients:
1/2 cup sugar
1 teaspoon cinnamon
2 cans giant refrigerated biscuits
Pumpkin Pie Ingredients:
6 tablespoons sugar
1/2 teaspoon ground cinnamon
1/4 teaspoon salt
1/4 teaspoon ground ginger
1/8 teaspoon ground cloves
1 egg
1 cup pumpkin puree
1 cup firmly packed brown sugar
3/4 cup butter, melted
Instructions
Make the monkey bread: Preheat the oven to 350 degrees F. Spray a 12-cup bundt pan with cooking spray. In gallon-size zip-top bag, combine the sugar and cinnamon. Cut each refrigerated biscuit into quarters, adding all of the pieces into the zip-top bag. Seal it and shake to fully coat the pieces.
Make the pumpkin pie filling: In a large bowl, whisk together the sugar, cinnamon, salt, ginger and cloves. Beat egg lightly in a measuring cup. Stir the egg and pumpkin into the spice mixture, whisking to fully combine.
Assemble and bake: Toss biscuit pieces in to pumpkin (I pour the whole bag in, including any leftover cinnamon and sugar). Gently combine until the pumpkin pie filling is evenly distributed around the biscuit pieces. Pour everything into the prepared bundt pan. In a small bowl, whisk together brown sugar and melted butter; pour over biscuit pieces. It will look like a lot, but use it all. Bake 32 minutes or until golden brown and no longer doughy in the center. Cool in the pan 10 minutes. Invert onto a serving plate (I prefer a rimmed one to catch the brown sugar glaze) and pull apart to serve. Serve warm.