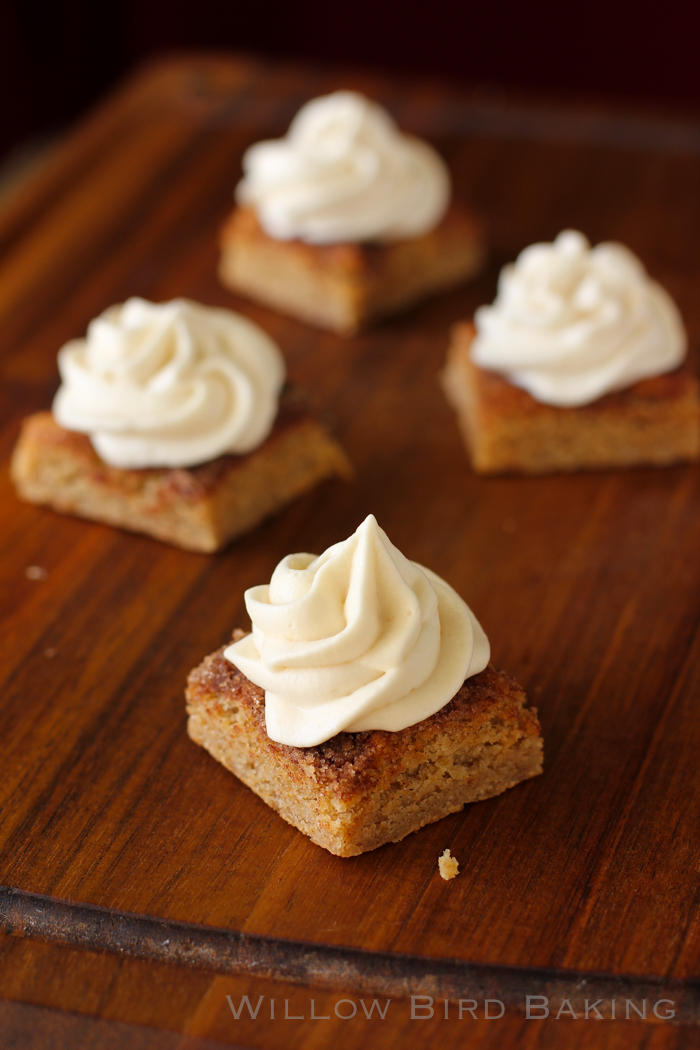 Maple Cream Snickerdoodle Bars
Halloween costumes are one of those things that I can't make myself do. I love the idea of Halloween costumes. I love how other people look in Halloween costumes. I think I'd even love how I looked dressed up like Amelia Earhart or Maleficent . . . if it were a matter of just snapping my fingers.
It's the effort though. I just can't.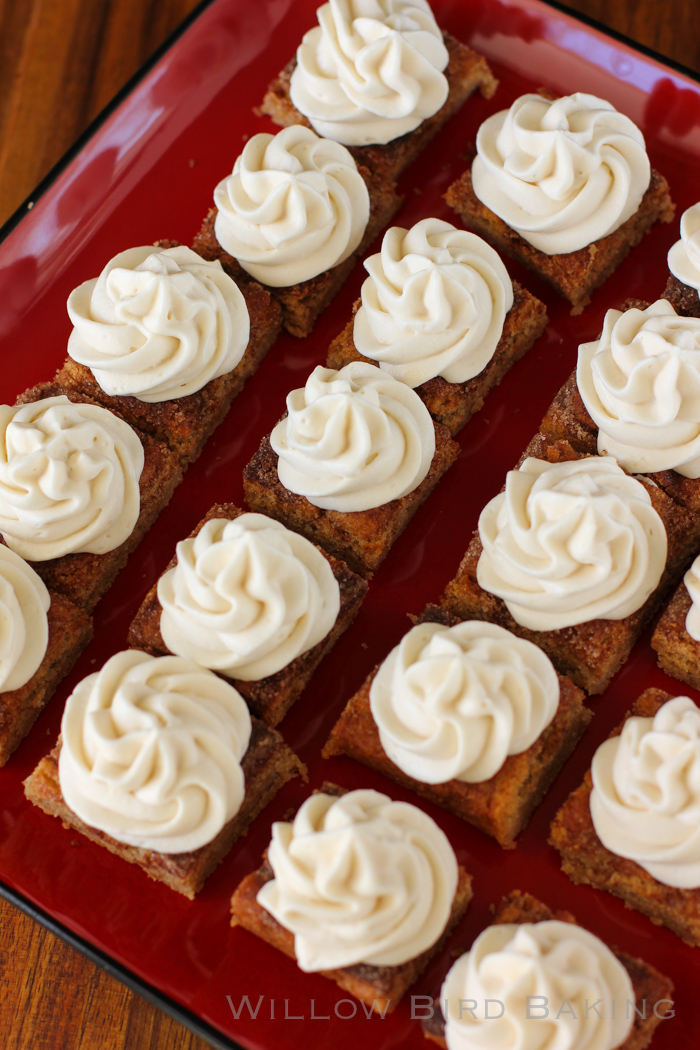 It's like those people who gift wrap presents with the fancy paper, creases along each edge, and some sort of dangly ornament tied onto the big, handmade bow. It's so special looking. I want to be those people. It feels awesome to get those presents! The thoughtfulness just oozes from every carefully placed piece of tape.
And then there's me. Have you ever seen those flimsy cardboard boxes that are printed to look kind of like wrapping paper? You probably wondered if anyone even buys them. Maybe people just buy them to put under their beautiful real wrapping paper as an extra festive layer? Could there possibly be a market for them otherwise?
It's me. I'm the market. Maybe the whole market. Throw a gift in there, tape it shut (optional), and then stick a plastic sticker-bow on top. DONE. I don't know how you people do anything else. I can barely do the laundry over here.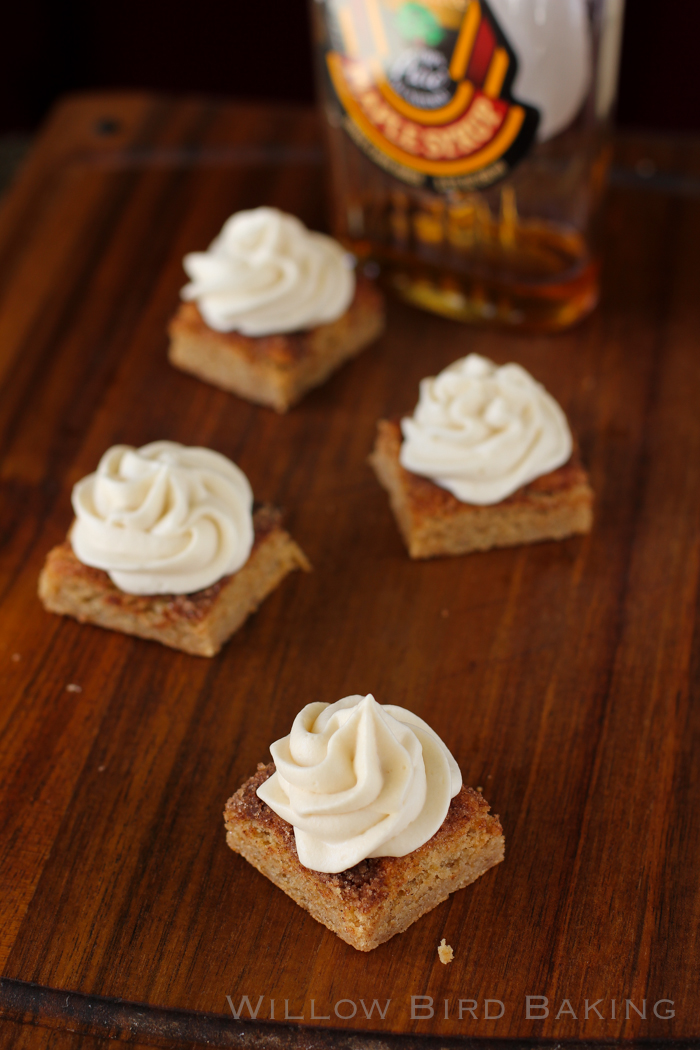 This is often my issue with throwing parties, too. Not only do I have to clean my apartment, but then I'm supposed to make it look cute and make food and entertain people, too? I love when it all comes together, but I feel so overwhelmed at the outset.
That's why I created these incredibly easy Maple Cream Snickerdoodle Bars for "Progressive Eats," a group that creates a monthly, virtual progressive dinner. I've never been to a real progressive dinner, but they sound like so much fun. You head to a different person's house (or blog, in our case) for each course of a meal. The Progressive Eats host this month, Barb, chose a Cocktail Party theme and charged me with making a perfect handheld dessert. These bars fit that bill and are also quick to prepare (and so addictive). There may not be any Maleficent costume this year, but you won't care after a snickerdoodle bar or two. I promise.
Ready to see the rest of the Cocktail Party recipes?
Appetizers:
Pepper Jelly Bites
Smoked Salmon Roses with Endive and Creme Fraîche
Spanish Style Garlic Shrimp
Pepper Jelly and Brie Phyllo Cups

Cocktails:
Pomegranate Izzetini
Northern Spy Cocktail
Orange Pomegranate Moscato Cocktail
Cranberry Martini

Desserts:
Simply Caramel Chocolate Turnovers
Pumpkin-Coconut Cookies
Have you ever participated in a progressive dinner?
One year ago: Iceberg Wedge Salads with Homemade Blue Cheese Dressing
Two years ago: "Magic" Chocolate, Coconut, and Pecan Pastry Braid
Three years ago: Dark Chocolate Pumpkin Truffles
Four years ago: Homemade Hot Chocolate & Marshmallows
Five years ago: Barefoot Contessa's Carrot Pineapple Cake
Maple Cream Snickerdoodle Bars

---


Recipe by: Adapted from Six Sisters' Stuff and Epicurious
Yield: 20-25 bars

These snickerdoodle bars pack a ton of autumn flavor in a tiny package. They're quick and easy to prepare and perfect as a party finger food. You might want to double the recipe for a crowd, and make it in a 9 x 13-inch pan.

Snickerdoodle Bar Ingredients:
1 1/3 cups flour
1 teaspoon baking powder
1/2 teaspoon cinnamon and 2 teaspoons cinnamon, divided
1/8 teaspoon salt
1 cup packed brown sugar
1/2 cup butter, room temperature
1 egg
1/2 tablespoon vanilla
2 tablespoons white sugar

Maple Cream Ingredients:
2 tablespoons water
1 1/2 teaspoons unflavored gelatin
6 tablespoons pure maple syrup
1 cup chilled whipping creaming
1/4 teaspoon maple flavoring

Directions:
Make the snickerdoodle bars: Preheat the oven to 350 degrees F. Grease an 8-inch square baking pan and create a foil sling: tear off 4, 16-inch long pieces of aluminum foil and fold them in half. Situate two side-by-side in the pan, covering the bottom of the pan to the edge (they will overlap). Situate the other two strips in the same manner, but perpendicular to the first. The overhanging foil of the sling will make it easy to remove the bars from the pan after baking and cooling. Grease the foil as well.

In a medium bowl, whisk together flour, baking powder, 1/2 teaspoon cinnamon, and salt. In a separate large bowl, cream together the butter and brown sugar. Add the eggs and vanilla and mix to combine. Add in the dry ingredients and mix to combine. Pour the batter into the prepared baking pan. In a small bowl, mix together the 2 tablespoons white sugar and 2 teaspoons cinnamon. Sprinkle this topping over the top of the batter. Bake for 25-30 minutes or until the top of the snickerdoodle bars springs back when touched. Let these cool completely before removing them using the foil sling to a cutting board and cutting into 12 small bars.

Make the maple cream: Place 2 tablespoons of water in a small bowl. Sprinkle the gelatin evenly over the water and let it stand for 10 minutes to soften. In the meantime in a chilled mixing bowl, mix whipping cream and maple syrup on low speed. Microwave the gelatin for 15 seconds or so and then whisk to dissolve. Turn the mixer up to medium speed and add the gelatin and maple extract while continuing to stir. Continue beating the cream to stiff peaks. Chill the maple cream until it sets up a bit before mixing it gently to loosen, putting it into a pastry bag, and piping onto cooled snickerdoodle bars.
Welcome to another edition of Progressive Eats, our virtual version of a progressive dinner party. If you're unfamiliar with the concept, a progressive dinner involves going from house to house, enjoying a different course at each location. With Progressive Eats, a theme is chosen each month, members share recipes suitable for a delicious meal or party, and you can hop from blog to blog to check them out.
We have a core group of 12 bloggers, but we will always need substitutes and if there is enough interest would consider additional groups. To see our upcoming themes and how you can participate, please check out the schedule at Creative Culinary or contact Barb for more information.
GIVEAWAY!! This month's theme is a Cocktail Party celebrating Creative Culinary's 3rd year of Friday Cocktails. Be sure to hop over to Barb's Post where she is giving away a gorgeous wine bottle opener to one of our Progressive Eats readers.