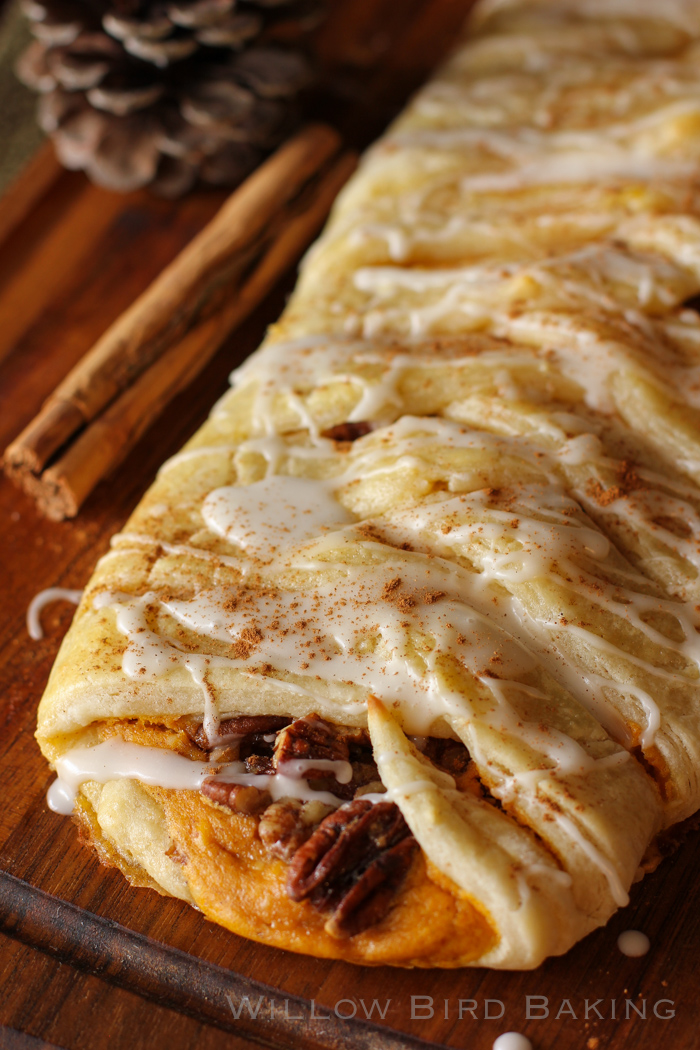 I've partnered with ALDI to try out their grocery stores and develop holiday recipes like this Pumpkin and Pecan Pie Pastry Braid. ALDI's has compensated me for my time and recipe development, but all my opinions are my own.
It's Thanksgiving!
Right? Halloween's over. Time for turkey. Let's do this. (I wouldn't even be mad if I heard a Christmas carol or two. You know, just to dance to in the privacy of my own kitchen.)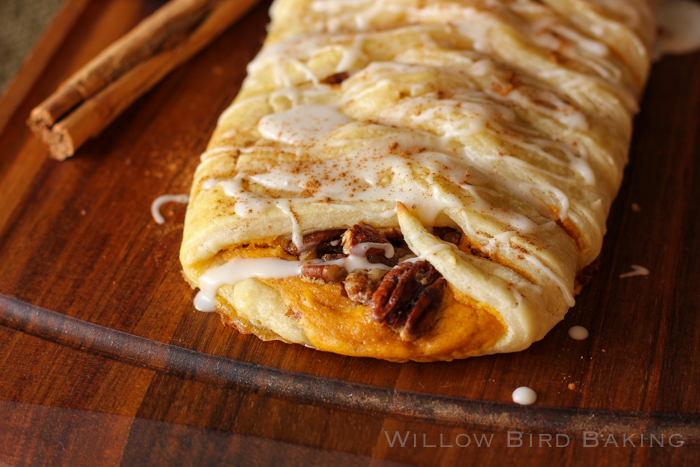 I made you these gorgeous braids that combine pumpkin pie and pecan pie in a flaky almond pastry crust. I'm in love with these pastry braids because they're easy to make but always turn out so pretty. They would be right at home on a Thanksgiving dessert (or even breakfast) table.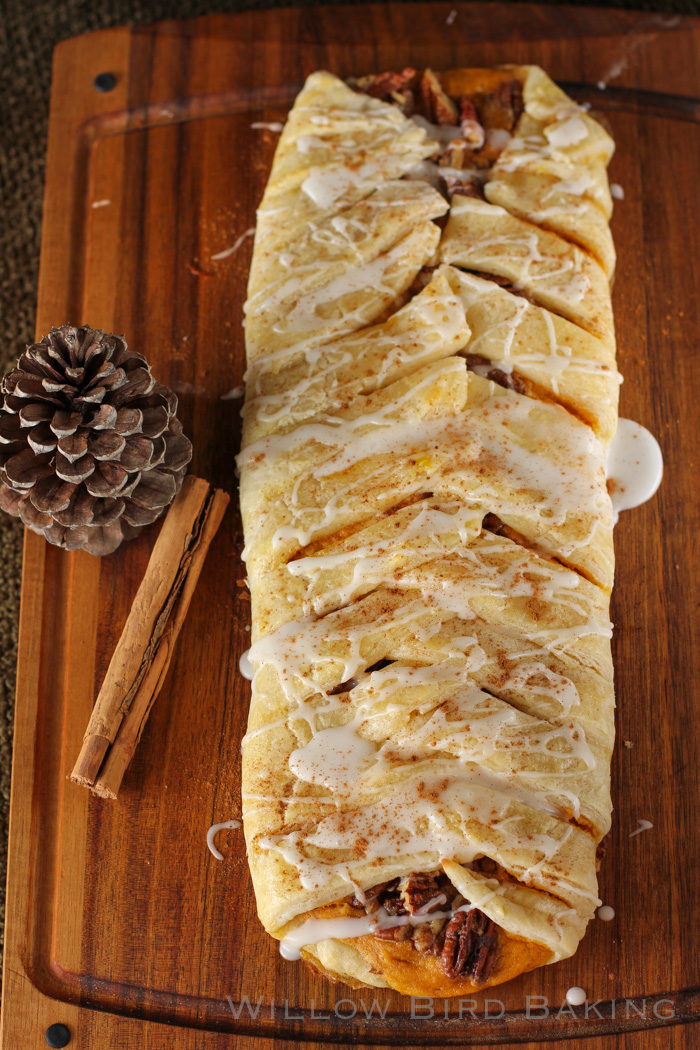 In return, will you help me plan my trip to Chicago? This weekend I'm headed out to visit ALDI's test kitchens and I can't even wait. I've never been to Chicago before! You all have already told me that deep dish pizza is a must, though it's not for everyone, and that I have to take a photo with the Bean. I'd love to know what else is a must-see (or must-eat). Also, what does one wear in Chicago in 40 degree wind and rain? Because all I can imagine is insulating myself with an million Snuggies. I don't even know.
And more importantly, tell me what you want to know from the ALDI's representatives, Sensory Expert Gail Vance and Master Sommelier Leslee Miller. Do you have questions about ALDI's store brands? Thanksgiving ideas? Wine pairings? Recipe development and testing?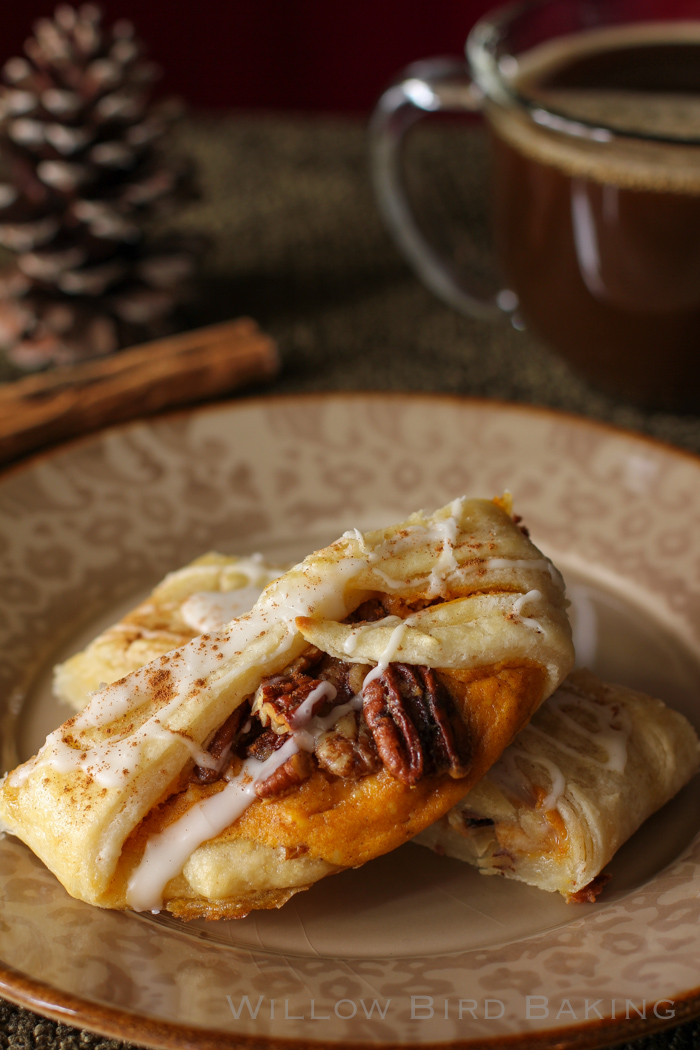 If you don't already follow me on Instagram, now's a perfect time to start. I'll be sharing photos of my Chicago and ALDI's adventures there. In the meantime, deck the halls with boughs of holly, fa la la — oh, I mean. Happy Thanksgiving menu planning!
One year ago: Chocolate Poke Cake with Whipped Coconut Icing
Two years ago: Broiled Southern Pimiento Cheese
Three years ago: One-Skillet Gooey Pumpkin Cookie Cake
Four years ago: How to Make 27+ Cheesecakes and Look Awesome While Doing It
Five years ago: Gâteau aux Noix
Pumpkin and Pecan Pie Pastry Braid

---


Recipe by: Willow Bird Baking
Yield: 2 braids, or about 18-20 servings

Looking for the perfect Thanksgiving dessert (or even, let's be real, breakfast)? Forget choosing between pumpkin pie and pecan pie, because I just combined them in this pastry braid! You're welcome.

You can even prepare this braid in advance: just complete all steps to assemble the braid, cover it with plastic wrap on the parchment-lined baking sheet, and refrigerate overnight. Set it out on the counter in the morning as the oven preheats, egg wash it, and then bake as usual. I included some photos below that show the process of marking and assembling a Raspberry Almond Braid to show the process of assembly. It's super easy to do, but a little fiddly to explain in just words.

Braid Ingredients:
4 cups all-purpose flour, sifted
2 teaspoon baking powder
1 teaspoon salt
1 cup unsalted butter, cold and cut into cubes
6 ounces cream cheese, cold and cut into cubes
1 cup milk, minus 1 teaspoon
1 teaspoon almond extract
1 egg whisked with 1 teaspoon of water for egg wash

Pumpkin Pie Filling Ingredients:
4 ounces cream cheese, softened
3 tablespoons sugar
1/2 cup pumpkin puree
1 tablespoon melted butter
2 tablespoons heavy whipping cream
1 egg
1/4 teaspoon vanilla extract
1 teaspoon cinnamon
1/8 teaspoon ginger
pinch salt

Pecan Pie Filling Ingredients:
1/4 cup pure maple syrup
3 tablespoons packed brown sugar
1 egg
1 tablespoon sugar
1 tablespoon butter, melted
1 teaspoon all-purpose flour
1/4 teaspoon vanilla extract
1 heaping cup coarsely chopped pecans

Glaze Ingredients:
1/2 cup powdered sugar
1 tablespoon milk
1/2 – 3/4 teaspoon maple flavoring (to taste)
sprinkling of cinnamon (optional)

Directions:
Make the pumpkin pie filling: Beat the cream cheese in a large bowl until fluffy. Add the pumpkin, melted butter, and heavy cream and mix to combine. Add the sugar and beat to combine. Add the egg, vanilla, cinnamon, and ginger and beat to combine. Set this in the fridge to firm up a bit.

Make the pecan pie filling: whisk together maple syrup, brown sugar, egg, sugar, melted butter, flour, and vanilla extract. Fold in nuts. Set this in the fridge.

Make pastry braids: Preheat the oven to 425 degrees F. In the bowl of a food processor, mix the flour, baking powder, and salt. Add the cream cheese and butter into the flour mixture and pulse to cut the fat into the flour (about 6 pulses). Add the milk and almond extract and blend until it's just starting to come together into a loose dough.

Divide the dough evenly between two big sheets of lightly-floured parchment paper and knead each very lightly for just 4-5 strokes (be careful not to overwork the dough or it'll be tough! Don't worry about getting it smooth — just knead for these few strokes and let it stay a little rough.) Set one half of the dough aside while you make your first braid with the other half.

Very lightly flour the top of the dough and place another sheet of parchment paper on top. Between two sheets of parchment paper, roll the dough to an 10- by 12-inch rectangle (I lift the paper off every now and then and flip the dough and repeat on the other side, to ensure the dough isn't sticking). Remove the top sheet of parchment and discard. Measure and mark the dough lengthwise into thirds. Spread your pumpkin pie filling down the middle third of the dough — try to keep your filling about 1/4 inch from the mark on both sides, but realistically, it'll ooze a little no matter what. Don't worry too much. Gently dollop pecan pie filling on top of the pumpkin pie filling, trying to get equal parts nuts and goop.

Continue assembling the braids: (Remember, there are photos below to help visualize this step!) Make diagonal cuts at 1-inch intervals on each the long sides. Do not cut into the center filling area. Fold strips, first one from one side and then one from the other side in an alternating fashion, over the filling. It will now resemble a braid. Use the sheet of parchment to carefully transfer your braid to a baking sheet. Repeat this process with your other batch of dough. At this point you can cover and refrigerate the braids overnight, or you can continue to the next step.

Bake the braids: Brush the pastry braids with the egg wash mixture. Bake in the 425 degree oven for 14-18 minutes, until the dough is cooked through, the filling is set, and the top is very lightly browned. Let the braid cool slightly while you make your glaze.

Glaze the braids: Whisk together glaze ingredients and drizzle over the braid. You'll use all the glaze on the two braids. Top with a sprinkling of cinnamon and serve immediately.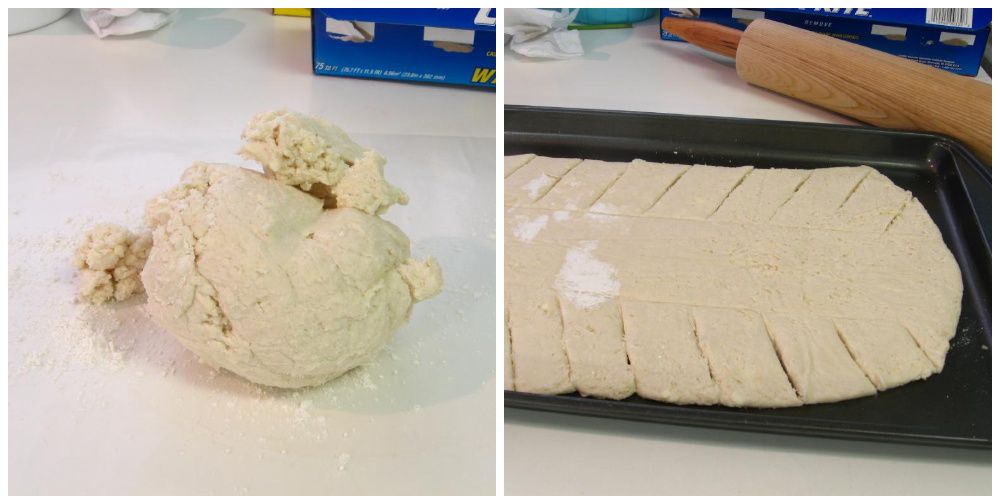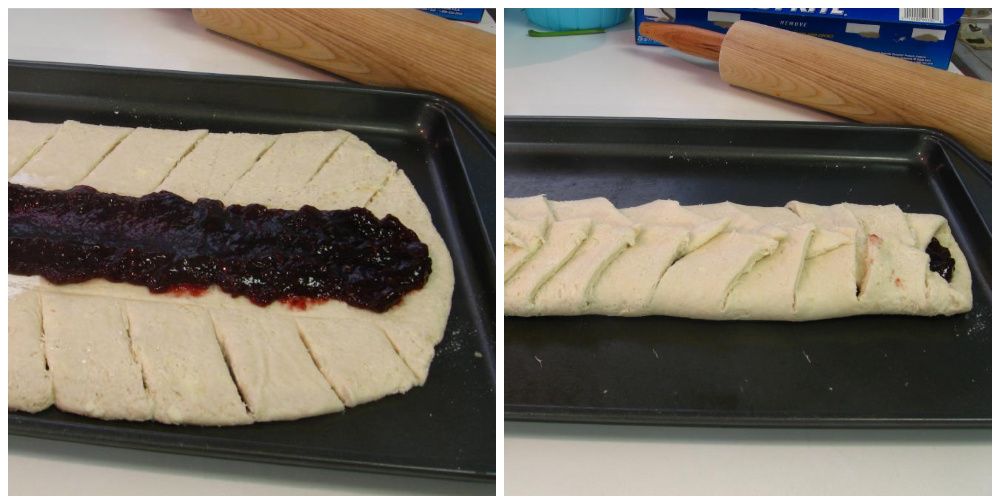 Example of how to cut and assemble braid.
Other pastry braids you'll love:
"Magic" Chocolate, Coconut, and Pecan Pastry Braid
Pumpkin Pecan Streusel Breakfast Braid
Raspberry Almond Breakfast Braid
Blueberry Cream Cheese Almond Breakfast Braid