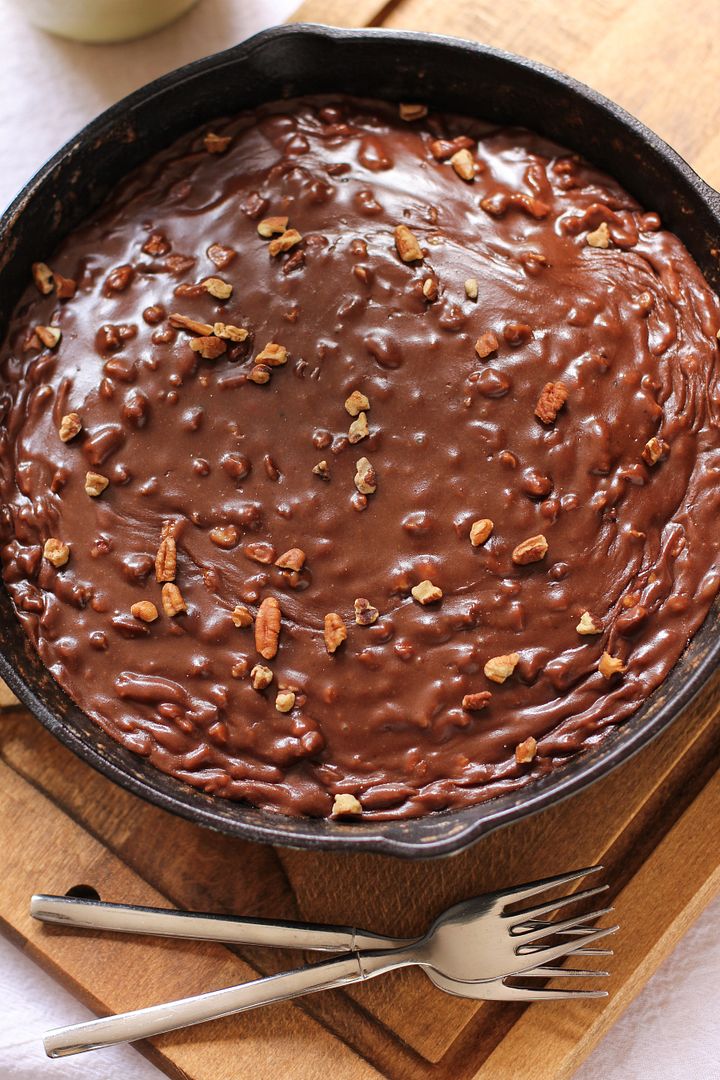 Gooey Chocolate Skillet Cake Ice Cream Sundae
The only time I've lived away from my hometown was during my sophomore year in college when I moved to Beaufort, a small town on the coast of North Carolina. I lived there for a few months before traveling for a month down the Eastern seaboard to study marine zoogeography. That semester changed my life, and I've continued to process the memories over the years. Periodically I'll share stories here on Willow Bird Baking from that time.
In a week's time we would be sitting in the hot black night, lit by a strand of round bulbs on a bustling restaurant patio in Key West. Having not glanced in a mirror even once for days, I would be unaware of my white blonde hair, my dark sienna face. I would be blissfully aware, though, of the cool soda bathing my tongue in the heat. My first taste of sweet potato fries. The rolling beat of the reggae pouring from a club somewhere down the street.
That was in a week's time. Right now, though, all I could see was the long 8 miles we were about to paddle to Camp Lulu Key in the Everglades.
I climbed in the canoe quickly, trying to look like I had an ounce of a clue. Blair, not fooled for a moment, showed me how to move my oar and tugged at my lifejacket buckles to test their security. The rest of the group lumbered into our 8-seat canoe and we were off.
My eyes constantly skimmed the surface of the water, waiting to catch sight of the crocodile I felt sure must be following our canoe Tick-Tock style. The occasional tour boat would throw up a wake and I'd brace for the impact of the waves, frantically hoping not to end up in the mouth of said crocodile.
Finally we arrived on the island — not that it was much of a relief. This was our Thanksgiving Break, but turkey was nowhere in sight. Instead, we were spending four days on this obscure island in the Everglades with no electricity, no running water, and some very skinny, solicitous raccoons. The boys were ecstatic. I was less enthused.
There wasn't a comfortable spot on the entire island. The sun was oppressive, so we tried to retreat to the woods only to find ourselves covered in noseeums, or biting gnats. We tried to hide in our tents only to find they'd turned into ovens in the sunlight. Finally, we settled into the only tolerable routine we could find: spending a half hour or so in the Gulf until we were pruny, followed by a half hour or so in the sun until we were baked. We repeated this cycle incessantly for four days until we'd been bleached out like cow skulls in a Clint Eastwood movie.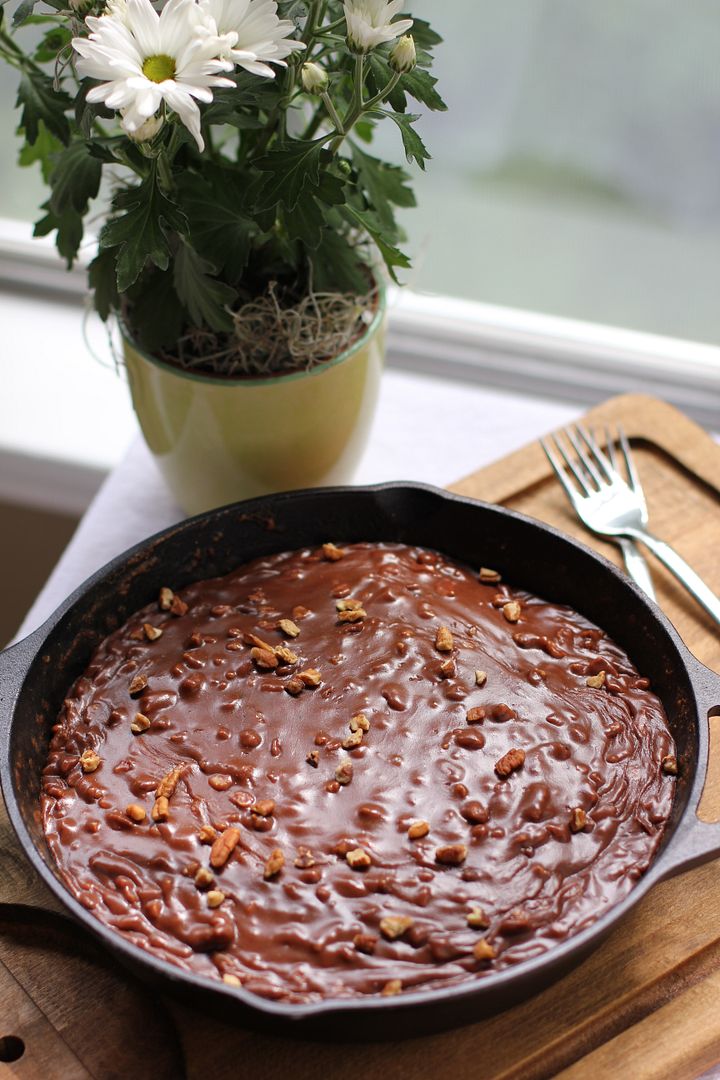 There were also the raccoons. The pitiful little things were hungry and thirsty, but we weren't allowed to disrupt the ecosystem of the island by feeding them. We'd wake up each morning to the whispers of little raccoon tongues across the outside of our tents: they were licking the condensation up as fast as they could. More than once I considered "dropping" a quesadilla or two into the bushes, ecosystem be darned.
Then there were the bathrooms, or lack thereof. I'm not generally shy, but when it comes to announcing to a group of my peers that I have to pee, so would they please avoid this certain shrubbery, thanks very much . . . well, it was a bit much for me.

Step 1: Eat some cake.
Every mealtime we battled the insects for our meal. Dinner was eaten in darkness, so there's no telling how many gnats were ingested with our food. I just tried to shovel in each bite without thinking about the added "protein." Even the dishes disgusted me, though, since we washed them ourselves with few supplies. Every bowl and fork I ate from felt gritty and germy to my overanxious imagination.
Finally, there was no naturally occurring fresh water and there certainly weren't any faucets. We brushed our teeth with water bottles, washed dishes with water bottles, drank water from our water bottles. My OCD was on overdrive as I tried to ensure no sand or bugs got into my precious water. One night, consumed with frustration after trying to brush my teeth, I threw my water bottle down into the swash of waves on the shore. I was feeling very sorry for myself and cried a little under the cover of complete darkness. Darkness so complete, actually, that once I managed to look up, I realized that I'd never seen so many stars.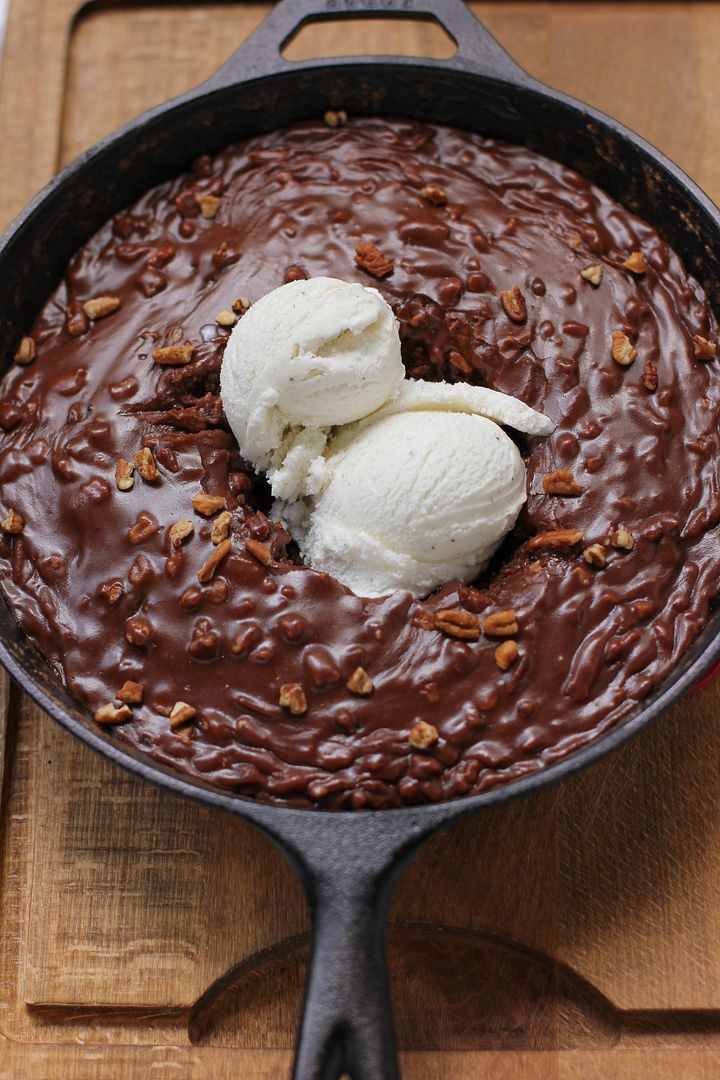 Step 2: Stick some ice cream in that cake.
I called out and my friends joined me. Craning our necks, we saw what the sky was like with no light pollution whatsoever. It was awesome. Not like the pie you ate last night was awesome or like your new skirt is awesome. It was truly AWE-some.
A satellite sliced through the air hundreds of miles above us. After a night of joking, complaining, and storytelling, we were all suddenly silent.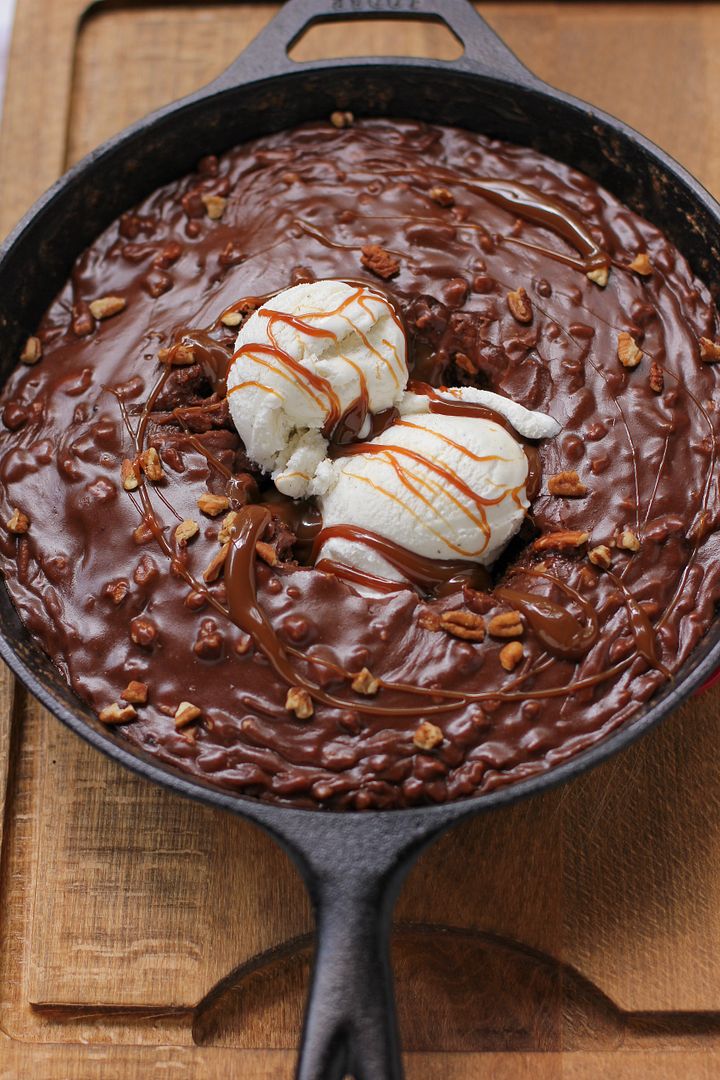 Step 3: Put some caramel on that cake.
Now I think back on Camp Lulu Key as one of my favorite memories. The stars are part of it, certainly (I still stand and stare up at them every night when I take Byrd out, hoping to catch a glimpse of the quieter ones in the breaches).
But maybe even more than that, the memory of discomfort is something I treasure. The inconveniences were small, but they were significant obstacles for me then. They forced me to grow, to settle, and to flex; they started building patience in me that God is still working on today.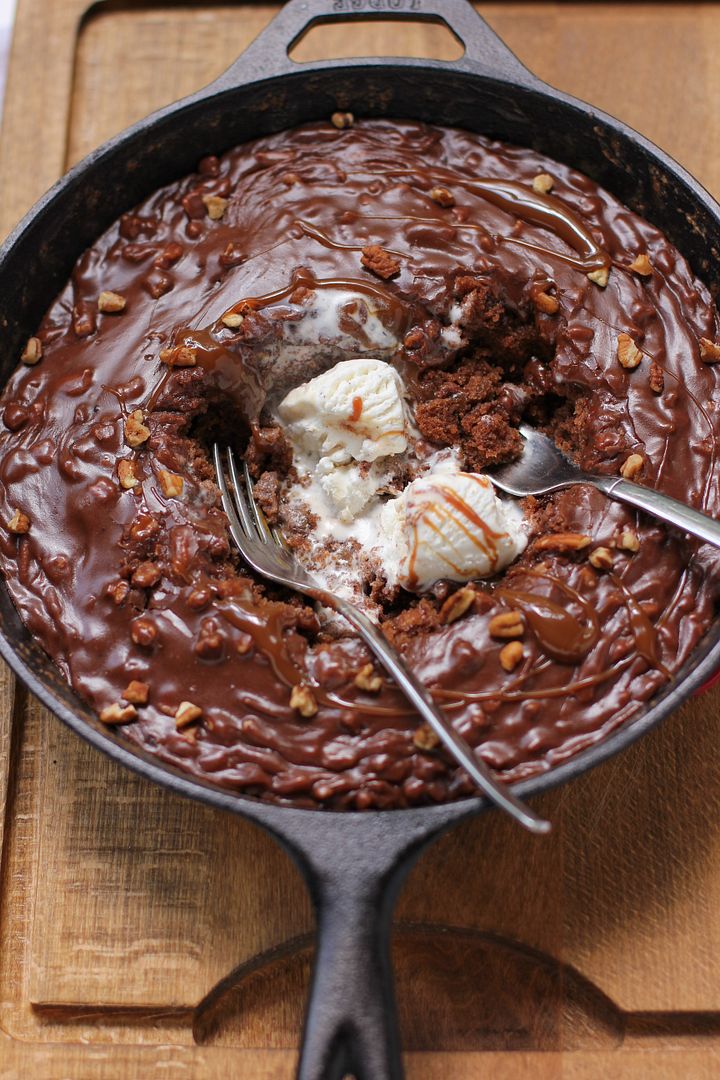 Step 4: Eat more cake.
When I compare my current self to my Camp Lulu Key self, I'm pleased to say that I've grown and mellowed since then. I can deal with a little dirt and grit. And as for keeping my dishes pristine, well, sometimes it's nicer to forgo dishes altogether.
After my lovely experience eating Pumpkin Skillet Cake with Mike straight out of my cast iron skillet, I wanted a repeat performance. My birthday this past weekend was the perfect chance to indulge in a warm, gooey skillet cake sundae — chocolate this time, and with heaps of vanilla bean ice cream and a drizzle of hot caramel sauce.
I received many thoughtful birthday gifts (including a hand-baked cake from two of my students — how sweet is that?), but one of my favorite gifts was scooping forkfuls of cake out of a skillet with Mike, pausing only to take pictures of our escapades or for a giant gulp of milk.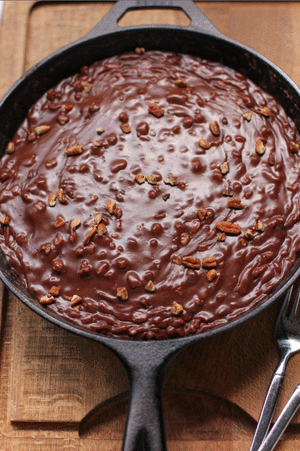 Step 5: Make a gratuitous animated gif to illustrate deliciousness of cake.
Have you had an experience that changed you for the better?

One Year Ago: Banana Coconut Cream Cupcakes
Two Years Ago: Coffee Cookie Dough Fudge Cheesecake
Gooey Chocolate Skillet Cake Ice Cream Sundae
This Gooey Chocolate Skillet Cake Ice Cream Sundae was my birthday cake and I cannot tell you how much I enjoyed it! It's chocolatey and indulgent without being too rich. Eating the hot frosted cake with vanilla bean ice cream and caramel sauce straight out of the skillet has to be one of the most rewarding sensory experiences in the world. And it's so easy! It's really a must-make.
Ingredients
Cake Ingredients:
1 cup flour
1/2 teaspoon baking soda
1 cup sugar
dash salt
1/4 cup (1/2 stick) butter
1/4 cup vegetable oil
2 tablespoons cocoa powder
1/2 cup water
1/4 cup buttermilk
1 egg
1/2 teaspoon vanilla
Frosting Ingredients:
1/4 cup (1/2 stick) butter
2 tablespoons cocoa
3-4 tablespoons milk (as needed for consistency)
1/2 cup pecans, chopped
2 cups powdered sugar
1/2 teaspoon vanilla
ice cream (for serving)
caramel sauce (for serving; this one is delicious!)
whipped cream (for serving)
Instructions
Preheat the oven to 350 degrees F. In a large bowl, whisk flour, baking soda, sugar, and salt together and set aside.
In a 10-inch cast iron skillet, bring the butter, vegetable oil, cocoa powder, and water to a boil. Remove it from the heat and whisk in the dry ingredients well. Mix in the buttermilk, egg, and vanilla. Bake the skillet cake at 350 degrees F for about 15-20 minutes or until a toothpick comes out with just a few moist crumbs.
While the cake starts to cool, make the frosting. In a medium saucepan, bring the butter, cocoa, and milk to a boil. Remove them from heat and add the icing sugar, nuts, and vanilla. Stir to combine. Pour over the warm cake, spread with a spatula, and serve with vanilla bean ice cream, caramel sauce, and whipped cream.