I was floored to see that Willow Bird Baking is a finalist for SAVEUR Magazine's Best Baking & Desserts Blog. Thank you so much for making this happen. If you'd like to vote for Willow Bird Baking (there are only 3 days left), you can do so here. You all are truly wonderful.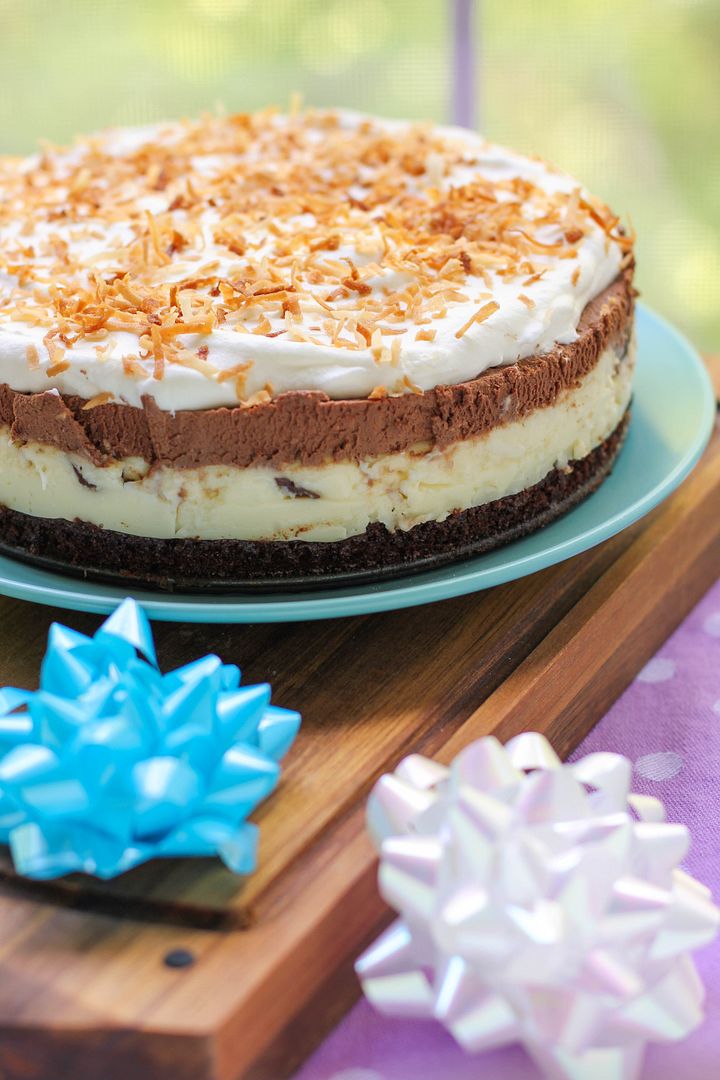 I watched the side of the VHS tape disappear into the gaping maw of the VCR, waiting for the whirring confirmation that it was well-received before skipping back to the kitchen. I knew there was plenty of time during the previews to complete my next task, so my haste was more due to my excitement than any real need to hurry.
It was time to prepare a culinary masterpiece. I began opening cupboards and surveying their contents with gusto.
This was my absolute favorite time of day. Or, really, night. Everyone in the house was asleep except the lone insomniac (that would be me, and I didn't mind a bit). I had probably spent "bedtime" reading delicious horror stories or maybe one of my favorite Lucy Maud Montgomery books. Now, wide awake, I was ready for midnight movies and munchies.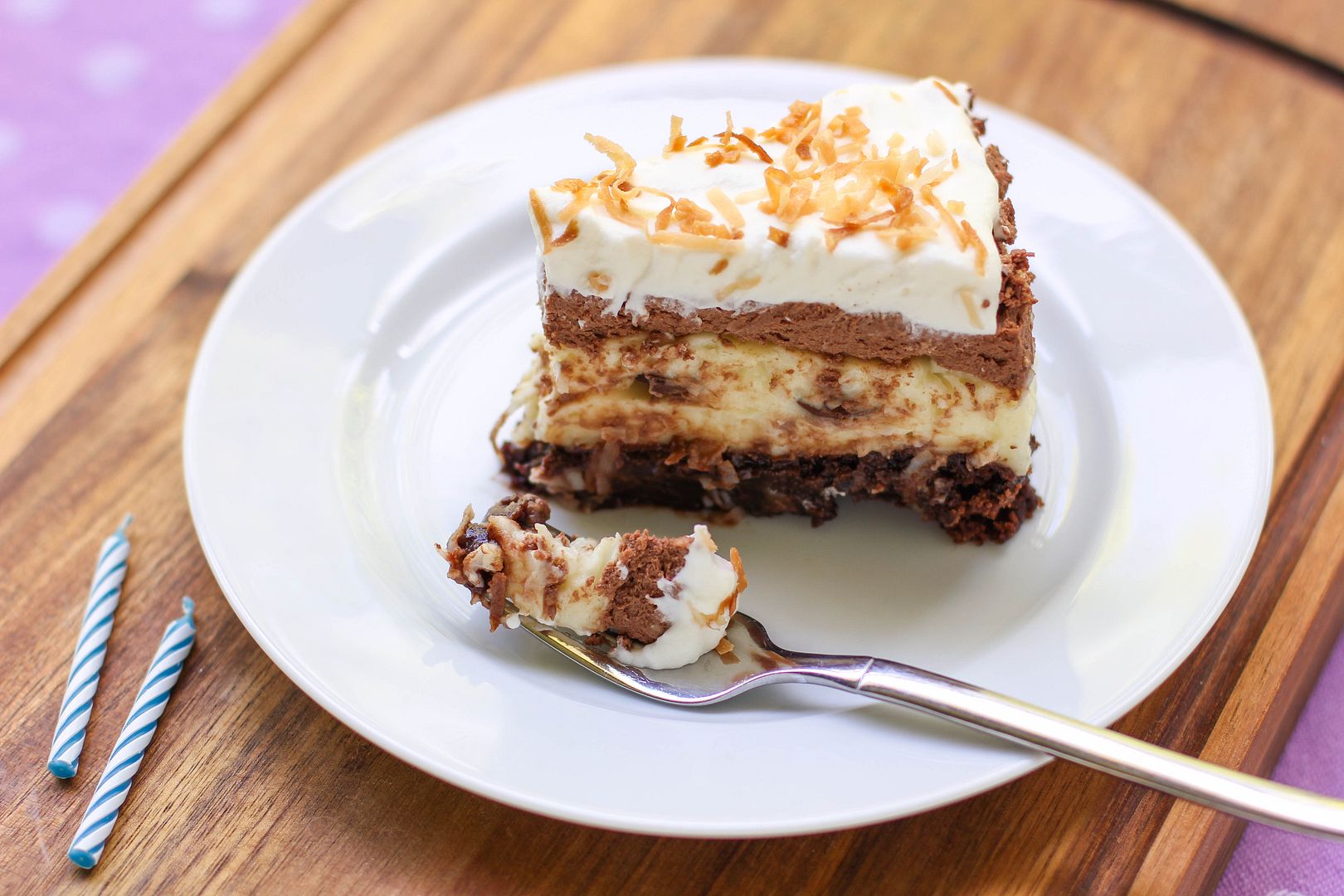 My 10-year-old version of mise en place began collecting on the counter: a jar of salsa, some cheddar cheese, and, for lack of tortilla chips, some sliced bread. I deftly stirred the salsa and cheese together like a chef, microwaving it for a few seconds at a time until I had a passable bowl of queso. After pouring a huge glass of Coke (full sugar! the memory makes me want to brush my teeth!), I set up a chair as my personal table, sat down on the floor, and tuned in to the movie.
(I should mention, since my mother is reading, that I was not sitting in the living room. I'd have been an absolute fool to step foot on that pristine beige carpet with a morsel of food. It was my mom's anniversary gift from my dad and she kept that rug spotless for over a decade until they put in hard floors throughout the house. So, just so we're clear, I was watching the living room television from the kitchen doorway.)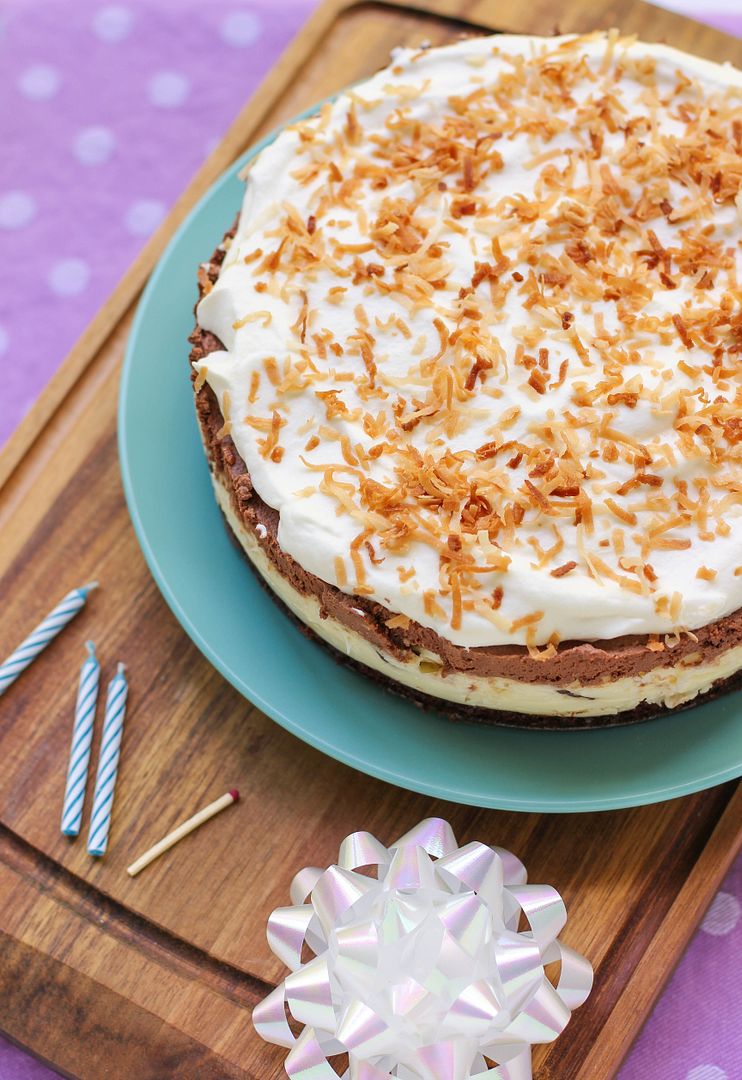 I picked the movies I watched based on how many food scenes they included. The Little Princess was a great choice because of the Indian feast scene in the attic. The Secret Garden had some nice garden picnic scenes. My favorite midnight movie, though, was Bedknobs & Broomsticks, which included a scene with a cat eating gorgeous sausages. He smacked and gnawed on each plump link with such satisfaction — I loved to eat along with that one!
No matter how much I'd eaten, whenever a food scene came on, I had to make sure I had something to munch on. I sometimes paused the movie to make another bowl of faux queso or to scavenge through the pantry for a sweet dessert.
I've grown up in a lot of ways, but I still love to eat a meal while watching food scenes from a movie or cooking show. I'm also still an incurable night owl, though I have to be more conscientious with my midnight snacks nowadays. And of course, I still love to concoct absurd things in the kitchen. This Brownie-Bottom Coconut Chocolate Cream Cake was my crazy creation for Mike's birthday party last weekend.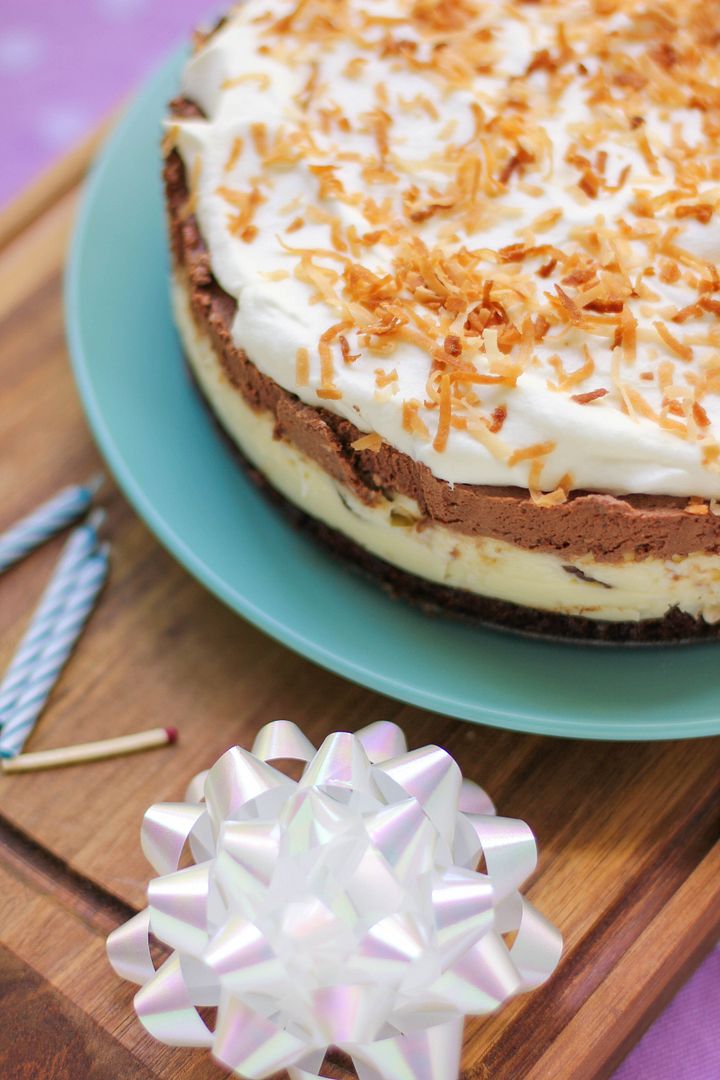 This cake would make Dr. Frankenstein proud. It's a layer of good stuff on top of a layer of better stuff on top of a layer of insane stuff on top of brownies. Basically. Or, to be more specific: there's some heavenly chocolate mousse and some decadent coconut cream involved. The best part is that even though it looks intense, my 10-year-old self could've whipped this thing up with ease. You can even use a brownie mix for the base if you're short on time.
But actually, the real best part is the taste. As if the ingredient list didn't clue you in, this thing is delicious.
How about you? Are you the early bird or the night owl?

Brownie-Bottom Coconut Chocolate Cream Cake
This "cake" actually doesn't include a single bit of cake. It does include brownies, coconut cream, chocolate mousse, whipped cream, chocolate bits, and toasted coconut. It's one of the many desserts on Willow Bird Baking born out of the "more is more!" mentality. This cake sounds complicated, but is remarkably easy! If you can bake a pan of brownies and push some buttons on your microwave, you can make this baby. It's even easy to divide up the work, since many of the steps can be done on separate days. You can make the brownie and coconut layer one day, make the chocolate mousse layer on day two, and top and serve the cake on day three. Enjoy!
Ingredients
Brownie Layer Ingredients:
1 recipe of your favorite brownies (baked in a 9-inch springform pan)
Coconut Cream Filling Ingredients:
1 1/2 cup half-and-half
1 1/2 cup coconut milk
2 eggs
3/4 cup white sugar
1/4 cup plus 4 teaspoons cornstarch
1/4 teaspoon salt
3/4 cup flaked coconut
1/4 teaspoon coconut extract
1/4 teaspoon vanilla extract
2 tablespoons bittersweet chocolate chips (I use Ghirardelli 60% cacao)
Chocolate Mousse Layer Ingredients:
2 ounces semisweet chocolate chips
2 ounces bittersweet chocolate chips (I use Ghirardelli 60% cacao)
1/3 teaspoon vanilla extract
1 cup chilled whipping cream
2 tablespoons powdered sugar
1/2 teaspoon gelatin
1 1/2 teaspoon cold water
Whipped Cream Topping Ingredients:
3/4 cup chilled heavy whipping cream
2 tablespoons powdered sugar
3/8 teaspoon gelatin
1 1/8 teaspoon cold water
toasted coconut
Instructions
Make coconut cream filling: Combine the half-and-half, coconut milk, eggs, sugar, cornstarch, and salt in a medium microwave-safe bowl. Microwave it for 4-6 minutes, whisking well after each minute, until it's thickened (I tried this microwave trick for the first time in this recipe, and it does work well if you're short on time, though I think you might end up with a slightly better creamy texture if you whisk the mixture constantly in a saucepan over medium-low heat; not sure how long it'll take on the stove with this volume, but just whisk until thickened.) Once the mixture is thickened, add coconut and vanilla extracts and the untoasted coconut and stir. Pour half of this filling over your brownie layer, sprinkle on the 2 tablespoons of bittersweet chips, and then pour the rest of the filling. Stick the whole thing in the fridge to chill until firm, about 2 to 4 hours.
Make the chocolate mousse: Place the bittersweet and semisweet chips in a medium bowl. Bring 1/3 cup cream to boil in heavy small saucepan or in a microwave-safe dish in the microwave. Pour it over the chocolate and let it sit for 2 minutes before gently whisking it to a smooth ganache. Cool to room temperature, stirring occasionally.
Place cold water in a small dish and sprinkle gelatin over it to soften for 10 minutes. Heat it for 30 seconds in the microwave and whisk it with a fork to dissolve the gelatin. In a chilled mixing bowl, beat 2/3 cups cold whipping cream and powdered sugar in to stiff peaks, adding gelatin mixture and vanilla extract halfway through. Fold the cream into the chocolate mixture and pour the mousse onto set coconut filling. Chill until set, about 6 hours or overnight.
Make whipped cream topping: Place cold water in a small dish and sprinkle gelatin over it to soften for 10 minutes. Heat it for 30 seconds in the microwave and whisk it with a fork to dissolve the gelatin. In a chilled mixing bowl, whip the cream and powdered sugar to stiff peaks, adding gelatin mixture halfway through. Top the cake with the whipped cream and sprinkle with toasted coconut.