Ferrero Rocher are my absolute favorite candy.  They're lovely, crunchy, chocolatey balls of hazelnut cream surrounding a whole hazelnut.  Mike isn't a candy person at all, but he loves them as well.  There's something about the chocolate, cream, and hazelnut combination that just melds in your mouth.

Best candy in the world!
Never content to just enjoy pleasant things as they are, I wanted to innovate with these babies. I decided (big surprise!) to try to create a Ferrero Rocher Cupcake.  I searched out a delicious chocolate cupcake recipe with the intention of poking a whole, frozen candy in the middle of it prior to baking.  The frosting, in an attempt to mimic the chocolate and hazelnut covered shell of the candy itself, was ganache with chopped hazelnuts.  And of course, I drove all the way to Michael's to pick up some gold sprinkles to echo the candy's bright gold wrapper.

Oh yeah! Ferrero Rocher Cupcakes!
The cupcakes are scrumptious — moist and rich chocolate cake surrounding the familiar Rocher goodness.  There were a few flaws.  The candy stuck to the bottom of the cupcake paper a bit, so a little of its chocolate coating gets left behind when you peel the paper off. I think freezing them for a full 30-45 minutes before baking (I froze mine for 15) would help.  (Edited to add:  after refrigerating overnight, the candy no longer sticks, and the flavors have melded even more — yummy!)
Also, the crispy shell of the Rocher candies absorbed moisture from the batter during baking and lost some of its crunch.  But all in all, despite some texture changes, I feel like this recipe was a success! I was pleased that the taste of the candy was maintained and worked well with the cupcake flavor.
This trial run also makes me think of other great cupcake ideas.  For instance, deconstructing the Rocher: it'd be nice to make a chocolate cupcake filled with hazelnut cream (mmm, nutella!) and chopped hazelnuts, and frosted with this same delicious ganache.  In fact, after posting, I went back and googled to see if anyone had thought of Rocher cupcakes.  Turns out they had;  I found some fun recipes!  In particular, I'd love to try these!  Mmm. There are also some great nutella swirl cupcake recipes I've seen floating around. Lots of possibilities! In the meantime, I hope you'll enjoy these Ferrero Rocher Cupcakes.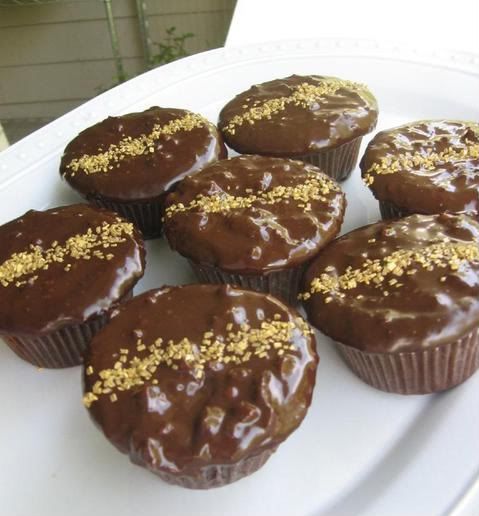 Ferrero Rocher Cupcakes
---
Recipe By:
–Michelle (cupcakes)
–Alton Brown (ganache, tweaked)
–Ferrero Chocolates (they provide the chocolates, y'all!)
Yields: 24 cupcakes
Cupcake Ingredients:
2 cups (500 mL) all-purpose flour
2 cups (500mL) sugar
1/2 cup (125mL) cocoa powder
2 teaspoons (10mL) baking soda
1 tsp (5mL) baking powder
1/2 tsp (2 mL) salt
1 cup (250 mL) vegetable oil
2 eggs
2 cups (500 mL) of butter milk
2 teaspoons (10 mL) vanilla
24 Ferrero Rocher candies
Ganache Frosting Ingredients:
8 ounces semisweet chocolate, chopped fine
8 ounces (1 cup) heavy cream
1/2 cup hazelnuts, finely chopped
gold sprinkles or edible gold leaf (optional)
Directions:
Cupcakes: Freeze 24 Ferrero Rocher candies for 30-45 minutes before baking. Preheat oven to 350 degrees (180 degrees Celsius).
To make cupcakes, sift together flour, sugar, cocoa powder, baking powder, baking soda, and salt. In a separate bowl, mix together oil, eggs, buttermilk and vanilla. Add wet ingredients to dry, mixing well. Increase speed and beat for 2 minutes, until well combined. Spoon into 24 paper-lined muffin cups, filling halfway. Do not overfill, no matter how tempting! Plop one frozen candy into the middle of each cup of batter.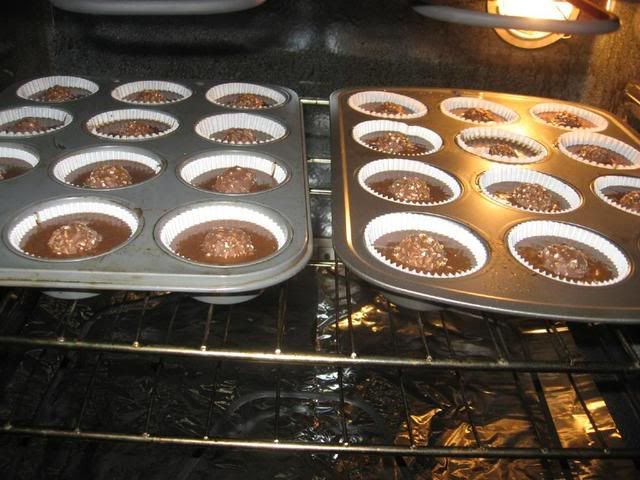 Oven time!
Bake for about 15-20 minutes or until tops are firm and toothpick inserted into cake comes out clean. Let cool in pan for a few minutes, then transfer to rack and cool completely.
Ganache Frosting: Heat the heavy cream in a saucepan until just simmering (careful not to let it boil over). Pour the cream over the chopped chocolate in a heat-resistant bowl. Let sit for 2 minutes. Mix well until smooth. Add in finely chopped hazelnuts and mix. If ganache is too runny, let it cool for awhile until it's at the appropriate consistency. Then, dip the tops of room temperature cupcakes into the ganache, letting excess drain for a few seconds before righting the cupcakes. Sprinkle gold sprinkles or lay a piece of edible gold leaf in the center of the cupcake for a decoration. Let cool completely.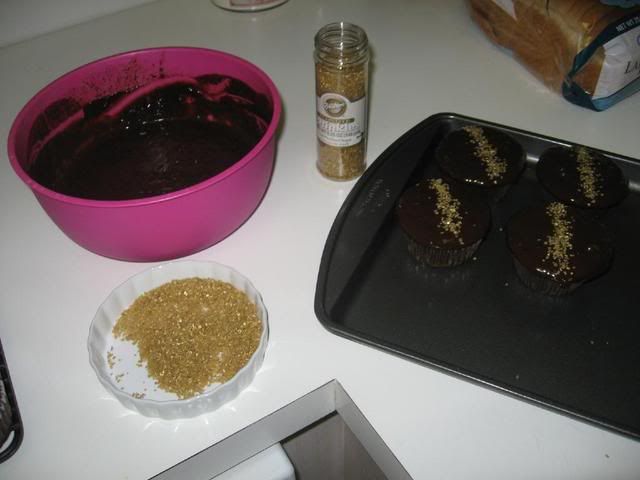 The dipping and sprinkles station.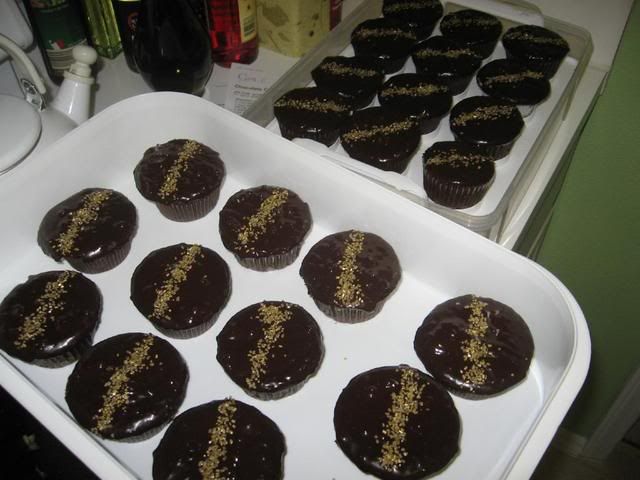 Lots of delicious candy-inspired cupcakes.

Bon Appétit!