A friend tells me that Coconut & Lime's Lemon Cupcakes with Fresh Strawberry Centers are incredible.  I can't wait to try them!   In fact, I decided to experiment with the recipe this weekend when I had leftover peaches from my Peach Cobbler Cupcakes.  I wanted a lighter, summery peach cupcake.  I used Coconut & Lime's recipe with some baking powder and soda added, and peaches in the place of strawberries.  While my mom felt peaches and lemon were an odd combination, I think they turned out rather nice.  The texture is divine, and the flavor is mostly lemon with a peach tang (and there's that nice, juicy splush when you bite into a chunk!) I think next time I'll add more peach to help it stand up to the lemon.
Peach Lemon Cupcakes
---
Recipe By:
–Coconut & Lime (cupcakes, tweaked)
–Paula Deen (frosting, tweaked)
Yields: 12 cupcakes
Cupcake Ingredients:
7 tablespoons butter, at room temperature
1 cup sugar
2 eggs, at room temperature
2 teaspoons lemon juice
3/4 cup buttermilk
1/2 teaspoon vanilla
1 1/2 cup flour
1/2 teaspoon baking powder
1/2 teaspoon baking soda
1 large peach, chopped
Lemon Cream Cheese Frosting Ingredients:
8 ounces cream cheese, softened
1 stick butter, softened
1/2 teaspoon vanilla extract
2 teaspoons lemon juice
1-2 drops yellow food coloring (if desired)
2 cups sifted confectioners' sugar
Directions:
Cupcakes: Preheat oven to 350. Line 12 wells in a cupcake pan. In a large bowl, cream the butter and sugar. Add the eggs, one at a time. Beat to combine. Mix in the buttermilk, vanilla, and lemon juice. The mixture may look a little curdled but that's okay.
In a separate bowl, sift together the flour, baking soda, and baking powder. Slowly add dry ingredients to wet. Beat the batter an additional 2 minutes, until light and fluffy. Pour an even amount into each cupcake well, filling about 3/4 of the way. Drop 3-5 chunks of peach into each well, depending on their size and your personal taste. Bake 15-20 minutes. Cool in pan briefly, then remove from the pan and cool completely on a wire rack. Ice with lemon cream cheese frosting.
Lemon Cream Cheese Frosting: In a large mixing bowl, beat the cream cheese, butter, vanilla, lemon juice, and food coloring together until smooth. Add the sugar and on low speed, beat until incorporated. Increase the speed to high and mix until very light and fluffy. Frost the cupcakes with a butter knife or pipe it on with a big star tip (I used star tip 1M.)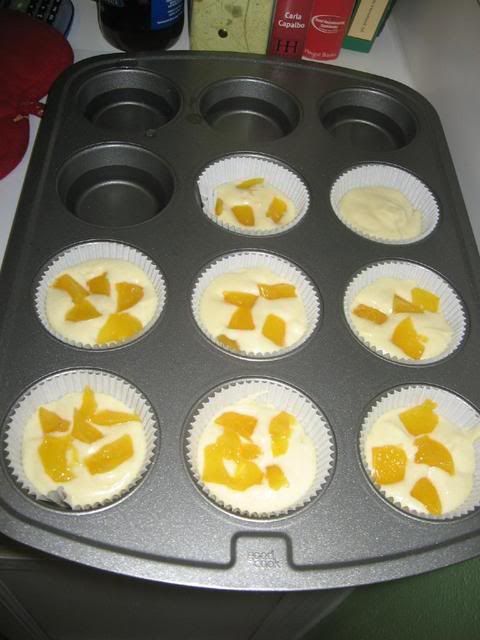 Ready for the oven! Just made a half batch of these, and one without peach for Mike's sister!

Light, springy, fresh!