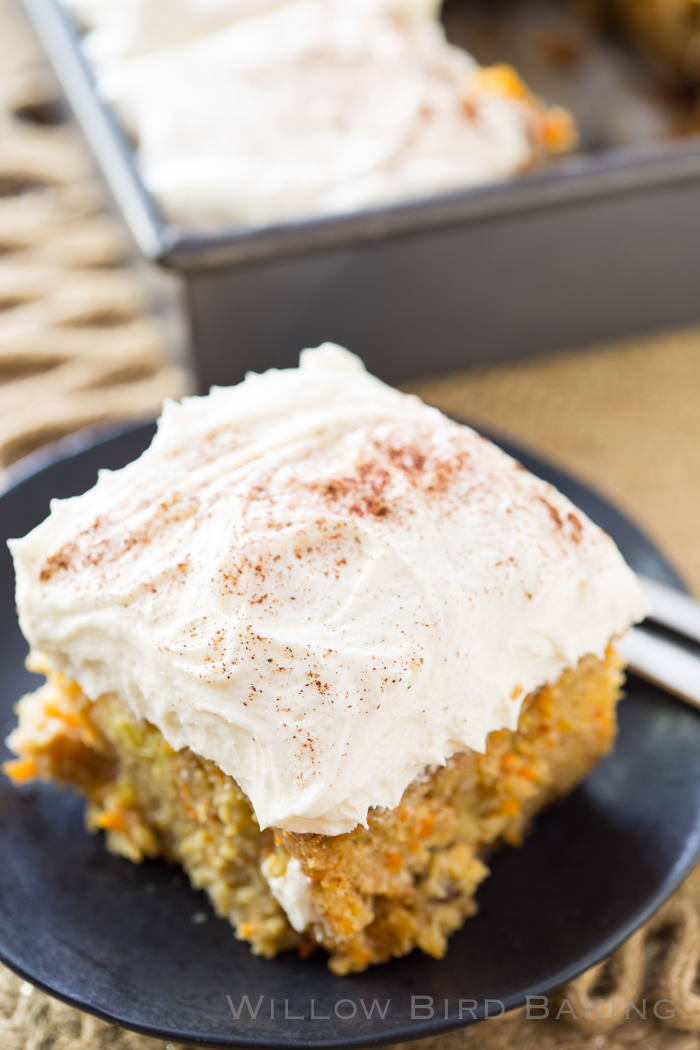 Tres Leches Carrot Cake (and 5 Easy Steps to Get a Therapist)
Finding mental healthcare is so daunting, especially for the people who need it most. I'm not an expert — just a person who has had to find mental healthcare in lots of places lots of times — but it occurred to me that if I could make the nebulous, scary task of finding a therapist a little more concrete, it might be helpful.
There are lots of things that make this task hard. First, you may not know quite what you need and even if you do, you may not know quite where to find it. You may not be sure what to do if you do find it. When I have this many question marks, I tend to procrastinate instead of taking action, even if I'm suffering. Hopefully, these few steps will reduce the number of question marks you have about taking the first step toward finding a therapist.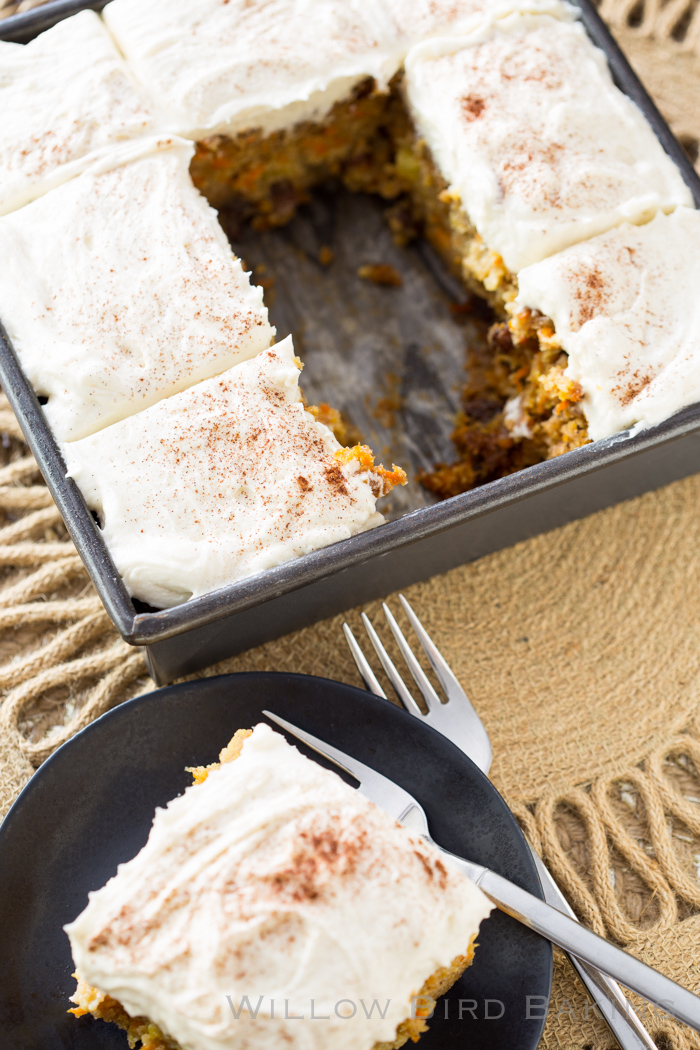 Here's my process:
1. First, I head over to Psychology Today's Therapist Finder. I just put in my zip code and get the list of results.
2. Then I sort through the list of results. You can do this based on what insurance you have, so you don't find yourself excited about a provider that isn't covered for you. You can also sort by what issue you're experiencing, your age, what type of therapy you're looking for, and more, but I keep my sorting simple — usually just by insurance — so I can see a larger list of providers I might be interested in.
3. Third, I read through profiles until I find a few that look promising. "Promising" means different things for different people: do you want someone who mentions the mental health issue you are concerned about? Someone who works at an individual office or at a bigger organization with several providers? If this is your first time finding a therapist, don't be afraid to just choose a few who seem nice and sound skilled and give them a try — be ready for this to be a process of finding your "best fit."
4. Fourth, I message the providers I'm interested in using Psychology Today's "email" feature. I use a simple script like: "Hi, I'm looking for a therapist for [brief description of issue] who takes [my insurance]. Are you accepting new clients and if so, how do I set up an appointment? Thanks!"
5. Finally, I wait for some responses. When I get some that seem promising, I set up an appointment by emailing or calling — whichever the provider indicates. I have trouble using the phone, so sometimes I even ask Mike to make the call for me. If you also struggle with the phone, you can find a provider who uses texts or emails. If it's comforting, setting up the first appointment is the only hard one, because after that you can usually book your next appointment in person after each visit.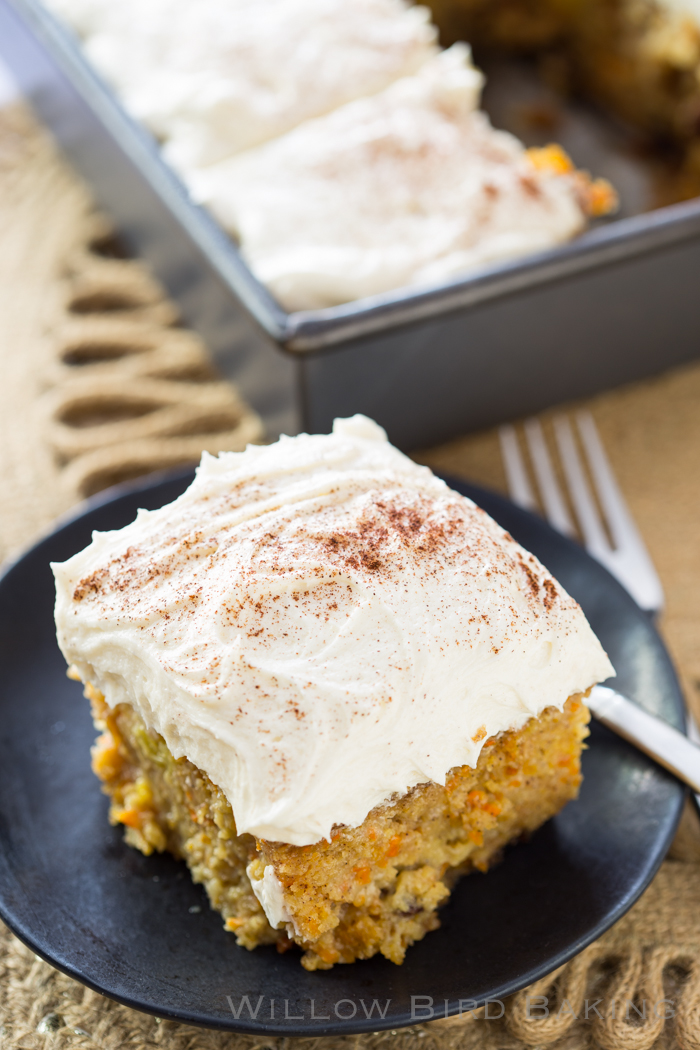 At your first few visits, remember how concrete this process is. If your therapist doesn't feel like the right fit, you aren't stuck! You can go home, bake yourself a Tres Leches Carrot Cake, take a nap, and then start the 5 steps over again. I often have to repeat this process a few times to find the person who is right for me. I just cancel any outstanding appointment I had with the previous therapist (or let's be real, ask Mike to do so) and start again.
What do you look for in a mental healthcare provider?
One year ago: Bailey's Irish Cream Chocolate Tart
Two years ago: Quick and Easy Cherry Cheesecake Pie Bites
Three years ago: Lemon Shortbread Crumble Bars: The ULTIMATE Lemon Lover's Dessert!
Four years ago: Intense Chocolate Mocha Cake
Five years ago: Flan Tres Leches Cake
Six years ago: Buttery Coconut & Almond Morning Buns
Seven years ago: Coconut Cream Tart

Tres Leches Carrot Cake
If you love tres leches cake and you love carrot cake, I have the most indulgent, special dessert for you to try! This Tres Leches Carrot Cake is super moist and super delicious!
Author:
Willow Bird Baking
Ingredients
Cake Ingredients:
1 1/3 cups granulated sugar
1 cup and 5 1/2 teaspoons vegetable oil
2 eggs, at room temperature
2/3 teaspoon pure vanilla extract
1 2/3 cups plus 1 tablespoon all-purpose flour, divided
1 1/4 teaspoons ground cinnamon, plus more for topping
1 1/4 teaspoons baking soda
2/3 teaspoon kosher salt
2/3 cup raisins
2/3 pound carrots, grated
1/3 cup finely diced fresh pineapple
Tres Leches Ingredients:
1/4 cup whole milk
1/4 (14-ounce) can sweetened condensed milk
1/4 (12-ounce) can evaporated milk
Whipped Icing Ingredients:
1 cup milk
5 tablespoons flour
1 1/4 cups granulated sugar (not powdered sugar)
1 1/2 teaspoons vanilla extract
1/2 teaspoon almond extract
1 cup butter, at room temperature
Instructions
Make the cake: Preheat the oven to 350 degrees F and line an 8-inch square baking pan with a parchment paper sling. In a large bowl, beat the sugar, oil, and eggs together until light yellow. Stir in the vanilla. In another bowl, whisk together 1 2/3 cups flour, cinnamon, baking soda, and salt. Mix the dry ingredients into the wet ingredients. Toss the raisins with the remaining 1 tablespoon flour and fold them, with the carrots and pineapple, into the batter. Pour the batter into your prepared pan and bake around 45-55 minutes, or until a toothpick inserted into the center of the cake comes out with just a few moist crumbs. If the top starts to get too dark before the cake tests done, feel free to lightly cover it with a piece of aluminum foil.
Whisk together 1/2 cup whole milk, 1/4 can condensed milk, and 1/4 can evaporated milk. Poke holes all over the cake gently with a fork. Pour the milk mixture over the top of the warm cake. Cover and chill the cake until completely cool.
Make the frosting: Heat the milk, flour, and granulated sugar together over medium heat, whisking constantly. Once it starts to boil, continue whisking and heating it for around 7 minutes or until it's very thick, like cake batter consistency. Remove the mixture from the heat and add the vanilla extract. Remove the mixture to a shallow pan and let the mixture cool completely (after a bit, I stuck mine in the fridge to hurry it along). Once the mixture is completely cool, beat the butter in the bowl of a stand mixer until soft and fluffy. Add the completely cooled mixture and beat on high until you have fluffy frosting the consistency of stiff whipped cream (this takes several minutes, so be patient). Frost your completely cooled cake with a thick layer of frosting. Top with a sprinkle of cinnamon. Store leftovers in an airtight container in the fridge, but be sure to let it sit out for 30 minutes before serving so the frosting can soften.