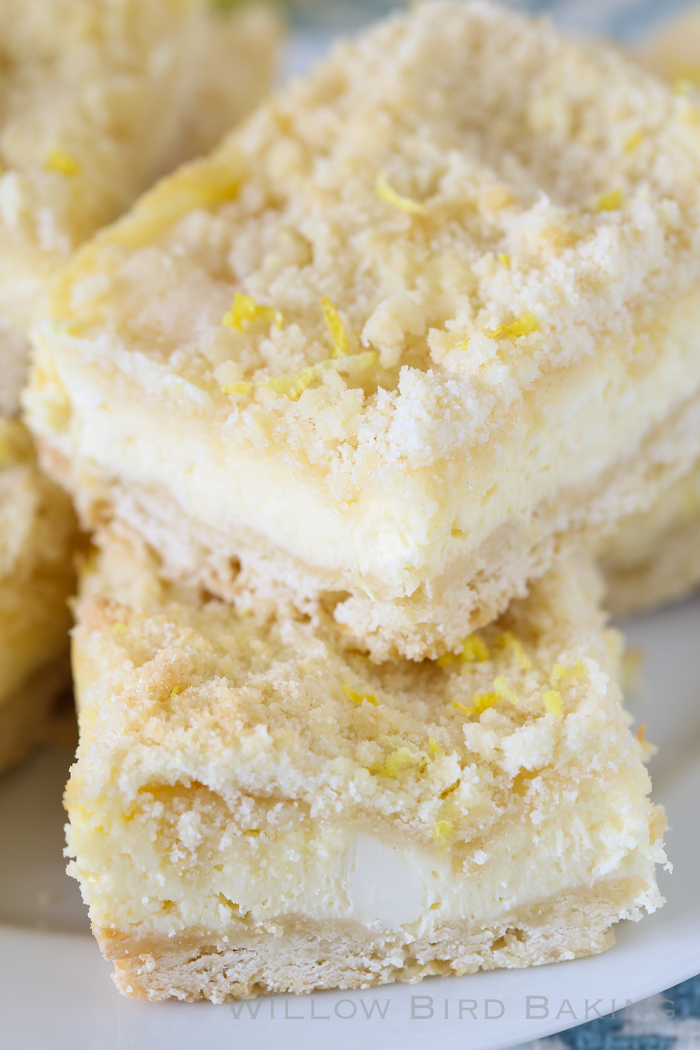 Lemon Shortbread Crumble Bars: The ULTIMATE Lemon Lover's Dessert!
I wrote this post as part of the Plugrá Butter Brigade. Thanks, Plugrá, for sponsoring this post and for making my favorite butter!
Do you guys brush your dog's teeth? And if so, when? When the crap do you do that? Just to be clear, this isn't a rhetorical question. I need an answer.
And to be clearer, I want you to respond, I know, right? I KNOW. When do people do things like that? and not, I do it twice a day: in the morning right after churning my butter and puréeing my organic baby food for the day, and in the evening right before I settle in to hand-weave baskets for my Etsy shop.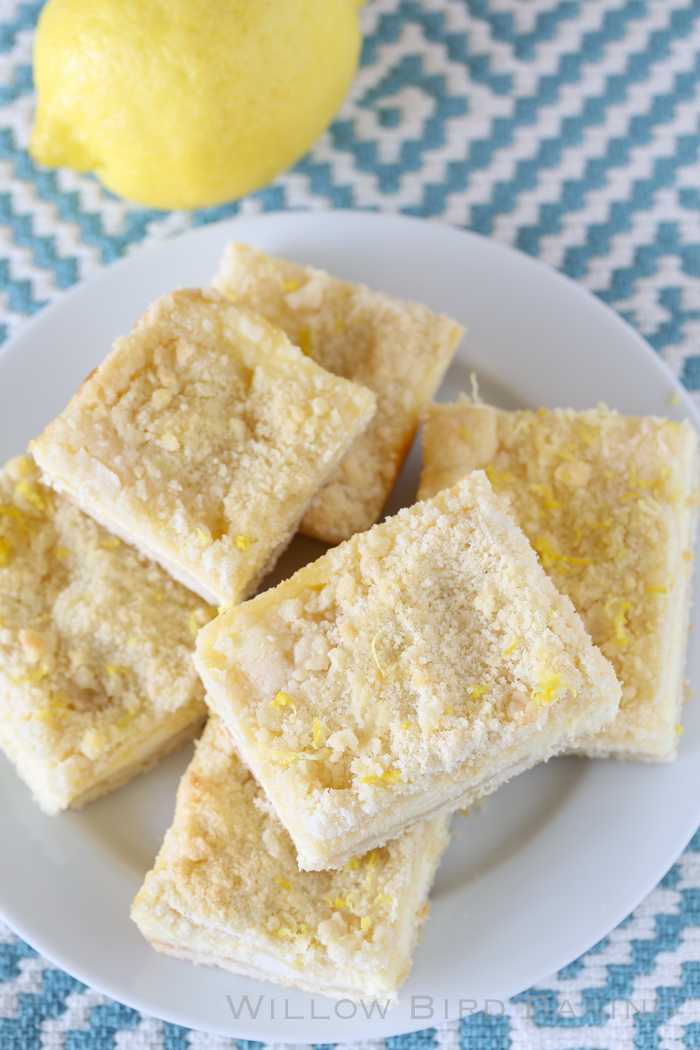 The vet told us we needed to brush Byrd's teeth every day. I seriously don't even know if I could keep up with that for a child. Like, I barely keep up with that for myself. Mike and I have been trying to take turns doing it, but it's a hard habit to create. Any recommendations for (safe, healthy) wonder products that help out with doggy teeth? Can we train her to take care of this herself or something? Dogs can use the toilet and retrieve the mail (okay, maybe not a good example), so surely they could brush their own teeth?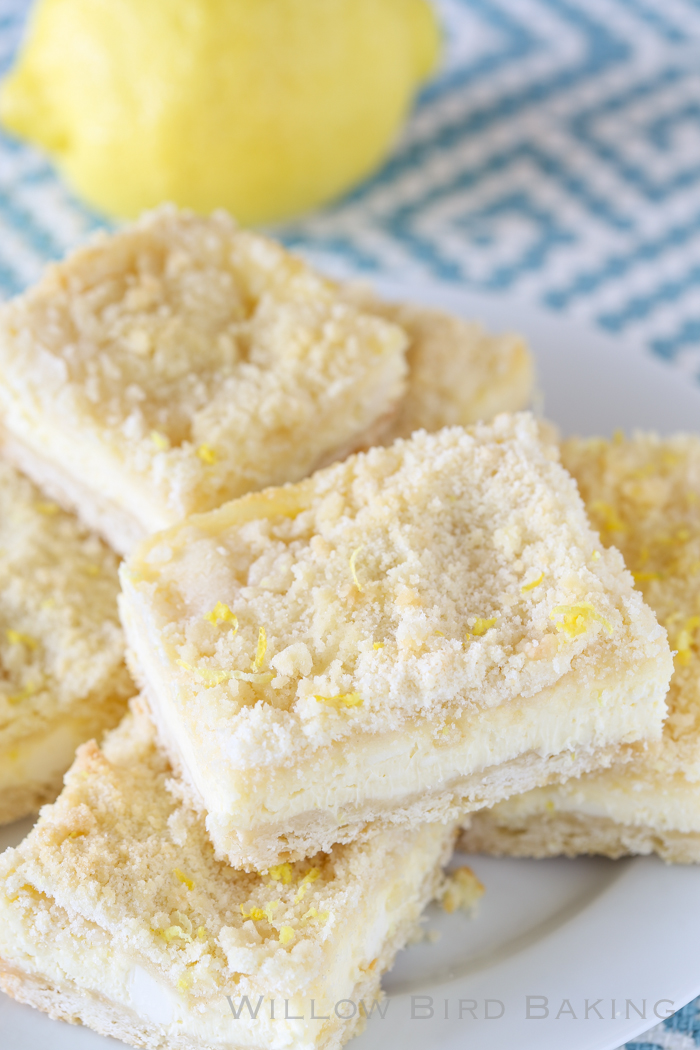 We'll keep figuring this out (read: I'll keep trying to convince Mike that he should do it). In the meantime, something a little more fun: THE BEST LEMON DESSERT EVER. It's my birthday weekend, so I needed the absolute ultimate lemon treat. These bars are the perfect balance of buttery, sweet, tangy, creamy, crunchy, and EASY. If you're a lemon lover, you have to make them!
One year ago: Intense Chocolate Mocha Cake
Two years ago: Lasagna-Stuffed Portobello Mushrooms
Three years ago: Brownie-Bottom Coconut Chocolate Cream Cake
Four years ago: Banana Coconut Cupcakes
Five years ago: Coconut Cream Tart

Lemon Shortbread Crumble Bars
THIS IS IT. The best lemon dessert ever! No seriously: these bars are the perfect balance of buttery, sweet, tangy, creamy, crunchy, and EASY. You have to make them!
Ingredients
Crust Ingredients:
1 cup all-purpose flour
1/4 cup powdered sugar
pinch of salt
1/2 cup Plugrá butter
Cheesecake Ingredients:
2 (8-ounce) packages cream cheese, softened
zest of 1 lemon (reserve a little for topping)
1/2 cup sugar
2 tablespoons lemon juice
1 egg, room temperature
White Sugar Streusel Ingredients:
1/2 cup flour
6 tablespoons sugar
1/8 teaspoon salt
3 tablespoons cold Plugrá butter, cubed
lemon zest for topping
Instructions
Make the crust: Preheat your oven to 350 degrees F. Line an 8-inch square baking pan with a foil sling. Process the flour, powdered sugar, and salt together for a few seconds before adding in the chunks of cold butter. Cut the butter into the flour mixture with about 6-8 pulses or until it looks like small peas. Press the mixture into the baking dish with the flat bottom of a glass or small dish. Bake for 20 minutes or until very lightly browning. When you remove the crust from the oven, increase the oven temperature to 375 degrees F.
Make the streusel topping: While the crust bakes, combine the flour and sugar in a food processor by pulsing a few times. Add in the cubed butter and pulse 6 or 7 times until the butter is the size of small peas and is coated in the flour/sugar mixture. Stick the streusel in the fridge until you're ready to use it.
Make the filling: Beat the cream cheese until it's fluffy. Add in the zest, sugar, lemon juice, and egg, and beat until combined. Pour the filling over the hot crust and spread it evenly. Top with all of the streusel (spread around evenly) and bake for 23-25 minutes or until the filling registers 160 degrees on a thermometer. Stick the finished bars in the fridge to chill for a few hours before topping with lemon zest, slicing, and serving.