Pumpkin Pie Shortbread Bars with Maple Cinnamon Whipped Cream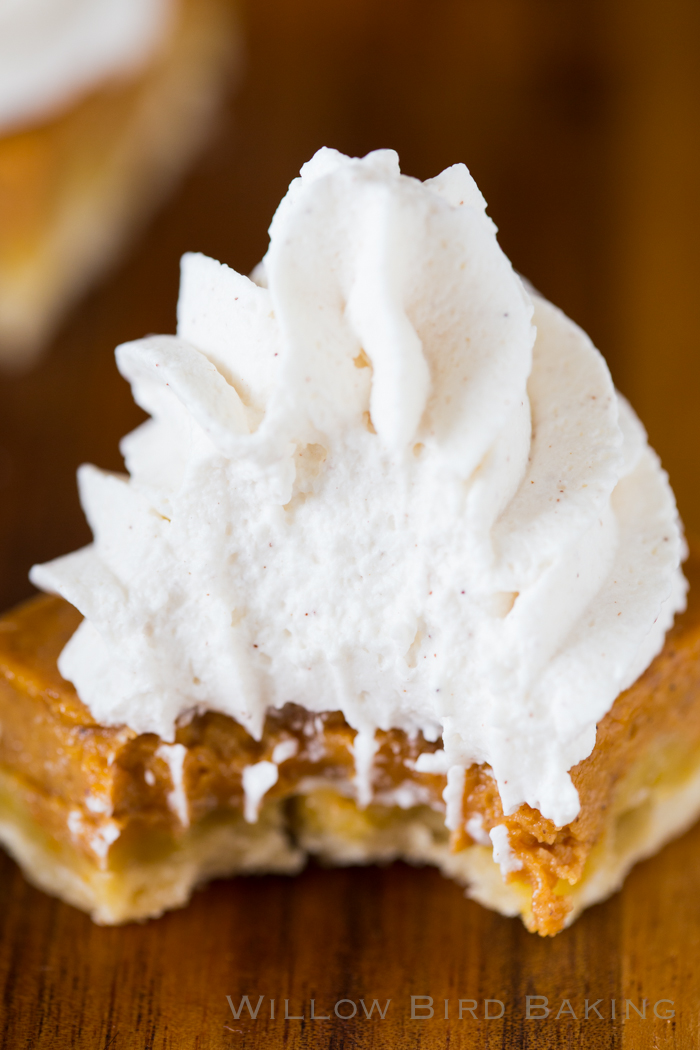 Author:
Willow Bird Baking
1 cup all-purpose flour
1/4 cup powdered sugar
pinch of salt
1/2 cup butter
1/4 cup plus 2 tablespoons granulated sugar
1/2 teaspoon ground cinnamon
1/4 teaspoon salt
1/4 teaspoon ground ginger
1/8 teaspoon ground cloves
1 egg, lightly beaten
3/4 cup plus 2 tablespoons pumpkin puree
3/4 cup evaporated milk
2 cups heavy whipping cream
1/2 cup powdered sugar
1/2 teaspoon cinnamon
1 teaspoon maple extract
Make the shortbread. Preheat your oven to 350 degrees F. Line an 8-inch square baking pan with a foil sling. Process the flour, powdered sugar, and salt together for a few seconds before adding in the chunks of cold butter. Cut the butter into the flour mixture with about 6-8 pulses or until it looks like small peas. Press the mixture into the baking dish with the flat bottom of a glass or small dish. Bake for 20 minutes or until very lightly browning.
While the shortbread bakes, make the pumpkin pie filling. In a small bowl, whisk together the sugar, cinnamon, salt, ginger, and cloves. In a large bowl, whisk together the egg, pumpkin, and this sugar mixture. Gradually whisk in the evaporated milk. Pour this mixture over the prepared shortbread crust. Bake at 350 degrees for 32-35 minutes or until pumpkin custard reaches 160 degrees on an instant-read thermometer. Cool for at least 2 hours (I put mine in the fridge after 30 minutes).
When your bars are cool, make the maple cinnamon whipped cream. Combine whipping cream, powdered sugar, cinnamon, and maple extract in the bowl of an electric mixer and whip to stiff peaks. Lift bars out of the pan using the foil sling and cut into 16 squares. Pipe a big puff of maple cinnamon whipped cream on each one. Serve bars with extra maple cinnamon whipped cream on the side.
Recipe by
Willow Bird Baking
at http://willowbirdbaking.com/2015/09/27/pumpkin-pie-shortbread-bars-with-maple-cinnamon-whipped-cream/