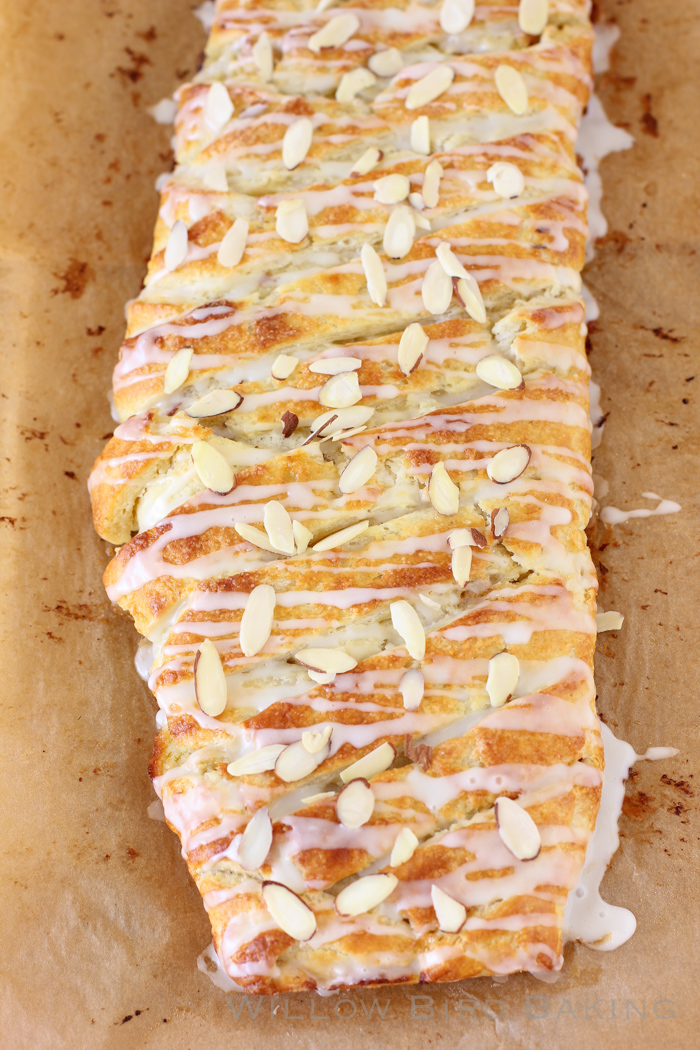 Buttery Almond Pastry Braid
I made you another pastry braid, because I can't help myself. But before we get to that, how about some wedding talk? My wedding was over a year ago, but it only just occurred to me that I could share how I threw together an inexpensive wedding.
Have you noticed that just adding the word "wedding" to any product increases the price exponentially? Wedding plates are more expensive than regular plates. Wedding shoes are more expensive than regular shoes. Wedding venues are more expensive than regular venues. My friend was drowning in her own wedding costs recently and threatening to throw herself off a (scenic, perfect for weddings!) cliff. When she asked for advice, I decided to put together a little outline of how I managed to have a crazy cheap (less than $1,000) wedding.
It wasn't everyone's dream wedding, but it was mine. We've been sold this idea of what a wedding should be (flowers, aisles, centerpieces, favors, towering cakes, princess dresses) and when I was planning my wedding, I felt a weird pressure to conform to that. The thought of scaling down to save money embarrassed me. What if people came to my wedding and thought it was dinky because we couldn't afford many flowers? Or what if they could tell I couldn't afford a super nice cake? These thoughts, in turn, pissed me off — why did I feel obligated to go into debt executing this vision I didn't even personally care about? That's when I decided to have a different wedding. Here's what we did:
We made a list of our top priorities — and ditched the rest.
The key trick that helped me plan a cheap ceremony was prioritizing the things that mattered to us and cutting out the things that didn't. That sounds so obvious, but when Mike and I sat down to talk about it, we realized that a lot of the "weddingy" things we'd been planning didn't matter to either of us. For instance, neither Mike nor I cared about flowers or decorations. We didn't care about whether or not we got married in a church. I didn't particularly want to walk down an aisle. Neither of us wanted a long ceremony or special music. We also weren't super into a traditional reception with a DJ and decorated tables and wedding favors. All of these things were fun to experience at other people's weddings, but they weren't a priority for us. What was? The food.
We both wanted an awesome meal and awesome cake. We weren't concerned with anything looking fancy, but it had to taste really good. I'd heard stories of receptions where the newlyweds barely got to eat and that just wouldn't work for me. It was clear that the centerpiece of our wedding had to be eating a meal with our families. Just like that, any thoughts of a traditional "wedding ceremony" got thrown right out the window. I'm so glad we stopped to think of what we really wanted.
We limited our guest list to close family.
This was the hardest part. We realized that if we invited some friends, there was a slippery slope thing going on. We didn't want to weigh how close our friends were and tell some they didn't make the cut, but we also didn't want the bill for a huge guest list. Some agonizing went on until we realized attending the wedding ceremony wasn't the only way to celebrate with our friends. This one intimate slice could be reserved for family and we could celebrate with friends by deliberately planning other experiences with them.
If you're going to go this route, be upfront about your choice so your friends know what's up. Instead of letting them wonder if they just weren't invited to the wedding, spread the word that you're having a tiny ceremony just for family.
All of my friends were awesome about this! Once we set ourselves free in this way, we had so much fun. There was a game night, a run to buy cake with a good friend, a pizza lunch date. My friends still made time to share in my joy and it was so much more chill. My full guest list ended up at 23 people — including just me, Mike, and our families.
We ditched the traditional wedding venues.
One of the things that was going to cost big bucks was having two completely separate events: a ceremony and a reception. Since our ceremony was going to be so brief, we wanted to combine these into one experience — and we also wanted to avoid traditional wedding venues.
We considered trying to get married on a beach or in a public park, but I was concerned about frisbees flying through our wedding. Our priority list helped to guide us in this area. If food was our top priority, why not get married at an excellent restaurant? Knowing that restaurants often had private rooms where they catered meals, I called around. Sure enough, our favorite Italian restaurant (Mama Ricotta's in Charlotte) had a room perfect for our guest list. They didn't seem too weirded out when I told them we were actually going to be exchanging our vows there, either — good sign!
When I got the catering menu to approve, it turned out that with our tiny guest list, we could afford a really cool meal. We ended up with a three-course, sit-down dinner with goat cheese and mascarpone dip, garlic rolls, penne alla vodka, pasta primavera, balsamic pork with roasted grapes, chicken parmesan, and pea and pancetta risotto. By prioritizing and choosing a unique venue, we ended up with the meal of our dreams!
We found creative ways to keep the traditions we loved.
I didn't want to walk down an aisle, but I did want my dad to walk me down an aisle. You know what I mean? That special dad-daughter moment was important to me. We were also having trouble finding a minister to officiate the wedding (my church pastor was off the table for our event, and I didn't want a stranger). Do you see where I'm going with this?
You probably don't see where I'm going with this, 'cause it's nuts. But we did it. MY DAD OFFICIATED MY WEDDING. No, he's not a preacher, but he did get ordained online just for the occasion. (Check the laws in your state to be sure this is cool. It was cool with North Carolina. Love you, Tarheel State.)
This might seem — well. I don't even know how this seems to you. Tacky? Weird? In bad taste? But to me, it was absolutely perfect. My dad is the best man I've ever known, the one who led me to Jesus, the one who has been the best Christian witness. Who else should lead me through my vows to my new husband? I couldn't think of a person on the face of the planet I'd rather have.
My dad was not enthusiastic about the idea at first. He worried he'd mess up somehow or get too nervous. But we already knew we wanted short, sweet, and clear vows: a prayer, the I DOs, the ring. And I'm so flippin' glad he agreed to do it. It was so very special to me.
We found a wonderful wedding photographer who was willing to help us.
Our wedding photographer was a dear friend of my family, Todd Sumlin. Wedding photography usually costs thousands upon thousands of dollars, and for good reason. The equipment, time, and creative vision a good photographer brings to the table is worth at least that much. But we simply couldn't pay it. We were so thankful we knew Todd and that he offered to help us — for free! We were floored. We insisted that we pay him what little we could, but still, the huge price discount helped us immeasurably. I also baked him some carmelitas, because hey, what a great guy, right?! If you know a friend who could help you out in this way, they are worth their weight in gold.
I saved on the dress and makeup.
I wanted a dress I could wear again and one that suited our more intimate wedding ceremony, so I chose one that was around $100 with alterations. I also did my own hair. The cool thing about doing it this way is that you can justify buying super snazzy hair products because you're saving so much by not going to a salon! I did have my makeup done at Ulta, because it was super affordable and way better than I could've done myself. Because I saved so much overall, I even treated myself to a test run a couple of weeks before the wedding just to be sure I'd love the look.
We bought a non-wedding cake.
Remember how the word "wedding" tends to change the price of things? I decided early on not to bother with a wedding cake. I happen to love Sam's sheet cakes with that insane whipped icing — you know the ones I mean? — so I bought a giant one for 20 bucks and that was that! It was cheap, sure, but it's also one of my favorite cakes! Win-win.
So what was our wedding like?
It was incredible. Without the trappings of a traditional wedding, we were free to have the kind of experience we really wanted. All of our family sat around a long table studded with a few vases of roses as we held hands and my dad led us through our vows. After a brief and special ceremony, we sat down too and dinner was served! Three courses full of food, laughter, and chit-chat, just like we hoped. And I was so relieved that my parents, who generously volunteered to foot the bill, were left with less than $1,000 to pay.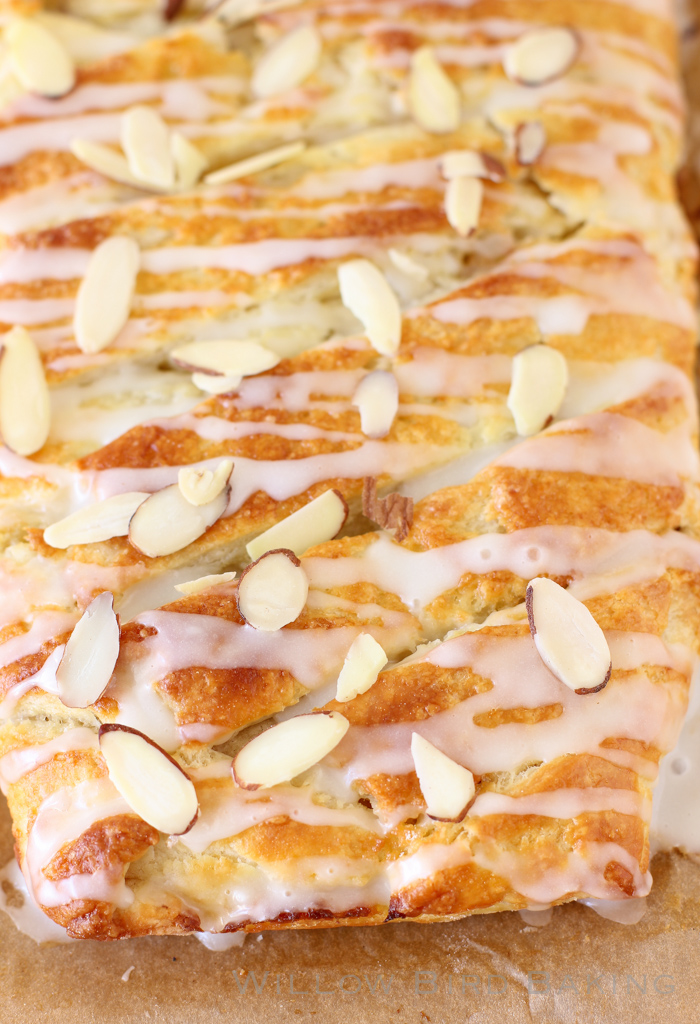 For awhile, I briefly considered making my own wedding dessert, but I'm so glad I talked myself out of that idea real quick! Nobody needs that added stress before their wedding day, trust me.
But if I were going to make a wedding dessert, I'd consider something less conventional and less stressful than a tiered cake. How about some pastry braids? You guys know I'm all about pastry braids lately because they're so darn beautiful with minimal time and effort. This one is a buttery almond masterpiece reminiscent of an almond croissant. If you love almond, you have to try it.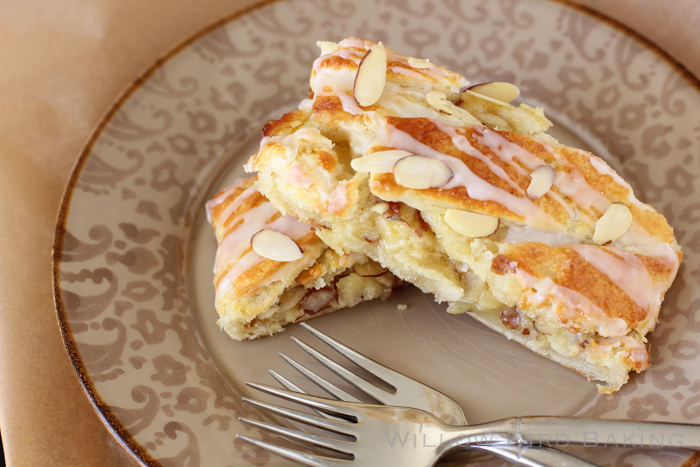 For those of you who are married or wedding planning, please share! How did you cut costs on your big day?
One year ago: Skinny Mini Coconut Cakes
Two years ago: Spaghetti Squash Baked "Pasta" Boats
Three years ago: Clementine Curd
Four years ago: Lemon Berry Crumble Breakup Bars
Five years ago: Valentine's Truffle Heart
Buttery Almond Pastry Braid
If you love almond -- almond pastries, almond croissants -- this simple Buttery Almond Pastry Braid is perfect for you! Eat it for breakfast or dessert!
Ingredients
Dough Ingredients:
2 cups all-purpose flour
2 tablespoons powdered sugar
1 teaspoon baking powder
1/2 teaspoon salt
1/2 cup butter
3 ounces cream cheese
1/2 cup milk
1/2 teaspoon almond extract
1 egg whisked with 1 teaspoon water for egg wash
Filling Ingredients:
8 tablespoons butter, softened
1/3 cup sugar
dash of salt
1/2 teaspoon almond extract
1 egg
7 ounces almond paste, frozen until firm and then grated with hand grater
1 cup sliced almonds, divided
Icing Ingredients:
1/2 cup powdered sugar
1 tablespoon milk
1/8 teaspoon almond extract
sliced almonds for topping
Instructions
Make the filling: Cream together the butter and sugar until fluffy and pale yellow. Mix in the salt and almond extract. Beat in the egg until just combined. Stir in the almond paste flakes and about 1 cup of the slivered almonds.
Make the pastry braid: Preheat the oven to 425 degrees F. In the bowl of a food processor, mix the flour, powdered sugar, baking powder, and salt. Add the cream cheese and butter into the flour mixture and pulse to cut the fat into the flour (about 6 pulses). Add the milk and almond extract and blend until it's just starting to come together into a loose dough.
Turn the dough out onto a big sheet of lightly-floured parchment paper and knead each very lightly for just a few strokes (be careful not to overwork the dough or it'll be tough! Don't worry about getting it smooth — just knead for these few strokes and let it stay a little rough.) Very lightly flour the top of the dough and roll it out to a 10- by 12-inch rectangle. Measure and mark the dough lengthwise into thirds. Spread the butter mixture over the middle third of the dough.
Continue assembling the braid: (There are photos and a video below to help visualize this step!) Make diagonal cuts at 1-inch intervals on each the long sides. Do not cut into the center filling area. Fold strips, first one from one side and then one from the other side in an alternating fashion, over the filling. It will now resemble a braid. Use the sheet of parchment to carefully transfer your braid to a baking sheet. At this point you can cover and refrigerate the braid overnight, or you can continue to the next step.
Bake and glaze the braid: Brush the pastry braid with the egg wash mixture. Bake in the 425 degree oven for 20-22 minutes, until the dough is really golden on top and the filling is set. After allowing the braid to cool for around 30 minutes, whisk together the powdered sugar, almond extract, and milk in a small measuring cup with a pour spout. Drizzle over the top of the braid. Top with sliced almonds and serve!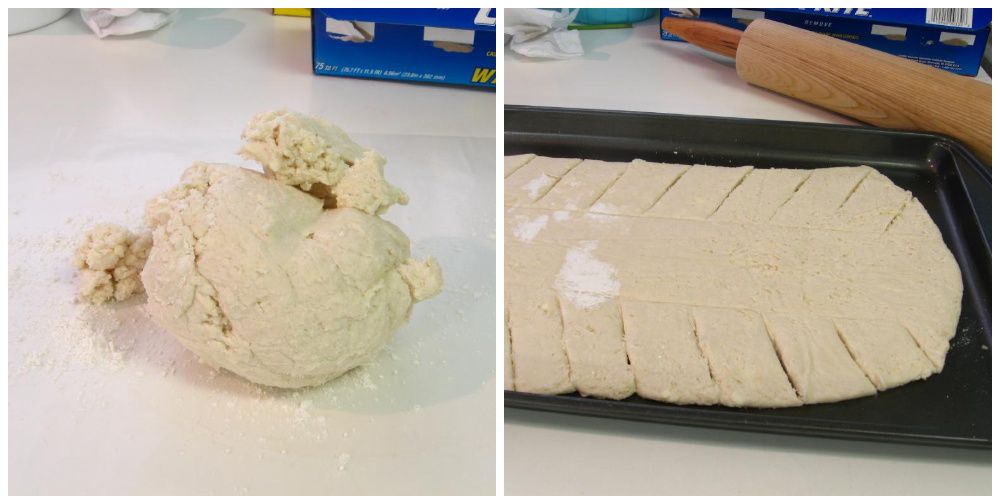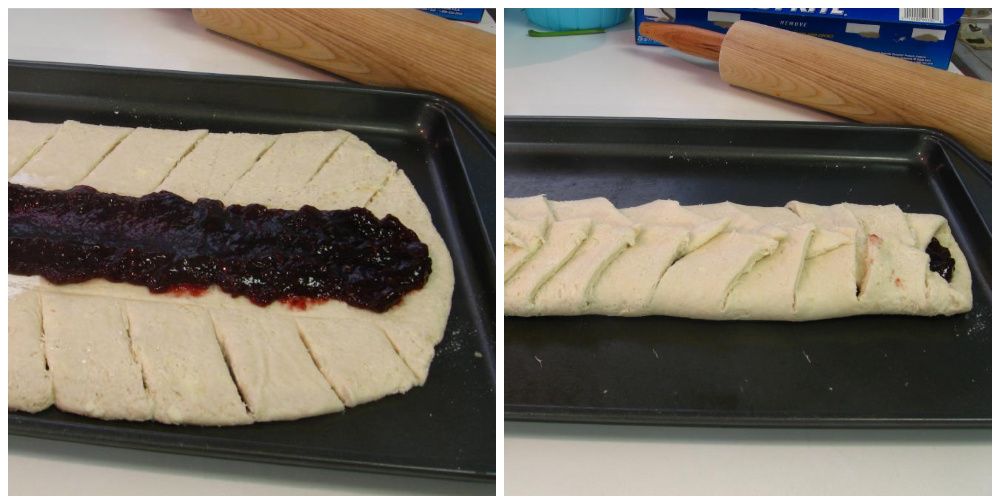 Example of how to cut and assemble braid.
https://www.youtube.com/watch?v=kfmkkSFIKgY&list=UUo5vBmq65I-8K7Z8qMQNpKw
Video of preparation and assembly of a braid.