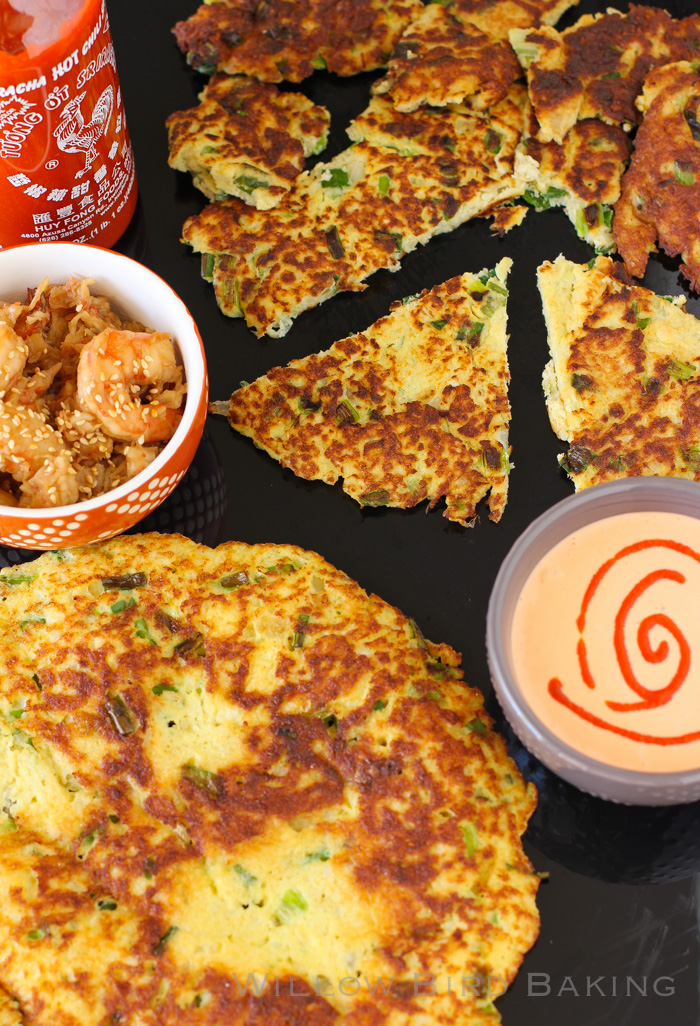 Paleo Scallion Pancakes
I doubt I'm alone in this little admission: I'm always looking for that perfect healthy meal. You know, the one that's healthy AND delicious AND filling AND cures diseases AND makes my skin glowy AND ends wars AND …
Why is that so much to ask?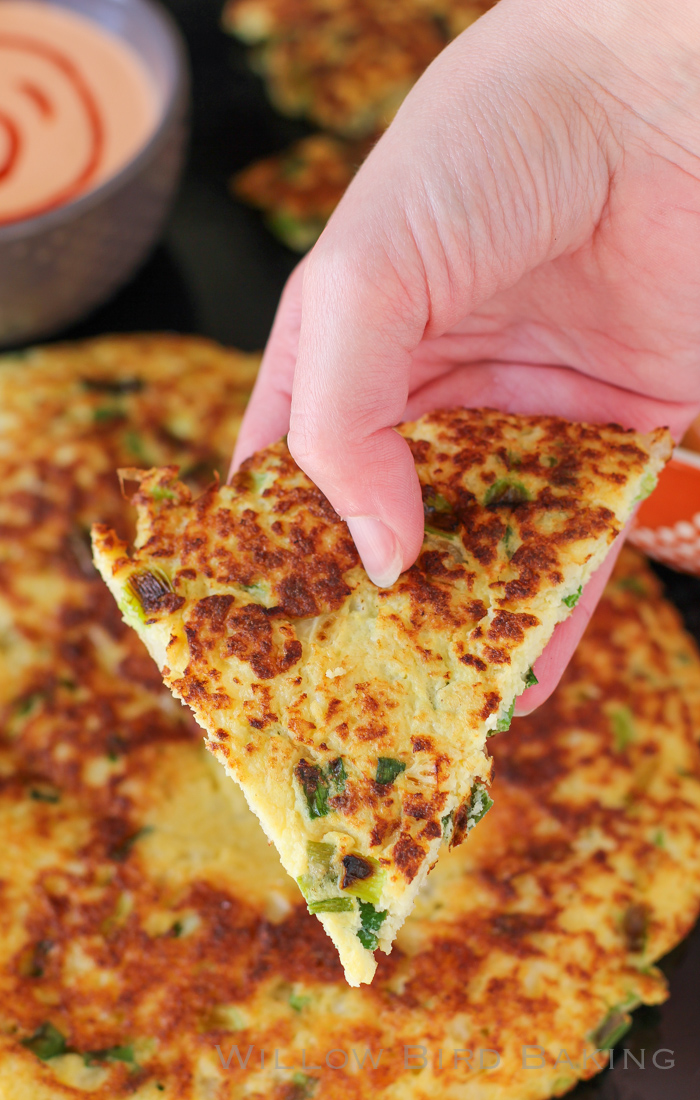 It seems like when I find a meal I love, it's too high in carbs or calories or chemically weirdness. When I find a meal that's healthy, it tastes like cardboard. And you guys, I cannot make myself eat cardboard. I just can't. I still remember the time I decided I was going to eat a rainbow of roasted veggies for dinner every night. That lasted two days and I think I ate more of the garlic aioli than the asparagus.
Anyway, what I'm trying to tell you is that I FOUND IT. I FOUND IT, AND IT'S SCALLION PANCAKES. These paleo scallion pancakes are flippin' delicious, flippin' healthy. And when I topped them with an also-healthy pile of sesame shrimp and a drizzle of Sriracha aioli (recipes coming soon!) they might've been the best savory thing I've ever made. And that's saying a lot, 'cause once I made these.
What's your favorite healthy, everyday meal?
One year ago: Gooey Turtle Brownie Sticky Buns
Two years ago: Quick & Easy Sides: Roasted Carrots and Asparagus with Garlic-Lemon Aioli
Three years ago: Clementine Mousse Cheesecake
Four years ago: Carrot Cake Sandwich Cookies with Honey Cardamom Cream Cheese
Five years ago: Nanaimo Bars
Paleo Scallion Pancakes
This paleo scallion pancake is so awesome -- it's delicious and healthy at the same time! I served my pancake with 5-Minute Sesame Shrimp and Sriracha Aioli and it was one of the best meals I've had in a long, long time! It's a must-make.
Serves:
2 servings, 3 slices each
Ingredients
1/2 medium head of cauliflower, chopped and then minced fine in a food processor (about 1 3/4 cup minced)
1/4 cup water
6 scallions, chopped (green and white portions, about 2/3 cup chopped)
1/4 cup finely minced onion
2 eggs
salt to taste (1/4 teaspoon to start)
2 tablespoons coconut oil
Instructions
Bring the water to a boil over high heat in a medium saucepan. When it's boiling, place the cauliflower in, quickly stir it, cover the saucepan, and turn off the heat. Set a timer for 10 minutes to let the cauliflower steam. Afterwards, drain the cauliflower in layered cheesecloth, being careful to really squeeze out all the moisture (I had to let it cool a bit first, ouch!).
In a large bowl, beat the eggs. Whisk in the scallions, onion, cauliflower, and salt. Heat the coconut oil in a large skillet over medium heat until it shimmers. Put all of the egg mixture in and spread it around. Let it cook for 5 minutes or until it's golden brown. Flip the pancake (Studio Snacks uses a plate-flipping method: "I slide the pancake (browned side still down) from the pan onto a large plate, invert the fry pan onto the plate and flip both together back onto the stove, making it so that the uncooked side is now at the bottom." I can attest that this takes some practice and care -- and definitely remove excess oil from the fry pan before inverting it -- but I got better as I practiced!)
Cook it for another 3 minutes or so until its golden brown. Slide it out onto a wire rack to keep the bottom crispy and sprinkle over some extra salt to taste. Serve immediately with 5-Minute Sesame Shrimp and Sriracha Aioli.