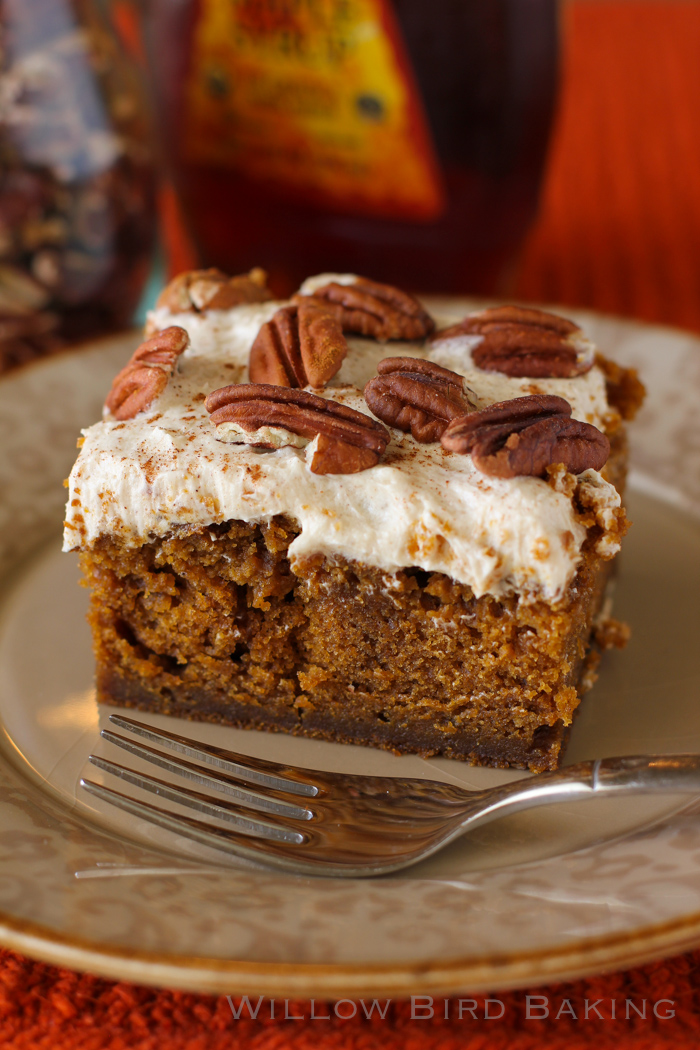 Drunken Pumpkin Gingerbread Snack Cake
Mike and I sometimes play a game where we list all the places we'd love to live. We both gravitate towards big cities with great public transportation (or walkability), great food, and lots of things to do. Topping my list are San Diego, San Francisco (in its cheaper days, please), and Florence! Wouldn't it be nuts to live in Florence?
One thing that baffles us during these discussions is how people live where it's cold. A huge chunk of our nation's population lives where it's cold for, like, half the year! Where they have to dig their cars out of snow to go to work starting in October! Where things like ice fishing and snowshoeing exist! You might be sitting somewhere right now where it's already started snowing. I need to understand.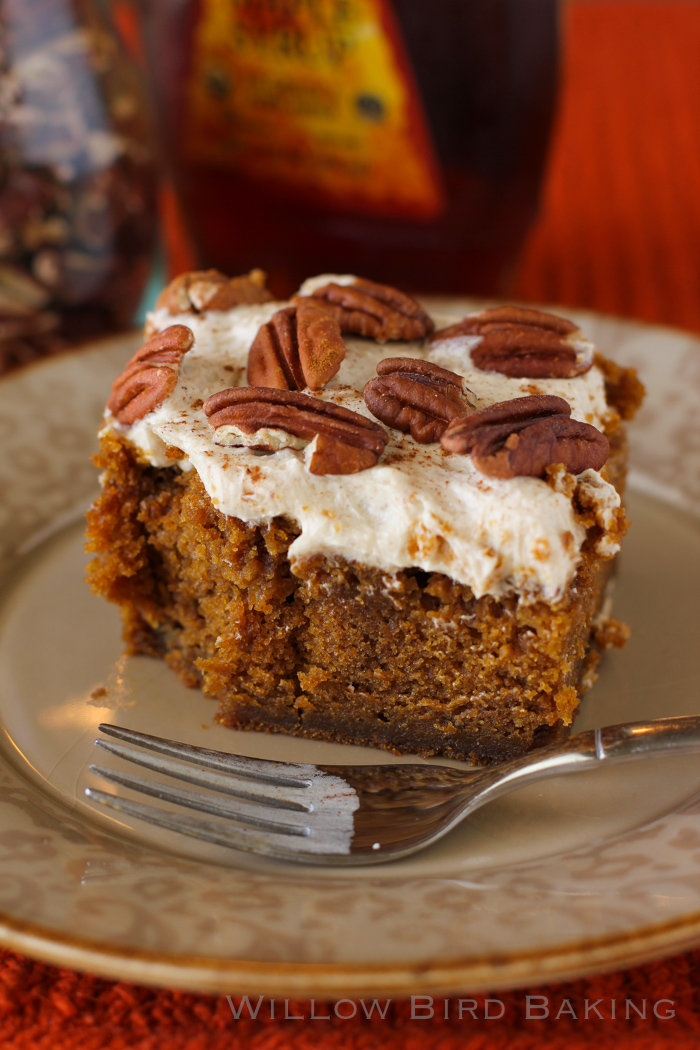 Here in the piedmont region of North Carolina, there are four distinct seasons and the winter is tolerable. Temperatures can get down to the teens, but usually hover in the 30s for the three most intense winter months (December, January, and February). While it snows a few times each year, it's never too much at once (we do get to enjoy a few school/work closings!)
Even here, though, I have trouble in the winter. I vividly remember sitting in an early morning class in high school thinking that I might literally die of hypothermia. Every year around February I feel oppressed by the seemingly never-ending, overcast winter. If that's how I feel here, how do any of you live in the north? New England? Canada? Scandinavia?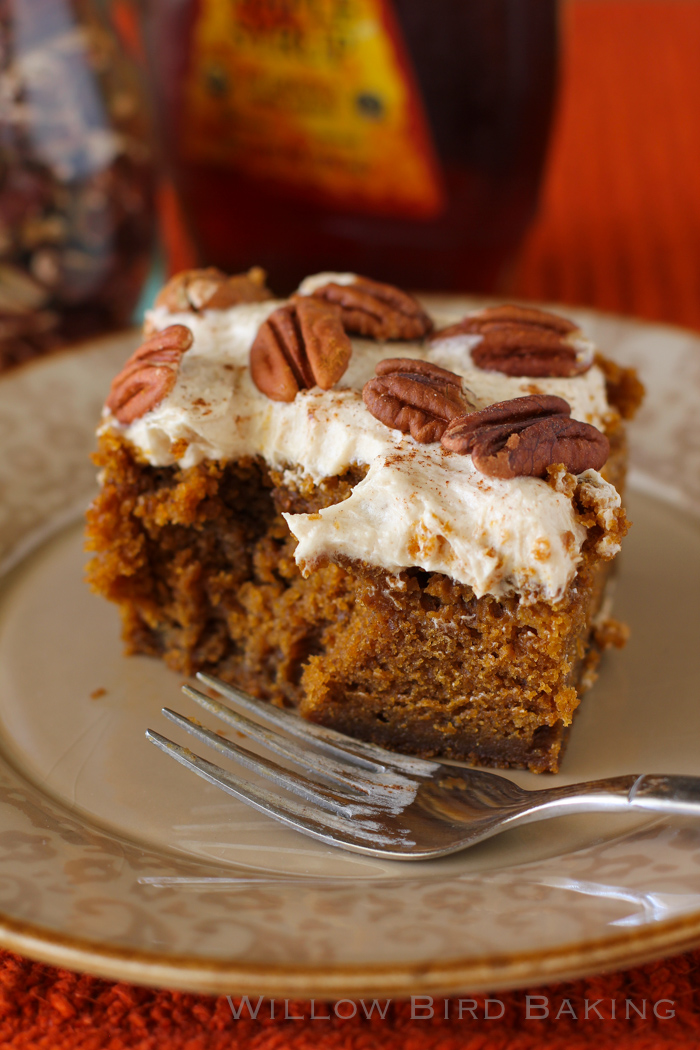 I'm so interested in what you all have to say about the weather where you live. Do you love it? Hate it? Disregard it completely? Does it affect your mood? How have you learned to cope?
We chatted about the cold over on Facebook. And then discovered, really, it's no picnic for folks living in oppressively hot places, either. Well, except for that one Australian who posted the beach photo.
Let's all make drunken pumpkin cakes and move to Australia. Deal?
One year ago: Quick and Easy Sour Cream Apple Kuchen
Two years ago: Brown Butter Pumpkin Cake Cheesecake with Salted Caramel
Three years ago: Easy Sopapilla Pumpkin Cheesecake Bars
Four years ago: Blueberry Stuffed French Toast Bowls
Five years ago: Best Ever Cream Cheese Pound Cake with Easy Caramel Frosting and Spiced Apples
Drunken Pumpkin Gingerbread Snack Cake

---


Recipe by: Willow Bird Baking
Yield: 9-12 servings

This cake whips up quickly, but then sits overnight to let the flavors meld. It's a great holiday or company cake — or a great Monday cake, let's be real. If you're not a huge fan of rum, feel free to substitute bourbon or whatever you enjoy — or leave out the alcohol altogether.

Ingredients:
1/2 cup (1 stick) butter
6 tablespoons water
1 1/8 cups cake flour
3/4 cup plus 2 tablespoons white sugar
3/4 teaspoon baking soda
1/2 teaspoon salt
1 teaspoon ground cinnamon
1/4 teaspoon nutmeg
1/8 teaspoon ground cloves
1 egg, lightly beaten
1/4 cup sour cream
1 cup pumpkin puree
1/4 cup molasses
3 tablespoons rum

Cinnamon Maple Icing Ingredients:
1/2 cup milk
2 1/2 tablespoons flour
1/2 teaspoon cinnamon
1/4 cup plus 2 tablespoons granulated sugar (not powdered sugar)
1 tablespoons maple syrup
1/2 cup (1 stick) butter, at room temperature
Toasted Pecans*
*To toast pecans, bake at 350 degrees F for 5-7 minutes, tossing regularly, until fragrant. Allow to cool completely.

Directions:
Make the cake: Preheat the oven to 375 degrees and prepare an 8-inch square baking pan (I brush the pan with Wilton's Cake Release and place a square of greased parchment in the bottom to ensure the cake will come out clean.) In a medium saucepan over medium heat, bring the butter and water to a boil. In the meantime, in a separate large bowl, whisk together the cake flour, sugar, baking soda, salt, cinnamon, nutmeg, and cloves before mixing in the egg, sour cream, pumpkin, and molasses. While mixing, slowly pour in the boiling butter and water mixture. Mix to combine completely. Your batter will be very runny. Pour the batter into the prepared baking pan.

Bake at 375 degrees for 20-23 minutes or until a toothpick inserted in the center comes out with a few moist crumbs. Cool for about 10 minutes before gently poking holes in the cake with a fork. Sprinkle the rum over the top of the cake evenly and allow the cake to cool completely.

Make the frosting: Immediately after leaving your cake to cool, start your frosting, since it will need cooling time as well. Heat the milk, flour, cinnamon, and granulated sugar together over medium heat, whisking constantly. Once it starts to boil, continue whisking and heating it for around 4-5 minutes or until it's very thick, like cake batter consistency. Remove the mixture from the heat and whisk in the maple syrup. Remove the mixture to a shallow pan and let it cool completely (it's very important that it's completely cool, or your frosting will be runny. I let the frosting mixture and the cake both cool for at least 2 hours.)

Once the mixture is cool, beat the butter in the bowl of a stand mixer until soft and fluffy. Add the cooled flour mixture and beat on high until you have fluffy frosting the consistency of stiff whipped cream (this takes several minutes, so be patient). Frost your completely cooled cake and top with toasted pecans and a sprinkling of cinnamon. Let the cake chill overnight in the fridge before serving to let the flavors fully meld, and then let it sit out for at least 30 minutes before serving to let the frosting re-soften.