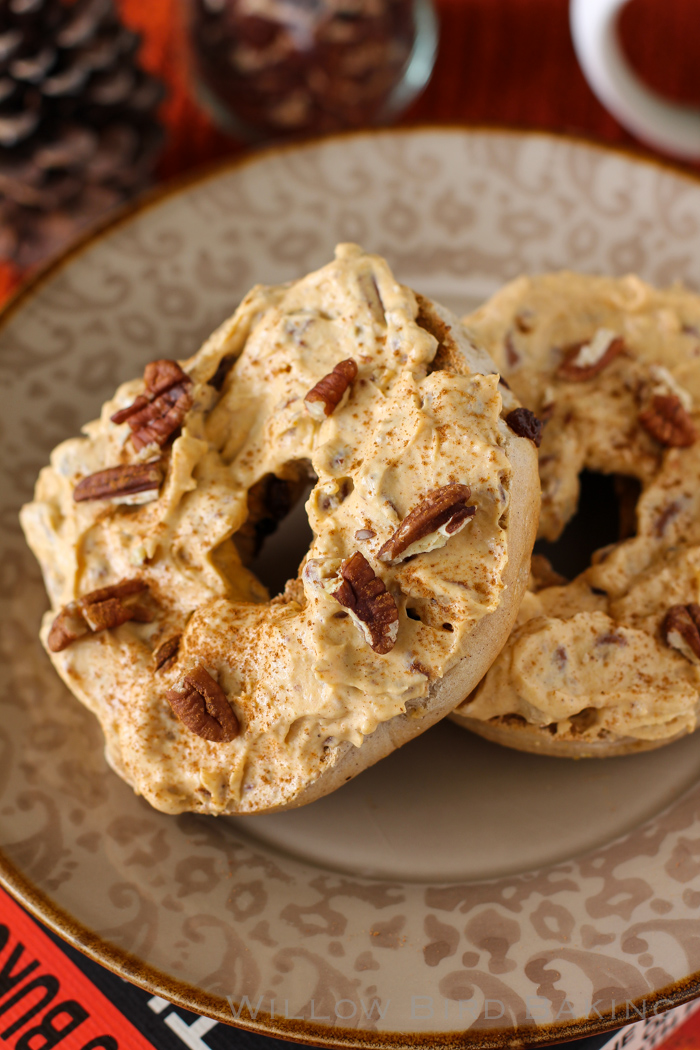 Pumpkin Pecan Cream Cheese Spread
Coconut coconut coconut coconut PUMPKINNNNNNNNNNNN coconut coconut coconut…
That's how I would describe my food cravings over time. In case you haven't noticed, it's pumpkin season.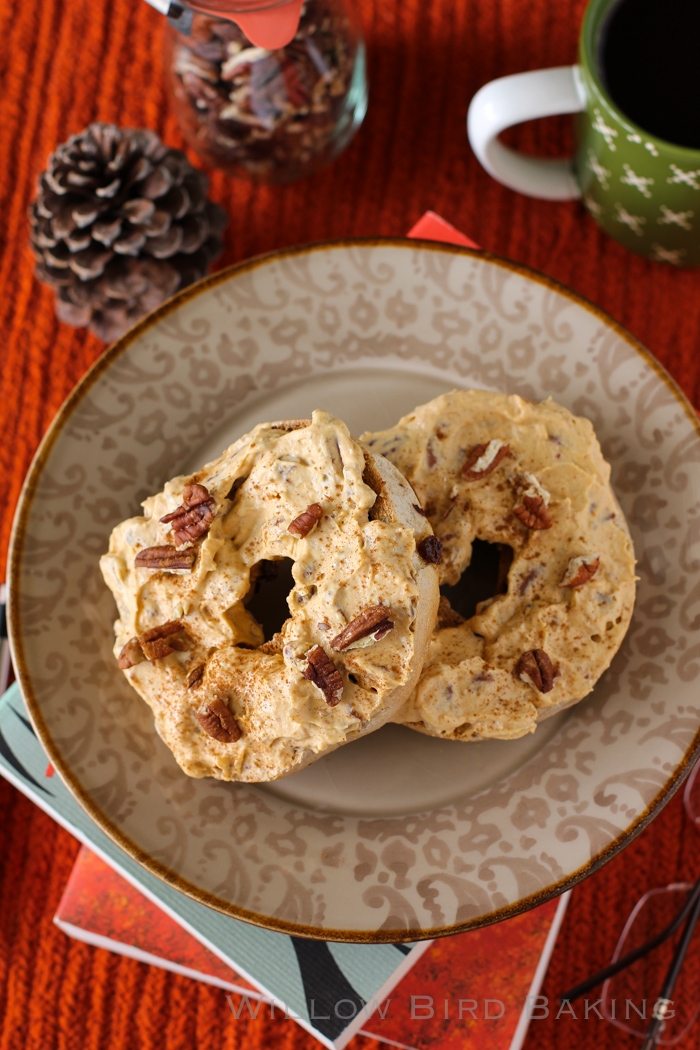 This year is a great year to love pumpkin, too. So far I've found Pumpkin Krispy Kremes, Pumpkin Pop-Tarts, pumpkin spiced nuts, pumpkin spiced lattes, pumpkin bread, and pumpkin bagels at stores around town. I hold out hope that the new Pumpkin Oreos are on their way. And Trader Joe's looks like a flippin' pumpkin exploded in it: pumpkin macarons, pumpkin cheesecake, pumpkin croissants, pumpkin oatmeal, pumpkin baking mix, pumpkin butter.
If you see someone dancing gleefully through a Raleigh store with a cart full of pumpkin products, please do say hello, because it's totally me.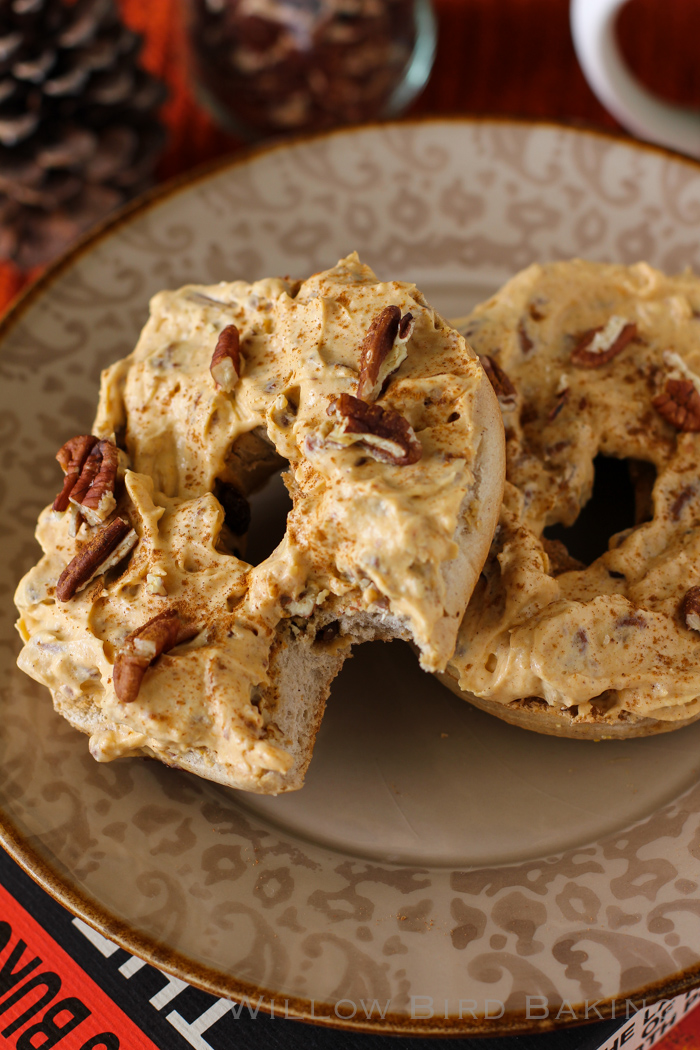 All of these pumpkin goodies are admittedly hit-or-miss. While Pumpkin Pop-Tarts and pumpkin spice nuts have me swooning, the pumpkin bread I bought is lackluster (no worries, because I made my own.) The pumpkin cream cheese spread I found was also disappointing. It wasn't sweet enough and didn't have the pumpkin spice flavor I love. This recipe is my solution!
This Pumpkin Pecan Cream Cheese Spread is so quick to whip up, and it packs a delicious autumn punch (and crunch). Pumpkin, cinnamon, cloves, and toasted pecans are the perfect complement to tangy cream cheese. I chose to sweeten it with Swerve, a natural sweetener that I've been meaning to try. I don't love Splenda because it has a weird aftertaste and Stevia tastes sickly bittersweet to me. Swerve was great! No aftertaste, and a sweetness just on par with regular sugar. (By the way, this isn't a sponsored post. Just wanted to tell you about something new I tried.)
Pumpkin Pecan Cream Cheese Spread was delicious schmeared all over my cinnamon raisin bagels, but I can't wait to try it on waffles, pancakes, toast, a spoon . . .
What's your favorite way to enjoy pumpkin in the fall?

One year ago: Pumpkin Cheesecake Pillow Popovers
Two years ago: Gooey "German" Pumpkin Skillet Cake
Three years ago: Cheap and Simple Taco Pockets
Four years ago: Gulab Jamun with Caramelized Bananas
Five years ago: Homemade Puff Pastry and Vol-au-vents
Pumpkin Pecan Cream Cheese Spread

---


Recipe by: Willow Bird Baking
Yield: Enough spread for 5 bagels

I bought ready-made pumpkin cream cheese from a bagel restaurant chain and was disappointed: it wasn't sweet or spicy enough! So I made my own. This version has delicious pumpkin spice flavor, toasted pecans, and is sugar-free — perfect for breakfast!

Ingredients:
1 (8-ounce) package cream cheese, softened
6 tablespoons Swerve "confectioners' style" sweetener (or use regular powdered sugar)
1/2 cup pumpkin puree
1/2 teaspoon ground cinnamon
1/8 teaspoon ground cloves
1 cup toasted pecan halves, chopped*

Directions:
*To toast pecans, bake at 350 degrees F for 5-7 minutes, tossing regularly, until fragrant. Allow to cool completely.

Beat cream cheese until fluffy before adding Swerve and creaming until combined. Mix in pumpkin puree, cinnamon, cloves, and chopped pecans. Chill overnight to let the flavors meld before serving on bagels, toast, and spoons!