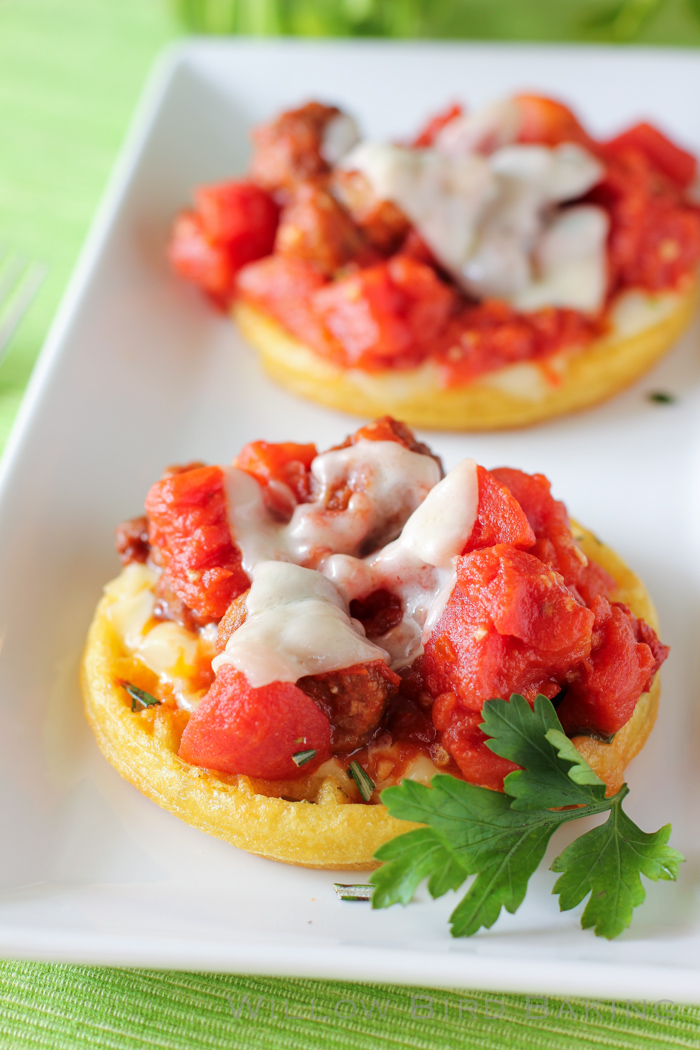 As you read this, I'm in Florence, Italy, hopefully eating pizza or basking in the glow of the Renaissance or doing something decidedly Italian. If you get a moment, head over to my Instagram to see my Europe photos (presuming I ever found Wi-Fi)! In the meantime, let's talk waffles . . .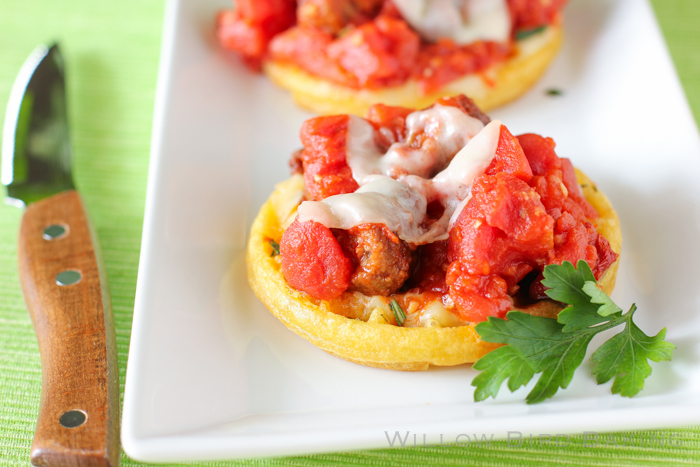 During my school years, my dad was the kid wrangler. He woke me up every morning, popped frozen waffles in the toaster for me, and brushed my hair into a ponytail. I know what you're thinking, but as dads go, he was actually a pretty decent hair stylist. He would even add a cutesy, curly hair bow at the end.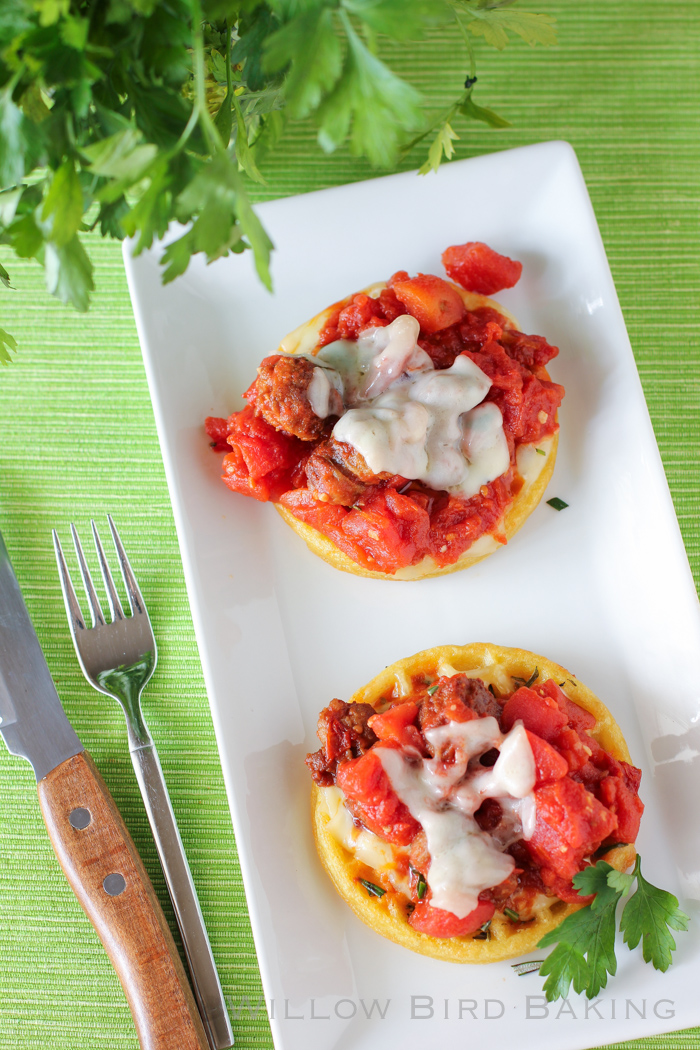 Those mornings are a special memory for me now, including piling into the car with my sisters and listening to country music on the way to school. Every now and then we'd get into the early 90s jams; my dad said that this song was written for me.
The frozen waffles, in particular, are a vivid memory doused in butter and maple syrup. I remember when I got to school every day, I could still smell the faint trace of maple syrup emanating from me. I had brushed my teeth and as far as I know, I hadn't dipped my hair in it or anything, but somehow, it was always there.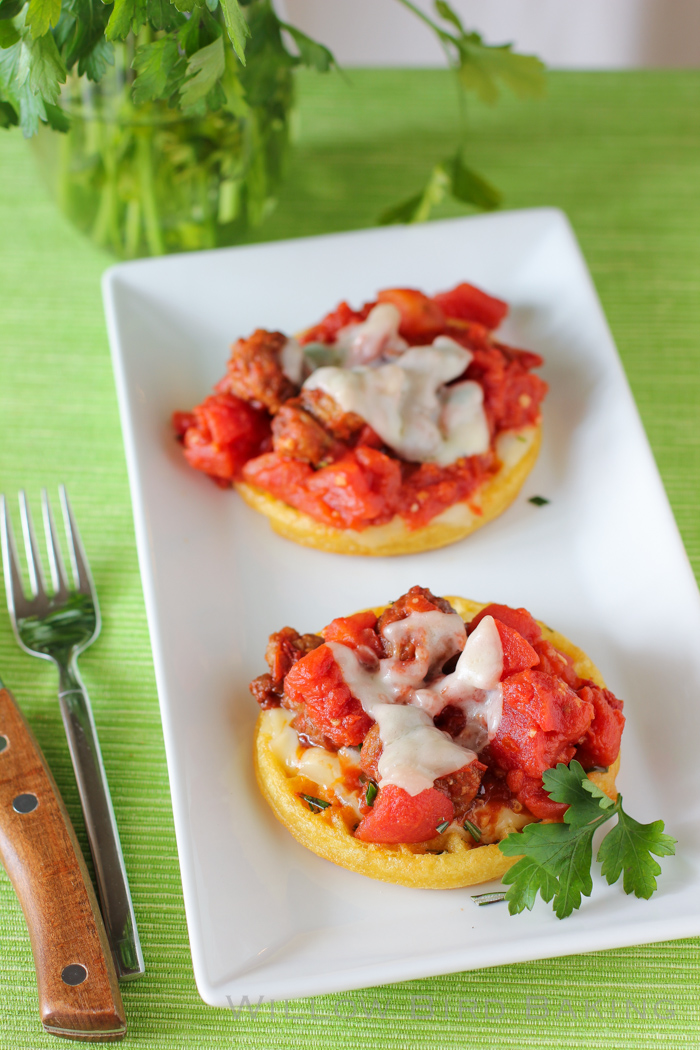 This past weekend, I bought the first box of Eggo waffles I've owned in at least 15 years, but no maple syrup made it into my cart. I decided that waffles weren't just for breakfast. Instead, I schmeared rosemary butter onto these waffles and toasted them until they were golden. While they toasted, I made a quick and easy tomato sauce with a few of the best ingredients (San Marzano tomatoes, extra virgin olive oil, sun-dried tomatoes, hot Italian sausage from Hickory Nut Gap Farm, and a splash of red wine). I ladled the meat and sauce over each waffle, topping it with melty provolone. If you love meatball sliders, these are like meatball sliders' sophisticated cousin.
The only thing I miss? That maple syrup smell reminding me of breakfast with my dad.
Tell me one of your favorite memories of childhood.

One year ago: Lobster Roll Salad (and salad tips!)
Two years ago: Blueberry Scones with Maple Glaze
Three years ago: Coffee Mousse Filled Doughnuts
Four years ago: Sparkling Strawberry Lemonade
Open-Faced Sausage Sliders on Rosemary Waffles

---


Recipe by: Willow Bird Baking
Yield: 4 servings

Waffles aren't just for breakfast anymore. These meatball slider-style waffles were sophisticated and delicious, but quick and easy to prepare. Enjoy!

Ingredients:
2 tablespoons extra-virgin olive oil
1 garlic clove, minced
1/4 teaspoon red chili flakes
1 (28-ounce) can diced tomatoes (I use San Marzano)
2 heaping tablespoons julienned sundried tomatoes in oil
1 tablespoon red wine
3 basil leaves, finely chopped
1/2 teaspoon salt
2 links hot Italian sausage
4 frozen Homestyle Eggo waffles
1/2 cup butter, softened
1 tablespoon finely chopped rosemary
4-8 slices provolone cheese

Directions:
Preheat oven to 400 degrees F and line a baking sheet with aluminum foil. Add 2 tablespoons of olive oil to a Dutch oven over medium heat. Add garlic and chili flakes and cook for around 30 seconds. Add in canned and sundried tomatoes and red wine. Raise the heat to high to bring the pot to a simmer before lowering it back to medium. Stir occasionally as it simmers for 30 minutes.

In the meantime, brown the sausage in a separate skillet over medium-high heat and then add it into the sauce. After the sauce has simmered for around 30 minutes, add in the basil and stir to combine.

Mix softened butter and rosemary in a bowl until combined. Prepare 4 waffles by smearing each with equal amounts of rosemary butter. Bake the waffles on prepared baking sheet for about 10 minutes, adding a slice of provolone to each for the last minute. Remove them from the oven and top each waffle with a heaping ladle of sausage and tomato sauce. Serve sprinkled with basil or with more provolone on top.