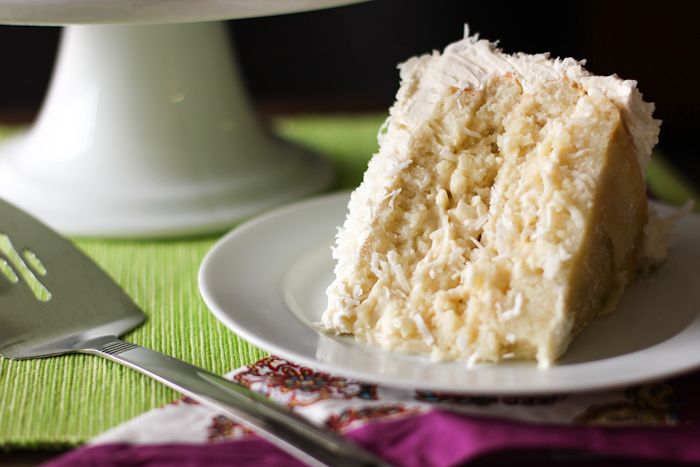 I am very new to indoor cat ownership. Buckle has been with me for a little over a month now, and I'm only just now starting to "get" cats. As much as you can ever "get" cats, I should say. He's quite the enigma.
Here are some things I've realized. And that you should have warned me about, you smug cat owners.
1. Cats are fluffy.
Yes, they are cute-fluffy, but they are also fur-tumbleweeds-on-all-surfaces, must-vacuum-all-the-time, why-is-there-cat-hair-in-my-mouth fluffy. I don't think I've ever used up an entire lint roller in my life, but since Buckle got here, I've gone through two. I have to dust, vacuum, and wash all throws/rugs every weekend without fail or the creep of the cat dander will eventually cover me like an evil, carnivorous fur coat.
He also hates his furminator and tries to attack it. Good thing he loves the prickly hairbrush.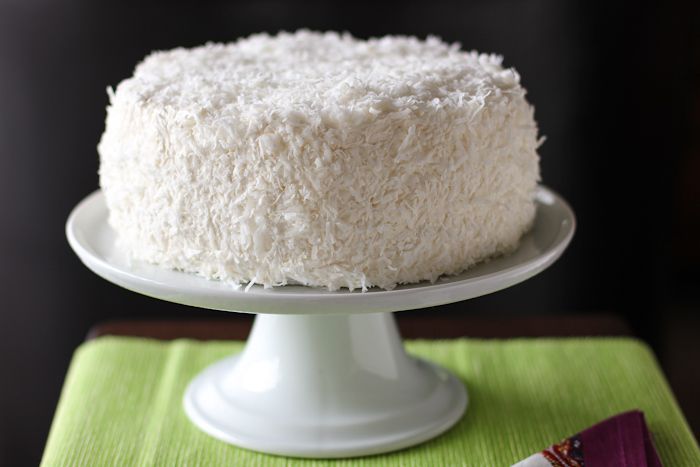 2. Cats are busybodies.
If you have cabinets, they need to know what's in those cabinets. They don't want a cursory glance. They want to get in those cabinets and roll around until they have fully explored the texture of the cabinet contents.
If you have some dinner, they need to smell that dinner. And paw at that dinner. And if at all possible (for instance, if you have gone to retrieve a forgotten napkin or fork), taste that dinner.
If they hear a noise, see you pick something up, detect a motion in their peripheral vision, or just have a weird hunch, immediate and thorough investigation is essential.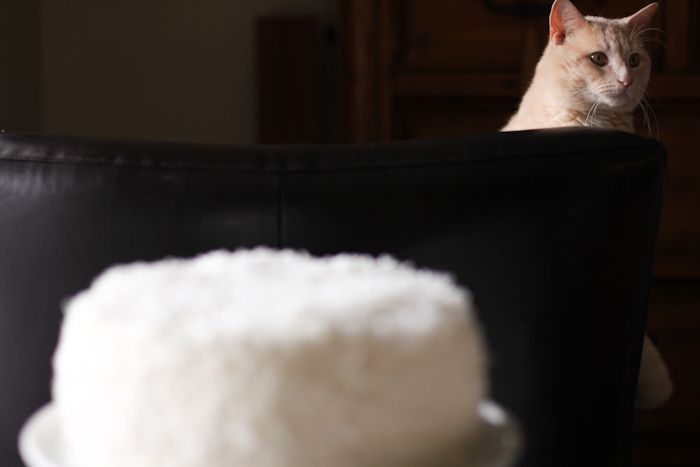 What's this? Cake? What's cake? I'm going to need to investigate that…
3. Cats are terrifying.
Every now and then Buckle will go bat-you-know-what-crazy for no apparent reason, dive through the house, tackle an utterly-terrified Byrd, jump on three or four separate pieces of furniture, knock something over, and then hide under the buffet.
During this time, I close my eyes tightly and hope nothing expensive is in his path.
4. Cats sleep a lot. In weird places.
I emailed my friend Jamie shortly after Buckle came home just to make sure he wasn't sick: "Are cats supposed to sleep, like, 20 hours a day?" Apparently, yes.
Buckle's favorite spot to sleep is on my bright orange tray, using The Wednesday Chef's amazing book, My Berlin Kitchen, as a pillow. He's got good taste in literature, I'll admit, but there are fluffy pillows and blankets all over the room. And he chooses to sleep squished into a too-small tray with the corner of a book digging into his side. I don't get it.
5. Cats are worth it.
Worth the fur, worth the terror, worth the furniture cleaning (We had an incident. Don't get me started.) I'm already forgetting what it was like without Buckle here at home with us. As I punctuated that last sentence, he just stretched out and curled into an even more absurd position in his little book tray, as if to underscore my point. He's a big sweet baby, and I'm glad he's mine.
* * *
Buckle's already given his furry "thumbs up" to this cake — he tried his best to reach it during the photo shoot. I love all coconut cakes, and have tried this one and this one. Both were amazing in their own ways, but I knew it was time to Frankenstein together the ultimate coconut cake. And this is it.
This cake combines the perfect white cake from The Way the Cookie Crumbles's careful experiments, an insane coconut pastry cream filling from Zoë Bakes, a thick coconut syrup drizzled onto each layer to keep it moist, and a buttery coconut French meringue buttercream to top it all off. It's a time consuming recipe, but if you're as crazy about coconut as I am, it's worth it.
My sweet friend Mara and I were both gunning to make this ultimate treat, so we teamed up to present it to you two different ways! Go see her version of this masterpiece at What's For Dinner? I love her version so much — not only is it an awesome coconut cake, but it tells a story!

One year ago: Savory Sweet Potato & Chorizo "Cinnamon Rolls"
Two years ago: April Fool's Day Cupfakes
Three years ago: Lemon Blueberry Cheesecake Squares with Shortbread Crust
The Ultimate Moist, Fluffy, Ridiculous Coconut Cake
This is it. The ultimate coconut cake. Perfect white cake is drizzled with coconut syrup, filled with rich coconut pastry cream, and slathered with coconut French meringue buttercream. If you love coconut, this one's for you.
Ingredients
Perfect White Cake Ingredients:
2¼ cups cake flour (9 ounces)
1/2 cup + 2 tablespoons whole milk, at room temperature
1/2 cup coconut milk
6 large egg whites (¾ cup), at room temperature
1 teaspoon coconut extract
1 teaspoon almond extract
1 teaspoon vanilla extract (or 1 inch vanilla bean seeds)
1½ cups + 2 tablespoons granulated sugar (11.35 ounces)
4 teaspoons baking powder
1 teaspoon table salt
12 tablespoons unsalted butter (1½ sticks), softened but still cool
Coconut Pastry Cream Ingredients:
1 can (14 fluid ounces) unsweetened coconut milk
3/4 cup sugar
1 tablespoon vanilla extract
pinch kosher salt
3 large egg yolks
2 tablespoons corn starch
2 tablespoons unsalted butter
1 cup sweetened coconut flakes
1/2 cup whipping cream
Coconut Syrup Ingredients:
1 cup sugar
1/4 cup water
1/4 cup coconut water
Coconut French Buttercream Ingredients:
1 cup sugar
4 large egg whites , at room temperature
24 tablespoons (3 sticks) unsalted butter, at room temperature
2 teaspoon vanilla extract
1 teaspoon coconut extract
3 cups sweetened coconut flakes
Instructions
NOTE ON TIMING: This cake has many steps, but none of them are particularly hard. For convenience, I'd split it up over 2-3 days. On the first day, bake the cake layers and let them cool before wrapping and freezing them. Make the coconut syrup and leave it covered in the fridge. On the second day, make the coconut pastry cream and frosting. Assemble the cake. Serve it then or on the third day.
Make the cake: Set oven rack in middle position. Heat oven to 350 degrees. Grease or butter/flour two 9-inch cake pans very well. Add a parchment paper circle in the bottom of each and grease that too. You don't want your layers to stick! Pour milk, coconut milk, egg whites, and extracts into a small bowl and whisk gently until blended.
In a large bowl, whisk together cake flour, sugar, baking powder, and salt. Add the butter and continue beating until mixture resembles moist crumbs, with no powdery streaks left.
Add all but about 1/2 cup of milk mixture to crumbs and beat at medium speed for 1 1/2 minutes. Add the remaining 1/2 cup of milk mixture and beat 30 seconds more. Scrape down the sides of bowl before beating just a little longer.
Divide batter evenly between two prepared cake pans and smooth the tops with a spatula before dropping it from about 3 inches high to eliminate any bubbles in the batter. Arrange pans on middle rack. Bake until a thin skewer or toothpick inserted in the center comes out with just a few moist crumbs, 23 to 25 minutes. If you wait until the toothpick comes out totally clean, your cake might've gone too long and could be dry; be careful not to overbake! Check early and often.
Let the cakes rest in pans for a few minutes before running a knife around the edges of the pan and inverting the cakes onto wire racks. Invert them again so they'll be right-side up and let them cool completeley, about 1 1/2 hours, before wrapping in wax paper and plastic wrap to freeze until pretty firm, about 30 minutes.
Make the coconut pastry cream: Heat the coconut milk, sugar, salt and vanilla bean or extract in a medium saucepan over medium heat. In a bowl, whisk together the egg yolks and corn starch. Once the cream is hot, remove the vanilla bean (if used), scraping out any remaining seeds and returning them to the cream. Add 1/2 cup of the hot cream slowly to the yolks, whisking as you add, to temper the eggs so they won't cook into an omelette in the middle of your pastry cream. That would be a bummer. Then pour the yolk mixture into the pot of hot cream and whisk. Continue to whisk with heat on medium-high for 3 more minutes. The mixture will turn thick and bubble. You need to continue to whisk for the full 3 minutes or the pastry cream will separate once it is cool. After the 3 minutes, whisk in the butter. Add the coconut flakes. Pour into a shallow dish to cool.
Cover with plastic wrap pressed right against the pastry cream. This will prevent a thick skin from forming on the surface. Refrigerate for at least an hour or freeze for 30 minutes. Once it is cold, stir the pastry cream to loosen. Whip the 1/2 cup cream to medium peaks. Stir in 1/3 to the pastry cream to lighten. Fold in the remaining cream until the pastry cream is nice and light. Avoid eating entire bowl of pastry cream with a spoon.
To make coconut syrup: Combine the sugar, water, and coconut water in a small saucepan over medium heat. Bring to a boil, reduce the heat, and simmer until the sugar has dissolved, about 5 minutes, stirring occasionally. Remove the pan from the heat and allow the syrup to cool completely, about 20 minutes.
Make Coconut French buttercream icing: Combine sugar and 1/2 cup water in a small saucepan and bring to a boil over medium-high heat, stirring to dissolve sugar. Boil without stirring until syrup reaches 240° on a digital thermometer, about 5 minutes.
Meanwhile, in a stand mixer with whisk attachment, beat egg whites on medium-high speed until soft peaks form. With mixer on medium speed, gradually pour in hot syrup in a thin stream; avoid pouring syrup on whisk. Increase speed to medium-high and beat until stiff peaks form and mixture is cool, about 8 minutes. Reduce speed to medium and add butter 1 tablespoon at a time, beating after each addition. (If at any time buttercream appears curdled, beat on high until smooth, then reduce speed to medium and continue beating in butter.) Once all butter is added, beat on high speed until buttercream is smooth and fluffy, about 1 minute. Beat in vanilla and coconut extract.
Assemble the cake: Carefully slice each cake layer in half with a long serrated knife. Drizzle a couple tablespoons of coconut syrup over the "inner" side (the one that seems most porous) of each layer. Spread 1/3 of the coconut pastry cream filling onto the first cake layer. Spread it almost to the edge, but pipe a thick bead of buttercream around the very outside edge of each layer to ensure no spillage. Sprinkle with flaked coconut. Repeat with the other layers. Frost the cake with a very thin crumb coat and set it in the freezer to set for about 15 minutes. Bring it out and continue frosting the rest of the cake generously. Carefully push handfuls of fluffy coconut all over the sides of the cake and on top. Keep the cake in the refrigerator, but let sit out for about 30 minutes before slicing and serving so the frosting will be soft.