Ah, April Fool's Day! The perfect occasion to show someone you love them by playing nasty tricks on them and guffawing as they stand, bewildered, trying to figure out what just happened.
Orrrr you could play a sweet (well, savory) trick instead! Cupfakes are adorable, savory treats masquerading as their sweet cousins. At one time or other, I've had people mistake each one of the dinnertime cupfakes below for dessert! In reality, though, Deep Dish Pizza Cupfakes are fun Chicagoan deep dish pizzas topped with fluffy ricotta and a cherry tomato. Meatloaf Cupfakes are moist meatloaf with mashed potato "frosting" and colored salt sprinkles. Finally, my favorite: Cheddar, Chive, and Bacon Cupfakes with Avocado Frosting are slightly sweet, cornbready dinner muffins full of goodies.
One warning: when people are expecting to bite into a sweet cupcake and it turns out to be a cupfake, their brains do a little backflip of revulsion no matter how good your treats taste. It's probably best to reveal your trick right before they take a bite!
Cheddar, Chive, and Bacon Cupfakes with Avocado Frosting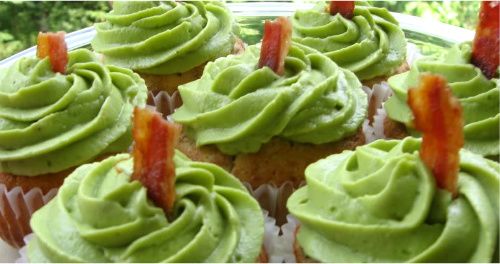 P.S. Only 1 week left in my Cheesecake Challenge! Choose any one of 9 cheesecake recipes to prepare within the next month. Email a photo to me by 4/5/2011 to be featured on Willow Bird Baking! Get more details about the challenge here.
If you liked this post, please:
–Subscribe to Willow Bird Baking
–Follow Willow Bird Baking on Twitter
–Follow Willow Bird Baking on Facebook
–Give this post a thumbs up on StumbleUpon
Other ways to share this post with friends!