Thanks to RW Garcia for sponsoring this post.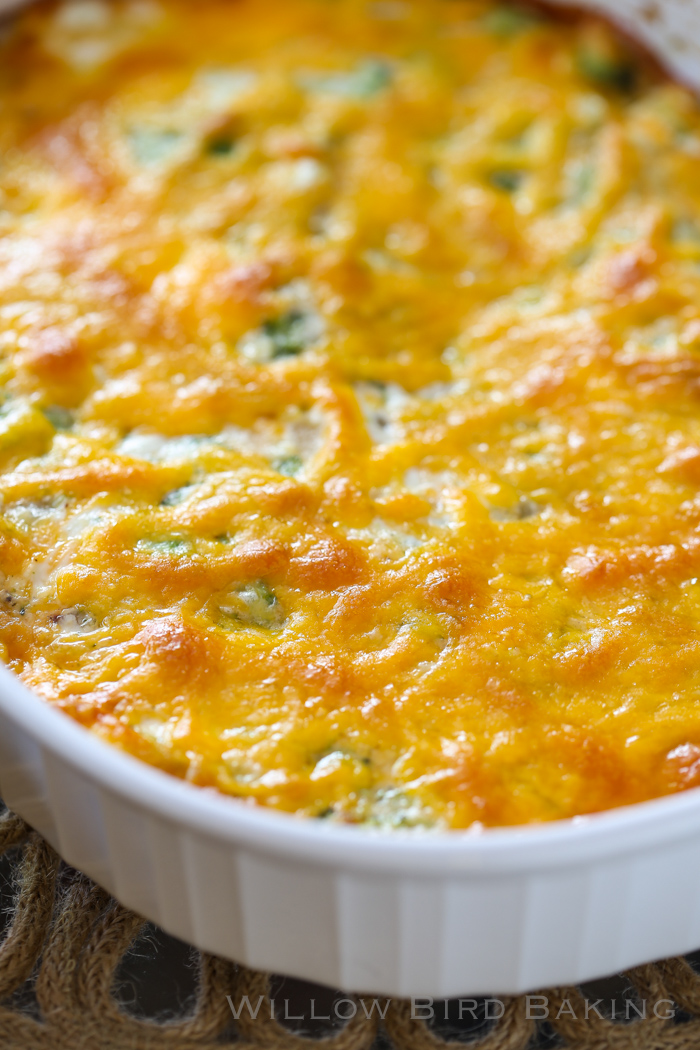 Creamy Broccoli Cheese Dip
I've got your holiday potluck contribution covered. Dips are one of my favorite dishes to make for friends to share, and this Creamy Broccoli Cheese Dip is incredible: so simple to whip up and so delicious.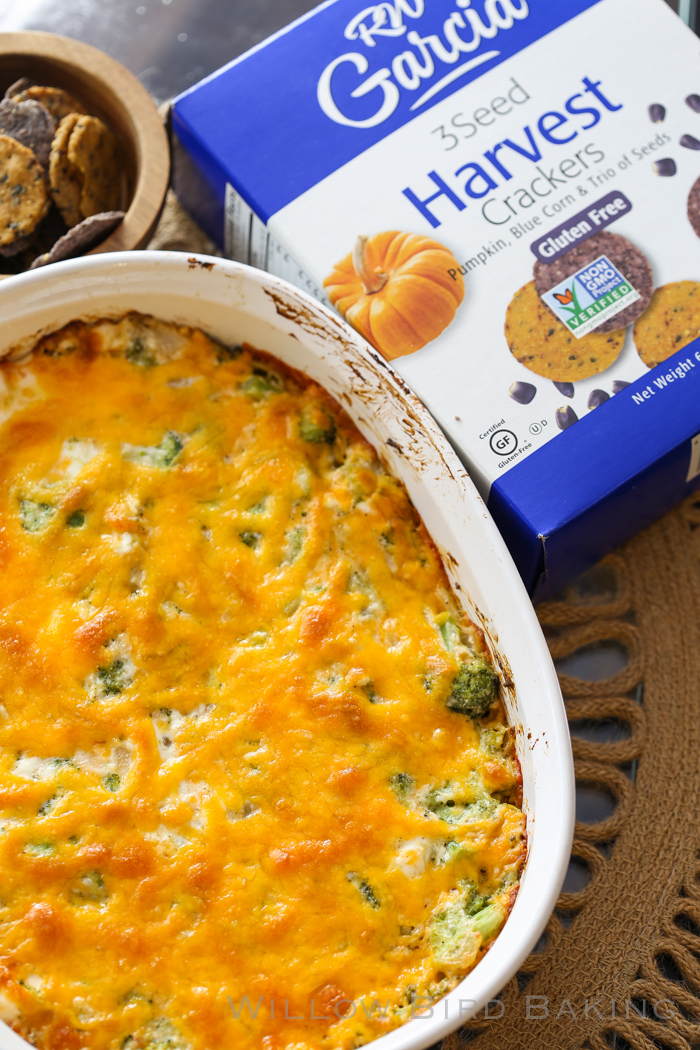 There's hardly a combo I love more than broccoli and cheese. Broccoli by itself I can take or leave, but broccoli and cheese has the best synergy. Broccoli cheese soup, broccoli cheese casserole — I'll take broccoli cheese everything.
So I knew I wanted to create a broccoli cheese dip! This recipe combines cream cheese and mayonnaise with sautéed onions and garlic, broccoli florets, and sharp cheddar cheese before the mixture is baked to golden bubbly perfection.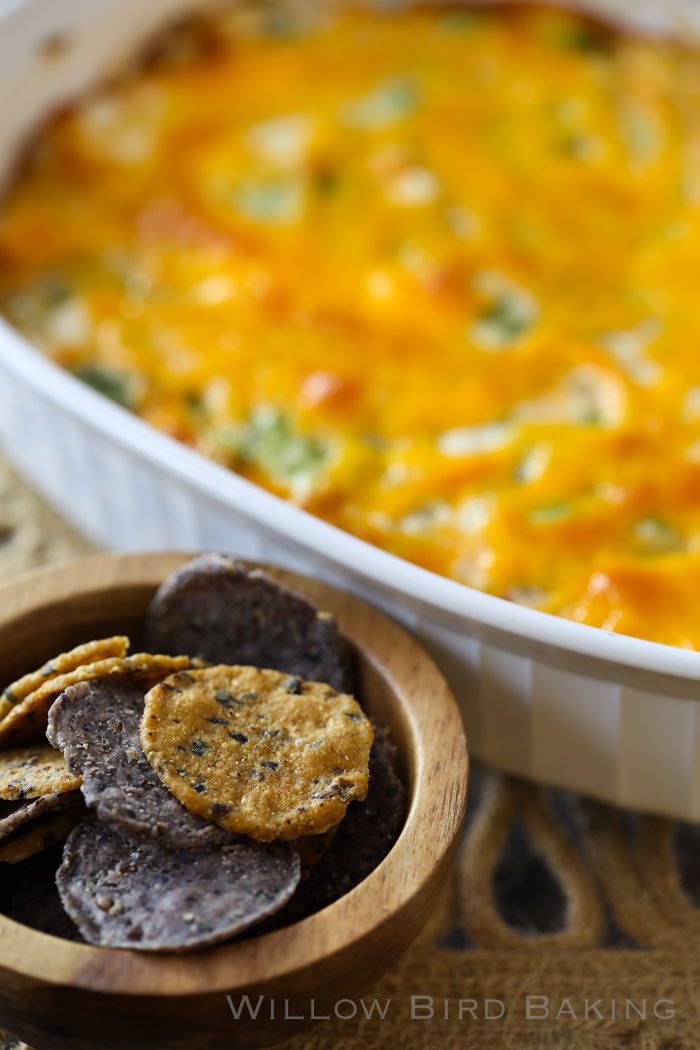 I served this Creamy Broccoli Cheese Dip with RW Garcia gluten-free artisan crackers in Harvest flavor. RW Garcia products contain no additives or preservatives and only the highest quality, premium ingredients. The Harvest flavor is a mixture of blue corn and pumpkin, which went perfectly with this delicious cheesy dip! I also think the Kale flavor or any of the RW Garcia tortilla chips would pair nicely.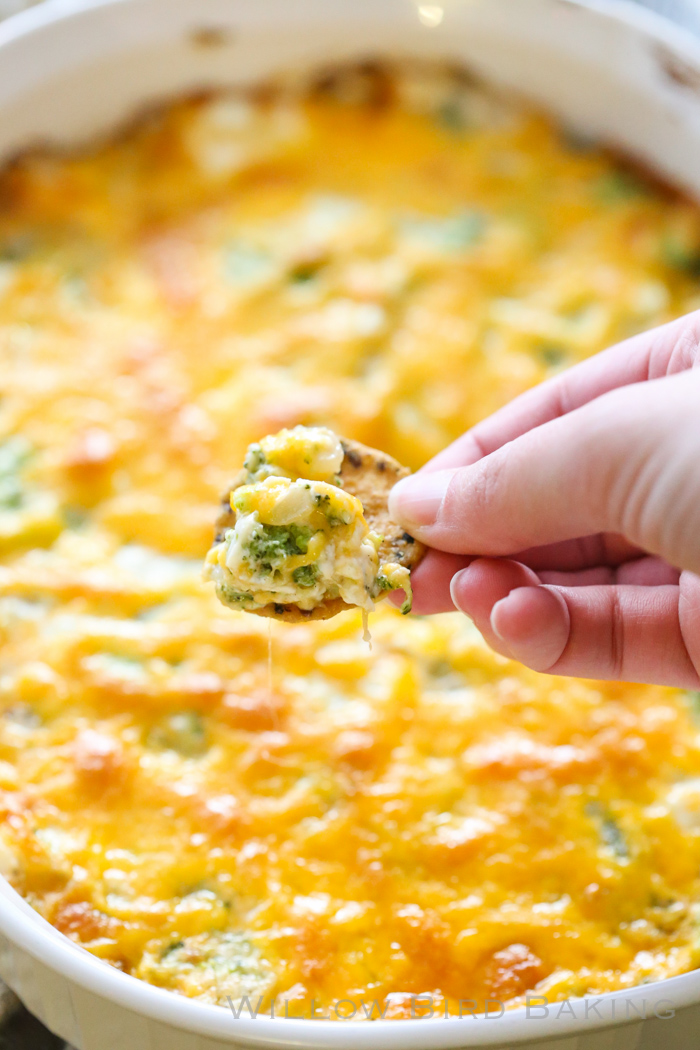 What's your favorite potluck contribution?
One year ago: Spiked Gingerbread Cream Bars
Two years ago: Chewy Brown Butter Oatmeal Creme Pie Bars
Three years ago: Maple Cream Snickerdoodle Bars
Four years ago: Dutch Roomboter Banketstaaf (Flaky Pastry with Almond Filling)
Five years ago: Boozy Icebox Cake
Six years ago: Sticky Toffee Pudding Cheesecake
Seven years ago: Valentine's Truffle Heart

Creamy Broccoli Cheese Dip
This cheesy, bubbly Creamy Broccoli Cheese Dip will be a huge hit at your next holiday party. It whips up super quickly and is delicious with chips and crackers.
Author:
Willow Bird Baking
Ingredients
1 (8-ounce) package cream cheese, softened
1/4 cup mayonnaise
2 cups shredded sharp cheddar cheese, divided
1 tablespoon olive oil
1/2 cup chopped sweet onion
1 teaspoon minced garlic
1/4 teaspoon salt
1/4 teaspoon ground pepper
2 1/2 cups chopped frozen broccoli florets
RW Garcia Artisan Crackers in Harvest flavor
Instructions
Preheat the oven to 400 degrees F. Place cream cheese, mayonnaise, and 1 1/2 cup of sharp cheddar cheese into a large bowl.
Heat the olive oil in a skillet over medium-high heat. When it shimmers, add the onions and cook until soft and translucent, about 5 minutes. Add the garlic and cook for about 30 seconds more. Spoon this mixture over the cream cheese and cheese.
In a separate bowl, heat frozen broccoli florets for 5 minutes in the microwave to thaw them. Squeeze excess moisture out repeatedly with a clean dishcloth or paper towels until the florets are very dry. Add them to the cream cheese mixture. Add salt and pepper and mix well. Spoon the mixture into an oven-safe baking dish and top with the remaining cheese. Bake for 12-15 minutes or until golden and bubbly. Serve with RW Garcia Artisan Crackers.