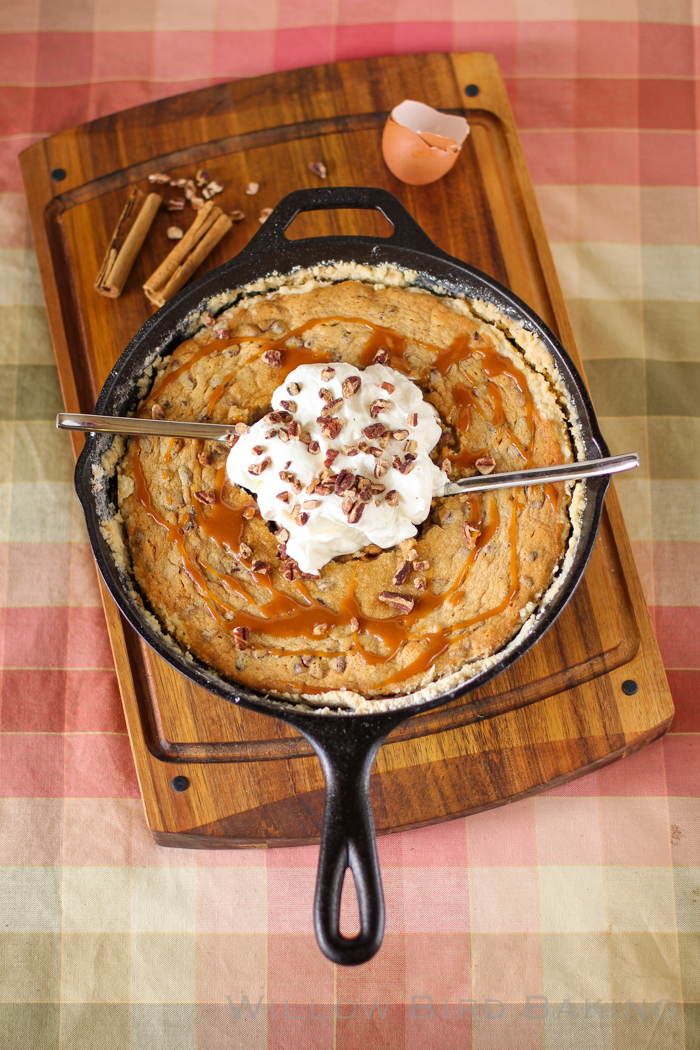 Brown Butter Pecan Gooey Butter Cake with Spiked Whipped Cream
Thanks to Werther's Original® for sponsoring this recipe post!
When I moved to Raleigh, there seemed to be no time to make friends before school started and I was immersed in planning my new curriculum. No complaints, since that's one of my very favorite things to do (my dream job is one where I plan curriculum and have a grading assistant — all the teachers out there, gimme an "amen!") but I did feel pretty isolated. However, since I'm the world's most committed introvert, I can't quite rely on my own motivation to get out of the stuck-at-home rut — someone usually has to invite me somewhere or otherwise intervene. But there wasn't much possibility of that in a brand new city.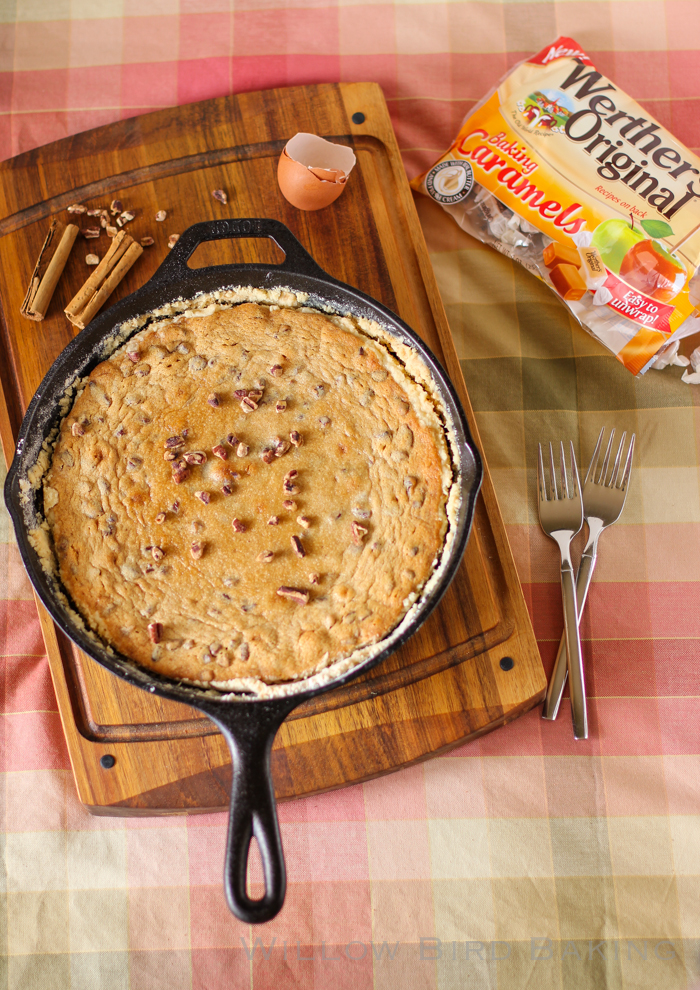 Thankfully, there was some divine intervention. Out of the blue, my online-friend-of-several-years Meghan moved back to the triangle area from NYC and invited me out to dinner immediately. We turned out to be just as perfect for each other in real life as I'd suspected we would be from the internetz. And then, in another bizarre twist, I found out some of my very best friends from college, Kristen and Bill, lived in the area.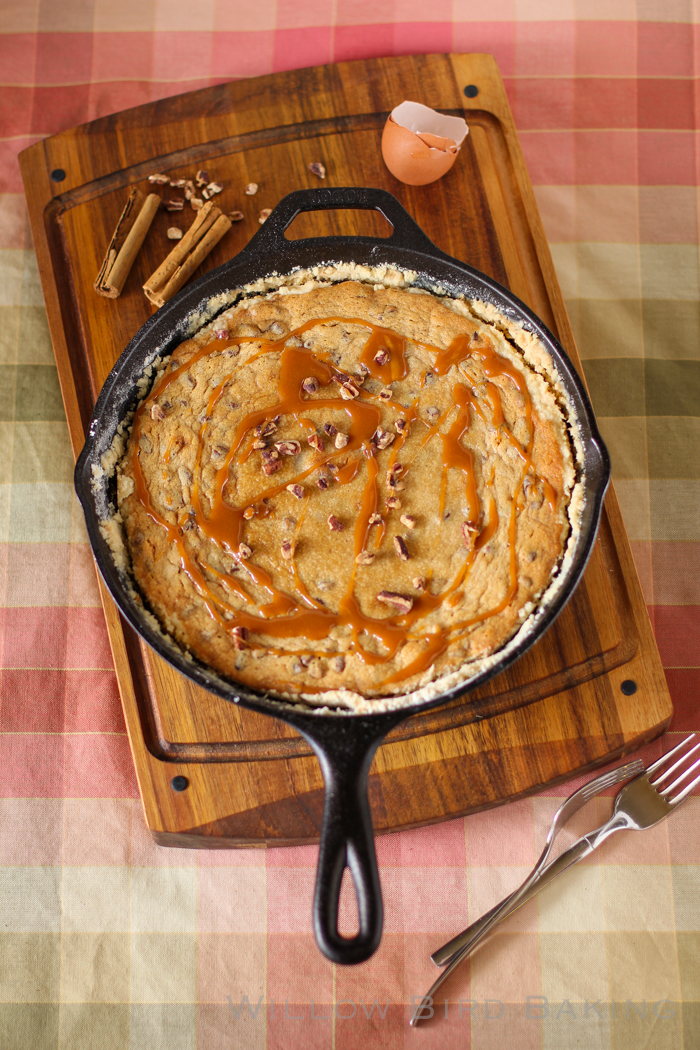 Kristen and Bill felt like a "Welcome Home" party in a place that decidedly did not feel like home yet. We had dinner and it felt like being back at Davidson, laughing and talking like we'd never been apart. They also told us about their church, and since we'd been visiting around looking for one, we decided to try it. After our first dinner together, several weeks passed with us visiting the church but never seeing Kristen and Bill — we figured they must go to the late service, and we always went to the early one. We kept talking about making more plans with them, but again, I'm so bad at reaching out.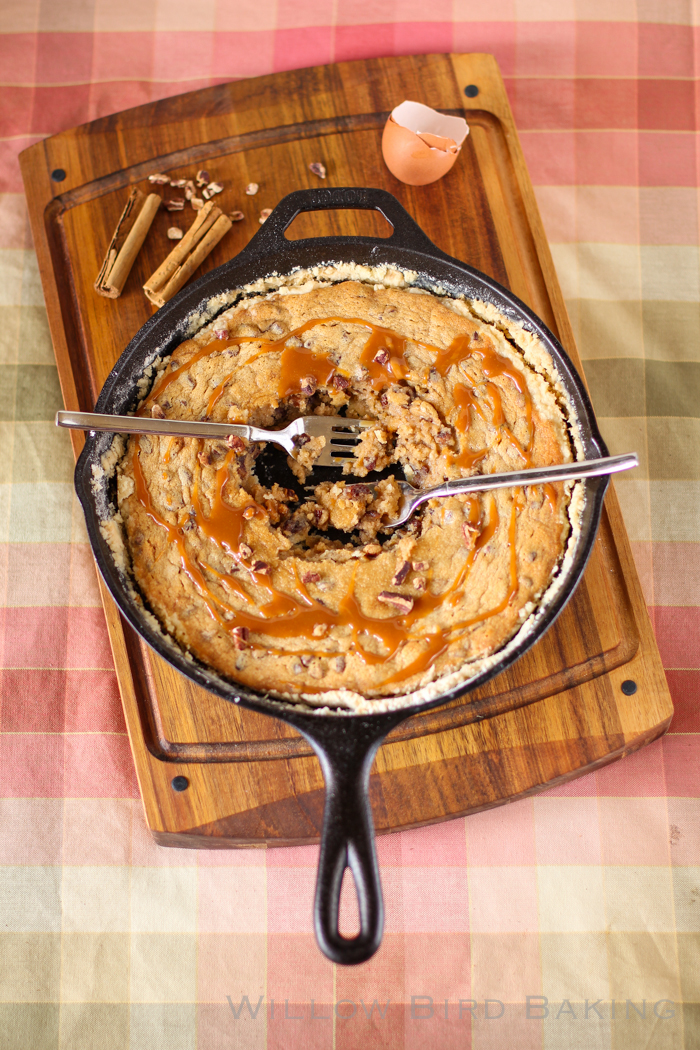 Again, divine intervention — this time in the best way! Mike and I were at their church one Sunday, not expecting to see them, when suddenly, the pastor announced that he had a baptism scheduled. I love watching baptisms because to me, it's the absolute most poignant moment — where a person shares an inward revolution of heart with their church family. Imagine my surprise when I realized that it was Kristen on stage! I just cried. I couldn't believe that God not only brought me back to Kristen and Bill so long after college, but also ordained that I'd get to spend this special moment with my friend.
In a city where I wasn't sure how to build a new life, God gave me one of those life moments that I won't ever forget.
(We also watched Catching Fire together last night and that was awesome too. Baptism still wins, though!)
* * *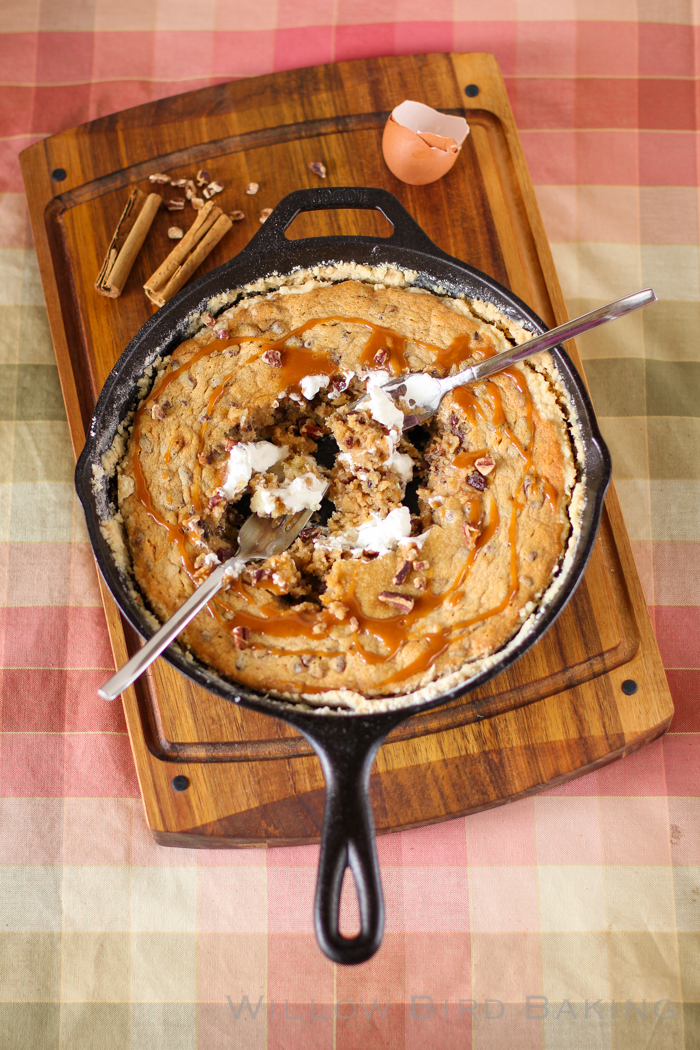 Speaking of friends, here's one way to make some: whip up a Brown Butter Pecan Gooey Butter Cake with Spiked Whipped Cream and pull out some forks. This cake has All The Good Things in it: nutty brown butter; bloomed cinnamon and cloves; toasted pecans; and billowy, barely sweet whipped cream spiked with dark rum. I also used Werther's Original® Baking Caramels to make the simplest caramel sauce known to man to top the cake without a lot of fuss. The result is a warm oasis of bliss in an otherwise icy winter day.
One year ago: Rosemary Thumbprints with Clementine Curd (and The Day I Went to Ina Garten's Cookie Swap!)
Two years ago: Salted Caramel Chocolate Trifle
Three years ago: Browned Butter Pumpkin Croquemcake with White Chocolate Chai Mousse
Four years ago: Cannoli
Brown Butter Pecan Gooey Butter Cake with Spiked Whipped Cream

---


Recipe by: Willow Bird Baking
Yield: 6 servings

This delicious cake has everything delightful in it: nutty brown butter, bloomed cinnamon and cloves, toasted pecans, a simple caramel sauce, and spiked whipped cream! It's perfect for a holiday table, but easy enough for an anytime dessert.

Crust Ingredients:
1 cup cake flour
3 tablespoons granulated sugar
1/3 cup cold butter

Filling Ingredients:
1 cup (2 sticks) butter
1 teaspoon cinnamon
1/4 teaspoon ground cloves
3/4 cup granulated sugar
1/4 cup brown sugar
1 egg
1 cup all-purpose flour
2/3 cup evaporated milk
1/4 cup light corn syrup
1/2 teaspoon vanilla
1 cup toasted pecans*
icing sugar

Topping Ingredients:
2 cups heavy whipping cream
4 tablespoons powdered sugar
2 tablespoons dark rum (optional)
20 Werther's Original® Baking Caramels
2 tablespoons whole milk

Directions:
*NOTE: To toast pecans, spread them on a baking sheet and bake at 350 degrees F for around 6-7 minutes, tossing occasionally, until fragrant. Chop while still warm.

NOTE 2: If you don't have a skillet, I believe you can bake this in a greased 9-inch square baking dish (I'd use a glass one if you have it, and check it early and often. Remove when there's some jiggle left.) Let us know how it goes if you try it this way for all the other skilletless people!

Make the brown butter: Cut the 1 cup butter into 1-tablespoon cubes. Place it into a heavy-bottom saucepan over medium heat and brown the butter, whisking often. The butter will melt, foam, and then begin to brown, and the whisking is important so that it browns evenly. Whisk in cinnamon and cloves. Pour your brown butter into a shallow, wide dish to cool for a bit before sticking it in the freezer to set up. After it's set up, set it back out at room temperature to soften for use.

Make the crust: Preheat oven to 350 degrees. Whisk together cake flour and sugar in a medium bowl. Cut in the cold butter with a pastry cutter or two knives until the mixture resembles fine crumbs and starts to cling together (I often use my food processor for this step, pulsing the cold fat into the flour). Press the mixture into the bottom and up the sides of a 10-inch cast iron skillet using a flat glass or the back of a spoon.

Make the filling: Cream together the softened brown butter and white and brown sugars until fluffy (about 2-3 minutes). Mix in the egg until just combined. Alternate adding the flour and evaporated milk, mixing after each addition. Mix in the corn syrup and vanilla. Stir in the toasted pecans. Pour the filling into the crust and sprinkle the top with icing sugar.

Bake and assemble the cake: Bake for 25 to 35 minutes or until cake is nearly set (mine was probably ready around 30). Some jiggle is fine — do not overcook! It'll finish setting up as it cools. Let it cool in pan for 2 hours. Whip the heavy cream, powdered sugar, and rum to stiff peaks. Melt the caramels and milk together in a microwave safe bowl for 2 minutes, stirring often but carefully, until the hot caramel sauce is ready. Pour caramel sauce over cooled cake and top with a giant mound of spiked whipped cream. Serve from the skillet with a few forks or on plates, if you like things a little more formal.