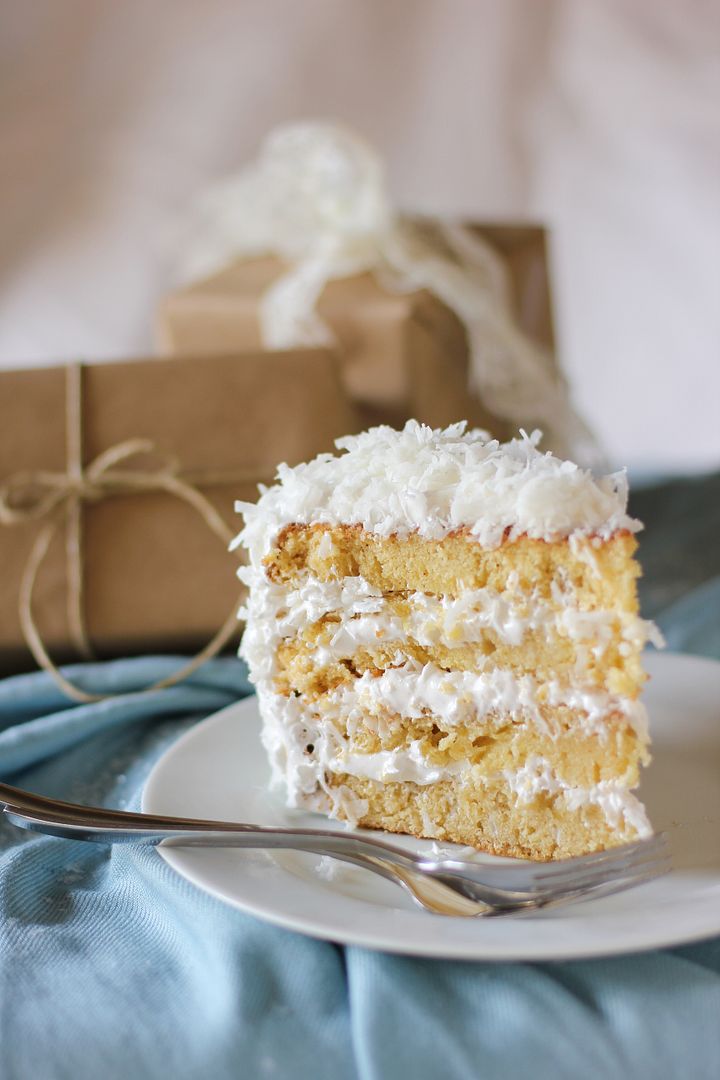 The first time we saw her years ago, we were sure she was pregnant. She was just so round and lumpy. We laughed at the rhythmic harmonic motion of her belly, which nearly swished across the ground with each step. Despite her interesting mechanics, her movement was relatively agile and quick — perks of being feline, I guess. She was next to us in a flash, headbutting our legs and hoping for a nice ear rub.
Mike was ready to ignore her persistence and hurry into the restaurant — our breath hung in the air, a visible testament to the frigid temperatures — but I was predictably smitten. Her gray fur was thick against winter's chill and my fingertips, and her wide face reminded me of a chipmunk trying to manage two mouthfuls of food in one mouth. In short, as I cooed over and over while stroking her, she was sooo-oo-ooo cuuuuute.
And so fat! And so sweet! And so fluffy!

speaking of fluffy…
I promised myself that if she were still prowling about after dinner, I'd scoop her up and take her to a vet. With that resolution easing my mind, Mike and I finally sat down to heaping dishfuls of fragrant red curry with hunks of pineapple and duck and — my favorite — a plate of colorful Pad Thai garnished with peanuts, bean sprouts, julienned carrots, and a wedge of lime. As we ate, I glanced out the window periodically for our new friend, but quickly lost sight of her.
Sure enough, when we came back out of the restaurant, she was nowhere to be found. We left the restaurant stuffed but catless and a little disappointed (well, let's be honest. Mike was probably relieved.)
This past August, years after spotting the Thai Cat, as I've taken to calling her, I moved to a little apartment close to that same Thai restaurant. One warm night I tugged on my favorite orange dress and Mike and I strolled the few blocks to the restaurant to grab dinner. As we approached the door, who do you suppose we should meet but the Thai Cat herself! At this point, we learned two things about her:
1. She had not been pregnant (unless cats stay pregnant for three years) but was just exceptionally rotund.
2. She did, in fact, have owners — in a manner of speaking.
This second point became apparent because of the ornate red collar she wore, with green accents and a jingle bell. Another clue was a shelter we found secreted away behind a thicket comprised of potted plants: a little house filled with blankets, a dish of food and water. Our chubby friend had been adopted by the Thai family who owns the restaurant!
And by the looks of it, she'd been feasting on quite the array of roast duck and chicken herself. No wonder she's a pudge.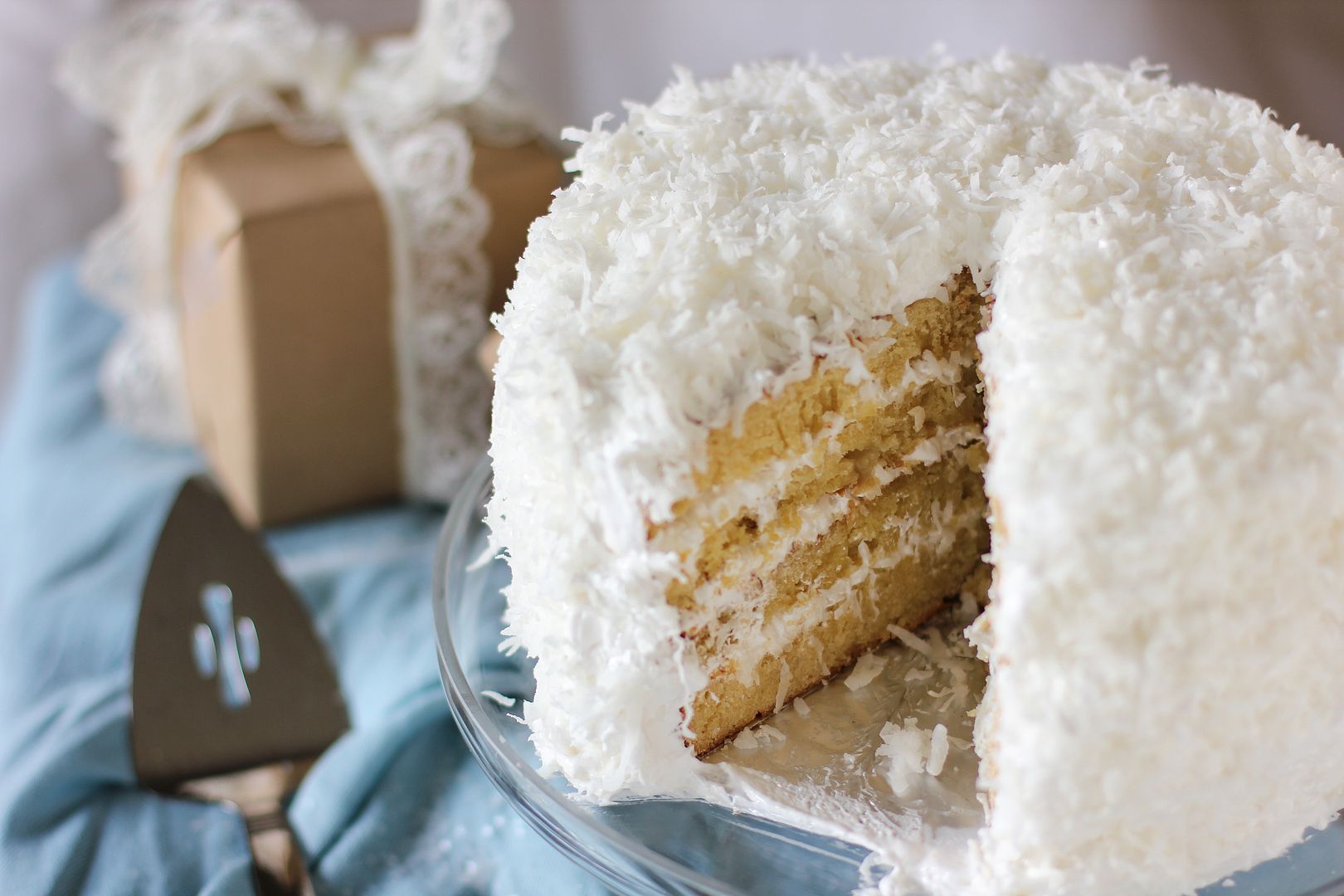 The Thai Cat doesn't have too much to do with a Coconut Cake (though no doubt she'd make short work of a slice) besides reminding me of the importance of a home. Her home and family is a bit unusual for sure — no couch and tons of interesting strangers — but she's happy as a plump little plum.
My home's felt unusual for years. Once I wasn't living with my parents anymore and was instead bouncing around from college dorm to makeshift apartments, hopping between roommates and loneliness, I started to feel a little like dropping my own self off at an animal rescue ("Free to a good home, preferably with a ready-made family, or at least cable.") Lately, though I love my new apartment, that desire for home and family — of some sort — has been in the back of my mind. I'm willing to wait for God to put the pieces together for me.
In the meantime, I'll make Coconut Cake, a fluffy, moist symbol of home and family if there ever was one. A friend of Mike's family recently recalled making one for her son year after year: painstakingly grating the fresh coconut, reserving the water to soak the layers, stacking the cake, slathering on the 7-minute frosting. It's a labor of love — a gift you present to someone, much like a red collar with green accents and a tiny jingle bell, to say, "You belong here."
What represents home and family to you?
One year ago: Winter Breakfast Chili Over Eggs in Sourdough Bowls
Two years ago: Magic Bars
Three years ago: Cinnamon Roll Cookies
Moist Fluffy Coconut Cake

---

Recipe by: adapted slightly from SAVEUR's associate food editor Ben Mims's grandmother, Jane Newson
Yield: 10-12 servings

What can I say? It's like eating clouds. Coconutty, billowy, moist, delectable clouds. Actually, I think after having 8 (give or take a few) slices of this amazing coconut cake, clouds would be sorely disappointing.

Cake Ingredients:
16 tablespoon unsalted butter, softened
2 1/2 cups cake flour, sifted
1 teaspoon baking soda
1 teaspoon kosher salt
3/4 cup buttermilk
1/4 cup coconut milk
1 tablespoon vanilla extract
2 cups sugar
5 eggs

Frosting Ingredients:
4 egg whites
1/2 teaspoon cream of tartar
2 1/4 cups sugar
1/4 cup light corn syrup
1 teaspoon kosher salt
2 teaspoons vanilla extract
1/2 cup water
3/4 cup fresh coconut water
3 cups freshly grated coconut

Directions:
Note: This frosting isn't supposed to keep too well, so it's best to frost the cake the day it's being served. However, to spread out the work, you can make the layers in advance. Really, I should also admit that we ate this cake for days after I made it and it stayed delicious, so while I'm sure it's best to eat it the day you frost it, I wouldn't toss the leftovers (if there are any, that is.)

Make the cake: Preheat the oven to 350 degrees F. Grease two 9″ cake pans (I use Wilton's Cake Release), line with parchment paper rounds, and grease the parchment paper as well. In a medium bowl, whisk together flour, baking soda, and salt. In a separate small bowl (or measuring cup), whisk together buttermilk, coconut milk, and vanilla. Finally, in a large bowl, cream together the butter and sugar until pale, light yellow, and fluffy, about 2-3 minutes. Add in the eggs one at a time, mixing well after each egg. Alternate adding the dry ingredients and buttermilk mixture with the mixer on low speed before increasing the speed to high and beating for a few seconds to smooth out the batter.

Pour the batter evenly into the two prepared cake pans, bang on the counter to remove air bubbles, and smooth the tops with a spatula. Bake until a toothpick comes out with just a few moist crumbs, about 30-35 minutes. Let the cakes cool in the pans for about 20 minutes before turning them out onto a rack to cool completely. Wrap the cake layers and freeze until firm to make them easier to manage (at least 30 minutes). Once firm, use a large serrated knife to carefully cut each cake layer in half horizontally to create four layers. Rewrap and refreeze these layers until you're ready to assemble the cake.

Make the frosting: In the bowl of a stand mixer, use the whisk attachment to beat the egg whites and cream of tartar together until soft peaks form. Let this sit while you boil the sugar, syrup, salt, and water together in a saucepan over high heat. Stir to dissolve the sugar and cook until a candy thermometer reads 250 degrees F, about 4-5 minutes. With the mixer on medium speed, drizzle in the hot syrup and add vanilla extract. Turn the mixer to high speed and beat until the frosting has stiff peaks and is only slightly warm, about 3 minutes.

Assemble the cake: Place one cake layer onto a platter or cake decorating turntable. Drizzle 3 tablespoons of coconut water over the cake layer and spread it around. Spoon about 1 1/4 cups of the frosting onto this layer and spread it thick, letting it spill a bit over the edges all around. Top with 1/2 cup of grated coconut. Continue layering cake layer, coconut water drizzle, frosting, and coconut. On top of the cake, drizzle the last 3 tablespoons of coconut water before covering the whole top and sides of cake with the remaining frosting. Spread it thick and billowy and use a cupped hand to lightly press grated coconut all over the surface of the cake — it'll hide any frosting imperfections! Store cake in the fridge. Serve either chilled or after letting it sit out for about 20-30 minutes to take the chill off.