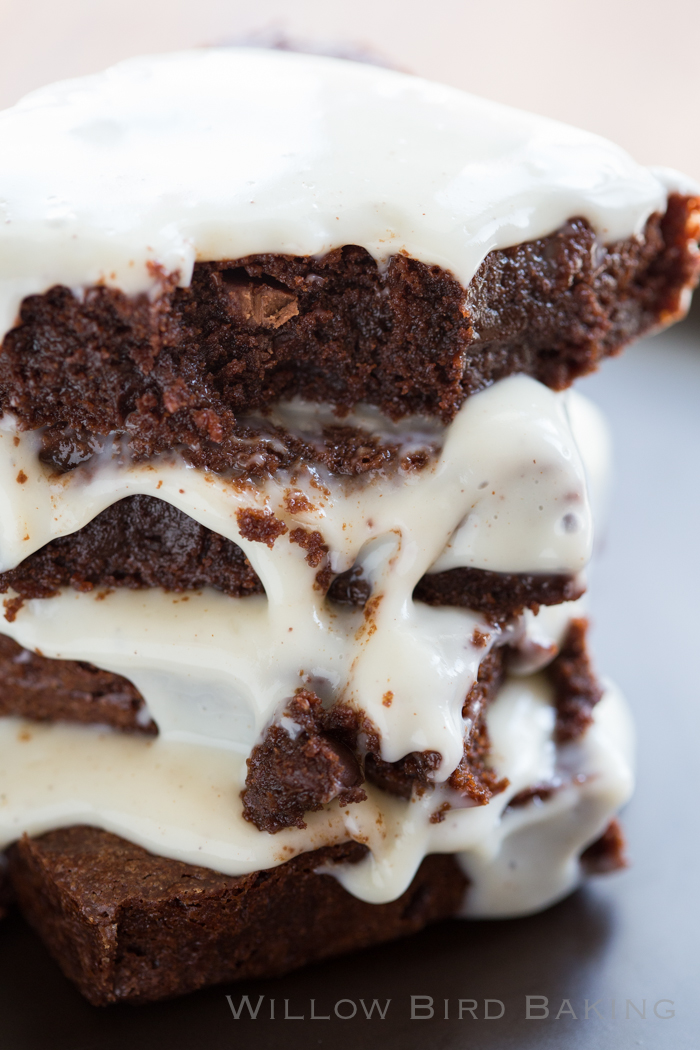 Milk Toast Brownies
We're here! We're in San Diego! And we're alive! And we just moved into our actual apartment (as opposed to the Airbnb we've been renting for a month). We're just in that awkward state where everything is in boxes and we're trying to figure out what normal looks like. Since I really should be unpacking or working on grad school coursework, of course I decided to ignore all that and create something new!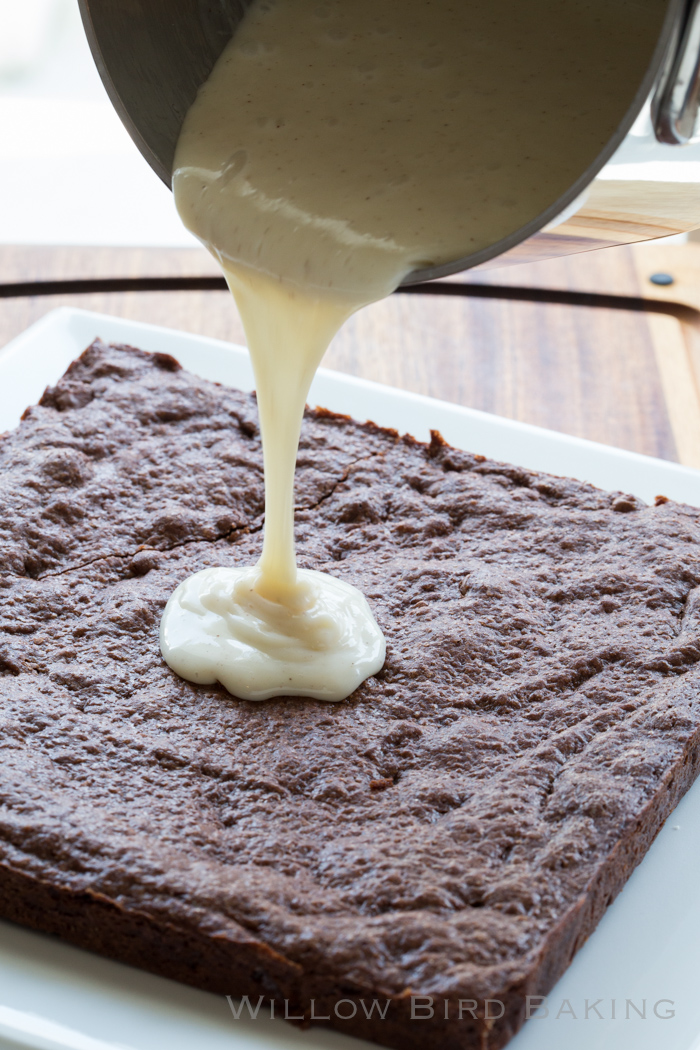 I wear a lot of hats, and until now, there's been no one-stop JULIE shop. I decided to create a portfolio to collect my roles into one space. It will continue to evolve as I determine more how it will function, but I thought you might want to take a look. Perhaps while enjoying coffee and a brownie?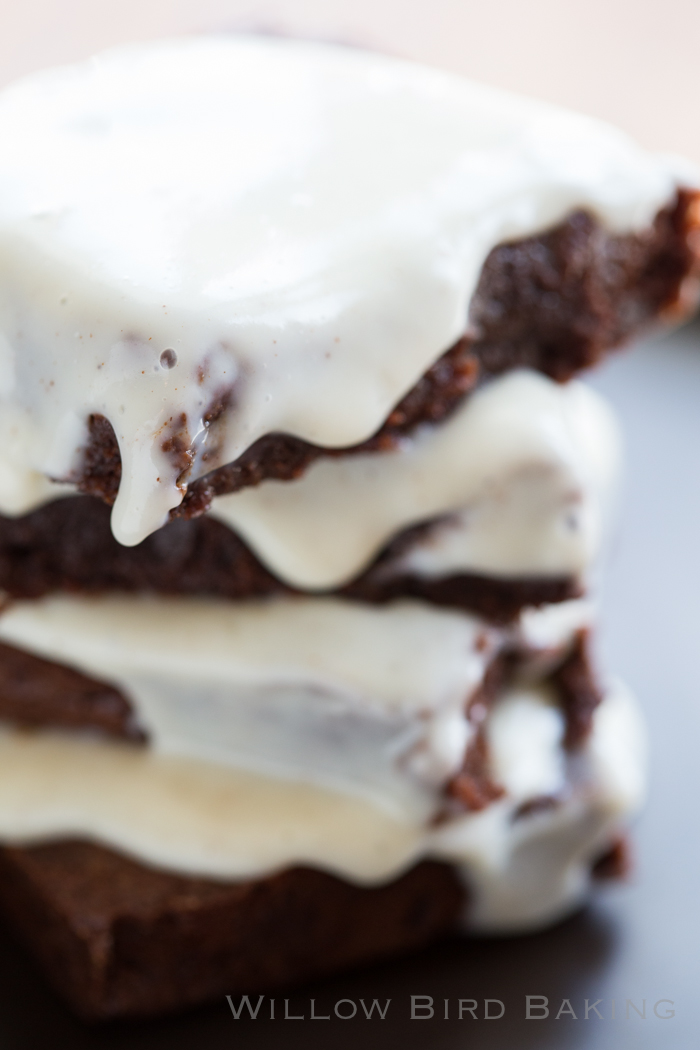 These brownies capitalize on one of my childhood favorites: milk toast! When I polled you all on Facebook, some of you had never heard of it while others knew it as a bland dish eaten when sick. That's definitely not the milk toast I know! My family's recipe tops buttered toast with a warm, thick, sweet vanilla pudding. It was a decadent breakfast treat. On top of brownies, though, it's an indulgent dessert!
One year ago: Coconut Cream Snack Cake
Two years ago: Strawberry Pop-Tart Pie
Three years ago: Brûléed Twinkie Ice Cream Sundae
Four years ago: End of Summer Berry Cobbler
Five years ago: Fauxstess Cupcakes
Six years ago: Ina Garten's Lemon Loaf Cake and Raffaldini Vineyards
Seven years ago: Mango Raspberry Rosecakes

Milk Toast Brownies
This recipe for Milk Toast Brownies combines an indulgent childhood favorite, Milk Toast, with a fair-trade brownie box mix for an easy, delicious dessert! Using fair-trade chocolate doesn't change the taste of this delicious dessert and will probably actually make it more expensive, but knowing you're not contributing to inhumane practices in the chocolate industry is SO worth it! I used Cissé Milk Chocolate Chip Brownie Mix
and loved it! (This is an Amazon affiliate link, which means I earn income if you make a purchase using this link. Thanks for supporting Willow Bird Baking!)
Author:
Willow Bird Baking
Ingredients
1 box FAIR-TRADE brownie mix, plus any ingredients needed to prepare
1/4 cup butter
2 tablespoons flour
1 1/2 cups milk
6 tablespoons sugar
1/8 teaspoon vanilla extract
1/8 teaspoon cinnamon
Instructions
Make the brownies: Preheat oven to 350°F. Line an 8 x 8" pan with a foil sling: tear off 4, 16-inch long pieces of aluminum foil and fold them in half. Situate two side-by-side in the pan, covering the bottom of the pan to the edge (they will overlap). Situate the other two strips in the same manner, but perpendicular to the first. The overhanging foil of the sling will make it easy to remove the brownies from the pan after baking and cooling. Spray foil with cooking spray. Prepare brownie batter according to directions on box. Spread batter in prepared pan and bake according to package directions. Let cool as you prepare milk toast pudding.
Make the milk toast pudding: Place the butter into a saucepan and melt it over medium-high heat. Remove it from stove and whisk in the flour. Add the milk and return to the heat. Add the sugar and cook, whisking, until the mixture boils. Whisk constantly and continue cooking the mixture for about 5 minutes. Remove from the heat and whisk in the vanilla extract and cinnamon. Allow to cool for around 10 minutes. Pour over the brownies and serve immediately.