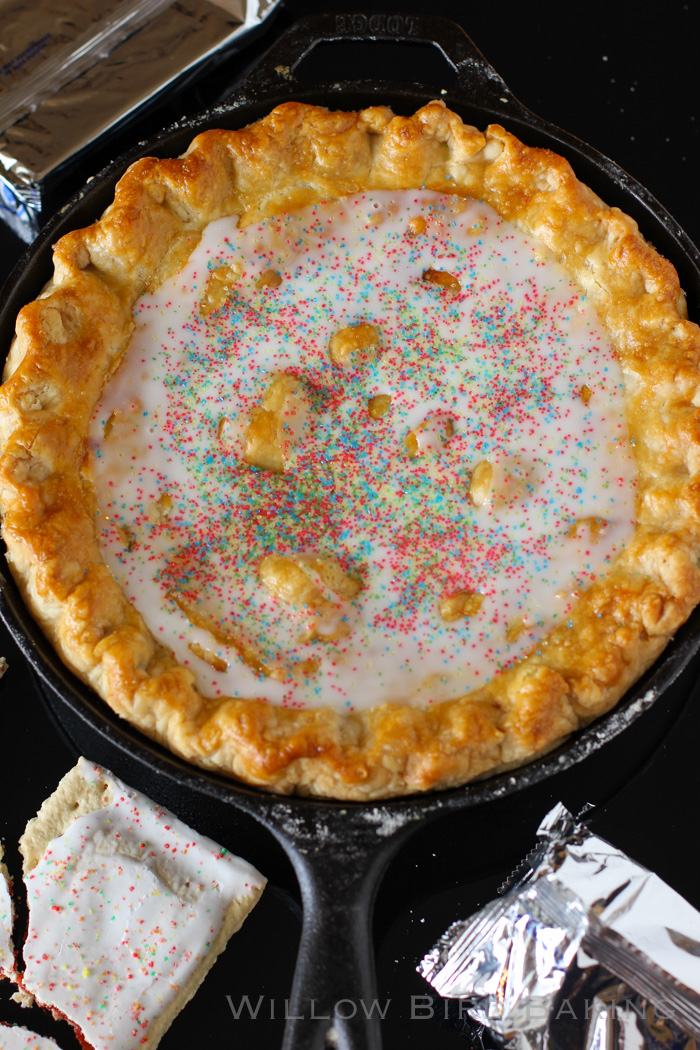 Strawberry Pop-Tart Pie
I wrote this post as part of the Plugrá Butter Brigade. Thanks, Plugrá, for sponsoring this post and for making my favorite butter!
One of my blogger friends recently asked, "If you drink milkshakes, what's your favorite flavor?" on her Facebook wall. It was a happy conversation until someone chimed in just to note how disgusting she felt milkshakes were. My friend responded, "Please don't yuck my yum."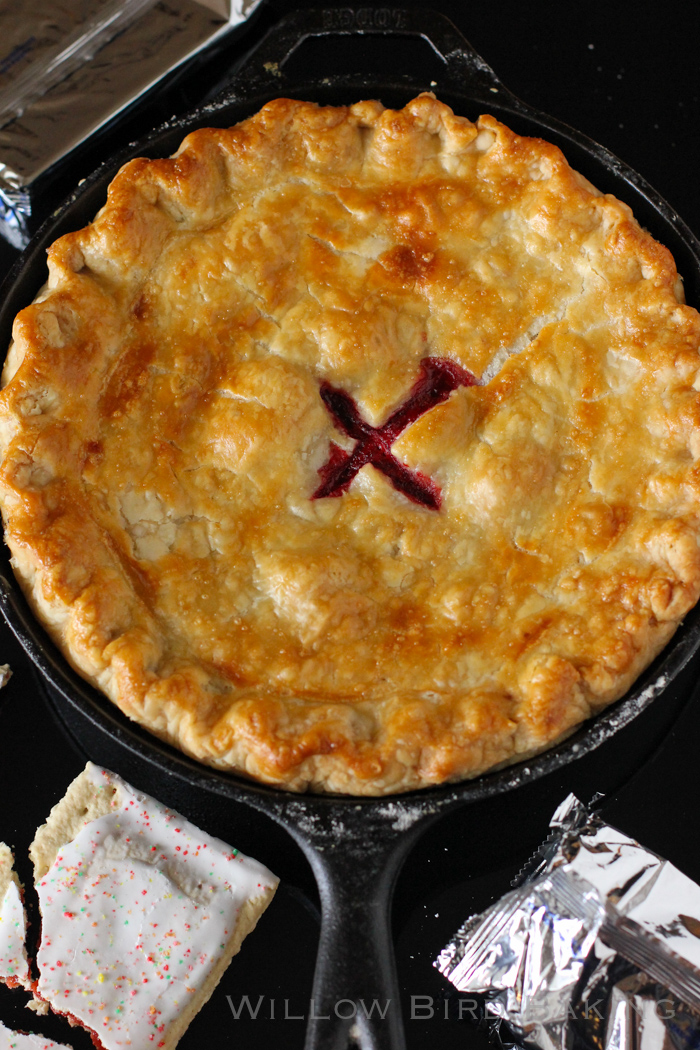 What great advice, right? Since then, I've noticed people doing this EVERYWHERE: you mention loving hot dogs and someone has to pop out of the woodwork to let you know that hot dogs are nasty. You mention you're going to see a movie and someone has to pop up and tell you they hated it. You mention that you can't wait for the next book in a series to come out and they let you know that they just can't get into it.
Sometimes I think it's motivated by an interest in YOU: they just want to talk with you and that's the honest contribution they have. Other times I think it's motivated by a preoccupation with THEMSELVES. Remember when you were little and a topic would come up in class that you knew something about? Suddenly, it was absolutely urgent in your baby heart that you involve yourself in the conversation because YOU KNEW ABOUT IT, and that was super special! Remember that feeling? I think some adults still get that. Hot dogs come up and they KNOW HOW HOT DOGS ARE MADE and have STRONG FEELINGS about it. And if they know it and feel it, it's SO IMPORTANT TO SAY IT!
No matter what the motivation, I think yucking someone's yum is almost never constructive. (The exceptions are obvious: if someone's opinions are racist, homophobic, sexist, or otherwise hurtful, then I think they need to be thoughtfully challenged. I value productive discussions of political and religious issues and feel morally compelled to engage in public discourse to serve the greater good. BUT THAT DOESN'T INCLUDE HOT DOGS.)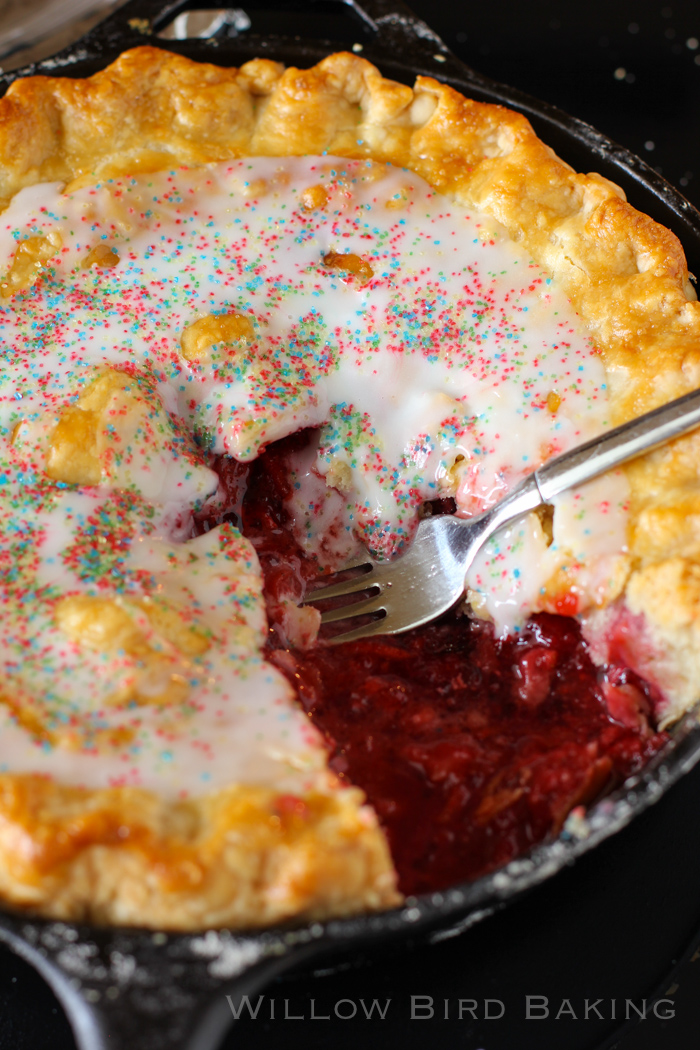 Maybe the solution is as simple as putting a pause between our brain and our lips (or fingers online). I obviously love the THINK acronym, but even in smaller matters, I find it useful to quickly assess: am I yucking someone's yum? It's one of my new favorite phrases! Thanks to Rebecca from Food with Family for introducing me to it!
Here's a yum that I hope you won't yuck: Strawberry Pop-Tart Pie! I admit it sounds weird, like I baked some pop-tarts into a pie, but that's not it at all. It's actually just a bright, fresh strawberry pie with a killer flaky crust topped with a sweet almond glaze. And it looks like a giant strawberry pop-tart, hence the name! The pie doesn't hold its shape very well, so we ate it in bowls with giant scoops of vanilla bean ice cream, almost like a cobbler. The whole strawberries make it especially succulent and summery. Enjoy!
One year ago: Fruity Pebble Strawberry Ice Cream Sundaes
Two years ago: No-Bake Fruity Cereal Treat Cupfakes
Three years ago: Chocolate Pistachio Cream Cupcakes
Four years ago: Black and White Croquembouche
Five years ago: Milan Cookies (Milanos!)
Strawberry Pop-Tart Pie

---


Recipe by: Willow Bird Baking, using Cook's Illustrated's foolproof pie dough, inspired by Crepes of Wrath
Yield: 8 servings

I worked with this crust before and haaaated it for some reason? I think I was a little less experienced and didn't realize that I could be aggressive with flouring my counter, because this time I absolutely loved it. The vodka is essential to the texture of the dough and imparts no taste (and the alcohol bakes out), so please don't substitute. Though I haven't tested, I think you could use fresh berries for this dish if you cooked them down for less time. Don't go too nuts with the glaze or your pie will be too sweet — I recommend drizzling a little less than I did in the photos above and then reserving the rest to pour over individual slices as desired.

Crust Ingredients:
2 1/2 cups all-purpose flour, divided
1 teaspoon table salt
12 tablespoons cold unsalted butter, cut into 1/4-inch slices (I use Plugrá)
1/2 cup cold vegetable shortening, cut into 4 pieces
1/4 cup cold vodka
1/4 cup cold water
1 egg lightly beaten with 1 teaspoon water for egg wash

Filling Ingredients:
6 cups frozen whole strawberries
1 Granny Smith apple, peeled and grated on large holes of box grater
3 tablespoons sugar
2 tablespoons quick-cooking tapioca, ground in a spice or coffee grinder
Pinch table salt
2 tablespoons unsalted butter, cut into 1/4-inch pieces (I use Plugrá)

Glaze Ingredients:
1 cup powdered sugar
1/4 teaspoon almond extract
2 tablespoons milk
sprinkles

Directions:
Make the crust: Pulse 1 1/2 cups of flour and salt together to combine. Add the butter and shortening and pulse for 15 seconds until mixture starts clumping. Add the last cup of flour and pulse 4-6 times until the mass of dough is broken up. Pour the mixture out into a large bowl and sprinkle in the water and vodka. Fold until combined and separate the mixture evenly onto two sheets of plastic wrap. Form each into a disc, wrap, and chill overnight.

Make the filling: Preheat the oven to 400 degrees F, adjust the oven rack to the lowest position, and put a baking sheet on the rack to preheat along with the oven. Cook 3 cups frozen whole strawberries in a medium saucepan over medium heat, stirring frequently, until many of the berries have broken down and the mixture is thickened and reduced to 1 1/2 cups, about 12-15 minutes. Let cool slightly. Place the grated apple in a clean kitchen towel and wring dry. Transfer the apple to large bowl and add the cooked berries, the remaining 3 cups of uncooked berries, sugar, tapioca, and salt; toss to combine.

Assemble and bake: Roll out one disk of pie dough on a floured surface (since this is a wet dough, you can use more flour. Keep a bench scraper handy.) until it's about 2 inches larger than your pie plate or skillet (I used a 10-inch skillet, but you could use a 9-inch pie plate and it should still work fine) all around. Use your rolling pin to help you drape the dough into your pie plate or skillet, letting the excess dough hang over. Pour strawberry mixture into the crust and scatter the 2 tablespoons of butter pieces over it. Roll out the second disk of dough and drape it over the top of the pie. Trim excess dough to about 1/2 inch all around and fold the top crust under the bottom crust. Crimp the edges. Cut a vent in the top crust and brush all over with the egg wash.

Place the pie on the heated baking sheet and bake 30 minutes. Reduce oven temperature to 350 degrees and continue to bake until juices bubble and crust is deep golden brown, 30 to 40 minutes longer. Transfer the pie to a wire rack and cool to room temperature, at least 4 hours. Whisk together the glaze ingredients and drizzle it lightly over the pie (use about half of it and reserve the rest for drizzling over pieces). Add sprinkles. Cut into wedges and serve.