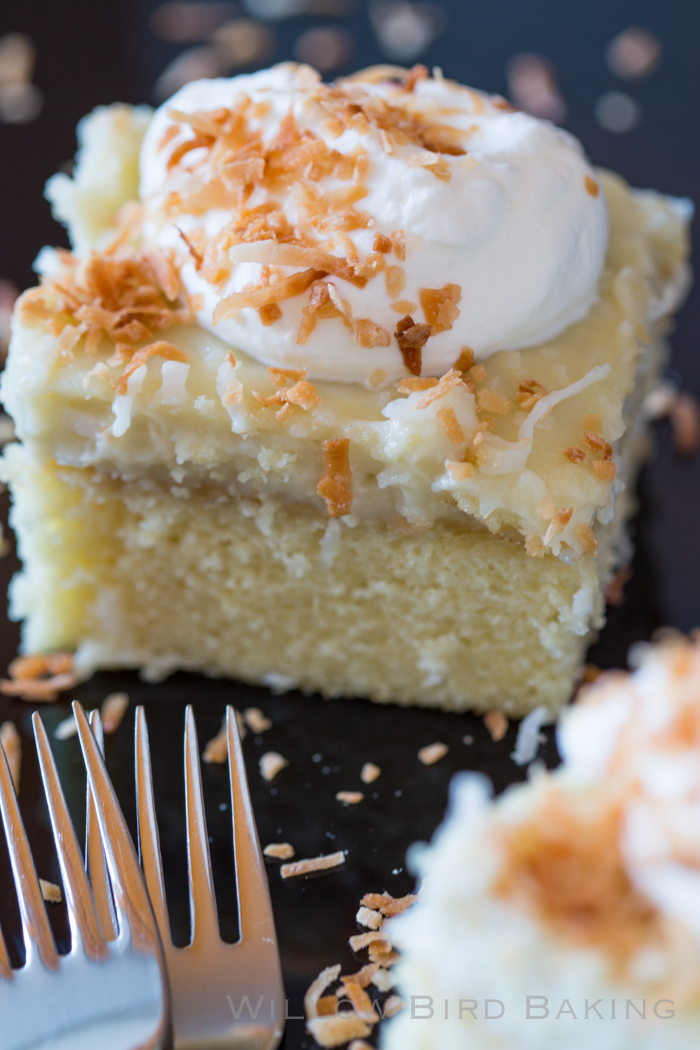 Coconut Cream Snack Cake
Sitting in Chick-fil-a right now on a wobbly booth seat. Equipped with large Coke Zero and free Wi-Fi. Ready to write.
A plump-faced child in the booth in front of me is throwing straws at his grandmother. Another kid is standing on her booth seat to grab forks and ketchup from over the divider. They are all screaming. Every single child is screaming. From the sound of it, there are 8,000 of them. One little angel is loudly petitioning for cherry ice cream. She has repeated her request approximately 8,000 times. Her father is pretending not to hear her.
SOMEONE GIVE THAT KID A CHERRY ICE CREAM.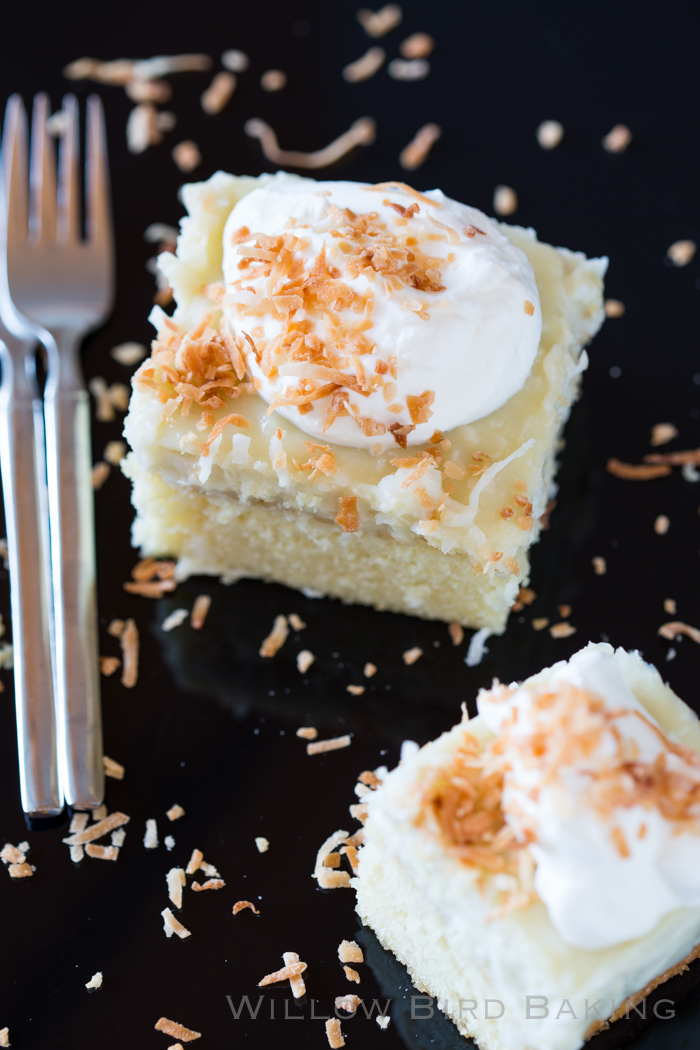 UPDATE: She has now moved on to screaming, "DADDY DO YOU HEAR ME" approximately 8,000 times. He is still not responding. Perhaps he has gone deaf from all the screaming. I'm considering throwing something at his head to get his attention, but all I have besides my computer is a book and my Coke Zero. The book isn't heavy enough and I'm not wasting my Coke Zero on him.
UPDATE: Dad has finally tuned in and asked the Chick-fil-a dude some for cherry ice cream. They do not have cherry ice cream. However, since her dad acknowledged her desire, little angel now believes she is receiving cherry ice cream. She is singing a song about cherry ice cream. I'm not sure if she heard it somewhere or composed it herself. It consists of the lyrics: "cherry ice cream cherry ice cream cherry ice cream cherry ice cream cherry ice cream cherry ice cream cherry ice cream cherry ice cream cherry ice cream cherry ice cream cherry ice cream cherry ice cream cherry ice cream cherry ice cream cherry ice cream cherry ice cream cherry ice cream cherry ice cream cherry ice cream cherry ice cream."
UPDATE: Dad has screamed into the kitchen to ask if they have any cherries they can just PUT ON SOME ICE CREAM. They do. Thank God.
UPDATE: Tiny angel is now making her way back to the table with her cherry ice cream. I believe she has a future in musical theatre. And extortion.
UPDATE: She does not want the cherry ice cream after all. She is full.
* * *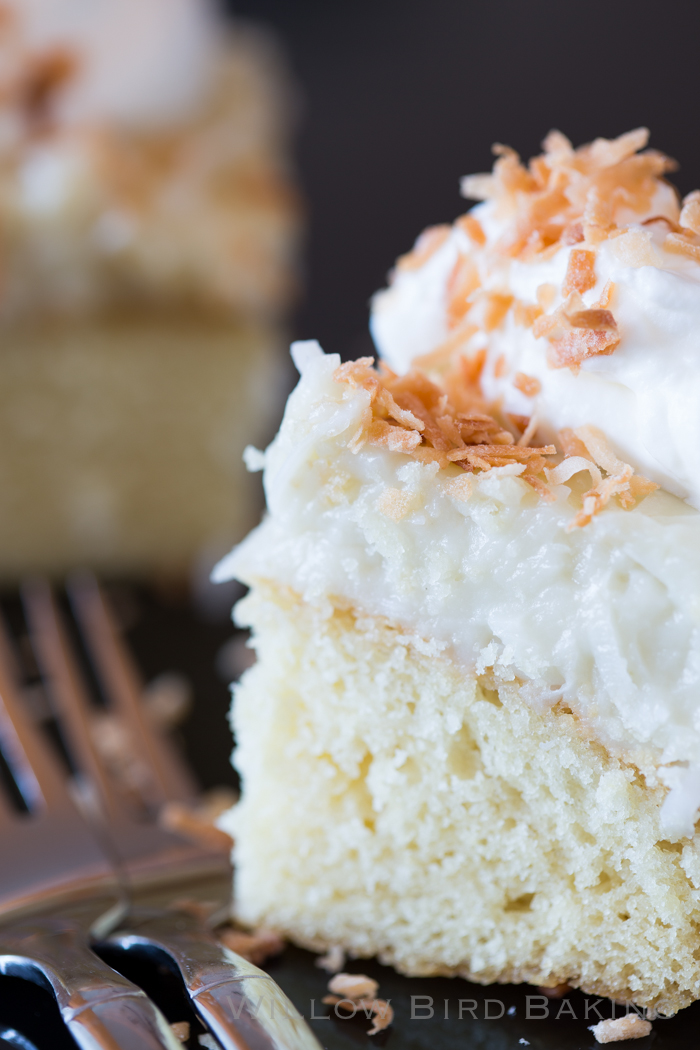 My friends tell me Chick-fil-a is the best birth control and I'm starting to understand why. But I just can't quit those waffle fries in Chick-fil-a sauce, so.
I could've made you cherry ice cream to go with this post, but I'm kind of turned off of it at the moment. Instead, we'll retreat into the comfort of a thick, moist yellow cake with a heap of coconut cream on top — eaten all alone without a ball pit or straw-thrower in sight.
One year ago: Easy Coconut Sheet Cake with Whipped Coconut Icing
Two years ago: Fruity Pebble Strawberry Ice Cream Sundaes
Three years ago: Easy Fruity Cereal Treat Cupfakes
Four years ago: Banana Split Cupcakes
Five years ago: Black and White Croquembouche
Six years ago: Mango Raspberry Rosecakes

Coconut Cream Snack Cake
If you love coconut cake and coconut cream pie, this dessert is a match made in heaven for you! It's creamy, dreamy, and DELICIOUS.
Ingredients
Cake Ingredients:
1/2 cup butter
1/2 cup water
1 cup + 2 tablespoons cake flour
1 cup white sugar
1 egg, lightly beaten
1/4 cup sour cream
1/4 teaspoon almond extract
1/4 teaspoon vanilla extract
1/2 teaspoon baking soda
1/2 teaspoon salt
Coconut Cream Filling Ingredients:
1 1/2 cups half-and-half
1 1/2 cups coconut milk
2 eggs
3/4cups white sugar
1/3 cup cornstarch
1/4 teaspoon salt
1 1/2 cup flaked coconut
1/4 teaspoon coconut extract
1/4 teaspoon vanilla extract
Topping Ingredients:
1 cup heavy whipping cream
5 tablespoons powdered sugar
about 1 cup of coconut for toasting
Instructions
Toast coconut for the topping: Spread about 1 cup of coconut flakes out on a baking sheet and bake in the oven 5-8 minutes, stirring every couple of minutes or so, until the coconut is golden brown. Spread it out on a plate to cool completely.
Make the cake: Preheat the oven to 375 degrees and grease an 8-inch square baking pan (I line the pan with a foil sling and then grease that for easy cake removal). In a medium saucepan over medium heat, bring the butter and water to a boil. In the meantime, in a separate large bowl, whisk together the cake flour and sugar before adding the egg, sour cream, almond extract, vanilla extract, baking soda, and salt. Mix to combine. While mixing, slowly pour in the boiling butter and water mixture. Mix to combine completely. Your batter will be very runny. Pour the batter into the prepared baking pan. Bake at 375 degrees for 17-22 minutes or until a toothpick inserted in several places comes out with a few moist crumbs. Cool completely (I stick mine in the fridge and it was cool in about an hour).
Make coconut cream filling: Combine the half-and-half, coconut milk, eggs, sugar, cornstarch, and salt in a large saucepan and bring it to a boil over medium-low heat, whisking constantly until it's thick and bubbling (this can take anywhere from 15-30 minutes. Just do it. It's worth it. Mine took exactly 30 minutes and didn't seem like it was doing a darn thing until 27 minutes in, so patience and faith are key.) Add coconut and vanilla extracts and the 1 1/2 cups of untoasted coconut and stir. Pour this filling over your cooled cake and the whole thing in the fridge to chill until firm, about 2 to 4 hours.
Assemble: Combine the heavy whipping cream and powdered sugar in the bowl of a stand mixer and whip to stiff peaks. Lift the cream cake out of its pan and top with whipped cream and toasted coconut. Cut into squares and serve.