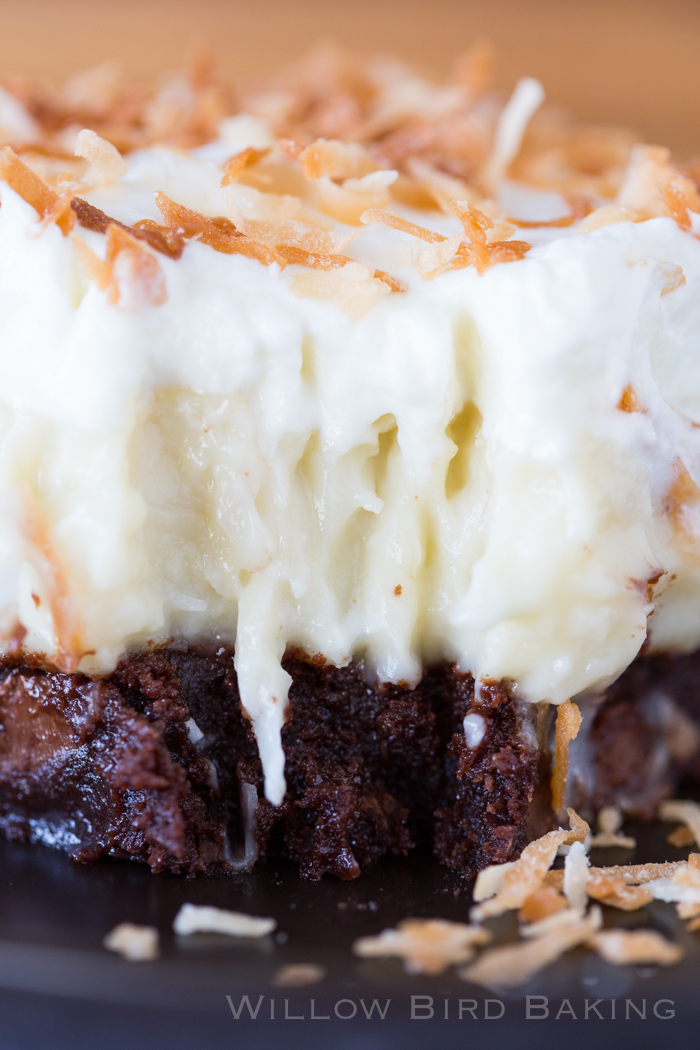 Coconut Cream Brownies
Nearly everyone finds writing hard. Writers find writing hard. What makes writing hard for you?
Perfectionism makes writing hard for me. I have high standards for the impact I want my writing to have. I've read such breathtaking work — and I almost won't read it anymore because I know it feeds this despair in me — so I know how beautiful, perfect a sentence or image can be. I know you can make someone stop and exclaim, "HOW DID THEY THINK OF THAT."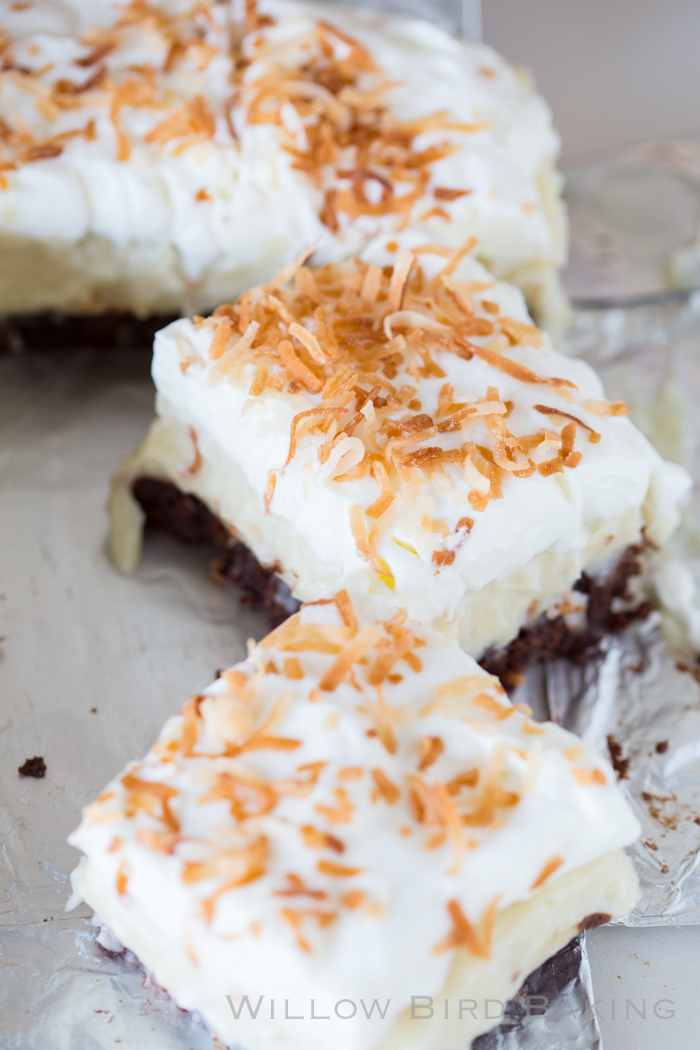 Meanwhile my sentences are orange juice: slightly bitter and pulpy and dully reliable. I'm disappointed with every mundane morning-orange-juice clunker of a sentence I write — every bit of punctuation sitting like a lump in my throat instead of a flowing bit of, say, French — maybe spoken by an equanimous man with a deep, slow, deliberate voice after a drink of, say, olive oil to lubricate the works, perhaps while sitting on the banks of the Arno River — I know it's not in France, but say he's on vacation — perhaps while in love. And slightly sleepy.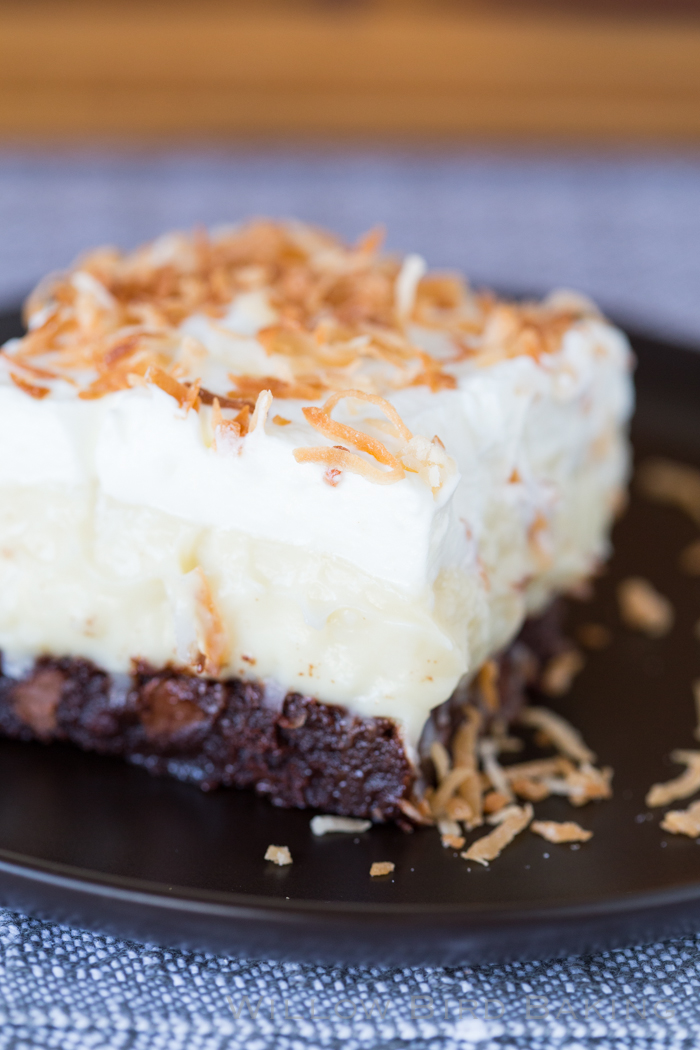 But all I write is orange juice. Maybe orange juice after brushing your teeth, even, if I'm particularly stuck. But at least if all I'm writing is orange juice, what I'm baking is brownies. At least there's that.
One year ago: Chile Rubbed Salmon over Cheddar Grits
Two years ago: Smoked Salmon and Whitefish Salad Melts
Three years ago: Fruity Pebble Strawberry Ice Cream Sundaes
Four years ago: No-Bake Fruity Cereal Treat Cupfakes
Five years ago: Creamsicle Cupcake
Six years ago: Black and White Croquembouche
Seven years ago: Mallows

Coconut Cream Brownies
This easy dessert recipe for Coconut Cream Brownies uses a fair-trade brownie box mix that is topped with decadent coconut cream! Coconut lovers rejoice! Using fair-trade chocolate doesn't change the taste of this delicious dessert and will probably actually make it more expensive, but knowing you're not contributing to inhumane practices in the chocolate industry is SO worth it! I used Cissé Milk Chocolate Chip Brownie Mix
and loved it! (This is an Amazon affiliate link, which means I earn income if you make a purchase using this link. Thanks for supporting Willow Bird Baking!)
Author:
Willow Bird Baking
Ingredients
Coconut Cream Brownie Ingredients:
1 box FAIR-TRADE brownie mix, plus any ingredients needed to prepare
1 1/2 cups half-and-half
1 1/2 cups coconut milk
2 eggs
3/4 cups white sugar
1/3 cup cornstarch
1/4 teaspoon salt
1 1/2 cup flaked coconut
1/4 teaspoon coconut extract
1/4 teaspoon vanilla extract
Topping Ingredients:
1 cup heavy whipping cream
5 tablespoons powdered sugar
about 1 cup of coconut for toasting
Instructions
Preheat oven to 350°F. Toast coconut for the topping: Spread about 1 cup of coconut flakes out on a baking sheet and bake in the oven 6-8 minutes, stirring every couple of minutes or so, until the coconut is golden brown (keep an eye on it -- it burns quickly). Spread it out on a plate to cool completely.
Make brownies: Line an 8 x 8" pan with with a foil sling: tear off 4, 16-inch long pieces of aluminum foil and fold them in half. Situate two side-by-side in the pan, covering the bottom of the pan to the edge (they will overlap). Situate the other two strips in the same manner, but perpendicular to the first. The overhanging foil of the sling will make it easy to remove the brownies from the pan after baking and cooling. Spray foil with cooking spray. Prepare brownie batter according to directions on box. Spread batter in prepared pan and bake according to package directions. Let cool completely.
Make coconut cream: Combine the half-and-half, coconut milk, eggs, sugar, cornstarch, and salt in a large saucepan and bring it to a boil over medium-low heat, whisking constantly until it's thick and bubbling (this can take anywhere from 15-30 minutes. Just do it. It's worth it. It won't look like it's doing a darn thing until it finally thickens and bubbles, so patience and faith are key). Remove it from the heat and add coconut and vanilla extracts and the 1 1/2 cups of untoasted coconut and stir. Pour this filling over your cooled brownies and set the whole thing in the fridge to chill until firm, about 2 hours.
Assemble: Combine the heavy whipping cream and powdered sugar in the bowl of a stand mixer and whip to stiff peaks. Lift the brownies out of their pan and top with whipped cream and toasted coconut. Cut into squares and serve. Refrigerate any uneaten brownies in an airtight container.