This post is sponsored by Philadelphia Cream Cheese.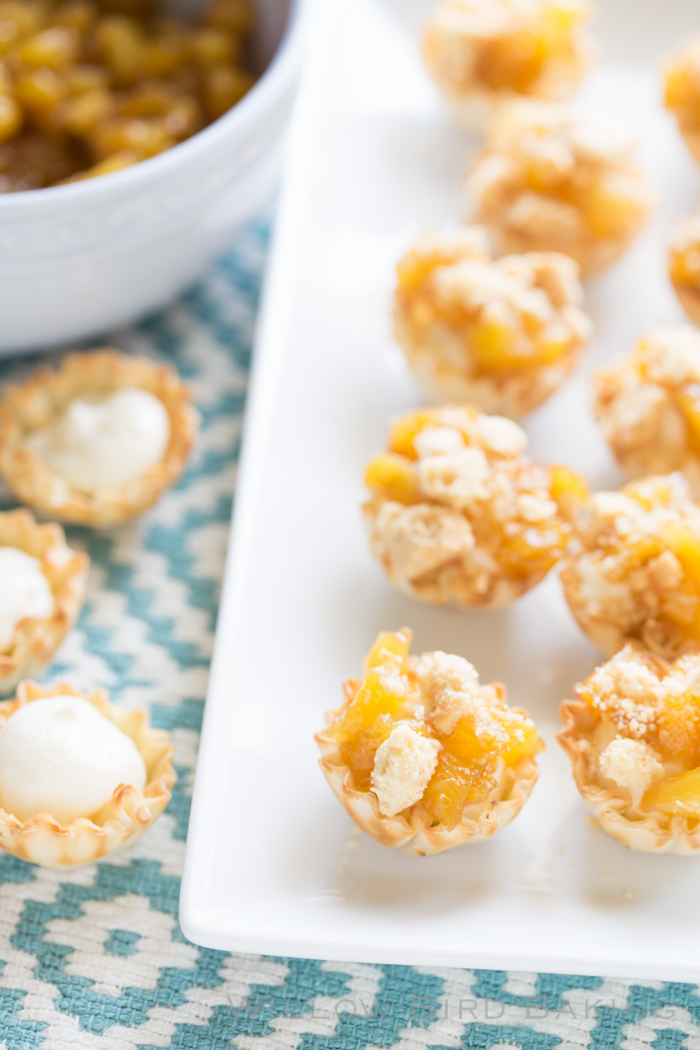 Caramelized Pineapple Cheesecake Cups
I may have mentioned this a thousand times before, but moving across the country is pretty stressful, as it turns out. And stress makes being nice to others, particularly certain husbands, pretty difficult, as it turns out. One day you're in love and the next you're duct taping all of his clothes into a giant ball because if he's not going to help you pack you're not going to waste a perfectly good box on him, so there.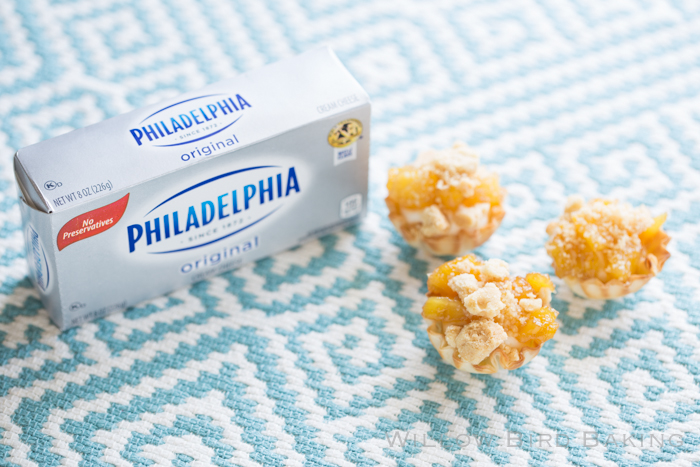 Not that I speak from experience or anything.
Anyhow, now that we're here in San Diego, it's probably time to be nice to my husband again or whatever. We have a running joke about how I never make any desserts for him (his least favorite flavors are pumpkin and lemon, which y'all know are basically my two other husbands) so I thought a little date night dessert using one of his favorite flavors was in order.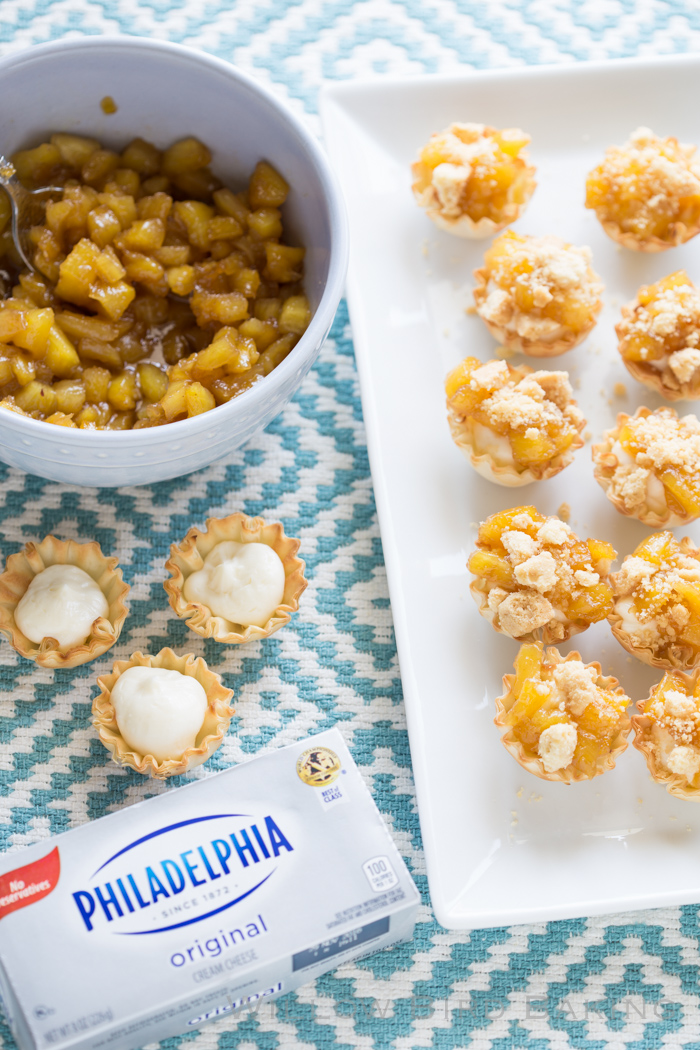 He loves pineapple but hardly ever ate it in North Carolina. I don't know if we're actually closer to where pineapples grow (where do pineapples grow? I'm not one of those seasonal earthfairy bloggers, but you guys already knew that), but San Diego definitely feels like somewhere you should eat more pineapple: under swaying palms and a beautiful beach sunset, perhaps? So these Caramelized Pineapple Cheesecake Cups were the perfect choice for date night!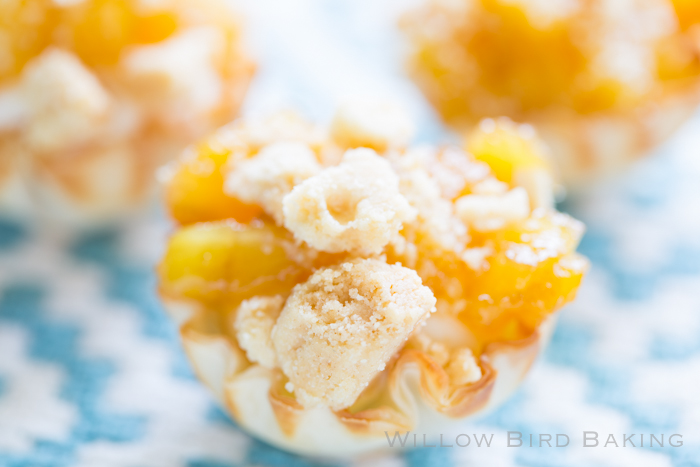 These little Phyllo cups are crisp vessels for tons of flavor combinations, so I usually keep a few boxes in my freezer. I also always keep Philadelphia Cream Cheese in the fridge. I smear it on dates and raisin bread for a snack, but the main reason I keep it on hand is that there's no recipe a delicious no-bake cheesecake mixture couldn't improve! Philadelphia Cream Cheese is made with fresh milk and real cream (and no preservatives) and nothing else tastes like it. In this recipe, it's whipped and sweetened up before being piped into the phyllo cups and topped with incredible caramelized pineapple and shortbread crumbles. The end result is an addictive little pop of pineapple deliciousness — perfect for saying, "Sorry for being a panicky jerk for two months and happy date night" to your husband.
What staples do you keep on hand for quick entertaining?
One year ago: Hot Strawberry Cake and Ice Cream
Two years ago: Strawberry Cobbler with Lemon Cream
Three years ago: Cherry Lemon Rosemary Shortbread Cookies
Four years ago: Lemon Raspberry Squares
Five years ago: Straw-Raspberry Basil Fruit Leather
Six years ago: Angelic Cherry Mousse Cloud Cake with Mascarpone Whipped Cream
Seven years ago: Peach Cobbler Cupcakes

Caramelized Pineapple Cheesecake Cups
These little Caramelized Pineapple Cheesecake Cups are so quick and easy, but so surprisingly delicious! The caramelized pineapple has a deep, incredible flavor. You won't believe how good these little bites are!
Author:
Willow Bird Baking
Serves:
8 servings (3-4 cups each)
Ingredients
1 (8-ounce brick) package Philadelphia Cream Cheese, softened
1/4 cup sugar
1/8 teaspoon vanilla extract
2 cups finely diced pineapple
3 tablespoons butter
1/4 cup brown sugar
2 (15-count) packages phyllo cups, baked according to package directions and cooled
2-3 shortbread cookies, crumbled
Instructions
In a medium bowl, beat softened Philadelphia Cream Cheese, sugar, and vanilla extract together until smooth. Transfer to a zip-top bag and set aside.
Melt the butter in a large skillet over medium heat. Add the brown sugar and cook, stirring, for 1 minute. Add the pineapple and cook, tossing periodically, until the juice has mostly evaporated and the pineapple is nicely caramelized, about 10 minutes.
Cut off a corner of the zip-top bag and pipe the cream cheese mixture into each cup. Top each cup with a spoonful of caramelized pineapple and shortbread crumbles. Serve immediately.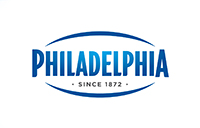 For quick and easy entertaining, turn to Philadelphia Cream Cheese. Always have it on hand to create fun appetizers and desserts that pop. I had a great time developing these Caramelized Pineapple Cheesecake Cups for an impromptu date night! For more creamy, delicious recipe ideas, click here.