Coconut Cream Brownies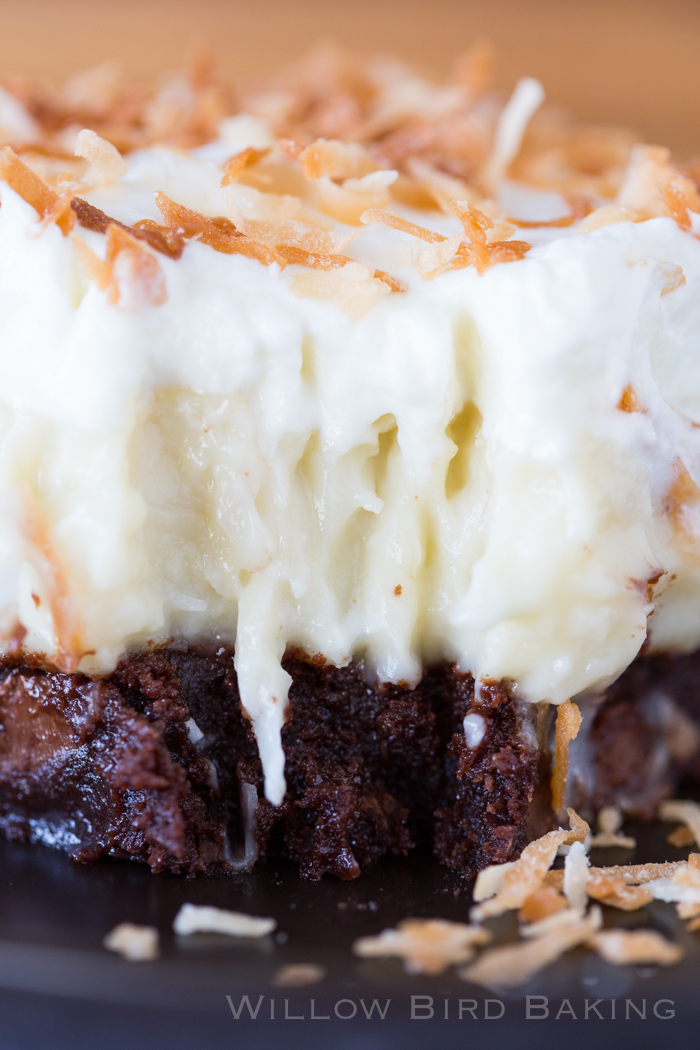 Author:
Willow Bird Baking
1 box FAIR-TRADE brownie mix, plus any ingredients needed to prepare
1 1/2 cups half-and-half
1 1/2 cups coconut milk
2 eggs
3/4 cups white sugar
1/3 cup cornstarch
1/4 teaspoon salt
1 1/2 cup flaked coconut
1/4 teaspoon coconut extract
1/4 teaspoon vanilla extract
1 cup heavy whipping cream
5 tablespoons powdered sugar
about 1 cup of coconut for toasting
Preheat oven to 350°F. Toast coconut for the topping: Spread about 1 cup of coconut flakes out on a baking sheet and bake in the oven 6-8 minutes, stirring every couple of minutes or so, until the coconut is golden brown (keep an eye on it -- it burns quickly). Spread it out on a plate to cool completely.
Make brownies: Line an 8 x 8" pan with with a foil sling: tear off 4, 16-inch long pieces of aluminum foil and fold them in half. Situate two side-by-side in the pan, covering the bottom of the pan to the edge (they will overlap). Situate the other two strips in the same manner, but perpendicular to the first. The overhanging foil of the sling will make it easy to remove the brownies from the pan after baking and cooling. Spray foil with cooking spray. Prepare brownie batter according to directions on box. Spread batter in prepared pan and bake according to package directions. Let cool completely.
Make coconut cream: Combine the half-and-half, coconut milk, eggs, sugar, cornstarch, and salt in a large saucepan and bring it to a boil over medium-low heat, whisking constantly until it's thick and bubbling (this can take anywhere from 15-30 minutes. Just do it. It's worth it. It won't look like it's doing a darn thing until it finally thickens and bubbles, so patience and faith are key). Remove it from the heat and add coconut and vanilla extracts and the 1 1/2 cups of untoasted coconut and stir. Pour this filling over your cooled brownies and set the whole thing in the fridge to chill until firm, about 2 hours.
Assemble: Combine the heavy whipping cream and powdered sugar in the bowl of a stand mixer and whip to stiff peaks. Lift the brownies out of their pan and top with whipped cream and toasted coconut. Cut into squares and serve. Refrigerate any uneaten brownies in an airtight container.