This post is sponsored by Philadelphia Cream Cheese.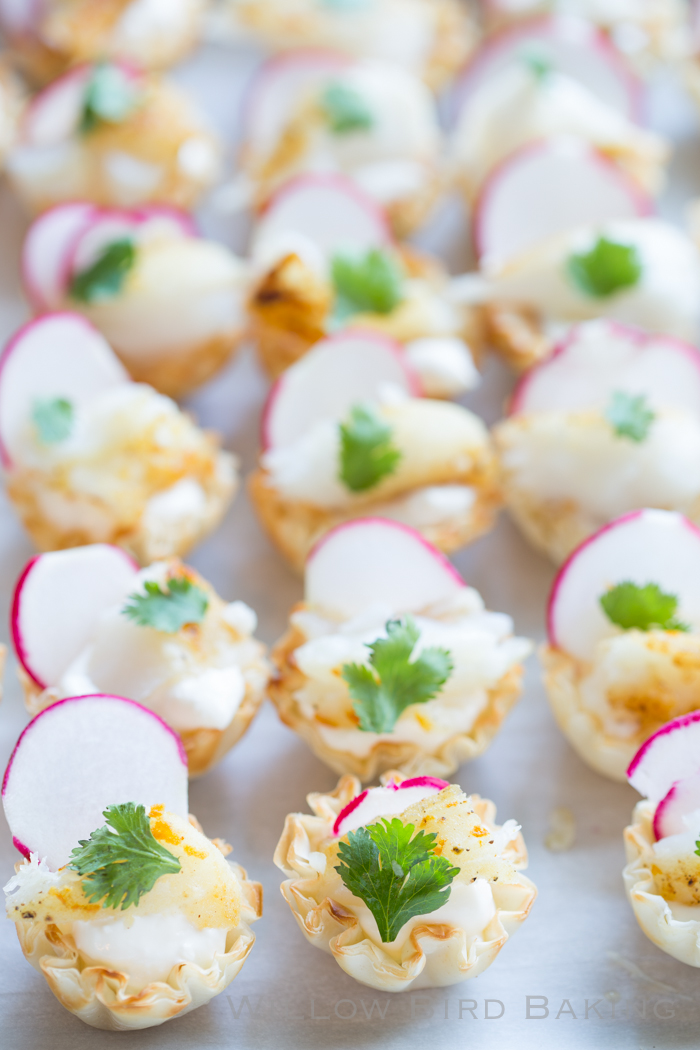 Fish Taco Bites
When this recipe pops up in your inbox, Mike and I will (hopefully) be knee-deep in our cross-country trek to our new home in San Diego! I would love to paint a Norman Rockwellian portrait for you of us clambering down Route 66 sipping sodas with crushed ice and blasting Prince tunes, but honestly we've probably spent the last 48 hours hot, bored, paranoid about the dog and turtle, and slowly beginning to hate each other. ROAD TRIPS ARE FUN. Someone just needs to convince my husband of that.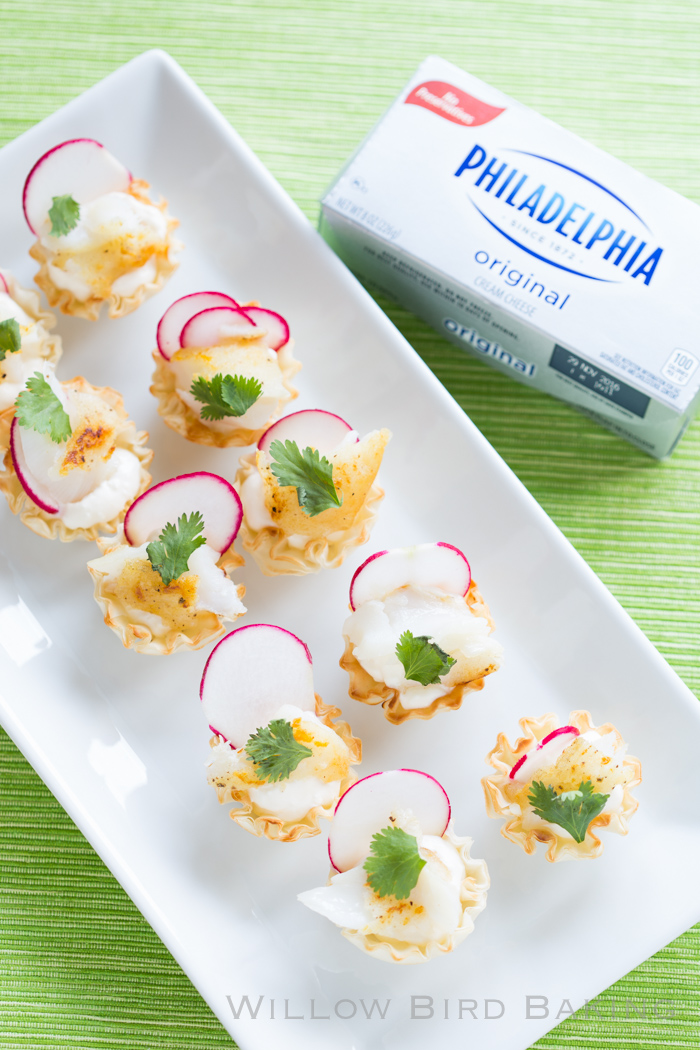 Regardless, in just a day or two (PLEASE GOD), we will finally reach sunny San Diego paradise. And when we do, it's time for one of my very favorite kinds of parties: a housewarming party! You get to warm a house with friends so infrequently but I find it such a lovely little tradition: invite people over just to fill your new space with joy, give a tour, eat lots of finger foods, put on an easy-breezy playlist, drink fruity alcohol, and talk for hours while lounging about. Hello, best party ever.
Nevermind that our "house tour" in $$$an Diego will take all of 10 seconds: "Here's the teeny studio apartment we live in with no rooms other than the one you're standing in. The end." Oh well. Less to keep clean.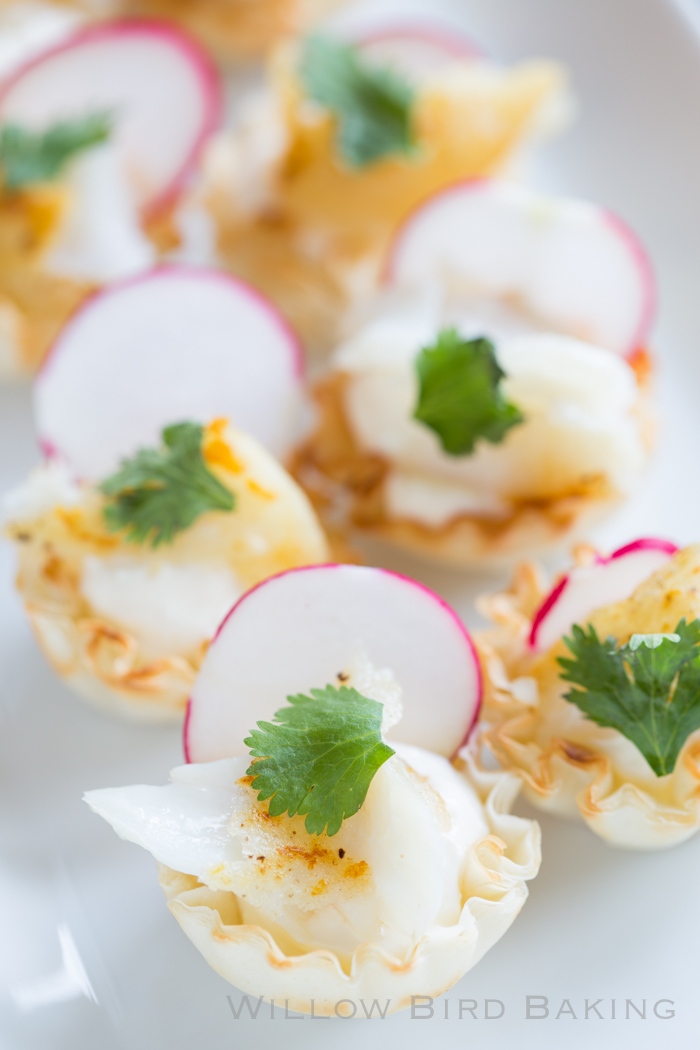 What better finger food for breaking in our new city than an appetizer version of fish tacos? I always keep these little phyllo cups and Philadelphia Cream Cheese on hand because the quick and delicious possibilities are endless. Philadelphia Cream Cheese is made with fresh milk and real cream (and no preservatives). I used to buy the generic stuff but, honestly, nothing tastes like Philadelphia. In this recipe, it's used as a base for an extra creamy "white sauce" inside the crispy phyllo cups. They're topped with a simple pan-fried cod, a slice of radish, and a touch of cilantro. These colorful apps feel just like an end-of-summer trip to the beach! Enjoy!
What are your favorite tips for throwing together a casual hangout?
One year ago: Chile Rubbed Salmon over Cheddar Grits
Two years ago: Smoked Salmon and Whitefish Salad Melts
Three years ago: Fruity Pebble Strawberry Ice Cream Sundaes
Four years ago: No-Bake Fruity Cereal Treat Cupfakes
Five years ago: Creamsicle Cupcake
Six years ago: Black and White Croquembouche
Seven years ago: Mallows

Fish Taco Bites
Nothing says SUMMER like fish tacos, which bring up colorful images of sun and surf! Turn those fish taco dreams into adorable appetizers with these Fish Taco Bites: pan-fried fish on top of an extra creamy white sauce in a crispy Phyllo cup!
Author:
Willow Bird Baking
Serves:
8 (5-6 bites per serving)
Ingredients
White Sauce Ingredients:
1 (8-ounce) brick Philadelphia Cream Cheese, softened
1/2 cup mayonnaise
2 tablespoons milk
2 tablespoons lemon juice
1/2 teaspoon garlic salt
Other Ingredients:
1 (1-pound) cod filet (mine was about 1-inch thick)
1/4 cup all-purpose flour
salt and pepper
2 tablespoons olive oil
3 (15-count) packages phyllo cups, baked according to package directions and cooled
1/2 cup thinly sliced radishes
1/4 cup chopped cilantro
Instructions
Make the White Sauce: Beat softened Philadelphia Cream Cheese on high until soft and fluffy. Add mayonnaise, milk, lemon juice, and garlic sauce and beat until smooth. Transfer to a zip-top bag and place in the refrigerator to chill.
Make the cod: Pat the filet dry with paper towels. Season with salt and pepper on both sides. Sprinkle the flour on a plate and dredge both sides of the filet through it, tapping off the excess. Heat the olive oil in a large skillet over medium-high heat until the oil shimmers and a pinch of flour dropped in sizzles upon contact. Pan-fry the cod filet for 3-5 minutes on the first side, until golden brown. Flip and pan-fry for about 2 more minutes, or until golden brown and the fish is cooked through. Remove the filet to a cutting board to cool for 10 minutes. Slice the filet into 45 bite-sized pieces (let's be honest: it's easier to pull it apart. Wash your hands first!)
Assemble the bites: Cut off one corner of the white sauce zip-top bag and pipe a dollop of white sauce into the bottom of each phyllo cup. Top the white sauce with a piece of fish, a thin radish round, and a cilantro leaf. Repeat until all cups are filled. Serve immediately.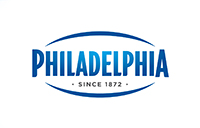 For quick and easy entertaining, turn to Philadelphia Cream Cheese. Always have it on hand to create fun appetizers and desserts that pop. I had a great time developing my Fish Taco Bites for my housewarming party! For more creamy, delicious recipe ideas, click here.