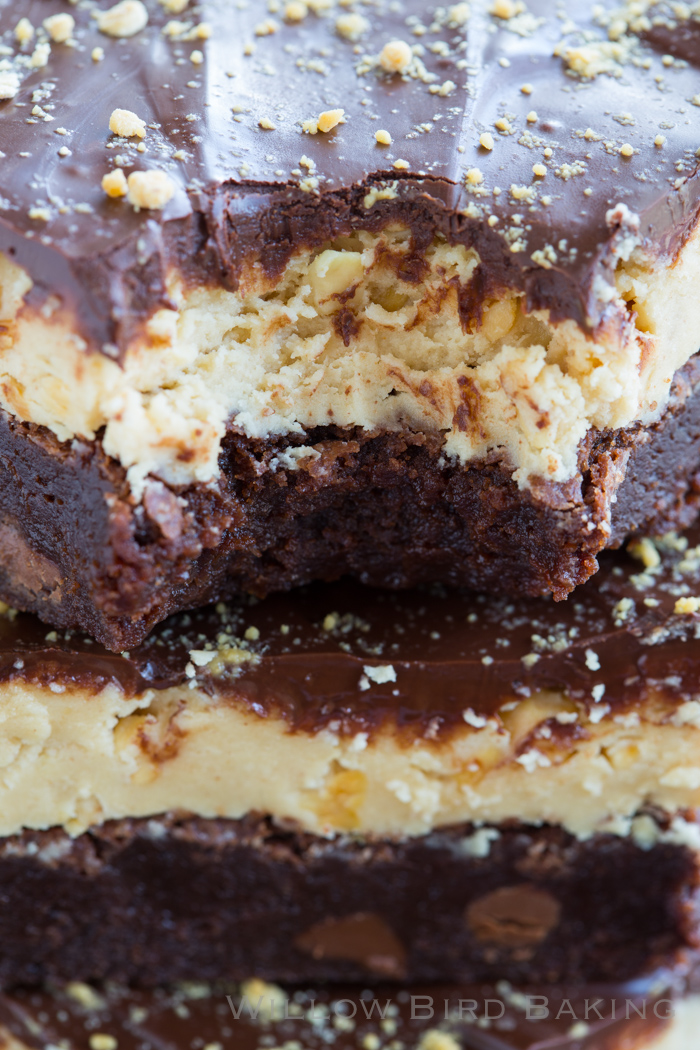 Buckeye Brownies
My family is a driving family. Mike wants to gouge out his eyes with his car keys when he has to drive for over a couple of hours, but when I was little, my family would trek 10 hours to Orlando, 14 hours to Missouri, 10 hours to the Gulf Coast. We just piled in the car and dealt with it.
I never minded too much, but it did make the trip go faster if I had something good to read. Before one epic trip to Missouri to visit extended family, my parents bought me an activity book based on The Simpsons. It was giant, glossy, bright. It beckoned to me from my mom's bottom nightstand drawer. But I was NOT allowed to read it before the trip.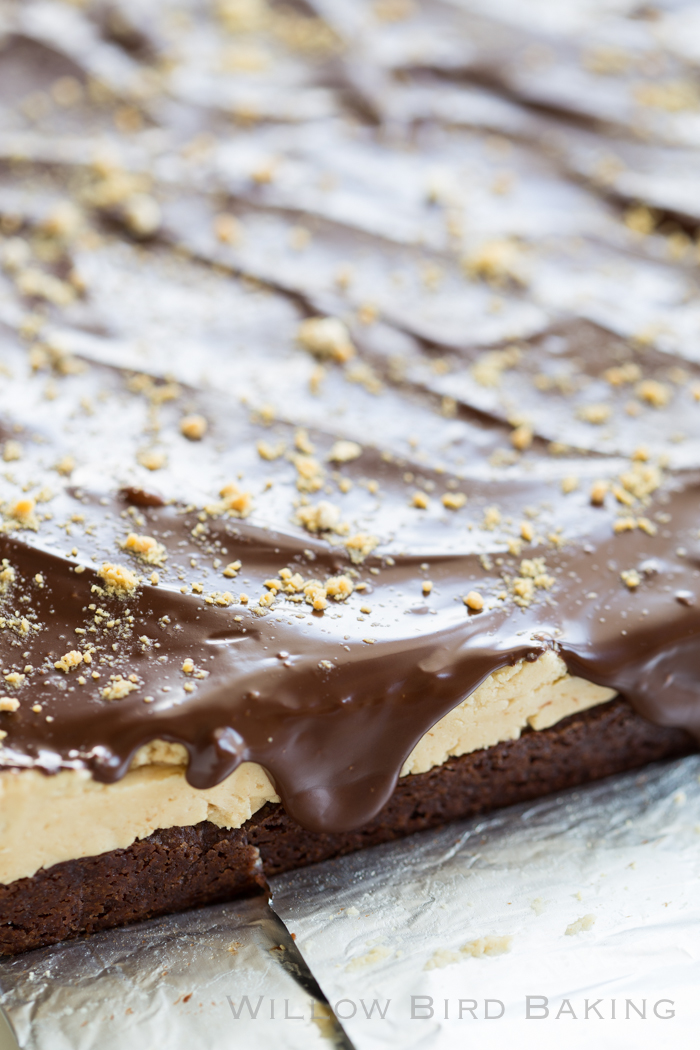 I was quite a persuasive (read: annoying) child, however, and my constant pestering and pleading wore my parents down. Finally my mom agreed that I could choose and read ONE PAGE of the workbook before the trip. She warned me that if I read more than ONE PAGE, I had better breathe even ONE WORD about being bored in the car. NOT EVEN ONE.
So of course I read the entire book.
I read it one page AT A TIME, which is basically following instructions? And I left myself a few pages — well, one page at least. Well, I didn't look at that page for VERY LONG, anyway. What I'm saying is that I spent the whole car ride hating myself and also my mother for being right.
But now! Now I'm an adult! Now I can exhibit self-control. Right? OR I just bought a bag of Cajun Trail Mix SPECIFICALLY AND ONLY FOR MY UPCOMING CROSS-COUNTRY ROAD TRIP and am already halfway through the bag, whichever.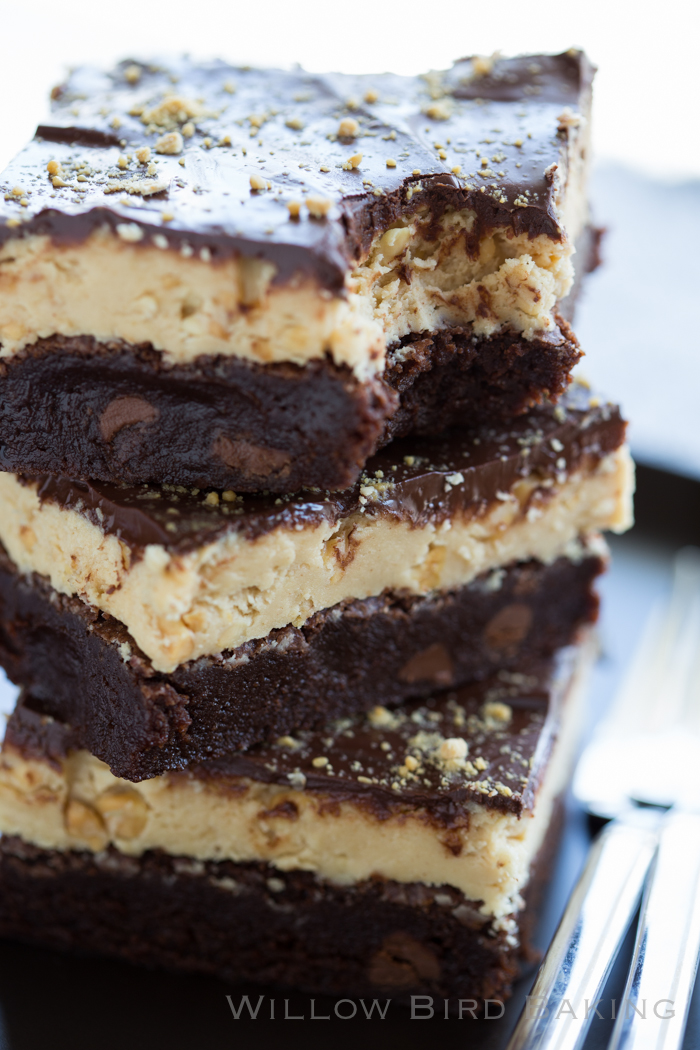 If you share my self-control skillz, you probably should not make these absolutely incredible Buckeye Brownies. Delicious, sweet, crunchy peanut butter filling tops a pan of fair-trade brownies (made without the use of slavery, which many major chocolate companies still rely on — can you believe it?!) baked up in no time. These things are AMAZING, and I won't tell if you eat more than just one. Just save me a few for my road trip, because apparently I won't have a drop of Cajun Trail Mix left.
One year ago: Chile Rubbed Salmon over Cheddar Grits
Two years ago: Smoked Salmon and Whitefish Salad Melts
Three years ago: Fruity Pebble Strawberry Ice Cream Sundaes
Four years ago: No-Bake Fruity Cereal Treat Cupfakes
Five years ago: Creamsicle Cupcake
Six years ago: Black and White Croquembouche
Seven years ago: Mallows

Buckeye Brownies
This recipe for Buckeye Brownies is rich, delicious, and decadent but SO easy to prepare. If you love peanut butter and chocolate, this is your dessert! Using fair-trade chocolate doesn't change the taste of this delicious dessert and will probably actually make it more expensive, but knowing you're not contributing to inhumane practices in the chocolate industry is SO worth it! I used Cissé Milk Chocolate Chip Brownie Mix
and loved it! (This is an Amazon affiliate link, which means I earn income if you make a purchase using this link. Thanks for supporting Willow Bird Baking!)
Author:
Willow Bird Baking
Ingredients
Peanut Butter Brownies Ingredients:
1 box FAIR-TRADE brownie mix, plus any ingredients needed to prepare
3/4 cups crunchy peanut butter
1/2 cup butter, softened
1/4 teaspoon vanilla extract
2 cups powdered sugar
Topping Ingredients:
1 cup FAIR-TRADE chocolate chips
1 1/2 teaspoons butter
powdered peanut butter, chopped peanuts, or chopped peanut butter cups for topping
Instructions
Preheat oven to 350°F. Line an 8 x 8" pan with with a foil sling: tear off 4, 16-inch long pieces of aluminum foil and fold them in half. Situate two side-by-side in the pan, covering the bottom of the pan to the edge (they will overlap). Situate the other two strips in the same manner, but perpendicular to the first. The overhanging foil of the sling will make it easy to remove the brownies from the pan after baking and cooling. Spray foil with cooking spray. Prepare brownie batter according to directions on box. Spread batter in prepared pan and bake according to package directions. Let cool completely.
In a medium bowl, beat together peanut butter, butter, and vanilla extract until smooth. Gradually beat in the powdered sugar until combined. Spread the peanut butter mixture over the cooled brownies.
Melt the chocolate chips and butter together in the microwave on half power, stirring every 30 seconds, until smooth and completely melted. Pour the chocolate over the top of the peanut butter and sprinkle on any desired toppings (I used powdered peanut butter). Allow the brownies to sit until the chocolate is set (if not serving immediately, you can stick them into the fridge), cut into squares, and serve. Refrigerate any uneaten brownies in an airtight container.