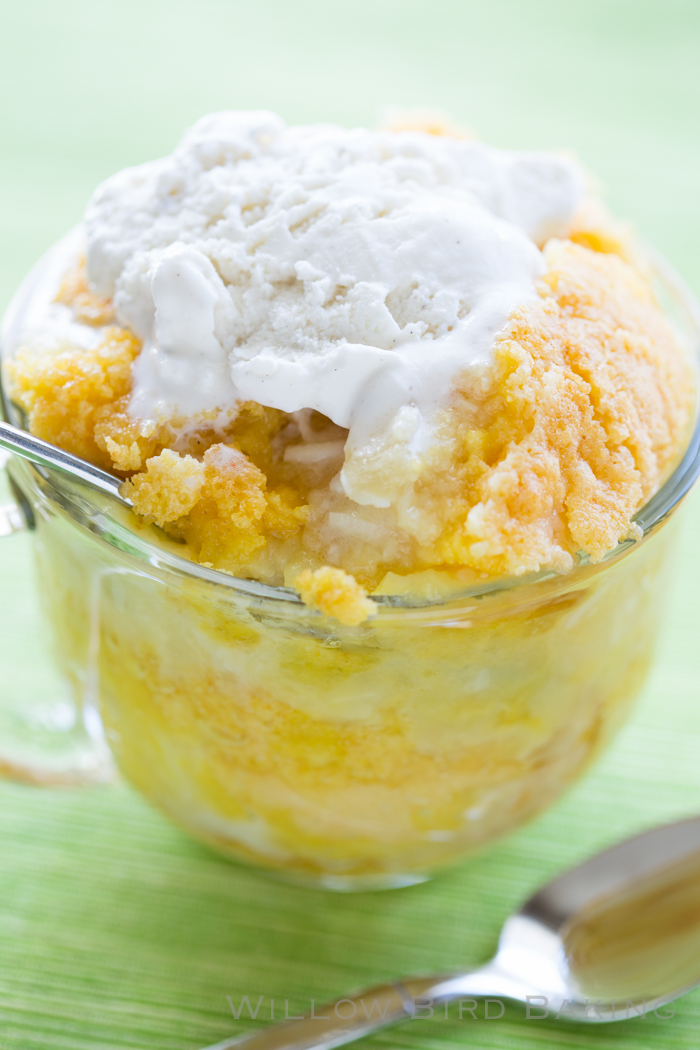 Piña Colada Dump Cake
There's nothing like moving to force you to LOOK AT ALL THE THINGS. You thought you were holding it together, keeping things organized, but in reality you were STUFFING ALL THE THINGS INTO A BLOATED "IMPORTANT ITEMS" FOLDER in the nether regions of your filing cabinet. Unopened letters from the insurance company because you Could Not Even at the time, manuals for appliances you haven't owned in a decade, ticket stubs you thought you'd care about later (nope).
You want to just chuck the whole thing in the recycling bin, but of course that would be TOO EASY. Mixed into the detritus is the ORIGINAL COPY of your social security card, your fave recipe for stuffed squash, and faded receipts that the IRS might still inexplicably demand from you.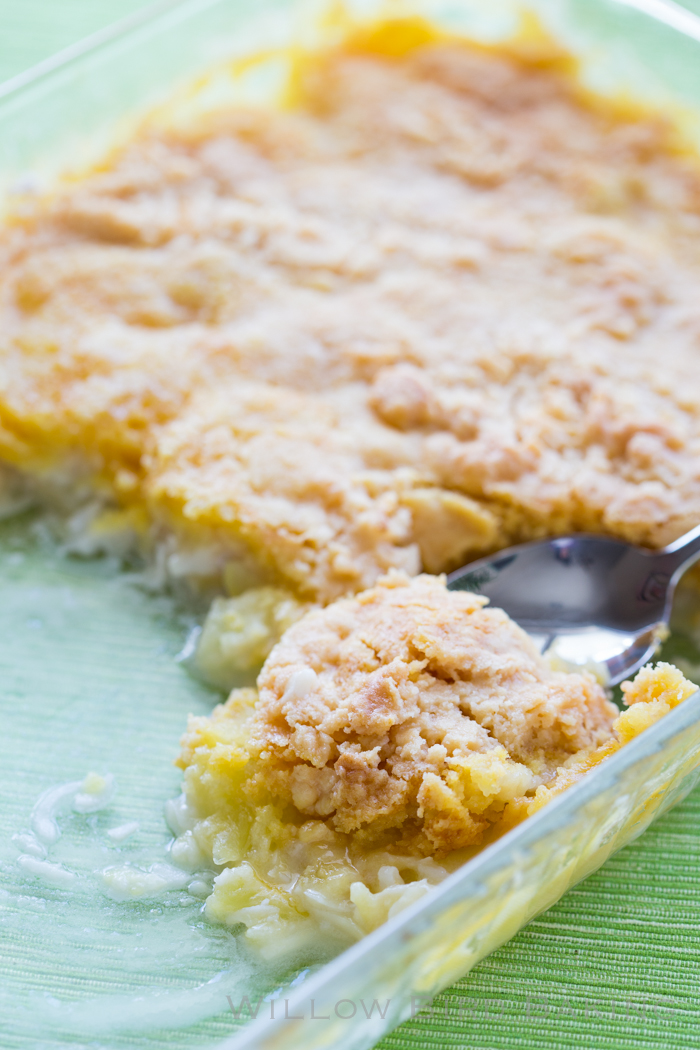 That's where I am right now: the beloved detritus stage. We've sold most of our substantial furniture and now all of the things that that furniture held are carpeting my apartment like a poorly conceived, prickly rug. Clothes, jewelry, household goods, papers, random bags of KEYS — WHAT EVEN ARE ALL OF THESE KEYS? THERE AREN'T ENOUGH LOCKS IN THIS ENTIRE CITY.
But as soon as I throw this bag of keys away, I will suddenly find myself locked out of all things. I KNOW HOW THIS WORKS.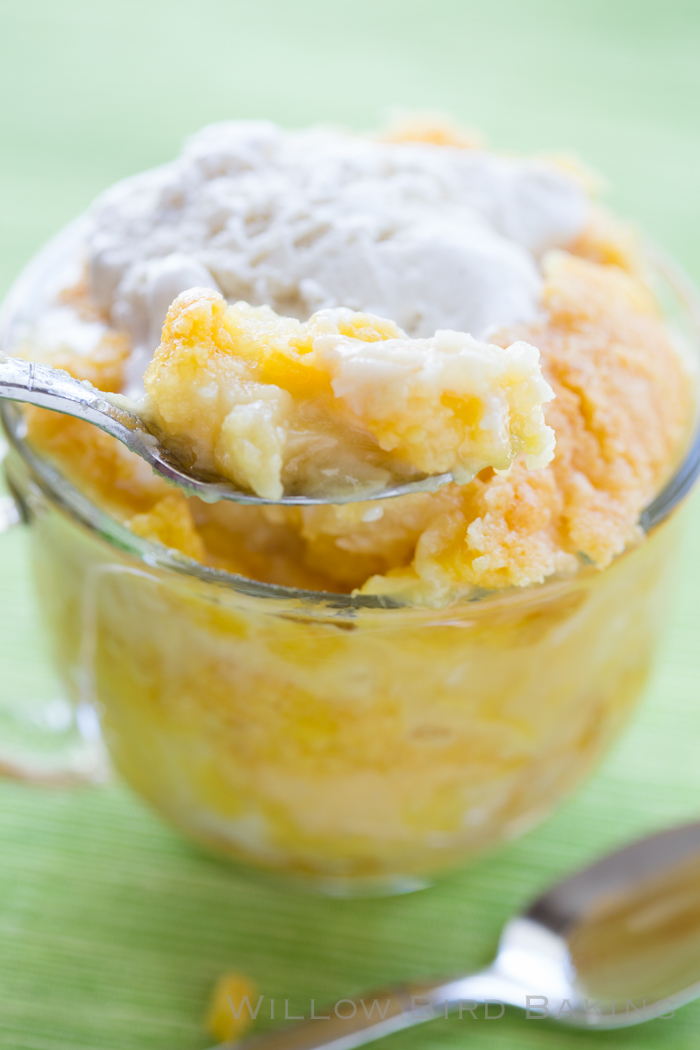 I've moved enough times now to know that soon I'll just start to wildly bail possessions and vow to live a barren and ascetic life from here on out SO HELP ME . . . until I arrive in San Diego's Ikea, that is.
Here's the next in my series of I'm-having-a-stress-meltdown-but-also-need-dessert drop-dead-easy dump cakes (I know, I hate that name, too): Piña Colada Dump Cake! This delicious cake includes plump, juicy pineapple and coconut milk topped with a buttery yellow box cake mix. Let it cool completely to a custardy texture before serving it up with vanilla bean ice cream (and a cherry! and one of those little umbrellas if you're feeling cute.) Enjoy!
One year ago: Cheesy Chipotle Shrimp Sweet Potato Coins
Two years ago: Crêpes with Roasted Berries and Coconut Whipped Cream
Three years ago: Homemade S'mores Marshmallows
Four years ago: No-Bake Fruity Cereal Treat Cupfakes
Five years ago: Banana Split Cupcakes
Six years ago: Chocolate Mousse Pie
Seven years ago: Lemon Burst Fairycakes

Piña Colada Dump Cake
Ready for a tropical, buttery, delicious dessert that can be prepped and thrown in the oven in 5 minutes flat? This Piña Colada Dump Cake is so good -- especially with a big scoop of ice cream! When it comes out of the oven it'll still seem a little liquidy in the middle, but it cools to a velvetty bread pudding-like texture.
Author:
Willow Bird Baking
Ingredients
1 (21-ounce) can chopped pineapple, drained
1 (13.5-ounce) can coconut milk
1 cup shredded coconut
2 tablespoons spiced rum
1 (15.25-ounce) package yellow cake mix
3/4 cup butter, melted
ice cream for serving, optional
Instructions
Preheat the oven to 325 degrees F. Spray 9 x 13-inch glass baking dish with cooking spray. Mix the pineapple, coconut milk, shredded coconut, and spiced rum together in the baking dish. Sprinkle the cake mix over top and then pour the butter evenly over the cake mix. Bake for 38-45 minutes or until golden brown. It may not seem fully set in the middle but will continue to set up as it cools. Let cool completely and then scoop into a bowl and serve with ice cream.