Buckeye Brownies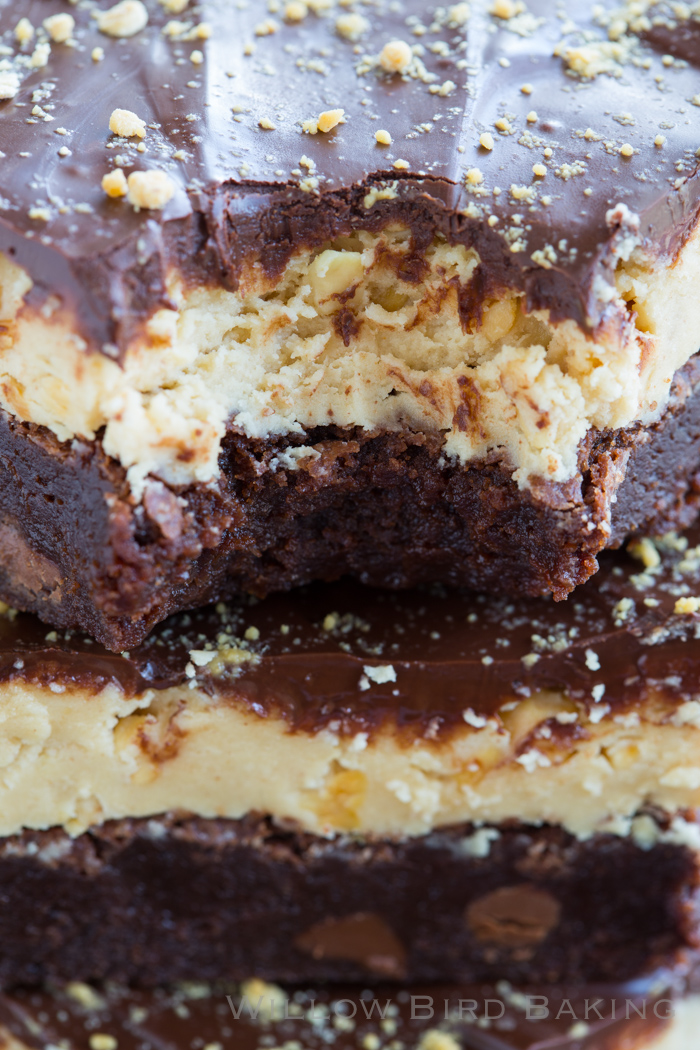 Author:
Willow Bird Baking
1 box FAIR-TRADE brownie mix, plus any ingredients needed to prepare
3/4 cups crunchy peanut butter
1/2 cup butter, softened
1/4 teaspoon vanilla extract
2 cups powdered sugar
1 cup FAIR-TRADE chocolate chips
1 1/2 teaspoons butter
powdered peanut butter, chopped peanuts, or chopped peanut butter cups for topping
Preheat oven to 350°F. Line an 8 x 8" pan with with a foil sling: tear off 4, 16-inch long pieces of aluminum foil and fold them in half. Situate two side-by-side in the pan, covering the bottom of the pan to the edge (they will overlap). Situate the other two strips in the same manner, but perpendicular to the first. The overhanging foil of the sling will make it easy to remove the brownies from the pan after baking and cooling. Spray foil with cooking spray. Prepare brownie batter according to directions on box. Spread batter in prepared pan and bake according to package directions. Let cool completely.
In a medium bowl, beat together peanut butter, butter, and vanilla extract until smooth. Gradually beat in the powdered sugar until combined. Spread the peanut butter mixture over the cooled brownies.
Melt the chocolate chips and butter together in the microwave on half power, stirring every 30 seconds, until smooth and completely melted. Pour the chocolate over the top of the peanut butter and sprinkle on any desired toppings (I used powdered peanut butter). Allow the brownies to sit until the chocolate is set (if not serving immediately, you can stick them into the fridge), cut into squares, and serve. Refrigerate any uneaten brownies in an airtight container.