This post is sponsored by Philadelphia Cream Cheese.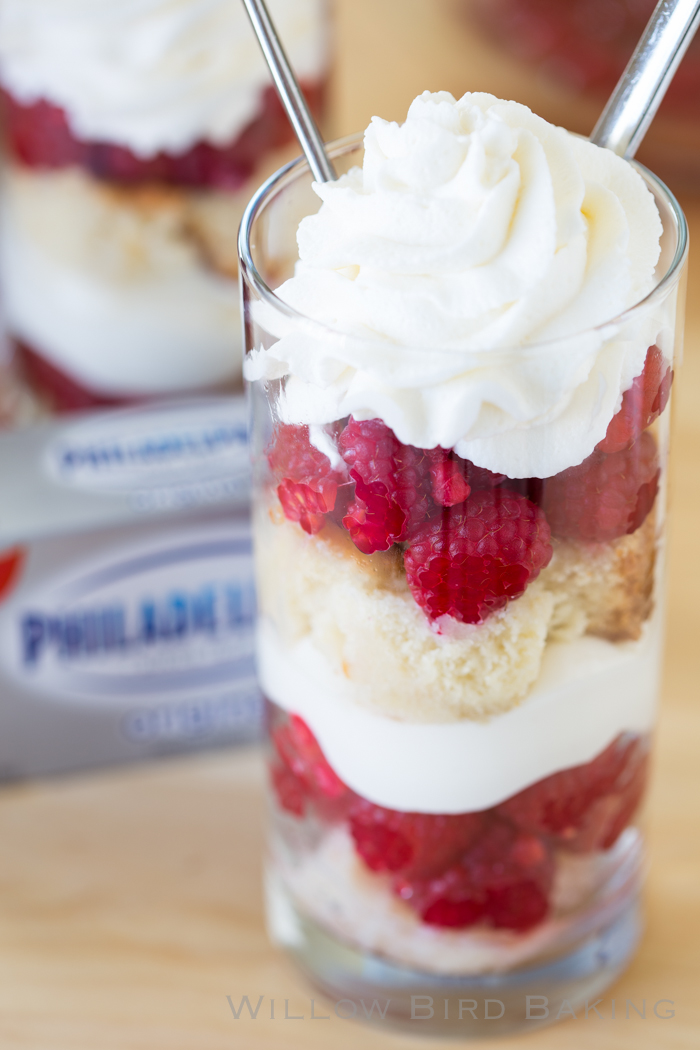 Easy Raspberry Cheesecake Double-Date Parfaits
Mike and I are always trying to be better about making friends. We're two devoted introverts: I have an impressive dose of social anxiety and he just doesn't especially put himself out there. But we both do well in smallish, casual get-togethers. Low-stress environment, simple food, no crazy cleaning frenzies beforehand. My latest idea for one of these is a homemade double-date night: one couple brings drinks and apps, the other provides dinner and dessert, and both play board games while ignoring the pile of laundry in the corner because WE'RE BEING CASUAL, Y'ALL. Or that's the plan anyway.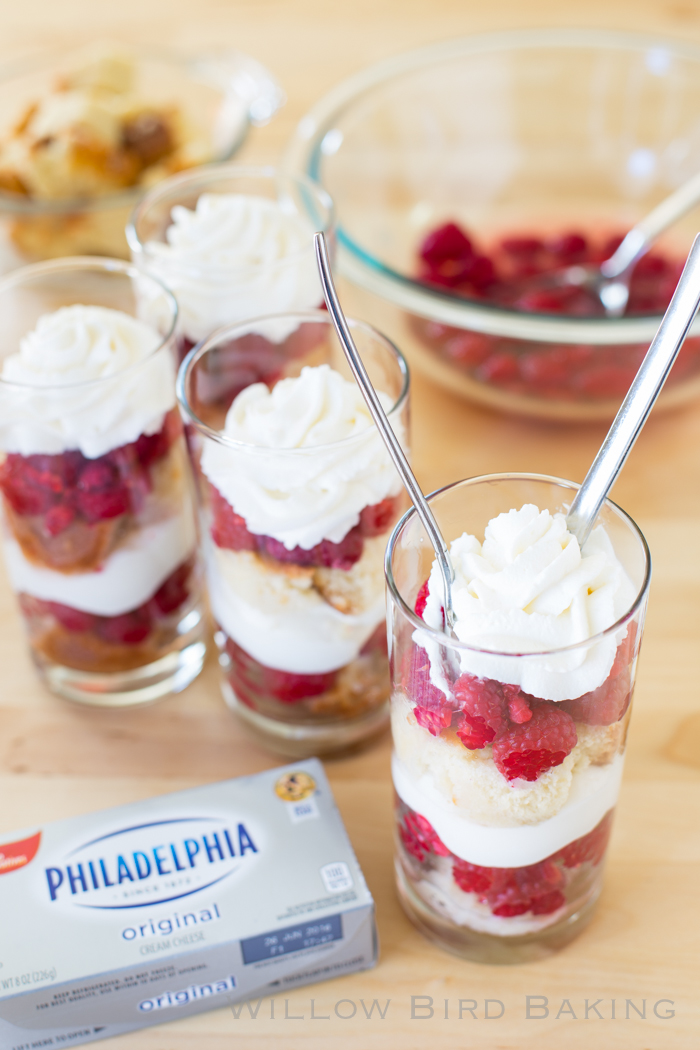 So of course I had to be all CUTE or whatever and create a COUPLES dessert: one that you eat with your sweetheart. I don't know why I never make parfaits, because they're like PERSONAL TRIFLES, and everyone knows trifles are so flippin' good. These parfaits are no exception: layers of cubed pound cake; raspberries macerated in sparkling wine and sugar; a quick vanilla cheesecake mixture made with Philadelphia Cream Cheese, which uses fresh milk and real cream, and no preservatives; and freshly whipped vanilla cream. Oh my goshhhh.
They're also drop-dead easy: macerate your berries, cube a ready-made pound cake from the bakery, whip up the cheesecake and cream, and assemble. These were ready in 30 minutes flat, and that's only because I needed to give the berries time to soak up the goodness. Actual working time of this recipe? Probably 10 minutes. Also, you can sing, "RAAAAAAASPBERRY PARFAITS" a la Prince over and over again while you prepare these. I think it adds a little je ne sais quoi to the final product.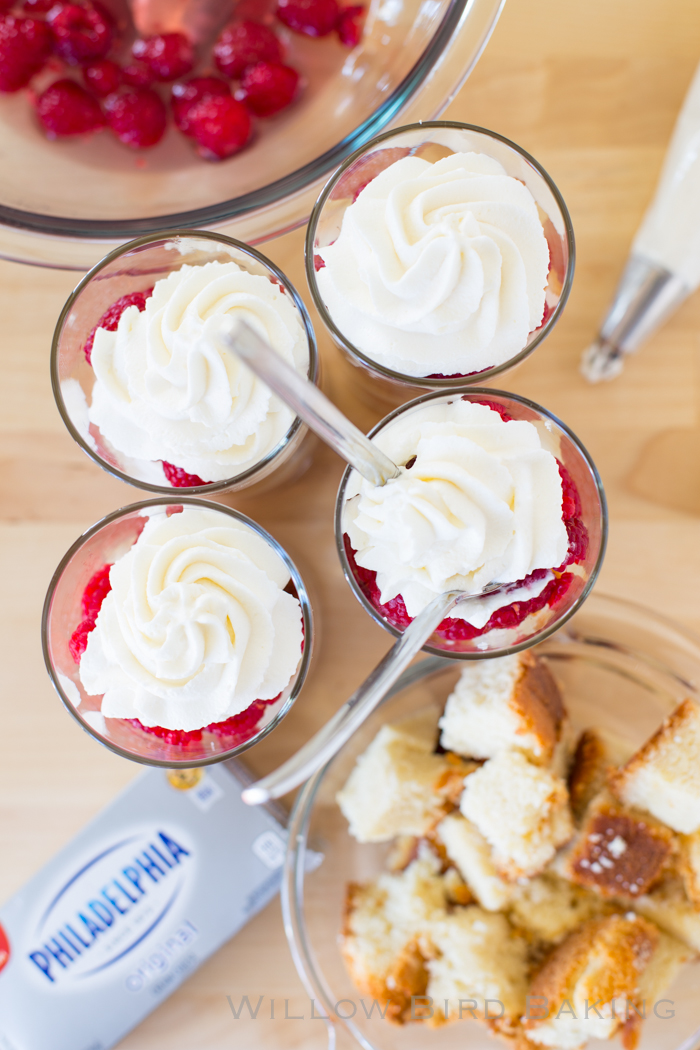 I used tall glasses and served my dessert as a couples dessert with two spoons, but if you have the typical shorter parfait glasses, feel free to divvy up the ingredients and serve individual parfaits.
One year ago: Brownie Blackout Mousse Cake
Two years ago: Bailey's Mint Oreo Icebox Cake
Three years ago: Buttery Coconut Almond Pull-Apart Bread (with Heavenly Coconut Cream Glaze)
Four years ago: Tres Leches Coconut Cake Trifle
Five years ago: Soft Pretzel Dogs
Six years ago: Ice Cream Cupcakes

Easy Raspberry Cheesecake Double-Date Parfaits
These Easy Raspberry Cheesecake Double-Date Parfaits are made with store-bought pound cake for ease, but feel free to use any leftover cake you have available. I combined two servings in each tall glass with two spoons (you know, to be romantic and all that), but feel free to separate your parfaits out into 8 small parfait glasses. These can be prepared up to one hour in advance and chilled until serving.
Author:
Willow Bird Baking
Ingredients
Sparkling Raspberry Ingredients:
4 cups fresh raspberries
1/2 cup sugar
3/4 cup dry sparkling wine
Whipped Cream Ingredients:
1/2 cup heavy cream
2 tablespoons powdered sugar
1/4 teaspoon vanilla extract
Cheesecake Filling Ingredients:
1 brick (8-ounces) Philadelphia Cream Cheese, softened
2 tablespoons powdered sugar
2 tablespoons heavy cream
1/2 teaspoon vanilla extract
1/4 prepared pound cake, cut into 1-inch cubes (about 3 cups)
Instructions
Make the sparkling raspberries: Combine the raspberries, sparkling wine, and sugar in a medium bowl. Cover this and set it aside to macerate for 30 minutes.
Make the whipped cream: Whip heavy cream, powdered sugar, and vanilla extract together to stiff peaks. Transfer whipped cream to a pastry bag fitted with a star tip.
Make the cheesecake filling: Beat together the Philadelphia Cream Cheese, powdered sugar, heavy cream, and vanilla extract until smooth. Transfer to a pastry bag with the tip cut off.
Assemble: In either 4 tall (for couples) or 8 regular (for individuals) parfait glasses, layer pound cake cubes, sparkling raspberries with sparkling wine, and a thick layer of cheesecake filling. Repeat another layer of cake cubes and raspberries before topping the parfaits with whipped cream. Serve.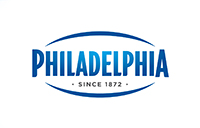 For quick & easy entertaining, turn to Philadelphia Cream Cheese. Always have it on hand to create fun appetizers and desserts that pop. I had a great time developing my Easy Raspberry Cheesecake Double-Date Parfaits for my double-date night. For more creamy, delicious recipe ideas, click here.