Thanks to Philadelphia Cream Cheese for sponsoring this post!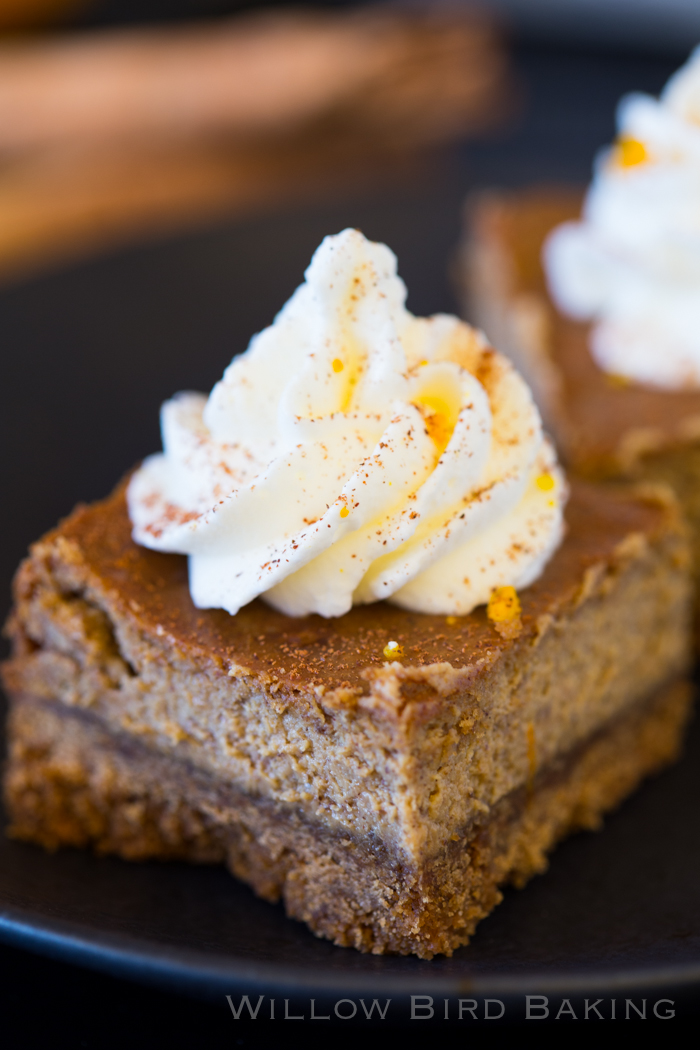 Gingerbread Cheesecake Bars with Orange Whipped Cream
Dear Gingerbread,
I've been thinking, and I think I need to apologize to you. I know that I haven't always taken you seriously. I thought you were a stale, dry cookie recipe that any old store-bought graham cracker could beat in a taste test. You were good for sheetrocking gingerbread houses and that was about it.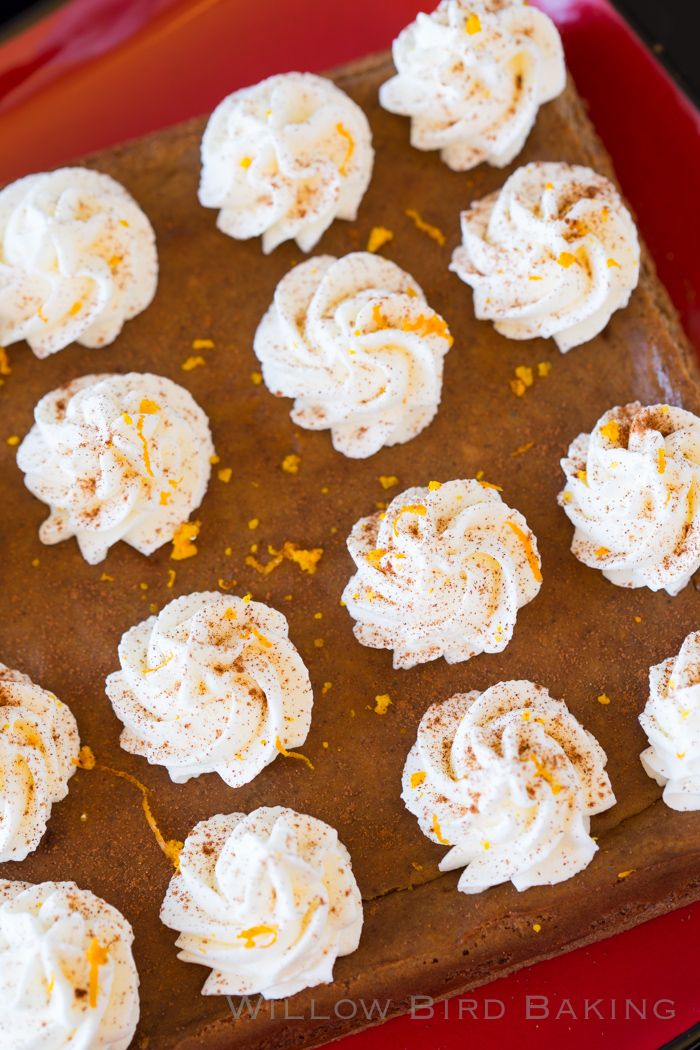 One issue was that I never really gave you a chance. I would sample store-bought cookies the shape and texture of hockey pucks, and maybe I'd even whip up a dishwater-bland version of you on my own. I was stingy with the spices you needed, and I didn't really understand the flavor profile I was aiming for.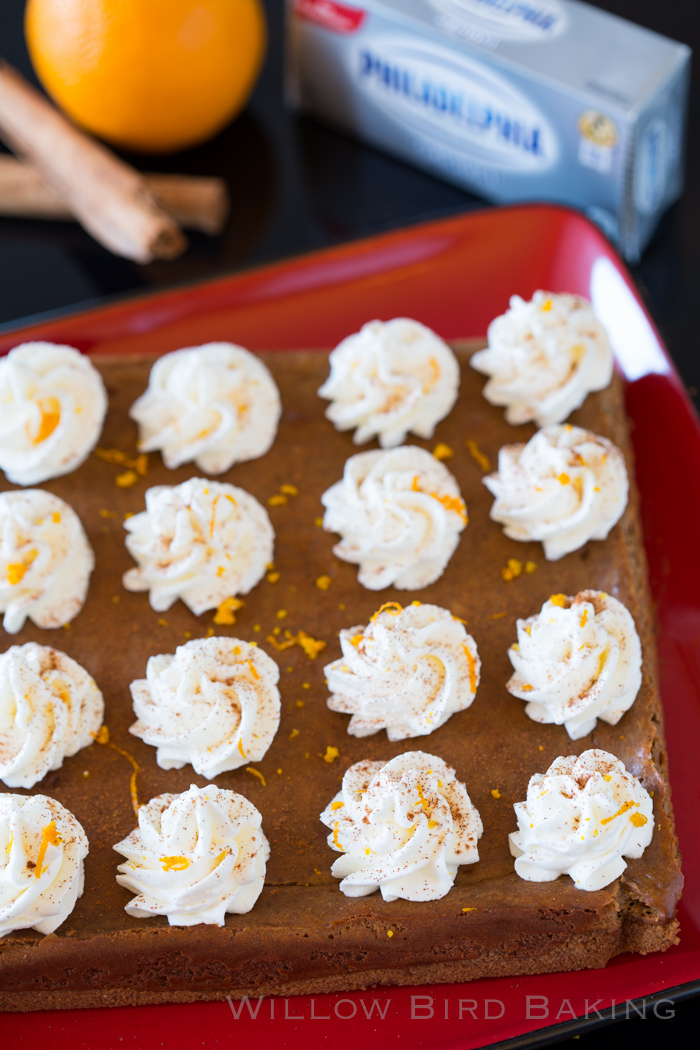 I just want to let you know that I was wrong. I don't remember the moment that I first realized how you were supposed to taste, but I do remember the flavors themselves: molasses as deep as a river, spicy ginger that warmed the back of my throat, a punch of ground cloves, and comforting cinnamon behind it all. You aren't bland! You're bold and unapologetic. You aren't tough! You're soft and chewy, heavy with molasses. You aren't boring! You hold your own in the middle of a baking season that's replete with exciting desserts.
And since I've found the perfect gingerbread spice ratio from Averie Cooks, I really want us to be besties. Can you ever forgive me, Gingerbread?
Love,
Julie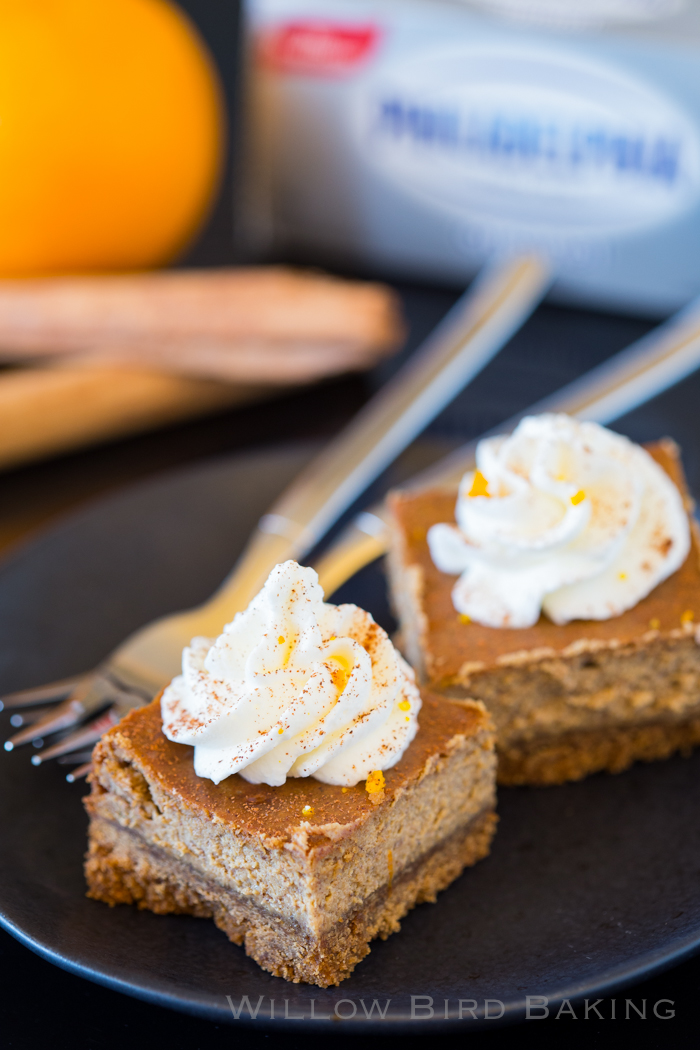 P.S. I hope you don't mind, but I took your amazing flavor profile and used it to make cheesecake bars with fresh, creamy Philadelphia Cream Cheese. These Gingerbread Cheesecake Bars with Orange Whipped Cream are the superstar anyone would want for their winter holiday dessert table. These creamy bars sit atop a gingersnap crust and are topped with clouds of fresh citrus cream.
* * *

Thanks to Philadelphia Cream Cheese for allowing me to partner with them to come up with some fun and delicious recipes! I had a blast and I hope this recipe inspires you to make gingerbread your BFF too! Do you have any favorite holiday recipes using Philadelphia? I'd love to hear your favorites in comments below. For some additional inspiration click here.
One year ago: Brown Butter Spice Cake with Whipped Icing
Two years ago: Blue Cheese Chicken Salad Wraps
Three years ago: Broiled Pimiento Cheese
Four years ago: Pumpkin Pecan Streusel Breakfast Braid with Maple Brown Sugar Glaze
Five years ago: Apple, Brie, and Toasted Pecan Panini
Six years ago: Two Terrific Tarts: Chocolate and Raspberry Cream Cheese

Gingerbread Cheesecake Bars with Orange Whipped Cream
These Gingerbread Cheesecake Bars with Orange Whipped Cream are so festive and delicious! They pack a spice punch for real gingerbread lovers, but top it off with smooth orange whipped cream to even out the experience. They're perfect for a Christmas dessert table!
Author:
Willow Bird Baking, using spice ratio from Averie Cooks
Ingredients
Crust Ingredients:
2 cups crushed gingersnap cookies
5 tablespoons butter, melted
Gingerbread Cheesecake Ingredients:
2 packages Philadelphia Cream Cheese, softened
2 eggs
1/2 cup light brown sugar
1/4 cup unsulphered light or medium molasses
1 teaspoon vanilla extract
3 teaspoons ground ginger
2 teaspoons cinnamon
1 teaspoon ground cloves
1 teaspoon ground nutmeg
pinch salt
Orange Whipped Cream Ingredients:
1 cup heavy whipping cream
4-6 tablespoons powdered sugar
1/2 teaspoon orange extract
zest of 1 orange for topping
cinnamon for topping
Instructions
Make the gingerbread cheesecake bars: Prepare an 8-inch square baking pan with a parchment paper sling (similar to this foil sling) and preheat the oven to 325 degrees F. In a medium bowl, stir together the gingersnap crumbs and melted butter with a fork until the crumbs are moistened. Press (using a flat-bottomed glass or dish) the crumbs evenly and flat into the prepared pan. Bake for 8 minutes and set it aside.
In a large bowl, beat together the cream cheese and brown sugar until there are no lumps. Mix in the molasses, vanilla extract, ginger, cinnamon, ground cloves, nutmeg, and salt. Add the two eggs and beat until just combined, scraping the bottom of the bowl to ensure everything is evenly mixed. Pour the cheesecake mixture onto the prepared crust and smooth it out with a spatula. Put the bars into the oven with an oven-safe casserole dish full of water on the oven shelf below (similar to a water bath, this helps obtain a more even bake). Bake for 45-55 minutes until the cheesecake is firm (no "liquid jiggle in the middle," I like to say). Remove them and chill them in the fridge for at least two hours.
Make the orange whipped cream: Combine the heavy whipping cream, powdered sugar, and orange extract in the bowl of a stand mixer and beat to stiff peaks, tasting just as the cream starts to take shape to determine if the sweetness is to your preference or if you'd like to add more powdered sugar. When the cream reaches stiff peaks, use a pastry bag with a big star tip to pipe 16 whipped cream rosettes on the chilled bars. Top with orange zest and sprinkled cinnamon. Serve chilled.