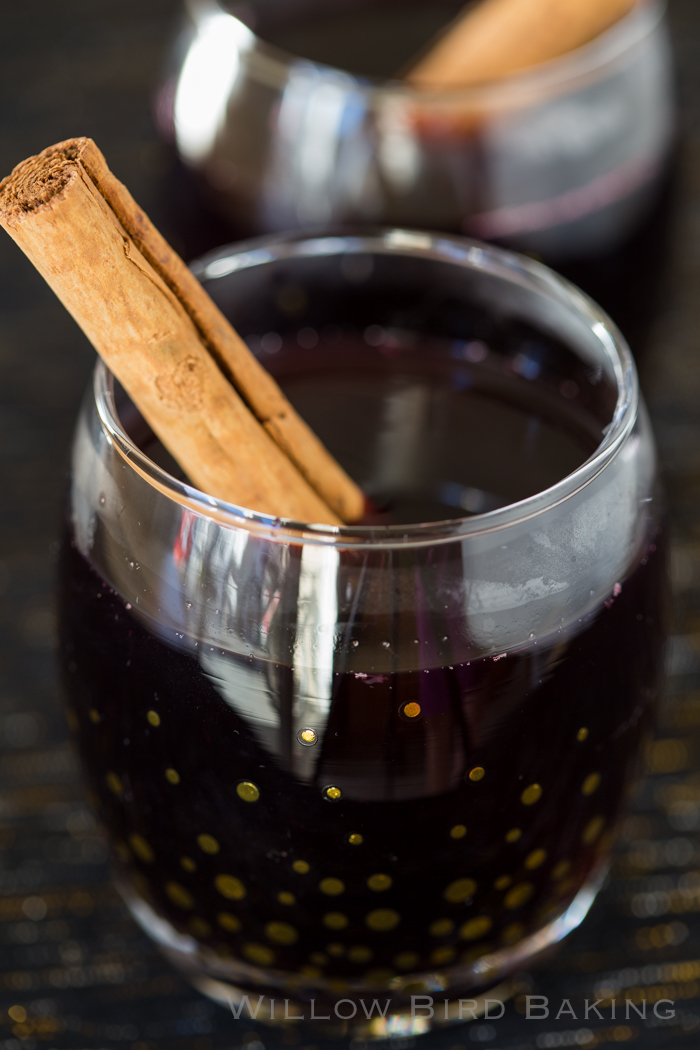 Sparkling Mulled Wine
Thanks to Dasani Sparkling Water for sponsoring this post.
I've got the best idea ever and I should charge a bajillion dollars for it or copyright it or just, uh, actually do it myself. But I'm too lazy for all that. So I'm just going to blather it into the interwebz and hope you all use it. And invite me. Here's the best idea ever: a cozy, sparkly winter drink party!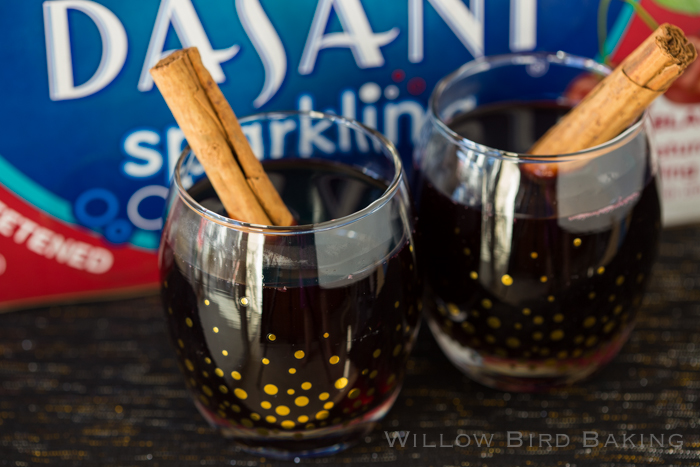 In case you haven't noticed, I've gone a little winter-drink-crazy lately. I made Spoon-up Eggnog, Hot Buttered Rum, and now this Sparkling Mulled Wine. Later in the week I'm sharing the perfect holiday brunch cocktail. I'm basically single-handedly delivering the holiday cheer over here.
The other day it hit me: wouldn't it be amazing to whip up all of these gorgeous holiday drinks and invite friends over (ugly holiday sweaters required) for a boozy holiday party? I'm imagining watching Home Alone (or Die Hard, which I found out last year is totally a Christmas movie. Thanks to whomever enlightened me), decorating cookies, and caroling around the neighborhood once everyone has a little liquid courage (not too much — no one wants to be That Guy wearing the neighbors' wreath on his head. Not cute.)
What do you think? What would you add for the perfect holiday bash?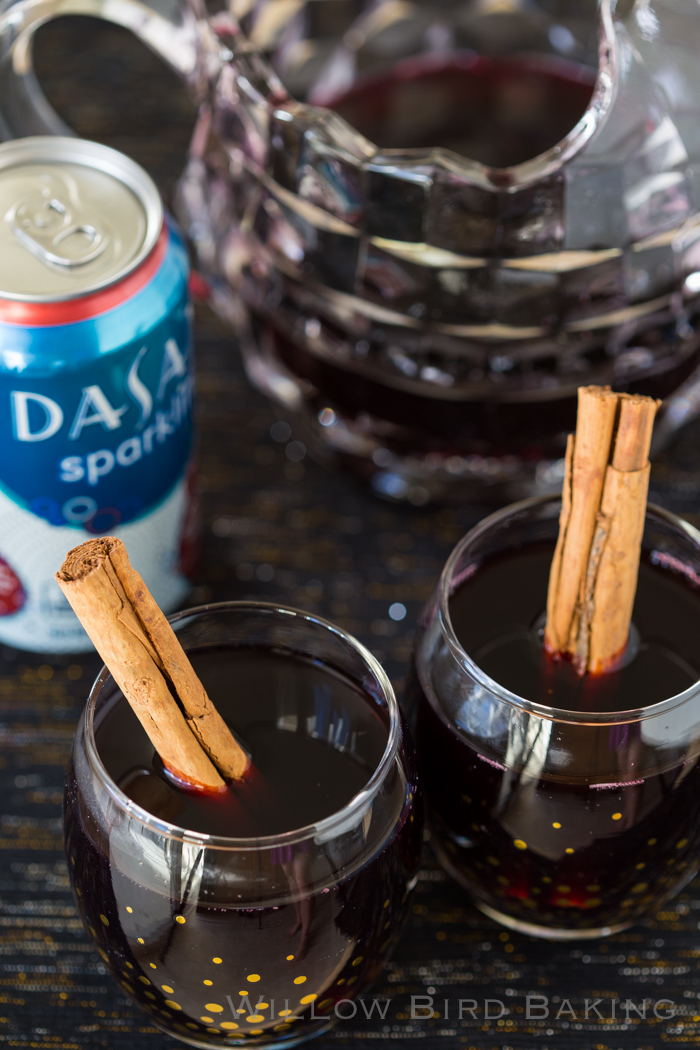 Even if your idea of the perfect holiday "party" is sitting with family by the fire, this mulled wine can spice things up. I developed this recipe for Dasani with their line of flavored sparkling waters. These flavored waters aren't the junky cloying kind: they are unsweetened and caffeine-free with zero calories and zero artificial colors. You can find 12-packs of the 12-ounce cans at Walmart. I chose the black cherry flavor, which complemented the mulling spices so well. The finished wine is sweet, spiced, and served warm for maximum coziness. And it's so easy to make! I even made a little video to show you how simple it is:
Want more holiday drink ideas for your holiday cheer party (or just to enjoy on your own)? This Easy Party Drink Pinterest Board is filled with delicious options!
One year ago: Gingerbread Gooey Butter Cake Ice Cream Sundae
Two years ago: Spiked Mocha Mousse Bars
Three years ago: Biscoff Spread Sandy Buddies (Cinnamon Muddy Buddies!)
Four years ago: Make-Ahead Gingerbread Coffee Cake with Cranberry Pecan Streusel
Five years ago: Southern Pimento Cheese with Lavash Crackers
Six years ago: Cinnamon Roll Cookies

Sparkling Mulled Wine
This warm, sweet, perfectly spiced mulled wine uses a dry red wine (try Cabernet Sauvignon), mulling spices, citrus, and Dasani Black Cherry Sparkling Water to create a holiday treat perfect for sipping by the fire.
Author:
Willow Bird Baking
Ingredients
2/3 cup sugar
1 cup Black Cherry Dasani Sparkling Water
2 lemons, sliced
2 oranges, sliced
6 whole cloves
2 cinnamon sticks (plus more for garnish)
1 (750 mL) bottle dry red wine, such as Cabernet Sauvignon
1/4 cup Kirsch
Instructions
In a small saucepan over high heat, stir the sugar and Black Cherry Dasani Sparkling Water together until the sugar is fully dissolved. Set aside.
In a large saucepan or Dutch oven, combine lemons, oranges, cloves, cinnamon sticks, wine, and Kirsch. Cook over low heat (do not boil) for 30 minutes. Remove from the heat and stir in the sugar mixture. Strain the mulled wine into a pitcher and serve warm with cinnamon sticks for garnish.
NOTE: You must be 21 to consume alcoholic beverages. When doing so, please drink responsibly. No drinking and driving, and no drinking and texting!