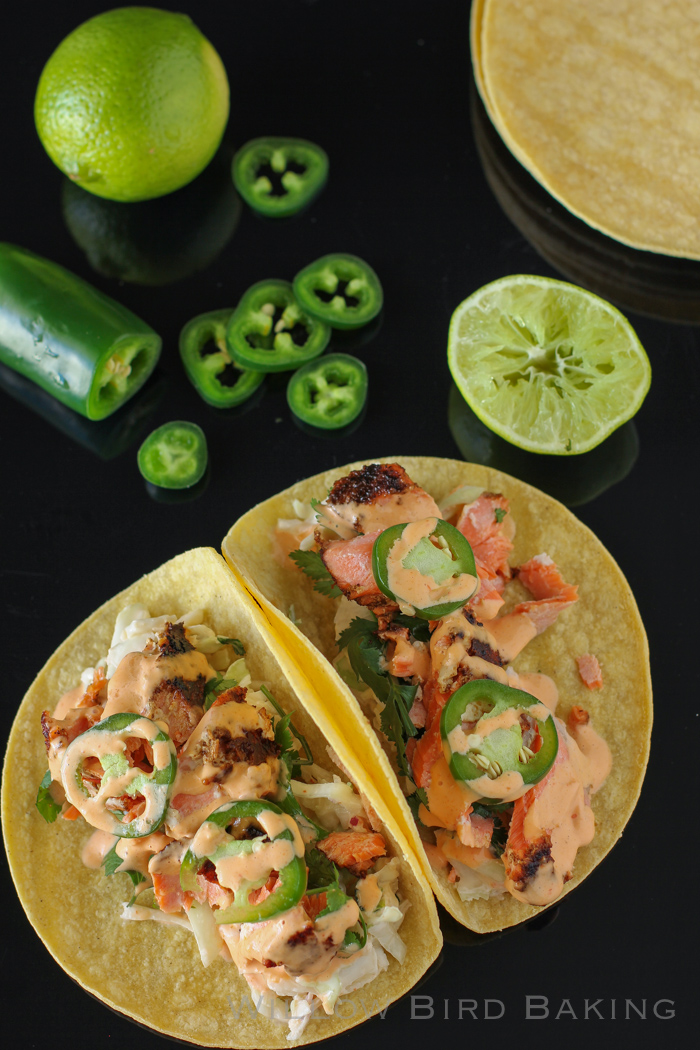 Salmon Tacos with Cilantro-Lime Slaw
This post is going to be a midweek sob fest, so let me reassure you before we begin: there's a taco recipe at the end! And the tacos are super quick and so delicious that Mike and I have eaten them for dinner four nights in a row! It's all gonna be okay!
Now for the depressing story. I love Susie's Senior Dogs, an organization that advertises senior rescue dogs on social media to increase their chances of getting adopted. Yesterday they shared Kooper, a deformed dog with many health issues at the overwhelmed and underfunded high-kill Miami-Dade Animal Shelter. Kooper immediately won my heart because of how sweet he seemed despite his unhappy circumstances.
Just one day after he was initially shared, Susie's Senior Dogs posted a heartbreaking update:
Kooper had a forever home waiting for him if he was healthy enough to continue life. Kooper was ready to be loved. [However, upon examination, a vet said that] it would be "irresponsible to continue his life at this point." […] We spoke to staff member at the vet's office and she informed us that Kooper had humans around him the entire time. And up until his humane euthanasia, Kooper was eating cookies from her hand.
I wanted so badly to see that dog healed and on someone's sofa. On the beach. Galloping in a backyard with a tennis ball grin. To know that he came so close but never had that fantasy home — to know that his hard experiences were never redeemed on this earth — just kills me. In Kooper's honor, can I ask you a sincere favor? Actually, can I ask you a few sincere favors?
Please adopt a rescue dog instead of buying a dog from a breeder. There are so many amazing pets of all ages, breeds, sizes, and temperaments at animal shelters and rescues. If you want a certain breed, there are breed-specific rescues all over the country. I adopted Byrd from a poodle rescue. Yes, a poodle rescue exists. Because sadly, there's a need for it.

To be clear: There's no judgment in this request. I know people who bought their wonderful pups from a breeder before they knew about rescue dogs. That's okay. Your dogs are blessed to be in your home. But going forward, will you please consider making this commitment?

Please spay and neuter your own pets to control the population of unwanted animals.
Finally, if you're not ready for a pet of your own, please consider fostering an animal from a local rescue. When you temporarily foster an animal, it frees up space for that rescue to pull another animal from a kill shelter — meaning you are effectively saving an animal's life. Let's all do our part to make this a no-kill nation, where every dog and cat has a safe home.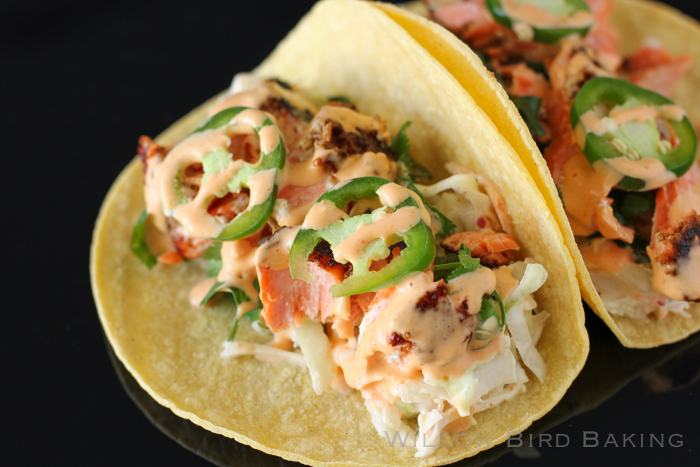 Now: big hugs and tacos all around. I think we need it. And maybe a margarita while we're at it.
These tacos really are a balm in an otherwise hard week. I used a big, fat piece o' salmon and it was so juicy! The slaw is sweet and spicy and forms the perfect backdrop for the smoky salmon rub and bright, tangy Sriracha aioli. I recommend making the slaw and aioli ahead of time to let the flavors meld. Then dinner is as simple as cooking up the salmon and assembling. I hope you enjoy these as much as we did.
One year ago: Coconut Pudding Spoon Cake
Two years ago: Lemon Cheesecake Morning Buns
Three years ago: Red Velvet Cheesecake-Stuffed Cake Balls
Four years ago: Cream of Mushroom Soup with Crispy Leeks
Five years ago: Ugly as Sin Coconut Cake
Salmon Tacos with Cilantro-Lime Slaw
These tacos are fast, simple, and AMAZING. If you whip up the Cilantro-Lime Slaw and Sriracha Aioli the night before to let the flavors meld, dinner prep is only 20 minutes. As a bonus, when you sub in a low-carb sweetener (I use Swerve), this dinner is low-carb.
Ingredients
Cilantro-Lime Slaw Ingredients:
3/4 cup mayonnaise
fresh lime juice from half a lime
1/2 teaspoon rice vinegar
2 teaspoons minced garlic
2 teaspoons Sriracha
4 teaspoons Swerve sweetener (or sugar if you prefer)
3 tablespoons finely chopped fresh cilantro
1/4 red onion, very finely minced
about 5 1/4 cups slaw mix (bagged cabbage and carrot shreds)
Sriracha Aioli Ingredients:
½ cup mayonnaise
2 tablespoons Sriracha
fresh lime juice from half a lime
1/2 teaspoon cumin
1 teaspoon Swerve sweetener (or sugar if you prefer)
pinch salt
Taco Ingredients:
1 teaspoon cumin
1 teaspoon chili powder
1 teaspoon brown sugar
1 teaspoon salt
1 pound salmon
2 tablespoons olive oil
8-9 low-carb tortillas (I use Mama Lupe's; or corn tortillas if you prefer)
chopped cilantro
sliced jalapeños, for topping
Instructions
Make the Cilantro-Lime Slaw: (Note: It's best if you can prepare the slaw and Sriracha Aioli a few hours to a full day in advance.) In a medium bowl, whisk together mayonnaise, lime juice, rice vinegar, garlic, Sriracha, and Swerve sweetener until the sweetener is dissolved. In a large bowl, toss the cilantro, red onion, and slaw mix together to mix. Add the mayonnaise mixture about a cup at a time, tossing as you go, until all your vegetables are coated to your preference. I ended up adding all my dressing, but could've probably used a little less. Cover tightly and chill until ready to serve tacos.
Make the Sriracha Aioli: Whisk together the Sriracha aioli ingredients and cover tightly. Chill until ready to serve tacos.
Make the salmon: Whisk together the cumin, chili powder, brown sugar, and salt. Rub the spice mix on the salmon (on both sides if it's skinless, but on just the exposed side if it's skin-on.) Heat the olive oil in a medium skillet over medium heat until shimmering. Place the fish in skin side down and cook without disturbing for 4-5 minutes before turning over and cooking for 4 minutes on the other side (thicker cuts might need 6-7 minutes per side). Remove the fish from the heat, tent it with foil, and allow it to rest for 10 minutes. The fish will flake apart easily when done.
Assemble the tacos: Fill each tortilla with slaw, a few hunks of salmon, a small handful of fresh cilantro, a few slices of jalapeño, and a drizzle of Sriracha aioli.