Salmon Tacos with Cilantro-Lime Slaw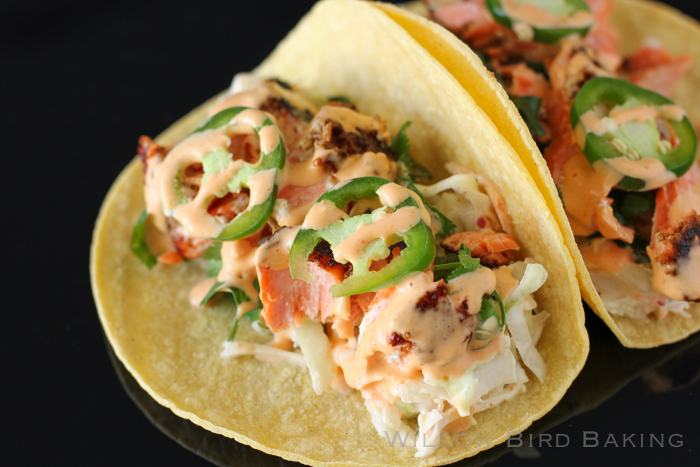 3/4 cup mayonnaise
fresh lime juice from half a lime
1/2 teaspoon rice vinegar
2 teaspoons minced garlic
2 teaspoons Sriracha
4 teaspoons Swerve sweetener (or sugar if you prefer)
3 tablespoons finely chopped fresh cilantro
1/4 red onion, very finely minced
about 5 1/4 cups slaw mix (bagged cabbage and carrot shreds)
½ cup mayonnaise
2 tablespoons Sriracha
fresh lime juice from half a lime
1/2 teaspoon cumin
1 teaspoon Swerve sweetener (or sugar if you prefer)
pinch salt
1 teaspoon cumin
1 teaspoon chili powder
1 teaspoon brown sugar
1 teaspoon salt
1 pound salmon
2 tablespoons olive oil
8-9 low-carb tortillas (I use Mama Lupe's; or corn tortillas if you prefer)
chopped cilantro
sliced jalapeños, for topping
Make the Cilantro-Lime Slaw: (Note: It's best if you can prepare the slaw and Sriracha Aioli a few hours to a full day in advance.) In a medium bowl, whisk together mayonnaise, lime juice, rice vinegar, garlic, Sriracha, and Swerve sweetener until the sweetener is dissolved. In a large bowl, toss the cilantro, red onion, and slaw mix together to mix. Add the mayonnaise mixture about a cup at a time, tossing as you go, until all your vegetables are coated to your preference. I ended up adding all my dressing, but could've probably used a little less. Cover tightly and chill until ready to serve tacos.
Make the Sriracha Aioli: Whisk together the Sriracha aioli ingredients and cover tightly. Chill until ready to serve tacos.
Make the salmon: Whisk together the cumin, chili powder, brown sugar, and salt. Rub the spice mix on the salmon (on both sides if it's skinless, but on just the exposed side if it's skin-on.) Heat the olive oil in a medium skillet over medium heat until shimmering. Place the fish in skin side down and cook without disturbing for 4-5 minutes before turning over and cooking for 4 minutes on the other side (thicker cuts might need 6-7 minutes per side). Remove the fish from the heat, tent it with foil, and allow it to rest for 10 minutes. The fish will flake apart easily when done.
Assemble the tacos: Fill each tortilla with slaw, a few hunks of salmon, a small handful of fresh cilantro, a few slices of jalapeño, and a drizzle of Sriracha aioli.
Recipe by
Willow Bird Baking
at http://willowbirdbaking.com/2015/02/10/salmon-tacos-cilantro-lime-slaw/