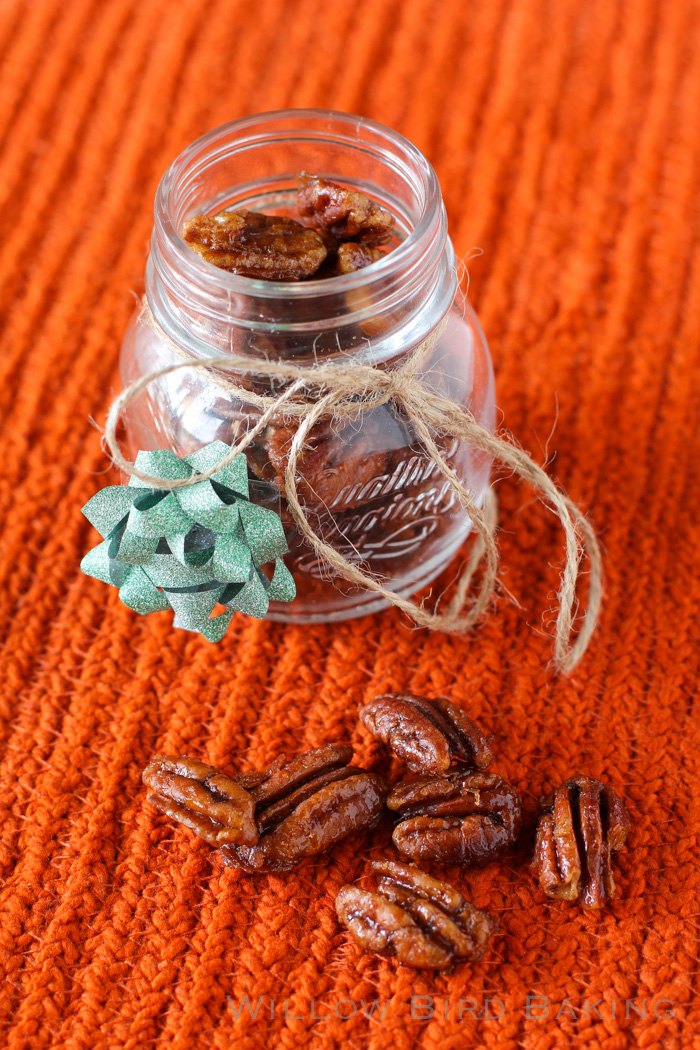 Quick and Easy Maple Candied Pecans
My students have been immersing themselves in Japanese cultural experiences as they learn about the Heian Period of Japan and The Pillow Book of Sei Shonagon, an amazing 10th century diary. While listening to traditional music and burning incense, we've experimented with ikebana, the art of flower arranging; shodo, or calligraphy; meditation; walks through nature; making tea; origami; and more. They're adorably engaged with all the opportunities to appreciate art and literature from various time periods in Japanese history.
One of my favorite opportunities is learning to write haiku. Lots of us learn what I jokingly call the "baby haiku": a simple three-liner, 5-7-5 syllable pattern, no problem. But (permit me a geek moment) haiku is actually this incredible mental and spiritual discipline that tunes in to nature while creating an asymmetrical experience for the reader. Traditional haiku don't have the 5-7-5 pattern we're used to, but instead are comprised of 17 Japanese on, or sound units. The closest we could come when creating a form for English haiku was the idea of a 17 syllable poem, but that's not exactly right.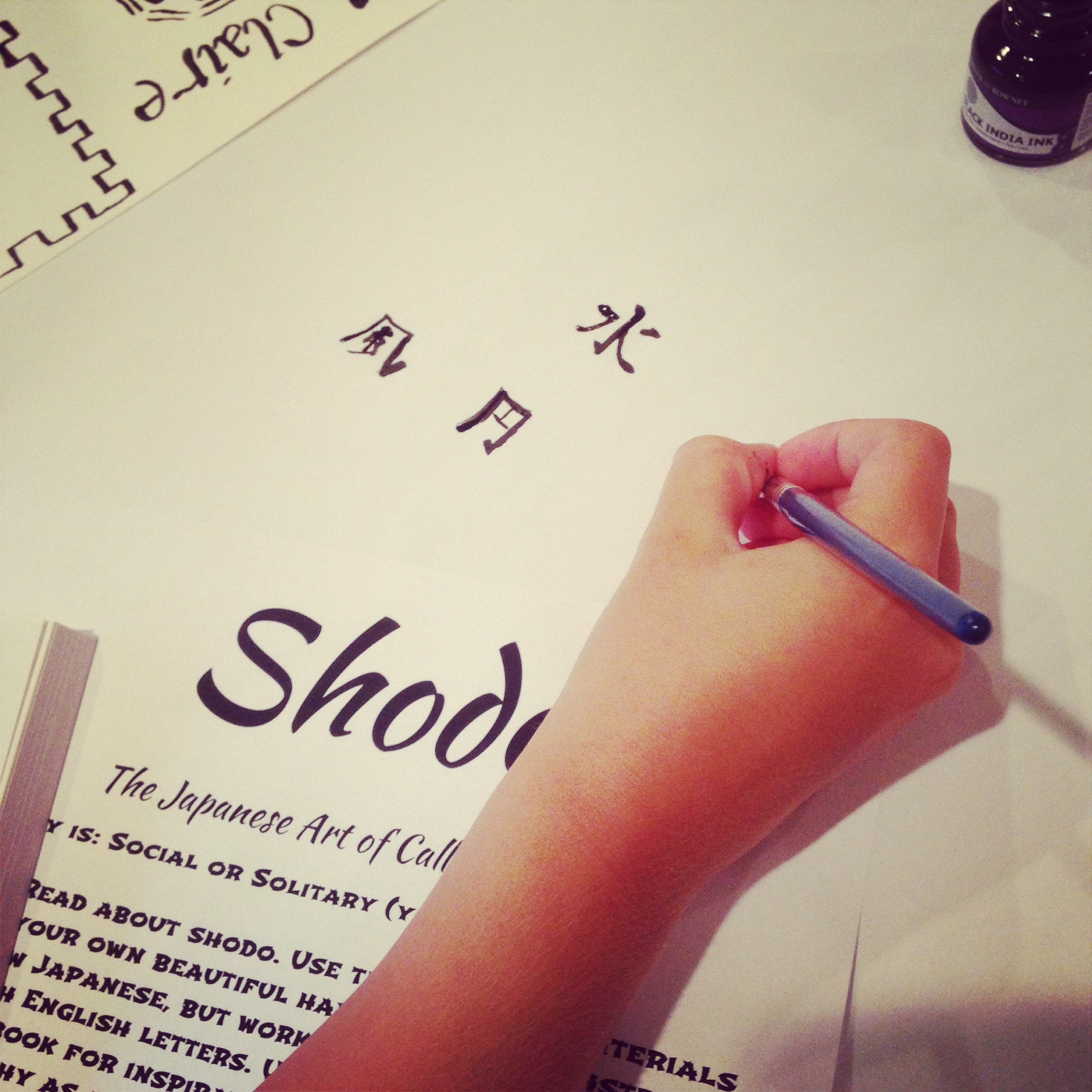 A student experimenting with Japanese calligraphy.
Haiku also include kigo, words that situate the poem in a certain season (for instance, "dragonfly" might indicate summer), and kireji, or cutting words. The kireji slice the poem into two corresponding parts. My favorite thing is when this cutting word splits the poem into one part that sets the scene and one part for the reader to zoom in on, creating an almost temporal experience. I like to tell my students that a great analogy for this is that it separates the poem into the imperfect tense and past tense: something like, "I was sitting at my table / MY PENCIL FELL." That's an oversimplification, I'm sure, but I like how the tense analogy really lets them hear the different pieces of the poem.
When my students learn these bits and pieces, haiku becomes less about clapping out syllables and more about recognizing those moments in our daily lives where just being becomes an occurrence, or where the contrast between two things creates a beautiful image. One year, after a detailed haiku lesson, my students and I were sitting out in the grass writing when all the kindergartners came running (screaming!) out of their room for recess. My students groaned, annoyed at having their writing time disturbed, until they saw me having fits of joy. "YOU GUYS," I called, "WHAT IS THIS? WHAT IS THIS RIGHT THIS MOMENT?" A couple of them got my drift and yelled, "OH! A haiku!" before starting to scribble a new poem down on their pages. It's still one of my favorite teaching memories.
Join in our fun! Go read some masterful haiku and write your own, sharing them in the comments. Feel free to use a 5-7-5 syllable pattern unless you happen to know Japanese! I'll start us off:
Sweet maple pecans
sizzle on the baking sheet —
too soon on my tongue.
One year ago: Sausage & Corn Chile Con Queso Taco Ring
Two years ago: Vanilla Custard Soaked Pumpkin Poke Cake
Three years ago: Pumpkin Spice Pull-Apart Bread with Butter Rum Glaze
Four years ago: Chocolate Peanut Butter Bliss Cheesecake
Five years ago: Mini-Pies: Pumpkin, Peach Crisp, and Sour Cream Apple
Quick and Easy Maple Candied Pecans

---


Recipe by: Willow Bird Baking
Yield: 2 cups of pecans

These pecans are salty and sweet and scream fall. You won't be able to stop eating them! Feel free to double this recipe, but be sure to use 2 baking sheets instead of one so you can spread out the nuts.

Ingredients:
2 tablespoons butter
2 tablespoons maple syrup
2 tablespoons brown sugar
1 teaspoon cinnamon
1/2 teaspoon salt
pinch cayenne pepper
2 cups pecan halves

Directions:
Preheat the oven to 375 degrees F and line a baking sheet with parchment paper sprayed with cooking spray (these things get sticky!) In a large skillet over medium-high heat, sauté the butter, maple syrup, and brown sugar together and bring to a boil before adding the cinnamon, salt, and cayenne pepper and cooking for another 30 seconds. Add the pecans and stir to coat, cooking for another minute or so. Remove from the heat pour the nuts out in a single layer on your prepared baking sheet. Bake for 5-8 minutes until nuts are toasted and fragrant before cooling completely, breaking the nuts apart with a spatula as they cool. Store in an airtight container and eat as a snack or use as a topping/ingredient for lots of amazing fall desserts!