Remember these?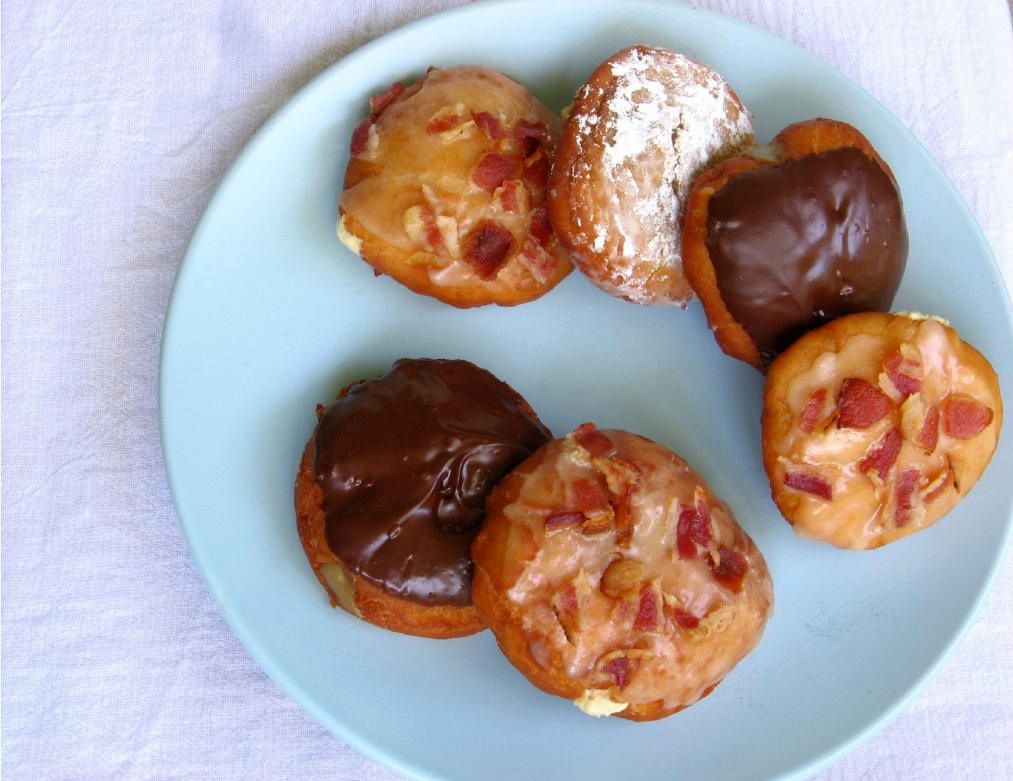 What you may not remember (because, um, I didn't tell you) is that the lovely Maple Bacon Doughnuts aren't the only avant garde doughnuts in town. (Can you describe a doughnut as avant garde? I call poetic license.)
Introducing Coffee Mousse Filled Doughnuts!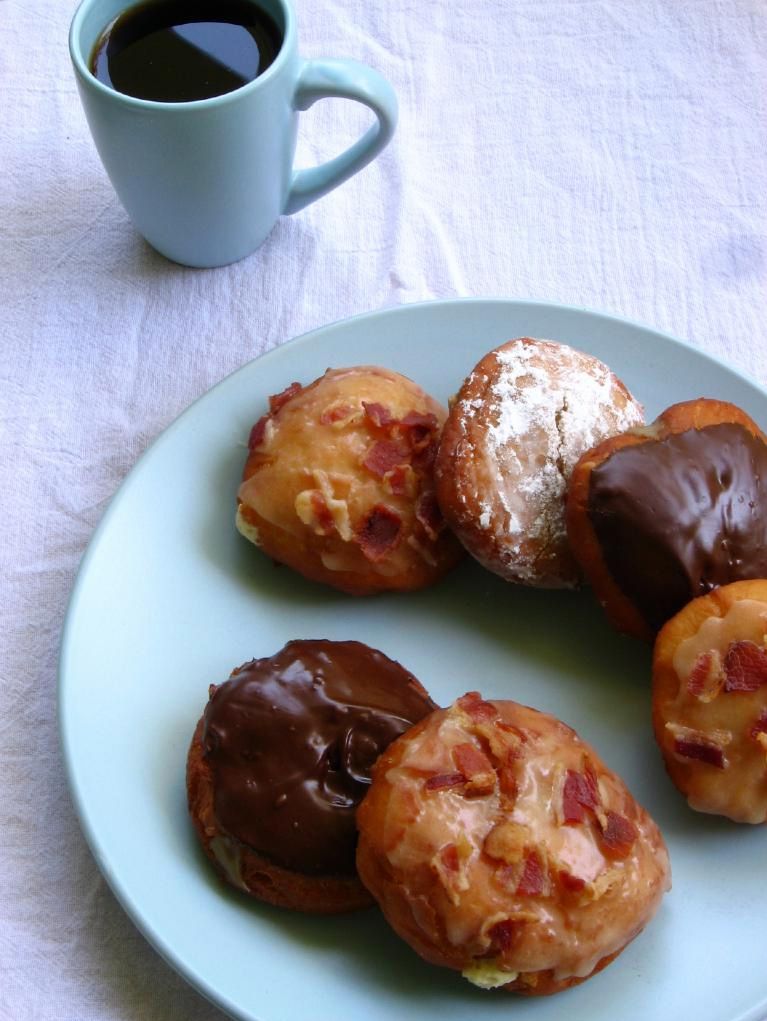 Much like their Maple Bacon cousins, these dreamboats are capitalizing on a quintessential breakfast pairing. The puffy, fried orbs are filled with a sweet coffee mousse and topped with either melted chocolate or rolled in powdered sugar. Serve them alone, or combine them with Maple Bacon doughnuts for a breakfast extravaganza!
What's your favorite doughnut filling?
Coffee Mousse Filled Doughnuts


---


Recipe by: Doughnuts adapted from Cherry Tea Cakes, mousse adapted from coffee pastry cream by Rebecca Franklin
Yield: about 12 3-inch doughnuts

Doughnut Ingredients:
1 0.25-ounce package yeast
2 tablespoons hot water, roughly 110 degrees in temperature
3/4 cups milk, scalded (heated to a slight simmer-not a boil) and cooled
1/4 cup sugar
1/2 teaspoon kosher salt
1 egg
2 tablespoons and 2 teaspoons shortening
2 1/2 cups all-purpose flour
melted chocolate and/or powdered sugar for topping
vegetable oil for frying

Coffee Mousse Filling Ingredients:
1 ¼ cups whole milk
2 teaspoons instant coffee granules
3 egg yolks
5 tablespoons granulated sugar
1 tablespoon all-purpose flour
2 tablespoons plus 2 teaspoons cornstarch
1 teaspoon pure vanilla extract
1 cup whipping cream
1 teaspoon gelatin

Directions: Make the doughnut dough: Dissolve the yeast in warm water in the bowl of your stand mixer, and then let it sit for about 5 minutes. The yeast should foam to show that it's active. Beat in milk, sugar, salt, eggs, shortening, and 1 cup flour (scraping down bowl when needed). Beat on medium speed for 2 minutes to fully combine. Mix in remaining flour completely. Cover this dough and let it rise in a draft-free place (I warm my oven for a few seconds on 200 degrees just to get the chill out — make sure it's not hot! — and then put my dough in there to rise) until doubled, about 50-60 minutes.

Make the Coffee Mousse: While the dough is rising, whisk together the egg yolks, sugar, flour, and cornstarch until the mixture is completely smooth and set aside. Place the milk in a saucepan and sprinkle gelatin over it. Let it soften for 2 minutes before adding the coffee granules and setting the saucepan over low heat. Heat until it's just hot enough to steam, stirring the gelatin in to dissolve.

Once the milk is steaming, add half of it, whisking constantly, to the egg mixture to temper the eggs (this ensures they won't cook when you add them to the hot mixture). Add the milk and eggs back into the hot milk and continue stirring, and heat it for 1-2 minutes, until the custard reaches 170 F on a digital thermometer and is very thick. Remove from the heat, stir in the vanilla extract, and set the pan in a bowl of ice water, stirring every few minutes. Cool completely in this manner.

In the meantime, whip the cream in a chilled bowl until it holds stiff peaks. When the coffee mixture is cool, mix about 1/3 of the cream into it.

Make your doughnuts: Flour a surface well and turn your doughnut dough out onto it, flouring the dough as well. Gently roll the dough out to 1/2-inch thick and cut into solid rounds with a 3-inch cooking cutter. Place each round on a baking sheet and let these rise until doubled, about 30-45 minutes. About 25 minutes into their rise time, start heating your oil in a heavy, deep stock pot to 350 degrees F on a candy/fry thermometer.

Fry your doughnuts: Gently lower 2-3 doughnuts at a time into hot oil with a slotted spoon. Fry about 1 minute on each side or until golden brown. Remove to a paper towel lined plate to drain.

Assemble doughnuts: Melt some chocolate and/or prepare a plate of powdered sugar to coat doughnuts. Use a chopstick or butter knife to poke into each doughnut and "sweep" gently to create a pocket. Pipe mousse into each doughnut using a piping bag. Then dip them in the chocolate or roll in the powdered sugar. Best eaten the same day.
If you liked this post, please:
–Subscribe to Willow Bird Baking
–Follow Willow Bird Baking on Twitter
–Follow Willow Bird Baking on Facebook
–Give this post a thumbs up on StumbleUpon
Other ways to share this post with friends!