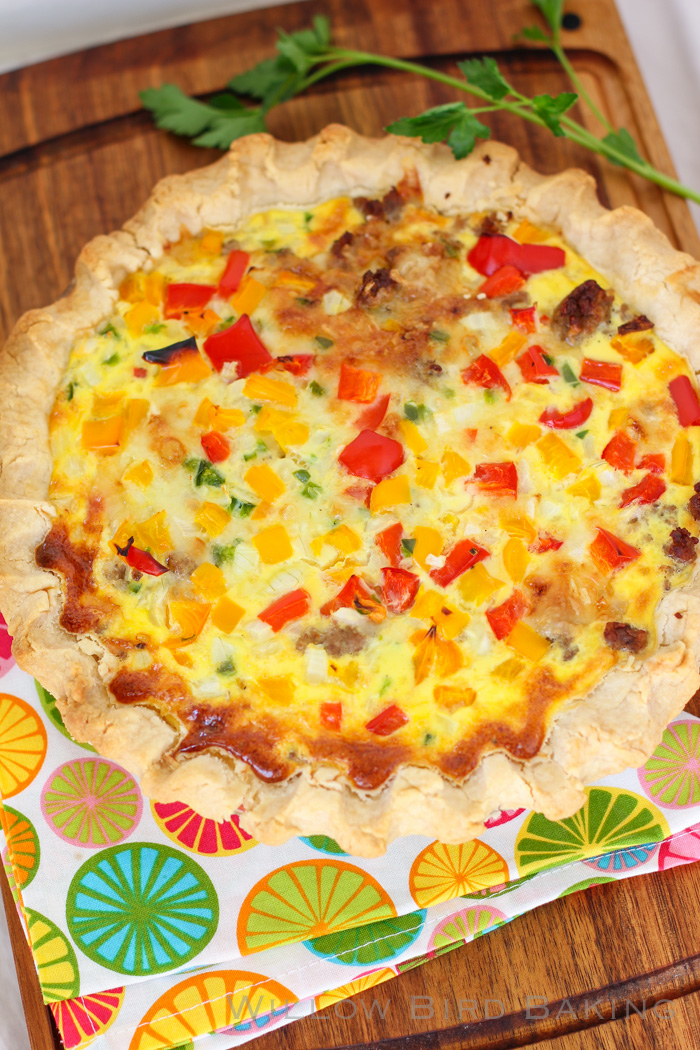 Sassy Sausage Breakfast Pie
Snow days apparently lead to binge-watching trashy television. Okay, if I'm being honest, I had a Toddlers & Tiaras thing going on even before the winter storm arrived. I feel like I'm settling in with popcorn to watch some sort of quasi-ethical sociology experiment every time I hit "play" on another episode.
I could probably write for days about Toddlers & Tiaras: analyzing the rationale of the parents, evaluating the apparent effect on the children, pondering competitive pageants as a societal phenomenon in general and the role they play in each family's life specifically, evaluating whether or not the show producers are predatory and exploitative for selectively filming and editing unsuspecting families to present them in the worst possible light, situating pageants in the context of our beauty obsessed society, recording my observations about spray tans. The list goes on and on. The more shows I watch, the more nuanced my opinions become.
One thing I wonder about is how reality television (and pop culture in general) affects our ability to disagree in a healthy way. I first thought about this while watching the women of Dance Moms (IT'S NOT MY FAULT. AMAZON RECOMMENDED IT TO ME) engage in a shouting match. It was classic reality TV fare: there were hurt feelings and instead of a clear discussion, someone snipped at someone else. There were a few opportunities where miscommunications could've been corrected, but instead, more snipping occurred. Finally, voices were raised and insults were hurled (sometimes a broken record of the same insult over and over and over) until someone stormed out of the room. It was (hopefully) not the kind of argument most of us aspire to in our real reality.
I also happened across a YouTube clip of these Dance Moms speaking to a crowd about the show. They said producers goad them into confronting issues they might otherwise ignore, knowing the ensuing drama will engage viewers. In addition to causing more arguments, this encouragement probably also causes louder, nastier arguments, since the moms can no doubt connect the dots: more drama = more entertainment = more job security. The moms also mentioned that selective editing can cut large portions of an argument that built slowly, making it appear they're flying off the handle or acting erratically.
As I was mulling over this information, I thought of the disagreements I see online. The ones where people resort to using a condescending tone or name calling. The ones where people don't identify and correct basic miscommunications. The ones where people ignore facts and don't seem to be able to empathize with or understand any viewpoints besides their own. The ones where no valuable conclusions are ever reached.
I haven't seen any data to suggest reality TV is somehow causing this deterioration of communication, and I hate when people suggest causation without, uh, cause. But I do think it's worth thinking about how arguments in pop culture affect our own arguing tendencies. When disagreements that should be conducted thoughtfully are jumpstarted for ratings' sake before the participants have had a moment to think, and when those same disagreements have meaningful communication edited out so that more of the shouty bits can be shoehorned into a 5-minute segment — well, where do we find models of healthy, productive disagreement?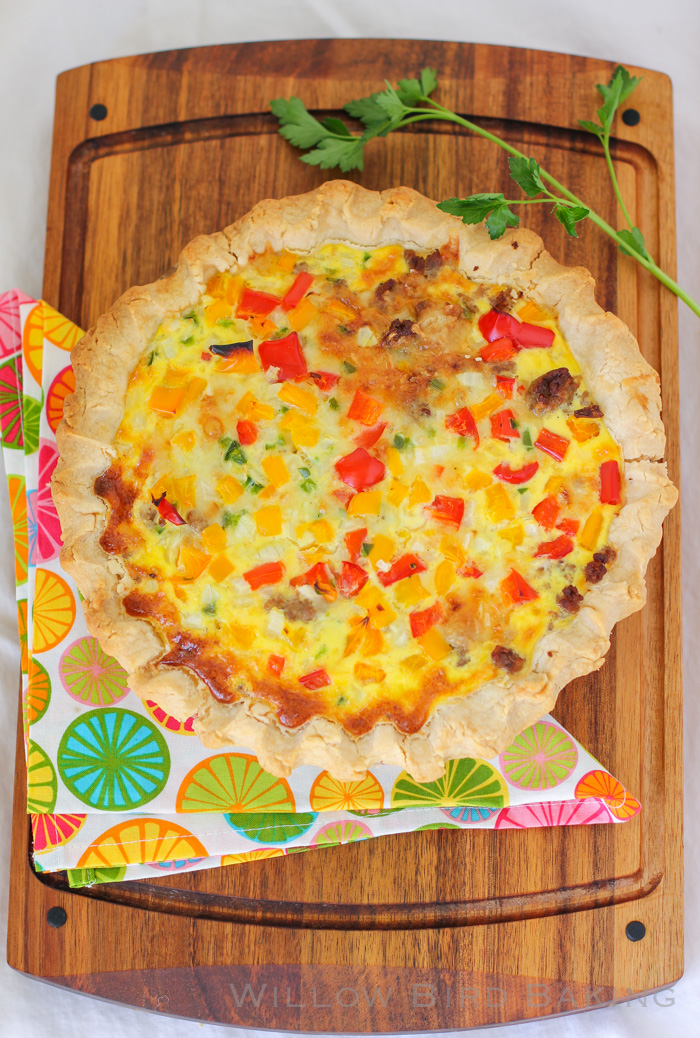 Not on the news, that's for sure! Most news channels have the same melodramatic, content-light arguments! To me, this is even more insidious than reality TV because these bickering sessions pose as critical debates on newsworthy issues. When I watch Dance Moms, I know I'm settling in for lightweight, trashy TV; however, we generally expect the news to deliver content with a measure of authority. If I can find a poorly considered, sensational argument even there, again, where are the models of healthy disagreement? (By the way, while reading for this post, I watched what I assumed would be an apology video for Megyn Kelly's outrageous assertion. Nope: in the video, Kelly admitted no error, instead framing herself as a victim and decrying "race baiting." Oh my gosh, this world.)
So what does productive disagreement look like? That's the million dollar question. I'll be pondering that a bit in my next post, but the spoiler alert is that I don't have a magic answer. I think there are certain ideas that might help everyone out and there are probably plenty of tactics that work for some people and not others. I'm willing to hazard a guess, though, that Dance Moms-style yelling isn't ranking highly on anyone's "Most Effective" list.
Putting on a pot of coffee, baking a Sassy Sausage Breakfast Pie, and preparing a big plate of fresh fruit to devour while discussing your differences? Now that might work.
What are some things you think are important for engaging in a healthy disagreement?

One year ago: Key Lime Pie Cheesecake with Sky-High Meringue
Two years ago: Poppy Seed Ham & Swiss Slider Melts
Three years ago: Quick Rosemary, Fig, and Goat Cheese Tarts
Four years ago: Billion Cheese Ravioli with Red Pepper Pancetta Sauce
Sassy Sausage Breakfast Pie

---


Recipe by: Adapted by Willow Bird Baking from my mother-in-law's recipe
Yield: 8 servings

Oh my gosh, pie crust and sausage, y'all. This breakfast pie is the bee's knees. Mike's mom always makes it for Christmas breakfast and we dream of it all year long! I added a little jalapeño (which you can adjust to your taste) to give it a slight kick, but it won't make your nose run or eyes water. I recommend serving this with a sweet side — maybe fruit and some coconut meringue dip, which I'm sharing on the blog later this week — and mimosas for a special Sunday brunch.

Ingredients:
9-inch pie shell, unbaked (homemade or store-bought)
1 pound breakfast sausage
1 1/2 cups grated Gruyère cheese (or other Swiss cheese)
4 eggs
1 cup half and half (or light cream)
1/4 cup chopped orange/yellow bell pepper
1/4 cup chopped red bell pepper
1/2 medium jalapeño, finely chopped (adjust to your heat preference — this gives a slight kick)
1/4 cup chopped onion
salt and pepper

Directions:
Preheat oven to 375 degrees F. Roll out the pie dough and place it in a pie plate, crimping the edges. Place this in the refrigerator while you prepare the filling.

Brown the sausage and drain on a paper towel lined plate. Mix the cheese and sausage and place into the pie shell. In a medium bowl, lightly beat the eggs and cream together. Mix in the peppers and onion. Salt and pepper the mixture. Pour it into the pie shell over the meat and cheese, adjusting to be sure all the ingredients are spread out. Bake for 40-45 minutes until set and golden. Cool on a rack for 10 minutes before slicing and serving. I love to serve the pie with Frank's Hot Sauce, which complements the flavor perfectly!