Until a couple of days ago, I was planning a romantic takeout Thai feast for my Valentine's dinner with Mike. Perhaps that seems lazy, but my Clementine Burst Cupcakes were a two-day affair, and I just couldn't work up the motivation to make a fancy dinner to go with my fancy dessert. Well, at least not until I saw the sweetheart Four Cheese Ravioli over at Annie's Eats. Food that is adorable can always motivate me.
I've had a hankerin' to make homemade pasta for awhile now, but I don't own a pasta machine. Some brilliant mind on the interweb recently made the point that old Italian grannies didn't necessarily have pasta machines either, so when I saw Annie's ravioli, I decided to throw rationality to the wind. That's right! I was making pasta by hand!
You'll hear horror stories about how difficult it is to do so, but I was surprised by how straightforward the process was. It involved some elbow grease (I rolled with all my might!) and some, um, wrist grease (kneading the night away!), but in the end, it was relatively easy. My little ravioli did end up a little tough, so I've adjusted the kneading time in the recipe below, and also recommend that you roll out your dough extremely thin. I cut mine into hearts to celebrate my sweetheart (who is currently in a carb coma), but any old shape will do. In fact, you can even grab a ravioli mold to make dozens of ravioli at a time. I can't help it, though; I'm partial to hearts!
Even though they were a little toothsome (thanks, Kevin from Top Chef!), these little ravioli were the star of the Valentine's show! Each petite parcel was stuffed full of fresh herbs and (as the title of this post suggests) about a billion cheeses. Specifically: Parmesan, mozzarella, asiago, fontina, Romano, provolone, ricotta, and goat cheese. Most of these were in the form of a 6-cheese blend I picked up at my grocery store — nice!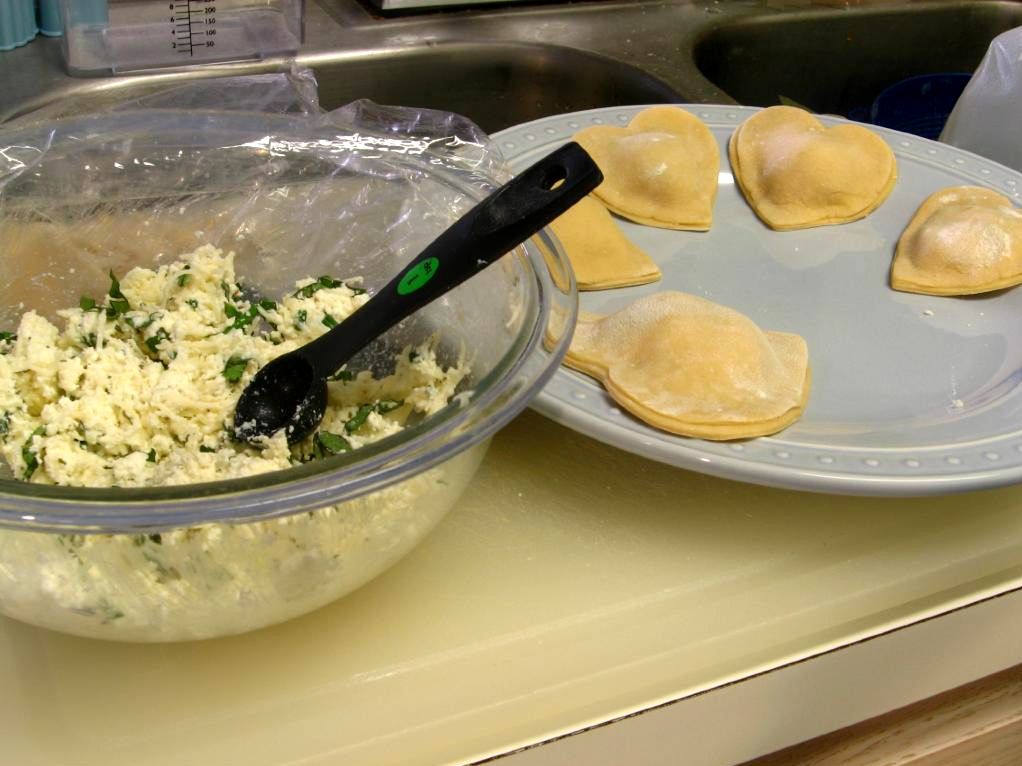 The sauce was a bit like Dr. Frankenstein's monster — but what a tasty conglomeration! I wove odds and ends from two tempting recipes together to form a bright, sharp flavor that paired perfectly with the mellow, creamy cheese and herbs inside the ravioli. Delicious sauce calls for some bread for sopping, of course, so I also fixed up some garlic bread. I sliced a loaf of Italian bread from my grocery store's bakery and sloshed on some melted butter, garlic, and basil. After heating it in the oven, I topped each slice with cheese and heated them again to melt. Cheesy garlic bread: the perfect accompaniment to our fresh pasta!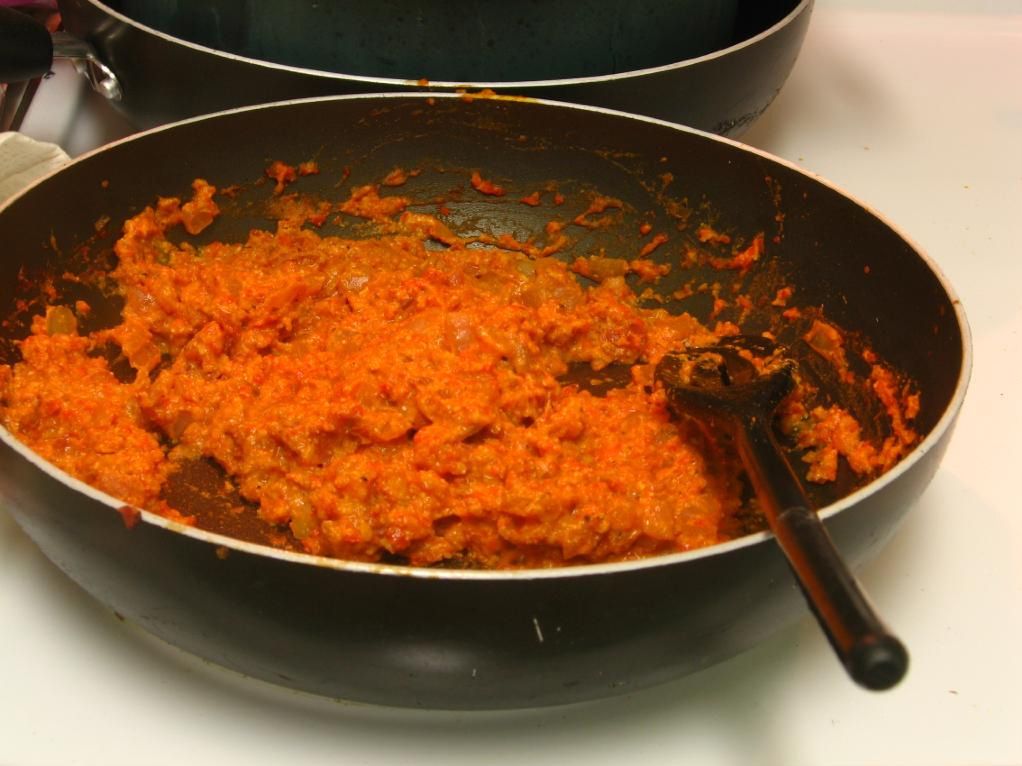 If you've been shying away from homemade pasta because you don't have a pasta machine, today's the day to go for it! The taste will be worth it, but the feeling of accomplishment when you bite into your sweet, handmade ravioli is even better.
Billion Cheese Ravioli with Red Pepper Pancetta Sauce


---


Recipe by: Adapted from Annie's Eats (pasta and ravioli); sauce adapted from Pioneer Woman, and Lissi
Yield: enough pasta to serve about 2 people

Ravioli Pasta Ingredients:
2 large eggs
1/2 tablespoon water, plus more as needed (I ended up using several full tablespoons)
1/2 tablespoon olive oil
1 3/4 cups sifted all-purpose flour
1/4 teaspoon salt

Filling Ingredients:
1/2 cup whole ricotta
1 cup 6-cheese Italian blend
1/4 cup goat cheese crumbles
fresh basil, chopped, to taste
fresh chives, chopped, to taste
fresh thyme, chopped, to taste
1/4 teaspoon dried oregano
salt and pepper, to taste

Sauce Ingredients:
3 whole red bell peppers, roasted
3 tablespoons pine nuts
pancetta
3-4 tablespoons tomato puree
2 tablespoons olive oil
splash of wine or water
1/2 medium onion, finely diced
2 cloves garlic, minced
1/2 cup ricotta
splash heavy cream
Fresh Parmesan, shaved

Directions:
Make the pasta: In a food processor, combine the eggs, water, olive oil and flour. Mix on low speed until the ingredients are well mixed and a dough begins to form. If the mixture is not coming together, add more water, 1 tablespoon at a time just until the dough is formed. Transfer the dough from the food processor to a work surface. Knead 1-2 minutes by hand. Cover with a clean towel and let rest for 20 minutes. Knead again for 1-2 minutes, or until dough starts to feel more supple and elastic. Let rest for another 20 minutes.

Divide the dough into two equal pieces. If you have a pasta machine, see instructions here for how to prepare the sheets of dough. If not, roll one piece of the dough out on a lightly floured surface, pressing hard and rolling diligently until the dough is very thin. Use a large heart-shaped cookie cutter to cut out ravioli pieces. Let these rest while you mix your filling.

Mix filling: Place all ingredients into a bowl and mix well. Taste and season accordingly.

Assemble ravioli: Place about 1 teaspoon of filling in the middle of half of the heart shapes, leaving a clear edge around the perimeter. Dip a finger in water and lightly brush around the edges of a heart topped with the filling. Place one of the remaining pasta hearts on top and press the edges of the pasta shapes together to seal around the filling, being careful to press out any excess air. Repeat with the remaining dough shapes.

Make the sauce: Lightly toast pine nuts in a skillet. Puree peppers with pine nuts. Set aside. Lightly fry pancetta to release fat. Add onions and garlic and cook until soft. Slide this mixture to the side of the pan. Add 3-4 tablespoons tomato puree and cook until slightly caramelized. (I put my pasta water on to boil right around now). Add a splash of wine and scrape bottom of the pan to get all the good bits into the sauce. Pour in pepper puree and stir together, seasoning with salt to taste. Pour in cream and ricotta and stir to combine. Taste and add more salt, if necessary.

Cook the pasta: Bring a large pot of salted water to boil. Cook the ravioli until al dente, about 5 minutes. Drain well and add ravioli to the sauce, tossing to coat. Serve with a spring of basil and shaved Parmesan.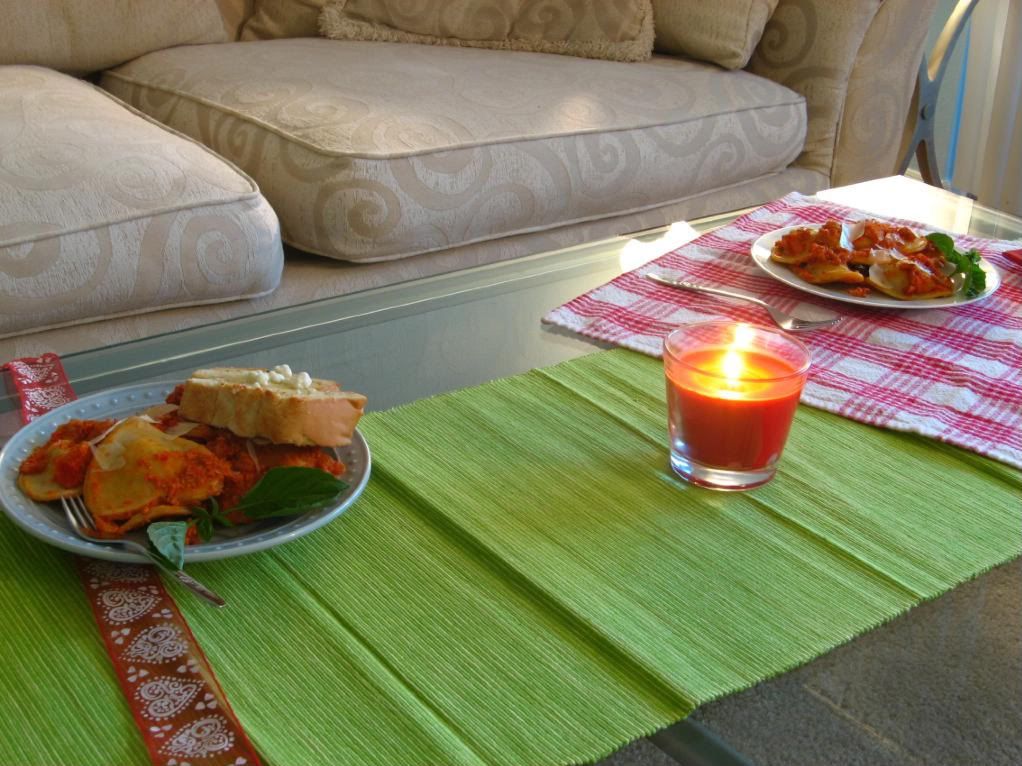 Valentine's Day dinner for two.
Share this post with friends!