Iceberg Wedge Salads with Homemade Blue Cheese Dressing
Our "special occasion" meals at my parents' house always start with these crisp, cold Iceberg Wedge Salads with Homemade Blue Cheese Dressing made by my mom. She chops and preps each salad before hand, placing each serving on its own plate covered with plastic wrap in the fridge. Just before dinner, she uncovers them and spoons on her homemade blue cheese dressing and sprinkles on crumbled bacon and green onions or chives.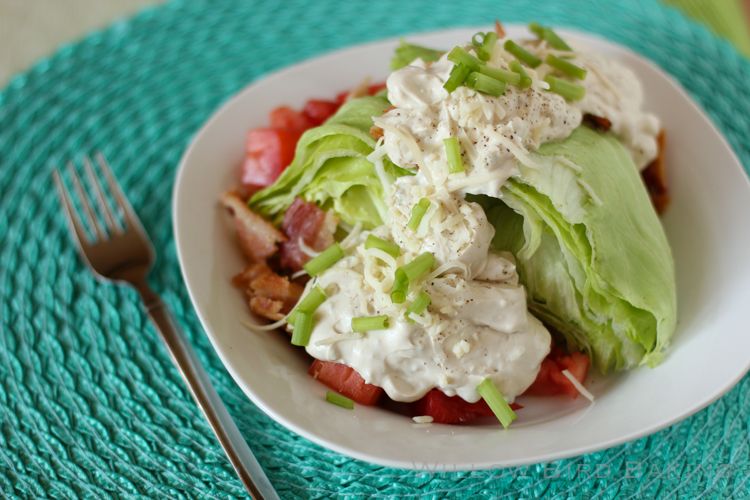 I love digging into mine with a fork and a serrated knife, listening for the sharp crunch of the lettuce under my utensils. The salad is perfect as an appetizer for this reason — all the sensory details excite you about the meal to come. But Mike and I recently had these salads as a side dish for heavy, warm Sausage and Thyme Stuffed Mushrooms and they were the perfect balance.
The dressing is my favorite part because unlike recipes that have that tangy, vinegary flavor, this dressing is all cream all the way. It's thick and indulgent like a steakhouse blue cheese dressing. Next time I'll whip up a double batch so we can have these salads before our meal all week!
One year ago: "Magic" Chocolate, Coconut, and Pecan Pastry Braid
Two years ago: Naked Vegan Tacos with Corn Relish and Cilantro-Lime Slaw
Three years ago: Handmade Cheese Ravioli in Meaty Red Sauce
Four years ago: French Macarons
Iceberg Wedge Salads with Homemade Blue Cheese Dressing

---


Recipe by: Adapted from Southern Living
Yield: 3-4 salads depending on wedge size

These wedges are so crisp, cool, and refreshing as an appetizer or side dish (or even as a main dish with some grilled chicken on top!) It's important to make this dressing in advance and let the flavors meld in the fridge overnight; it makes a huge difference in the finished product.

Ingredients:
1 cup mayonnaise (I use Hellmann's)
1 cup sour cream
4 ounces crumbled blue cheese
1/4 teaspoon salt
1 tablespoon Worcestershire sauce
1 teaspoon lemon juice
1 head Iceberg lettuce, rinsed, cold, cut 6 wedges
12 slices bacon, cooked, crumbled
1/2 cup parmesan cheese, shredded
1/4 cup chives or green onions, chopped

Directions:
Mix first 6 ingredients for dressing and chill the day before serving. Put wedge onto plate, top with dressing, sprinkle with mixture of bacon, parmesan and chives (mixed together).