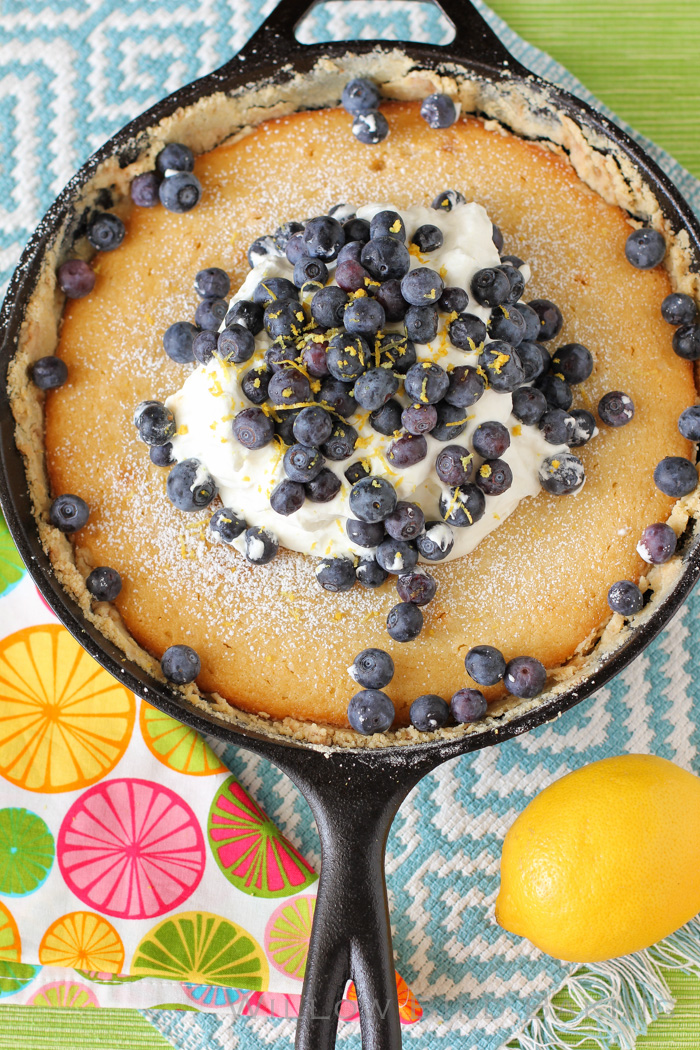 Lemon Blueberry Gooey Butter Cake
Wow, anyone else feel that? That 180-degree instant shift in mood? Kristen's post about February blues resonated with me. February is so hard, but I also have the more generalized winter blues. I can feel the doom set in as soon as the blue skies change to gray and the rain, wind, and ice roll in. I can hardly enjoy fall anymore just because I know winter is on its way, and with it depression and lack of motivation. Ugh.
But this morning!!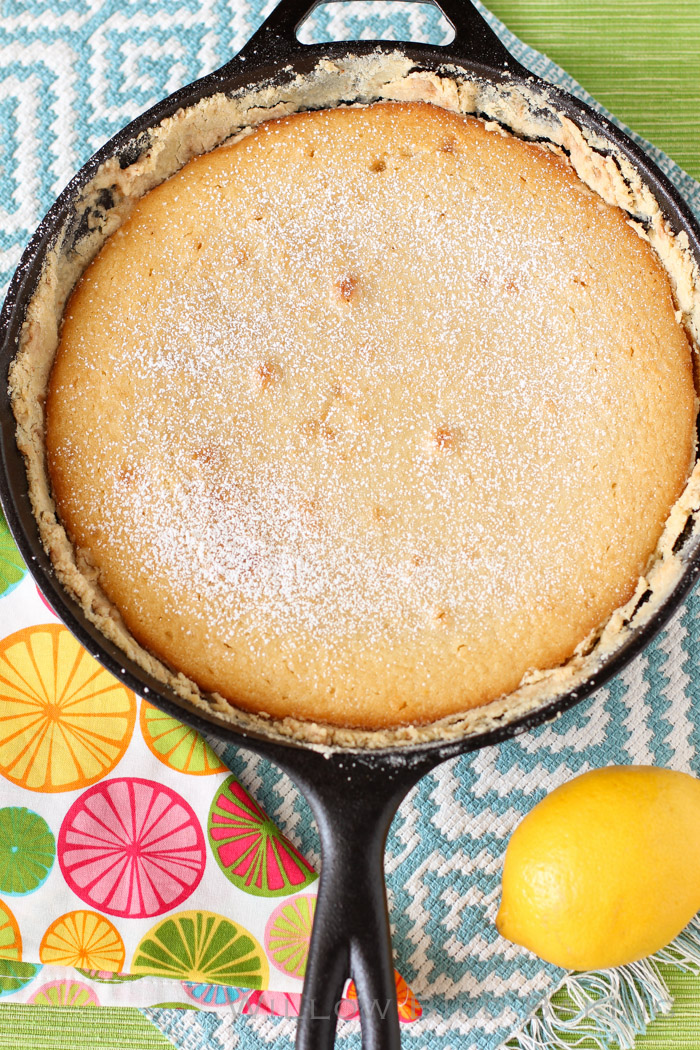 This morning I felt like I should dance around the room, throw open the curtains (I don't own curtains), and sing a song from Mary Poppins. IT FINALLY HAPPENED. Daylight Savings Time (also referred to as "The Worst Idea Ever" and "A Reason to Move to Arizona") ended! The sun stayed out until almost 7pm! The sky was blue! My mood flipped like a light switch — the change was immediate.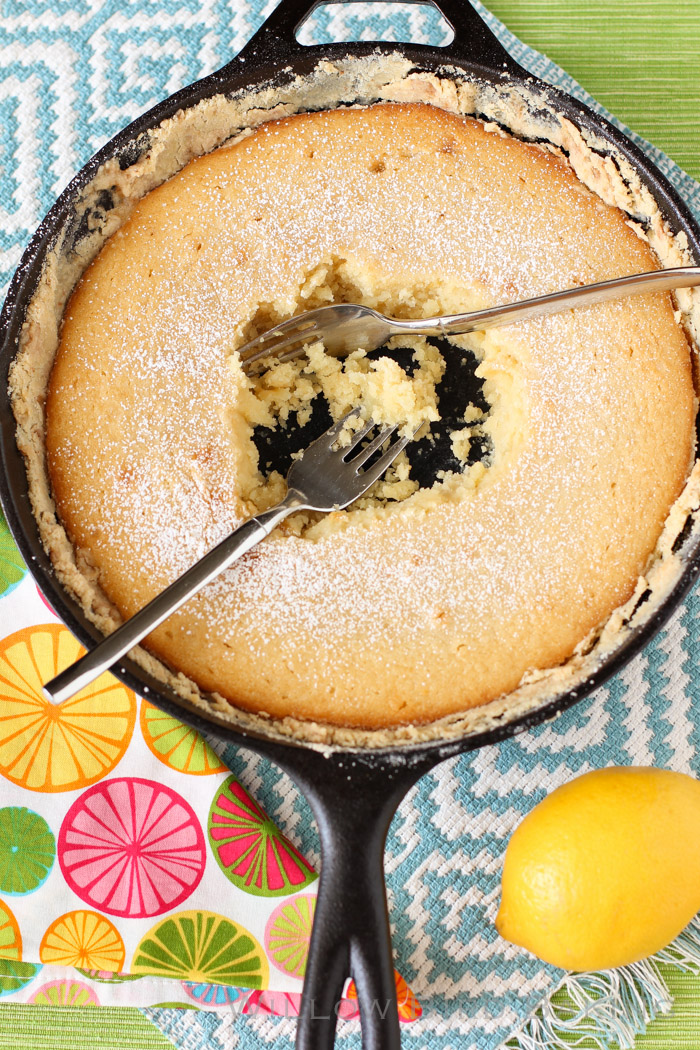 It happened to also be 66 degrees here today, meaning I wasted no time after I woke up. I threw open the balcony door and let the breeze flow through the apartment, clearing the winter right out. Byrdie sat in the sunshine and enjoyed the day with me. Ahhhhh. You guys!! IT'S FINALLY SPRING.
Okay, well, it's finally spring here. I apologize — sincerely — to those of you still buried in snow. I might yet get my just deserts for being so giddy while you're freezing your tails off, because North Carolina weather is notoriously unpredictable.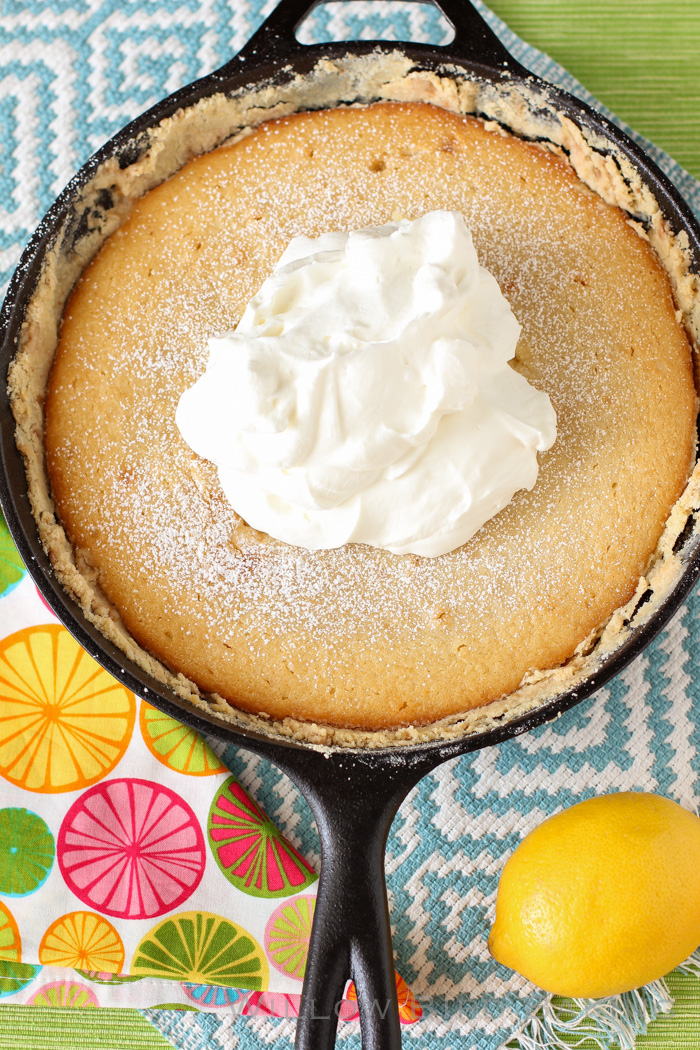 So QUICK, before the ice comes back and we have 8 bajillion snow days and I have to wrap myself into my Snuggie like a burrito, let's eat LEMON. LEMON and BLUEBERRY and SPRING. I don't know how you eat spring, but I want to try.
This is another of my beloved gooey butter cakes, and probably my absolute favorite. Something about flavoring this texture of cake with lemon is so perfect. I piled it high with freshly whipped cream (I could eat a mountain) and blueberries (Mike's favorite) and ate it right out of the skillet, as I'm wont to do. HAPPY SPRING! (If it's going to be like 35 degrees tomorrow, don't tell me. Just don't.)
One year ago: Bailey's Mint Oreo Icebox Cake
Two years ago: Bailey's Hazelnut Chocolate Tiramisu
Three years ago: Tres Leches Coconut Cake Trifle
Four years ago: Soft Pretzel Dogs
Five years ago: Best Blueberry Pie with Foolproof Pie Dough

Lemon Blueberry Gooey Butter Cake
Mike is a huge blueberry fan, so I've been on a blueberry kick! This gooey butter cake is beyond fantastic. The gooey, fluffy texture of this cake, its subtle lemon flavor, and the piles of whipped cream and berries was a downright ethereal combination. I make mounds of freshly whipped cream because I love it so much, so if you're a tiny dollop person, you might decide to cut it in half. By the way, if you don't have a skillet, I believe you can bake this in a greased 9-inch square baking dish. Let us know how it goes if you try it this way for all the other skilletless people!
Ingredients
Crust Ingredients:
1 cup cake flour
3 tablespoons granulated sugar
1/3 cup butter, cold
1 teaspoon lemon zest
Filling Ingredients:
1 cup granulated sugar
3/4 cup (1 1/2 sticks) butter, softened
1 egg
1 cup all-purpose flour
2/3 cup evaporated milk
1/4 cup light corn syrup
1/2 teaspoon vanilla extract
1 teaspoon lemon extract
1 teaspoon lemon zest
powdered sugar for dusting
Toppings Ingredients:
2 cups heavy whipping cream
4 heaping tablespoons powdered sugar
fresh blueberries
lemon zest
Instructions
Make the crust: Preheat oven to 350 degrees. Whisk together cake flour, zest, and sugar in a medium bowl. Cut in the butter with a pastry cutter or two knives until the mixture resembles fine crumbs and starts to cling together. Press the mixture into the bottom (this step is a lot harder than it sounds, but be patient and use the back of a spoon to help spread/press the mixture down. I also stuck mine in the fridge for a bit to make the butter less sticky) and up the sides of a 10-inch cast iron skillet.
Make the filling: Cream together the butter and sugar until fluffy and pale yellow (about 2-3 minutes). Mix in the egg until just combined. Alternate adding the flour and evaporated milk, mixing after each addition. Mix in the corn syrup, vanilla extract, lemon extract, and lemon zest. Pour the filling into the crust and sprinkle the top with icing sugar.
Bake and assemble the cake: Bake for 30 to 40 minutes or until cake is nearly set (mine was probably ready around 35). Some jiggle is fine — do not overcook! It'll finish setting up as it cools. Sprinkle some more powdered sugar on top. Let the cake cool in the skillet for 2 hours. In the meantime, beat heavy cream and 2 tablespoons powdered sugar together in a bowl to stiff peaks. Pile heaps of fresh blueberries into the center of your cooled, set gooey butter cake, top with a mountain of freshly whipped cream and lemon zest, and serve.