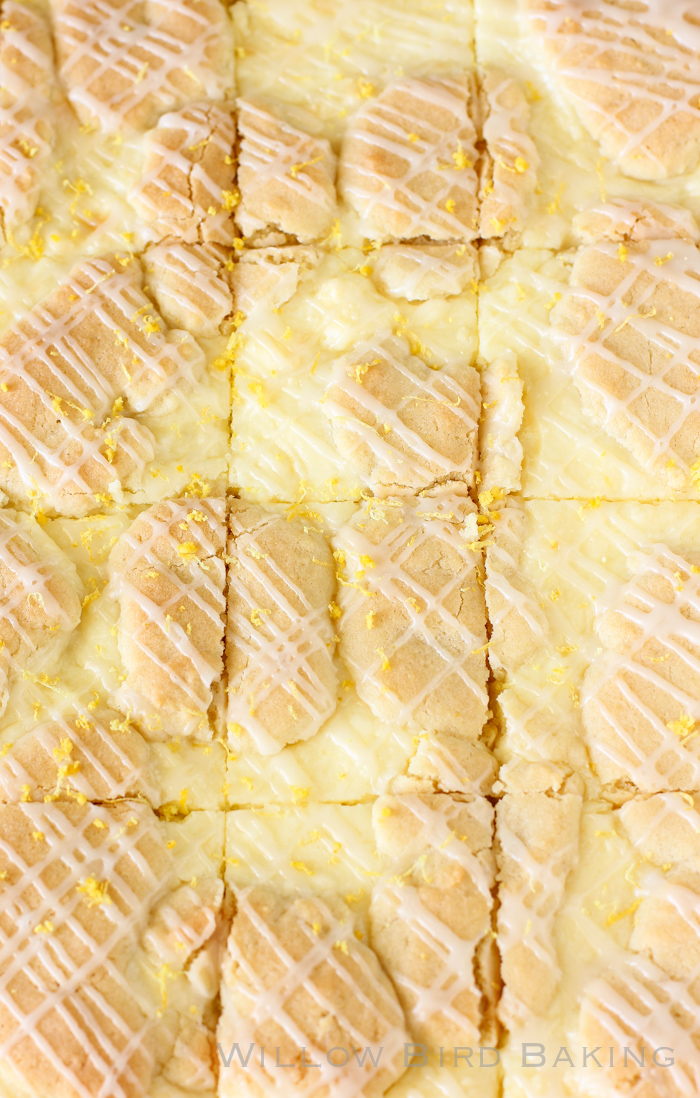 Lemon Cheesecake Kuchen Bars
My 9th graders complete a year-long travel project where they research and plan a trip to three European cities, embark on an in-depth study of travel writing, and then actually take their trip and travel write for themselves. It's an incredible capstone project for their last year at our school, which currently ends at 9th grade.
This year they've chosen to travel to Barcelona, Venice, and Florence. Last year's group also chose Florence (along with Rome and Paris), so this will be my second time there. I'm tremendously grateful that this year's group is taking me back, because I have a loose end to tie up: I have to climb Il Duomo.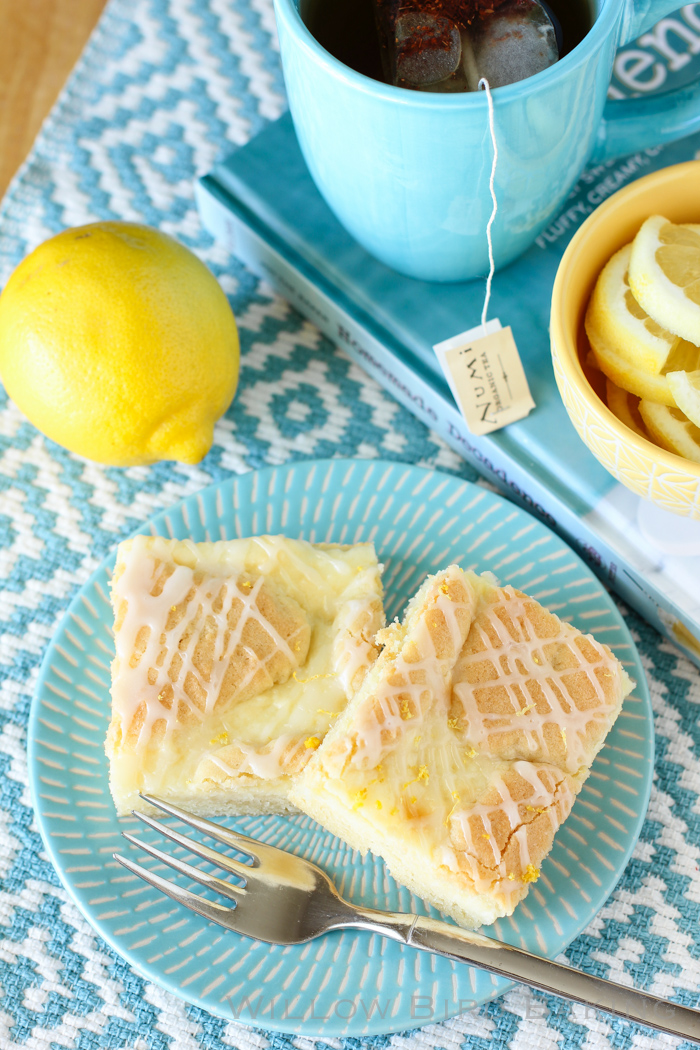 I'm extremely claustrophobic. And scared of heights. And scared of planes, spiders, boats . . . you get the idea. I'm afraid of everything. But particularly relevant to this story is the fact that I'm claustrophobic.
I didn't realize before our trip last year that there were so many climbable, tight spaces in Europe: bell towers, cathedral domes, castles. Modern buildings have wide passageways, thoughtfully constructed staircases, flippin' elevators. But these buildings were built when architecture was first being worked out — when domes regularly collapsed, when being the architect of a building meant designing your own machines to haul stones to the tops of towers, when no one had ever tried what you were trying. The Florence Cathedral is one of these buildings.
Il Duomo, as it's called, has the largest masonry dome in the world. Its construction was planned and supervised by Filippo Brunelleschi, who convinced the guild in charge that he knew what he was doing in spite of the fact that no one had ever done anything like it before. Visitors can now climb up into his masterpiece using a series of twisting, claustrophobic passageways with extremely limited headspace and only pocket-sized window here and there. When my students and I arrived at Il Duomo last year, I'd just finished bravely talking myself up the dome of St. Peter's Basilica in Rome, where at one point you are literally on a "staircase" so narrow that you have to turn sideways and hold onto a center rope instead of any kind of banister. A ROPE. So I was feeling like a superhero and also like I never wanted to see a dome again.
But here we were in front of breathtaking Il Duomo. We were the first group there, so it was empty. It was a lovely day and all my students were being sweet and supportive. I mustered my courage and decided I'd give it a shot. I made it five steps.
That was when I saw one of the pocket windows. A tiny tunnel, no wider than my hand, through over a foot of masonry. How much oxygen could that possibly allow into the passage? I vividly imagined myself suffocating and having a heart attack simultaneously, stuck up in the dome where no emergency crew could reach me. With that thought, I turned right back around, deciding to wait for my group on solid ground. No more than 15 minutes later I witnessed a woman exit the stairwell having a full-blown panic attack, which confirmed that I'd made the right decision. However, the inside of the cathedral was one of the most compelling things I'd ever seen. The wind rushed through like the sound of a waterfall or God's voice. I stood below the dome, hundreds of feet below, wrapped in the sound and staring up at the centuries-old fresco of the Last Judgment. I felt my first tinge of regret.
When I got home, I read Ross King's book, Brunelleschi's Dome, about Brunelleschi's architectural accomplishment. I traced the sketches of herringbone brickwork with my fingers, wondering what they looked like in person, and my regret grew: would I ever get another chance to climb the dome? What if I missed out on a once-in-a-lifetime opportunity?
I guess you're starting to understand why I was so thrilled when my current students decided they wanted to see Florence. How often do you get a second chance like that? I have to climb that dome. Lying in bed the other night I tried to visualize myself navigating up the stairs and felt a familiar wave of panic start to rise. But I'm determined. I talked myself up the dome of St. Peter's and I can do it again!
I think.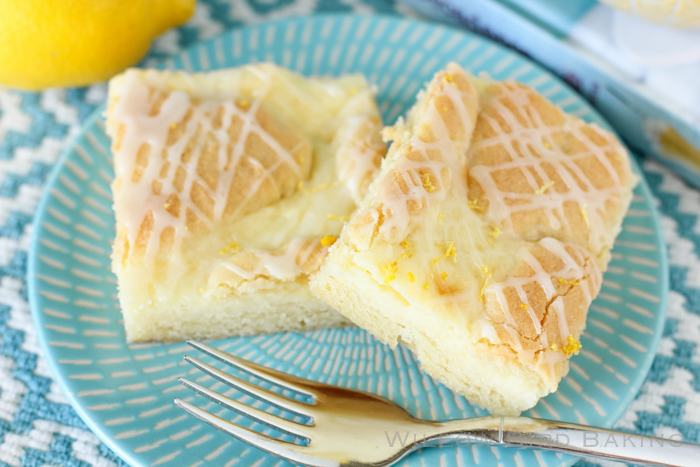 Any advice for me? Anyone ever conquered a mighty fear and lived to tell the tale? Give me some tips!
In return, I offer you Lemon Cheesecake Kuchen Bars: a super simple, sweet, bright recipe for my kindred spirits out there who love lemon! Enjoy an early taste of spring.
One year ago: Insane Chili Cheese Dip
Two years ago: White Sheet Cake with Fluffy Whipped Icing
Three years ago: Cheeseburger Bāozi (Steamed Cheeseburger Stuffed Buns)
Four years ago: Carrot Cake Sandwich Cookies with Honey Cardamom Cream Cheese
Five years ago: Strawberry Walnut Ricotta Muffins
Lemon Cheesecake Kuchen Bars
If you love lemon and simple desserts, here's a recipe just for you! These easy kuchen bars boast a gorgeous, bright lemon cheesecake filling. They're delicious warm out of the oven, but even better after chilling overnight. The dense lemon cheesecake straight from the fridge is out of this world.
Ingredients
Kuchen Ingredients:
1/2 cup butter, softened
1/2 cup shortening
1 3/4 cups sugar
1 1/2 teaspoons baking powder
1/2 teaspoon salt
3 eggs
1 teaspoon vanilla
3 cups all purpose flour
Filling Ingredients:
2 (8-ounce) packages cream cheese, softened
zest of 1 lemon (reserve a little for topping)
1/2 cup sugar
2 tablespoons lemon juice
1 egg, room temperature
Glaze Ingredients:
1 cup powdered sugar
1 1/2 teaspoons lemon juice
1/4 teaspoon vanilla extract
2 tablespoons milk (depending on desired consistency)
extra lemon zest
Instructions
Preheat oven to 350 degrees. Prepare a 15x10x1-inch baking pan with a foil sling (overlapped pieces of foil that will be useful in pulling the bars out later). Lightly spray the foil with cooking spray.
In a large bowl, beat the butter and shortening until combined. Add the sugar and cream the mixture until it is light and fluffy. Mix in the baking powder and salt. Beat in eggs and vanilla until just combined. Add in the flour in a few additions, mixing until just combined after each. Reserve 1 1/2 cups of the dough and press the rest into your prepared baking pan. Bake for 12 minutes.
Make the filling: While the base bakes, cream the softened cream cheese in a medium bowl until fluffy before adding lemon zest, sugar, lemon juice, and the egg. Mix together until well combined.
Spread filling over the base in the pan. Spoon the reserved dough into small mounds over the filling (mine were probably too big and too fussed over. Just kind of drop the small mounds all around and don't fret over shaping them or anything.)
Bake an additional 25-30 minutes or until top is just barely starting to color (err towards 25 minutes: don't let it really brown or it'll be overdone). Cool in the pan on a wire rack for 10 minutes. Whisk together the glaze ingredients and drizzle the glaze over the bars before cutting and serving. But honestly, these bars are even better after chillin' overnight in the fridge -- nothing like cold, dense lemon cheesecake, oh my gosh.