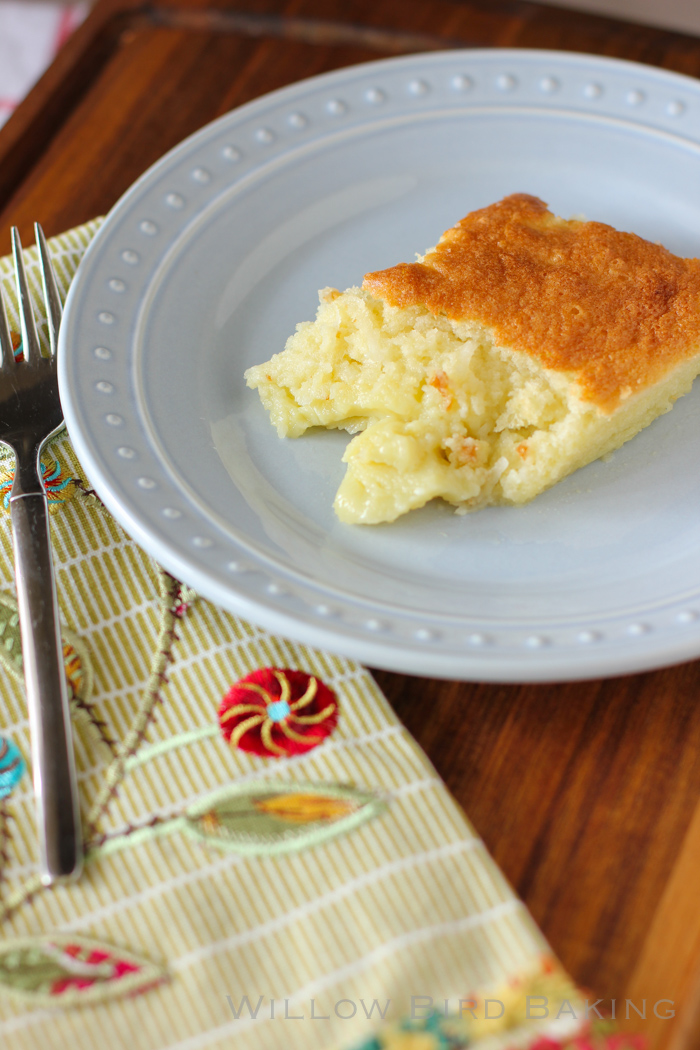 Coconut Pudding Spoon Cake: Hard to Photograph, So Easy to Eat
I love to share recipes, but if that were my main reason for hanging out on this blog, I could certainly do so without all these irritating WORRRRDS. You know, all these ridiculous, worthless THOUGHTS. I could just post photos, ingredients, directions, THE END. Wouldn't that be a relief?
It would be to one lady, anyway. This lady on Pinterest pinned my recipe a few weeks ago with the caption, "You have to scroll through a bunch of 'I don't really care' things to get to the recipe, so just scroll down." Uh.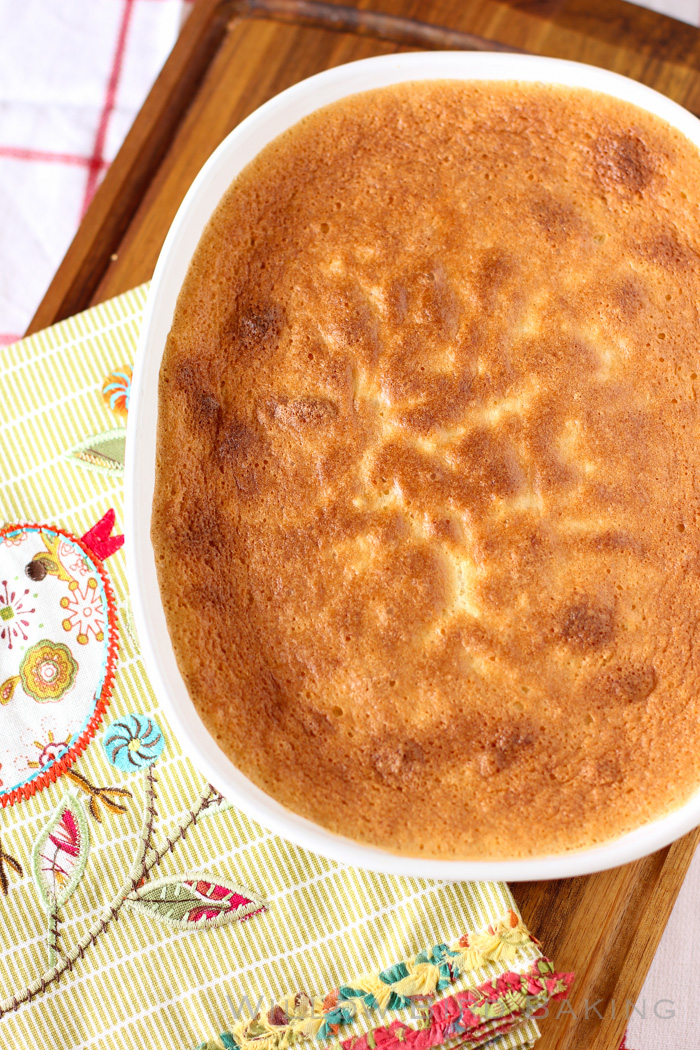 Now #realtalk, I don't mind if someone just comes here for the recipes and skips the "life lessons" storytelling part. I'm a writer, a thinker, a reflector, and these words are important to me, but I don't mind if they're not important to everyone. Some of you are scrolling past this right now to get to the cake recipe down there, and more power to ya.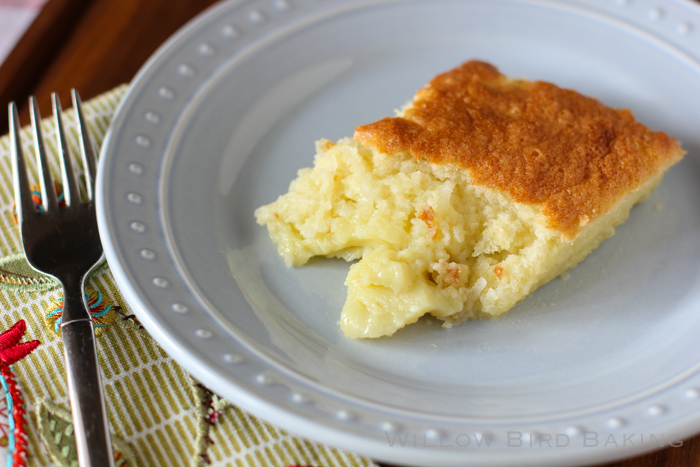 But what I did care about was the public insult. This stranger thought it was okay to come here to grab a recipe I developed for her for free while calling my heartfelt writing "I don't really care things" in a public forum. She could've disagreed, she could've ignored, but did she have to click that button and dig into her keyboard to say something unkind? She had the right to, certainly. We have the right to issue whatever destructive or hurtful words we want out into the world (in the United States, anyway). But perhaps it would've been more productive to THINK: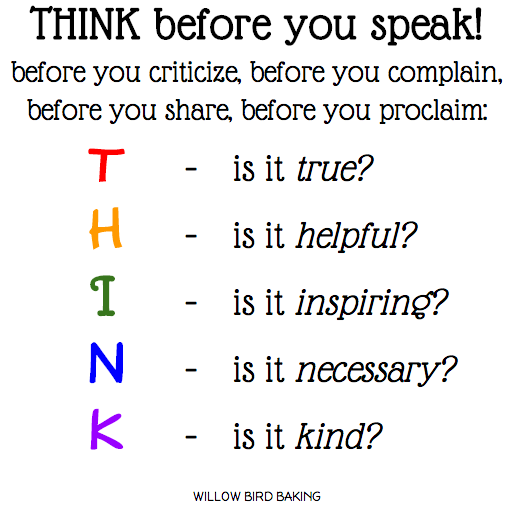 I didn't lose any sleep over it and I'm still planning to write "I don't really care things" along with every recipe. I wanted to tell the story for several reasons, though. First, it's just another excuse to call for kindness on the internet, something I feel passionate about. Second, it's a warning: real people might see what you've written about them online, so choose your words carefully. Third, it's an opportunity to reaffirm my purpose here.
I develop recipes to share with you because I love to bake, experiment, and build a community around our kitchen experiences. But I could do all that over on AllRecipes if I were so inclined. This blog provides something beyond that for me: a room where I can write all over the walls, a corner of the internet where I can say the important, funny, compelling, ridiculous, boring, thoughtful, stirring things I have to say and where people can read them. Whether you want to do so or not, by all means, come and enjoy dessert. But if you feel the need to degrade or dismiss my thoughts while you're here, I guess I'd rather you not bother.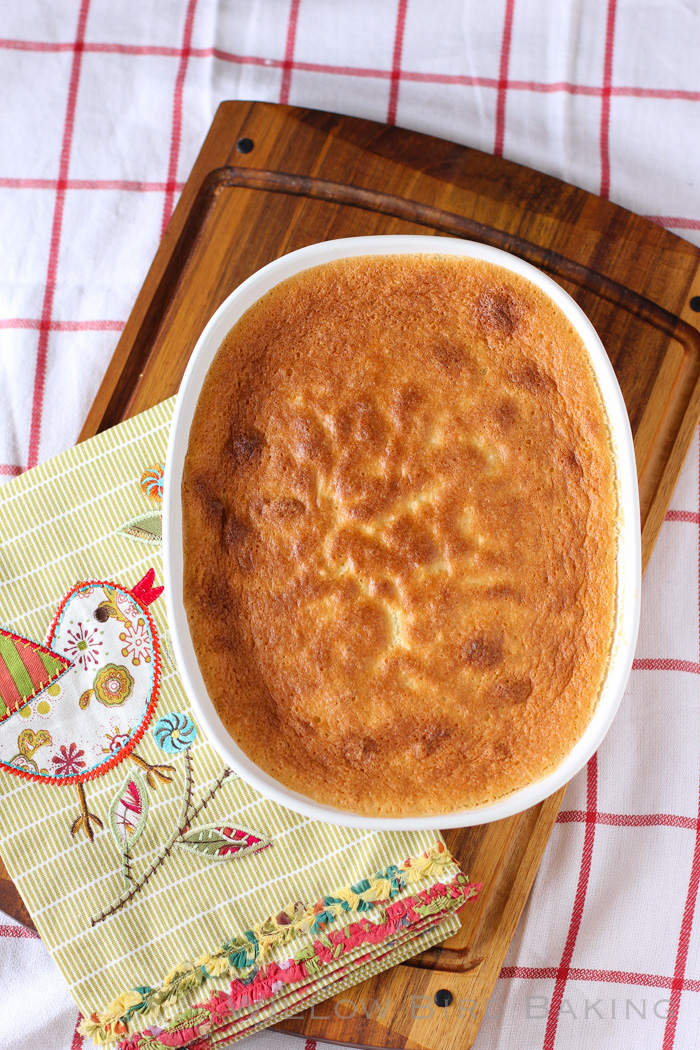 HERE'S THE PART WHERE YOU CAN START READING AGAIN IF YOU SCROLLED PAST ALL THOSE PESKY WORDS. (I ain't bitter.)
This cake will cure a host of evils. It's so quick and easy to whip up — just beat your egg whites while mixing up your butter, sugar, and egg yolks. Add a few more ingredients, fold 'em together, and pop 'em in a water bath to bake. The result is a pudding-cake masterpiece with the most heavenly cloudlike texture and a great coconut flavor.
One year ago: Lemon Cheesecake Morning Buns
Two years ago: Red Velvet Cheesecake-Stuffed Cake Balls
Three years ago: Magnificent Cream of Mushroom Soup with Crispy Leeks
Four years ago: Clementine Burst Cupcakes
Coconut Pudding Spoon Cake

---


Recipe by: Adapted from Baked Lemon Pudding Cake
Yield: 4-6 servings

This cloudlike Coconut Pudding Spoon Cake takes just around 15 minutes to whip up and get in the oven, but it's so warm, satisfying, and moist. The texture alone is enough to knock you right off your feet. Enjoy!

Ingredients:
4 eggs, separated
1 cup sugar, divided
1/2 cup (1 stick) butter, softened
1/2 teaspoon coconut extract
1/4 teaspoon vanilla extract
5 tablespoons and 1 teaspoon all-purpose flour
1/8 teaspoon salt
1 1/4 cup coconut milk (the unsweetened kind you buy in cans)
1/2 cup shredded coconut

Directions:
Preheat the oven to 350 degrees F. Put some water in a saucepan on to boil; you'll use this for the water bath later. In the bowl of a stand mixer, whip 4 egg whites on medium speed until foamy and then slowly add 1/4 cup of sugar. Turn mixer to high and whip the egg whites to stiff, glossy peaks.

In a separate large bowl, cream together the butter and remaining sugar for 2-3 minutes until pale, fluffy yellow. Mix in the egg yolks and extracts until just combined, scraping down the sides as needed. Mix in the flour and salt until just combined. Mix in the coconut milk until just combined.

Stir in about 1/3 of the egg white mixture into the butter mixture to lighten it up. Then add the rest of the egg white mixture and the shredded coconut, folding them in gently until there are no streaks in the mixture. Pour the mixture into a shallow, ungreased 2-quart baking dish (mine is the oval seen above and is actually about 1.9 quarts.) Place the filled dish in a larger 9×13-inch baking dish on your oven rack and carefully pour boiling water up to about 1/2-inch deep around it to form a water bath. Bake for 45-55 minutes or until set and golden brown. Carefully remove from the oven and serve warm.