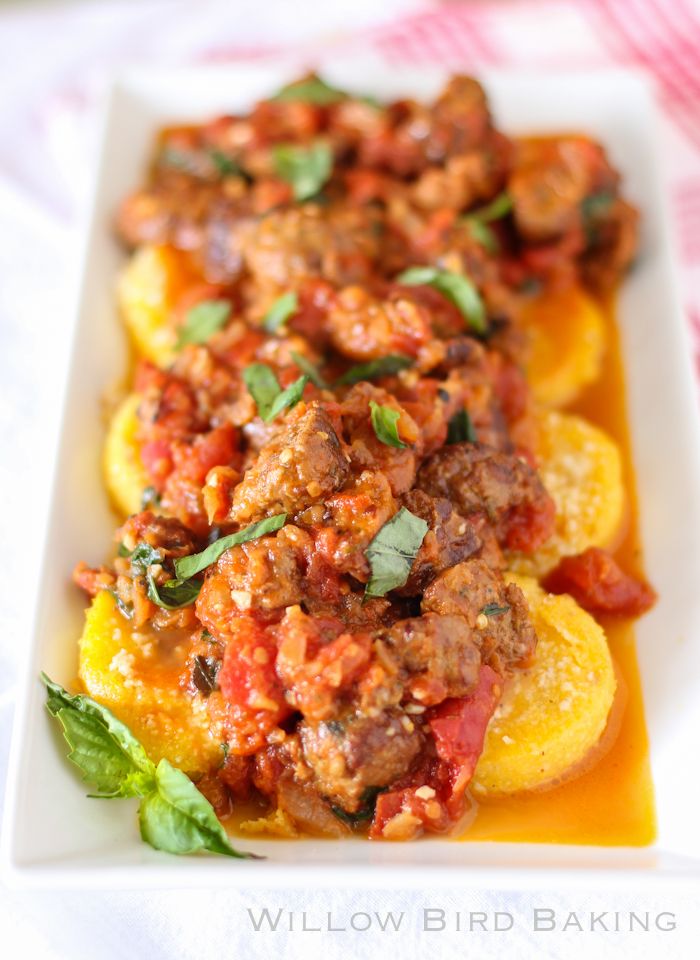 Hot Sausage & Tomatoes Over Fried Polenta
This cooking-family-dinner thing is no joke. I don't know how you parents out there manage it; I can barely manage to feed myself and my husband in a reasonable way. Plenty of nights find me and Mike sitting, with a Lean Cuisine and a plate of eggs, respectively, in front of the television. We're just so tired after working all day, so overwhelmed preparing for the next day, so over doing the dishes…
But you already know the whining part, so I'll skip that (too late) and get to the solution part. I've been loading up my Pinterest boards with quick, healthy weeknight meals. To spread the love, I'll be sharing some with you here and there throughout the weekdays. This first one, Hot Sausage & Tomatoes Over Fried Polenta, is one of our favorites so far! It has a savory, rich flavor but whips up in just around 25 minutes. Another bonus: I had most of the ingredients in my pantry and fridge.
A few time-saving tips on this recipe: use prepared ingredients if your budget allows. I love those little tubs of chopped onions and the huge jar of minced garlic. Chopping is just not what I want to spend my time on. Also, buy a tube of prepared polenta to fry up instead of making your own.
How do you manage making quick, tasty weeknight meals? Share our tips and recipes in the comments below or on WBB's Facebook page.
One year ago: Vanilla Custard Soaked Pumpkin Poke Cake
Two years ago: Pumpkin Spice Pull-Apart Bread with Butter Rum Glaze
Three years ago: Assorted Donut Muffins
Four years ago: Mini-Pies: Pumpkin, Peach Crisp, and Sour Cream Apple
Hot Sausage & Tomatoes Over Fried Polenta

---


Recipe by: Adapted from Cooking Light
Yield: 4 servings

This recipe only takes about 25 minutes to prepare, but it packs a LOT of flavor! Mike and I loved it and are sticking it in our regular dinner rotation.

Ingredients:
1 tablespoon olive oil
2 links Italian chicken sausage
1 link hot Italian sausage
1 cup chopped onion
3 garlic cloves, minced
1 teaspoon dried oregano
1/2 teaspoon crushed red pepper
2 (14.5-ounce) cans diced tomatoes, undrained
3 heaping tablespoons sundried tomatoes in oil
1/4 cup red wine
1/2 cup chopped fresh basil, divided
1 tube cooked polenta (I used mushroom & onion polenta)
3/4 cup grated Parmesan cheese, divided

Directions:
Add 1 tablespoon olive oil to a large saucepan over medium-high heat. Brown the sausage (cutting it out of its casing, if it has one, and crumbling it in the pan). Add the onions and cook for 5 minutes until tender. Add the garlic and cook for just 30 seconds or so, until fragrant but not burnt, before adding the tomatoes, oregano, red pepper flakes, sundried tomatoes, and wine. Use a wooden spoon to scrape up the sausage bits off the bottom of the pan. Bring this mixture to a boil before reducing the heat and allowing it to simmer for 15 minutes, stirring occasionally.

While the mixture is simmering, heat the other 1 tablespoon of olive oil in a skillet over medium heat. When the pan is hot and the oil is shimmering, add the slices of polenta, frying them for a few minutes on one side (until golden brown). Sprinkle them with salt and pepper before flipping them to fry, salt, and pepper the other side. When they're almost done, sprinkle them with a little Parmesan cheese. Remove them to your serving plate.

Stir 1/4 cup of basil and 1/2 cup Parmesan cheese into the tomato mixture. Cook for 5 more minutes before spooning the mixture over the fried polenta, sprinkling with a little extra grated Parmesan and basil, and serving.