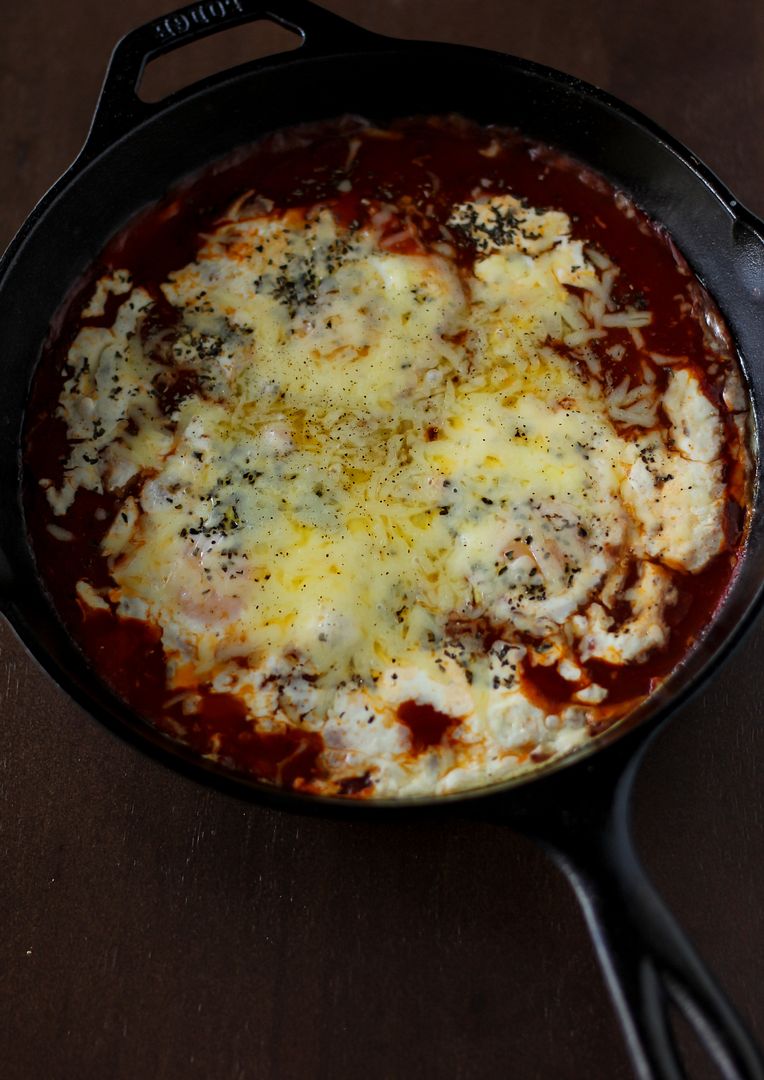 I know some of you are going to say, "Well, yeah, obviously," to this little recipe (if it can be called that), but I felt pretty smooth when I thought it up last night. I had a can of tomato parmesan soup that I usually enjoy, but I didn't feel like eating it alone. I also didn't particularly feel like cooking anything fancy. With a few little add-ins, I dressed up the soup into a hearty dinner. I plan to do the same tonight with my favorite spinach Florentine jarred tomato sauce.
Please serve it with a bright salad and crusty bread, since these items were sorely missed on my table. I had to forego sauce-sopping for sauce-scraping with a spoon, which was not nearly as effective.
That's all for today — a quick note with a quick little "recipe" I enjoyed. Hope you do, too.
One year ago: My Favorite Pie Crust Dough
Two years ago: Three Safe-to-Eat Cookie Doughs: Chocolate Chip, Sugar, and Cake Batter!
Three years ago: Oatmeal Cake with Broiled Icing
Quick Tomato Baked Eggs Skillet Supper

---


Recipe by: Willow Bird Baking
Yield: 3-4 servings

This is more of an idea or suggestion than a recipe — swap ingredients as you like to make your own little quick and dirty supper on the fly. I'd serve this with a bright arugula salad dressed with lemon juice and olive oil and plenty of crusty bread with softened butter and sea salt.

Ingredients:
a tomato sauce or soup that you really love*
some garlic, basil, olive oil, and chili flakes to dress up the tomato sauce
3-4 eggs
a little cream (optional)
grated cheese (I used Gruyère that I had on hand, but choose one you love)
salt and pepper
*Note: I used a tomato parmesan canned soup, but I'm also going to try this with my favorite spinach Florentine jarred tomato sauce. Make sure you already enjoy the taste of it, since it'll be the primary flavor. I don't think it would've been nearly as good with one of those watery tomato soups you ate with grilled cheese as a kid. If you want to make a tomato sauce from scratch, I suggest this super quick one.
*Note 2: I bet some crispy bacon or pancetta crumbles and a dollop of sour cream on top of this would be fantastic.

Directions:
Preheat the oven to 400 degrees F. Pour your tomato sauce or soup into an oven-safe skillet (but not cast iron like I did, because apparently it can strip the seasoning — oops!) and dress it up with garlic, basil, olive oil, and chili flakes to taste. Crack eggs over the bed of tomato sauce. Pour a little cream on each egg, salt and pepper the whole dish, and bake for 20 minutes or so until the whites are cooked but the yolks are still runny. Sprinkle grated cheese over the top and bake for just a minute or so more for it to melt. Serve immediately with a salad and crusty bread (I ate/scooped it straight out of the skillet, as I am wont to do.)