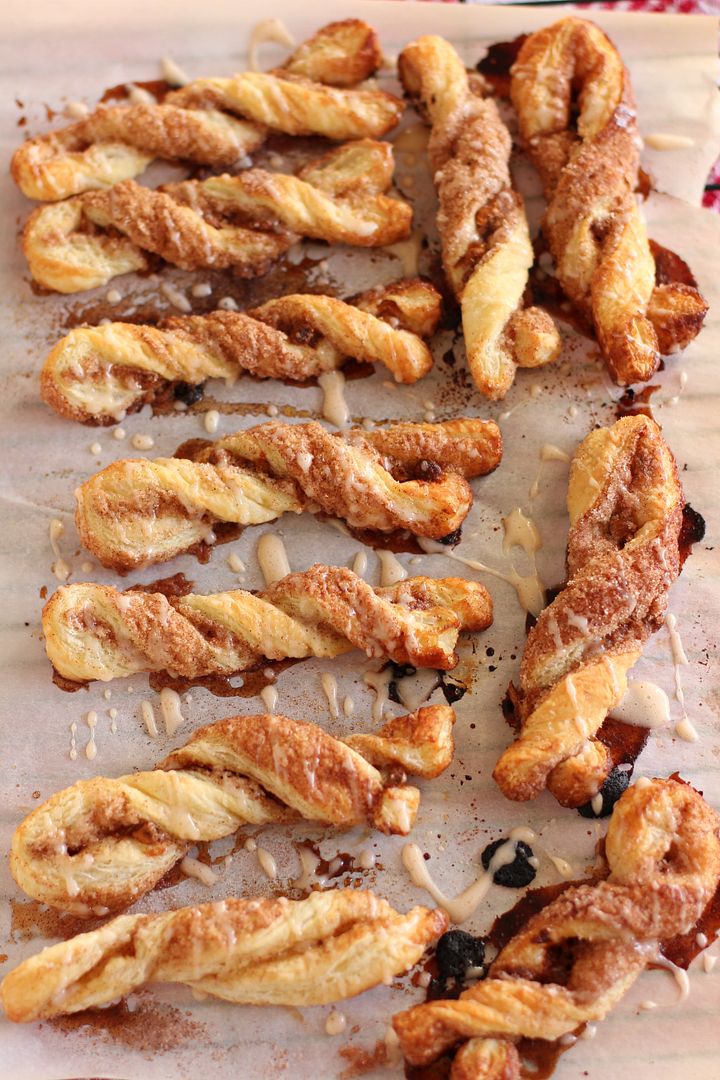 My caffeine tolerance has always been one of my favorite hidden talents (right up there with that funny thing I can do with my knuckle. Remind me to show you that sometime.)
The other day, however, I was bragging to Mike (again) about being able to chug a soda right before bed and I realized something. For years I've slurped my coke right up until bedtime. And for years I've had trouble getting enough sleep. Hrm.
Must be a coincidence.
My soda adoration is not a new thing. An entry in my baby book illustrates its rich history. When I was less than a year old, my mother records that I'd screech with joy upon receiving Coke and get obnoxious when it was taken away.
(We'll generously assume that my mother was sleep deprived when she offered soda to a toddler. And gleefully recorded my reaction in my baby book.)
My love for cola has only grown. I love classic Coke, Coke in glass bottles, fountain Coke, Coke Zero, and a good diet Sunkist now and again. I love the tingly feeling of drinking soda after eating something sweet or just waking up. I love sodas on hot days and sodas on cold days. I love funky ginger sodas that burn my throat. I love diet orange creme soda. I can get a little carried away.
(The only thing I don't love is Pepsi. Don't even get me started on that mess. And sorry, Cheerwine tastes like cough syrup. Did I just get kicked out of the South? Maybe.)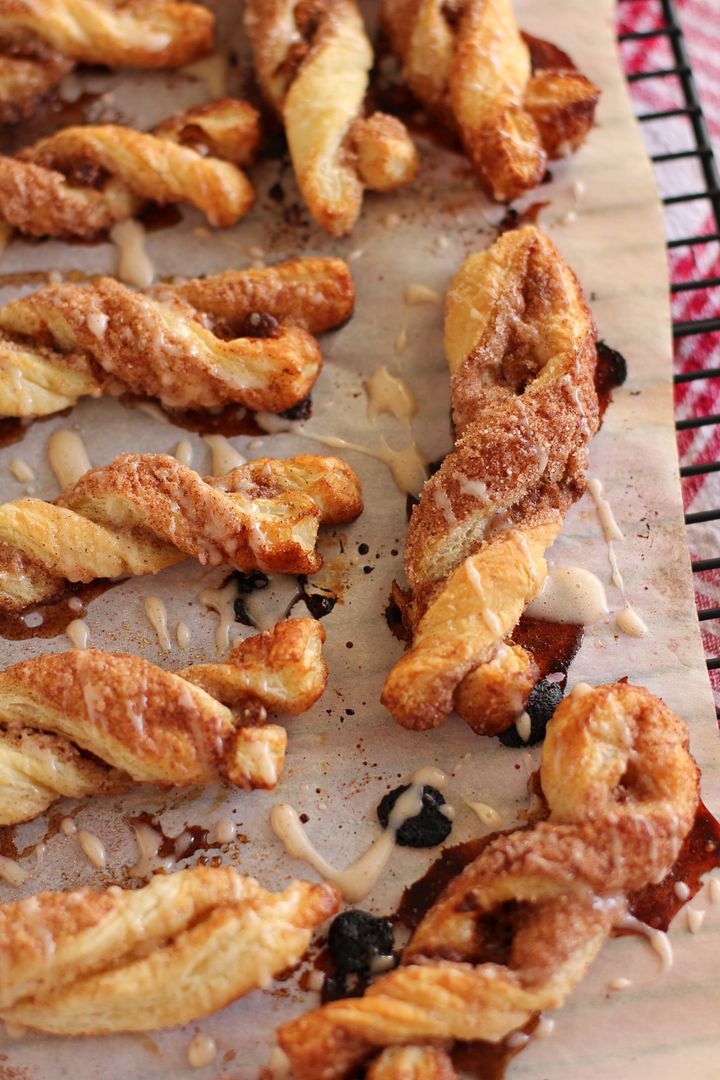 My penchant for soda isn't particularly healthy, but it's served me well this week. I needed that caffeine boost. I don't know about you, but I've had approximately eleventy-billion things to do in preparation for the holidays. Gift shopping, gift wrapping, baking, decorating, attending various gatherings, bathing the dog and trying not to kill her after a particularly messy incident involving puppy chow. You know. Typical Christmas preparations.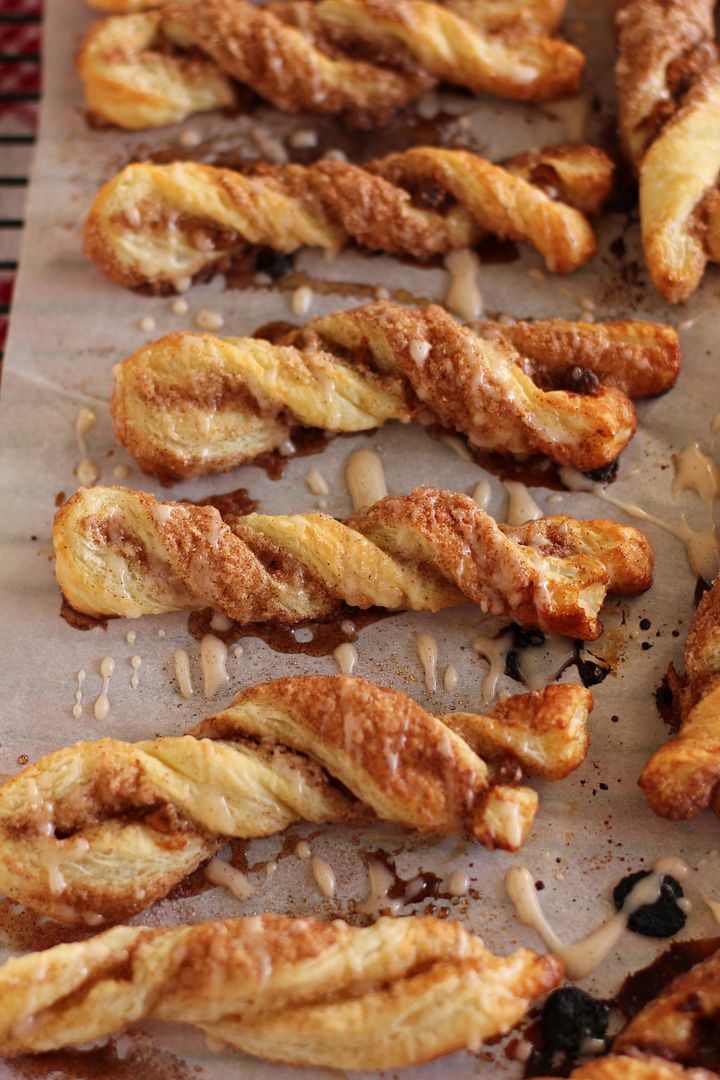 Good news if you're a fellow headless chicken: These little Cinnamon Sparkled Pastry Stix are tasty, cute, and easy to make ahead. They can be prepped and refrigerated overnight to pop into the oven for a simple breakfast.
If you can plan a few days in advance to make your own homemade puff pastry, you should. They're good either way, but I promise I'm not being a snob when I say there's a pronounced difference between store-bought and homemade in this case! Once you have your pastry, it's just a matter of brushing it with butter, sprinkling on some goodies, and making your twists. And then pouring yourself a celebratory glass of Coke, of course.
What's been keeping you busiest this week?
Cinnamon Sparkled Pastry Stix with Egg Nog Glaze

---


Recipe by: Willow Bird Baking, with pastry inspired by King Arthur Flour and Gale Gand and glaze inspired by Betty Crocker
Yield: 20+ stix

These puff pastry stix are sparkled with cinnamon, sugar, and buttery cinnamon chips. They're simple to make ahead and chill in the fridge overnight. Pop them in the oven in the morning and drizzle on some sweet eggnog glaze for a quick, festive breakfast. If you can spare the time, make your own homemade puff pastry — it may seem like a lot of effort, but it really does pay off in flavor!

Stix Ingredients:
1 sheet puff pastry, thawed (or make homemade puff pastry!)
1/4 cup unsalted butter, melted
3/4 cup sugar
2 1/2 teaspoons cinnamon
1/4 cup cinnamon chips (you can replace these with more cinnamon-sugar if you don't have them around)
2 tablespoons milk

Egg Nog Glaze Ingredients:
1/2 cup powdered sugar
2 tablespoons eggnog
cinnamon, nutmeg to taste

Directions:
NOTE: If you're making homemade puff pastry from scratch, you'll want to start that process 3 days before your meal.

1 day in advance: Mix sugar and cinnamon in a bowl. On a silicone mat or lightly floured surface, roll your puff pastry sheet out to a 10″ x 15″ rectangle. Brush half of it (a 5″ x 15″ strip) with melted butter and sprinkle on cinnamon chips and half of the cinnamon-sugar mixture. Fold the unfilled side of the pastry over and press to seal around the edges. Brush the top of the now 5″ x 15″ rectangle with the milk and sprinkle on the rest of the cinnamon and sugar.

With a pizza cutter (spray it a little with vegetable spray if it sticks to the dough), cut the square into 1/2″ stix (they'll be 5″ long). Press them a little to ensure cinnamon chips are snug, but don't fret when some inevitably fall out. Take each strip by both ends and gently, carefully twist like you're wringing out a rag. Scoop up cinnamon and sugar that has fallen off the twists and resprinkle them. Place them on a parchment lined baking sheet and cover with plastic wrap. Stick them in the fridge overnight (you could also bake immediately).

The morning of: Take baking sheet out of the fridge and let it sit at room temperature while you preheat your oven to 400 degrees F. Remove plastic wrap and bake stix about 20 minutes, or until puffed and golden brown. Some of the cinnamon chips might leak out, but don't worry about it. While the stix cool slightly, mix up your glaze. In a small bowl, mix all glaze ingredients until smooth. Add more eggnog if not thin enough to drizzle, tasting as you go. Drizzle over slightly warm pastry stix and serve.
Coca-Cola didn't sponsor this post, but they probably should've, right?
If you liked this post, please:
–Subscribe to Willow Bird Baking
–Follow Willow Bird Baking on Twitter
–Follow Willow Bird Baking on Facebook
–Give this post a thumbs up on StumbleUpon
–Pin It
other ways to share this post with friends