So I'm currently joining the rest of the blogosphere in doing a happy dance and singing, "Pumpkinnnnnnnn!"
Before I gush about this Pumpkin Spice Pull-Apart Bread, though, I have to tell you about my other Pumpkin: my little pumpkin-wumpkin fluffypants.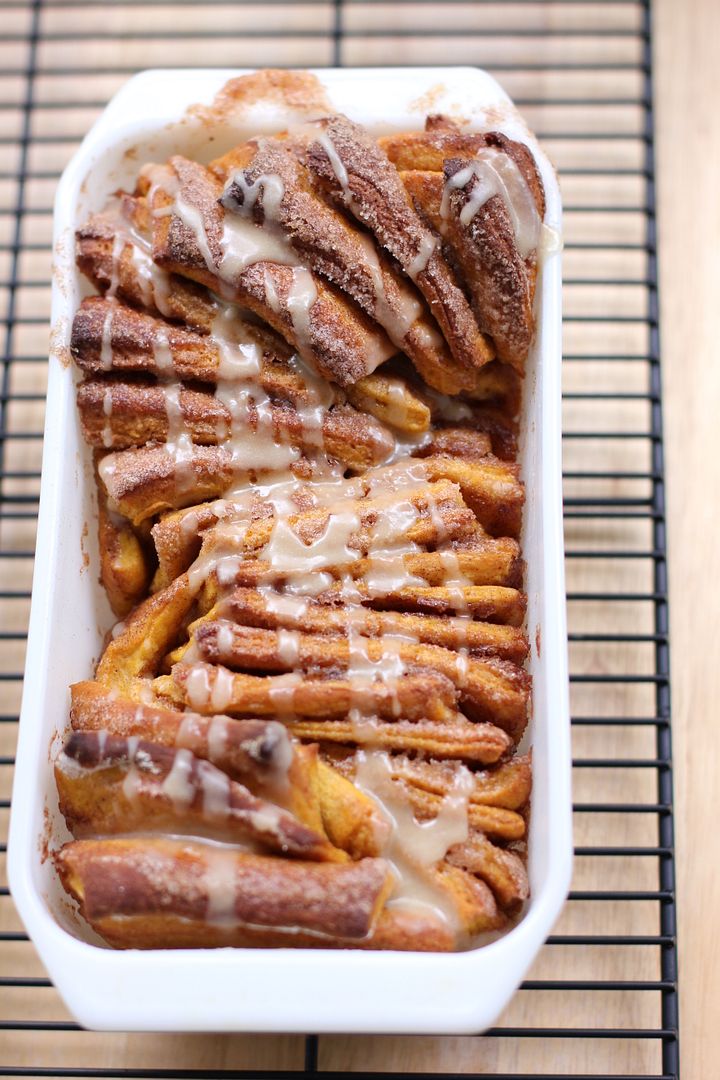 …no fluffypants, here.
Pets make people weird. One day you're a normal, reasonable adult that people can take seriously. Then you get a pet.
Suddenly you're schnookie-wookums-ing, buying them furniture that is bigger and more expensive than your own, dressing them up in Santa hats for the annual Christmas card, and giving them their own theme posts on your blog (Caturday is the best day!)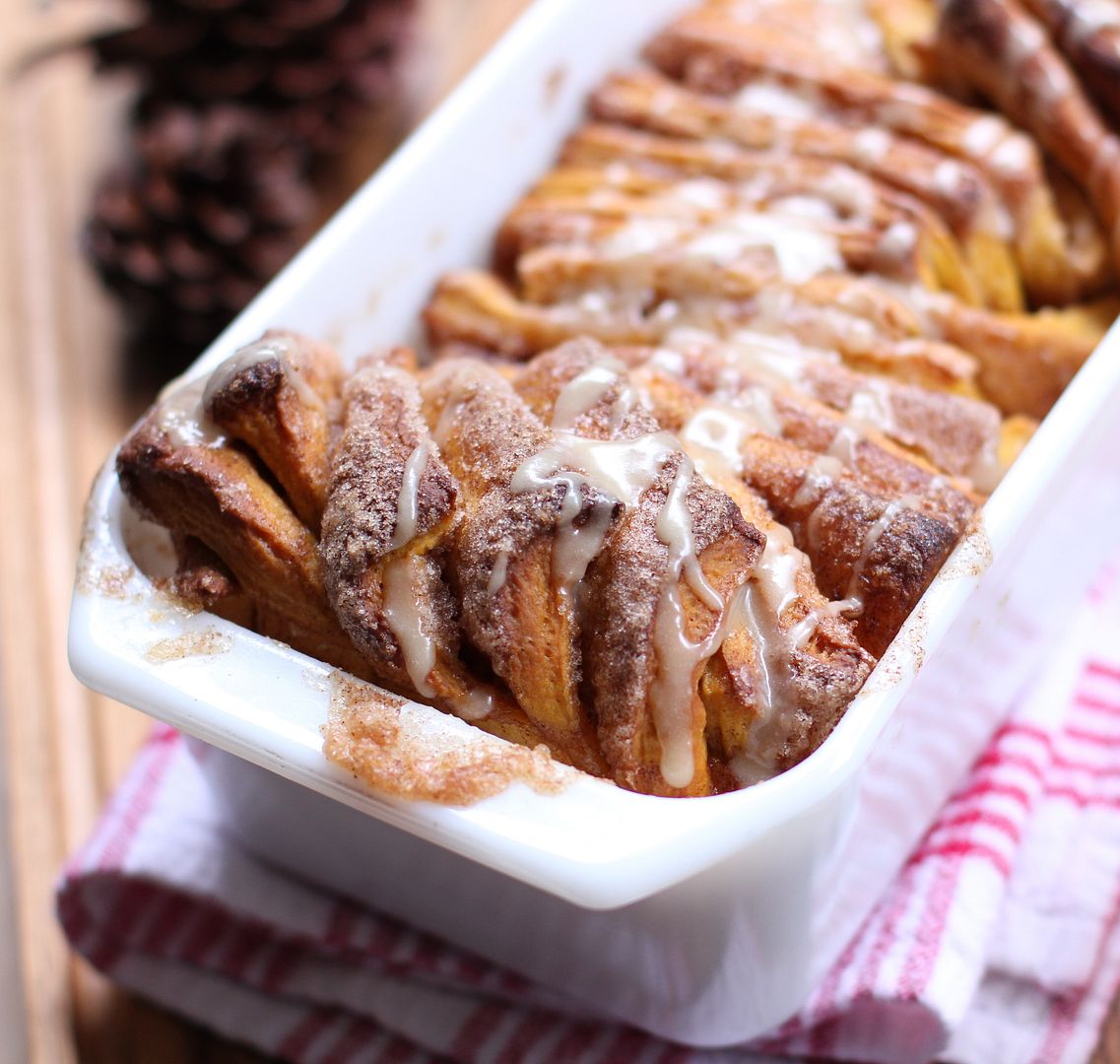 I've been a little weird from the beginning, so when I got my pets (Byrd the toy poodle and Squirt the red eared slider), all bets were off. Sure enough, a couple of years ago I got this idea. You're going to make fun of me, so let's just get this over with.
I decided to, um, commission a painting of my pets.

Here's that pull-apart bread again to distract you from what I just said.
I would try to defend myself, but I know plenty of you are in the process of making a birthday cake for your cat or buying your dog one of these right now. You don't have even a millimeter of room to talk. Ha!
Anyway, the painting was going to be an ironic interpretation of Grant Wood's American Gothic. It would have the same surreal quality, but look something like this:

Don't worry, Squirt's happy. He always frowns.
The painting unfortunately never came to fruition, but I got an email a couple of weeks ago that revived the dream. It was from Easy Canvas Prints, a company that transforms pictures to canvas. They asked if I might like to create a canvas from one of my photos and write up a review.
I often turn down product reviews because they don't fit my vision for Willow Bird Baking (I could talk for hours about my philosophy on blog-brand relations and the role of bloggers in journalism and integrity, etc., but I'll spare you). But when I'm asked to review a product I'm genuinely excited about, I have no problem giving it an honest try.

I want to give this an honest try, too. Or a dozen honest tries.
Easy Canvas Photos offered me a free small canvas print or a discount on a larger one to review. I chose to get a larger one and, though I seriously considered printing a big ol' cheesecake on it, decided to finally create that pet portrait. Thankfully, my new camera had just been ordered and Byrd had a grooming appointment scheduled. Once she was coiffed, we had a little photo shoot.
Some of the photos were, um, less than canvas-worthy: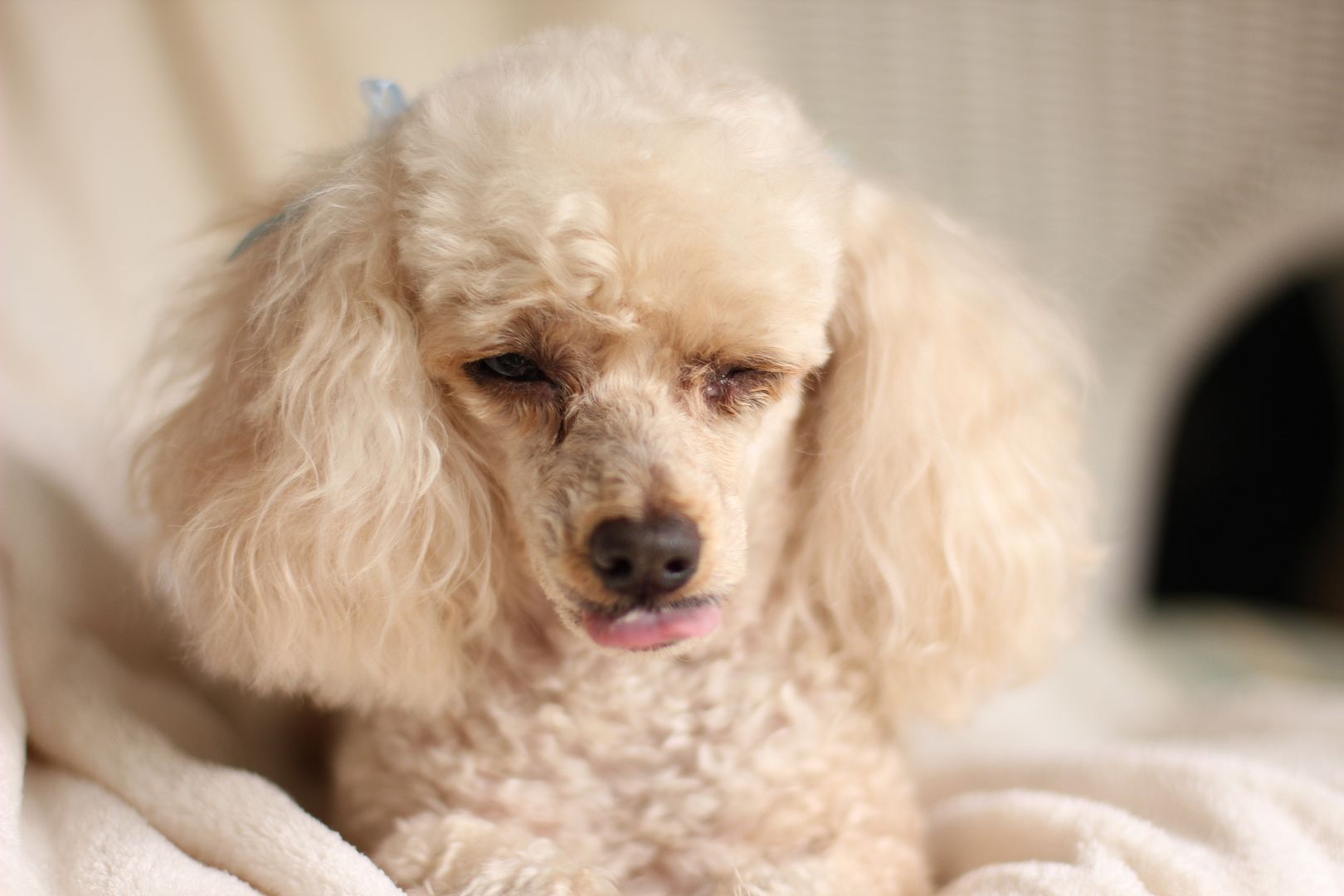 Really, Byrd? Really?!
We finally got a good one, though, and ordering my canvas took literally minutes. Once you choose a canvas size, you upload your photo. The site determines if it's high enough quality for the canvas so you don't have to wonder. You then choose how to have the canvas wrapped (you can get a solid color on the sides of the canvas, or let the image wrap around the edges — I chose the latter). And just like that, your work of art is finished.
When my canvas arrived in the mail, I was overjoyed with it. It's high quality and downright adorable. If I weren't just about as poor as a pile of dirt (and if I had infinite patience) I would put a bowtie on Squirt and take a billion photos ("FLIPPIN' HOLD STILL AND WILL YOU GET YOUR HEAD OUT OF YOUR SHELL!!") to make one of him, too. Maybe someday.
Want to see how it turned out?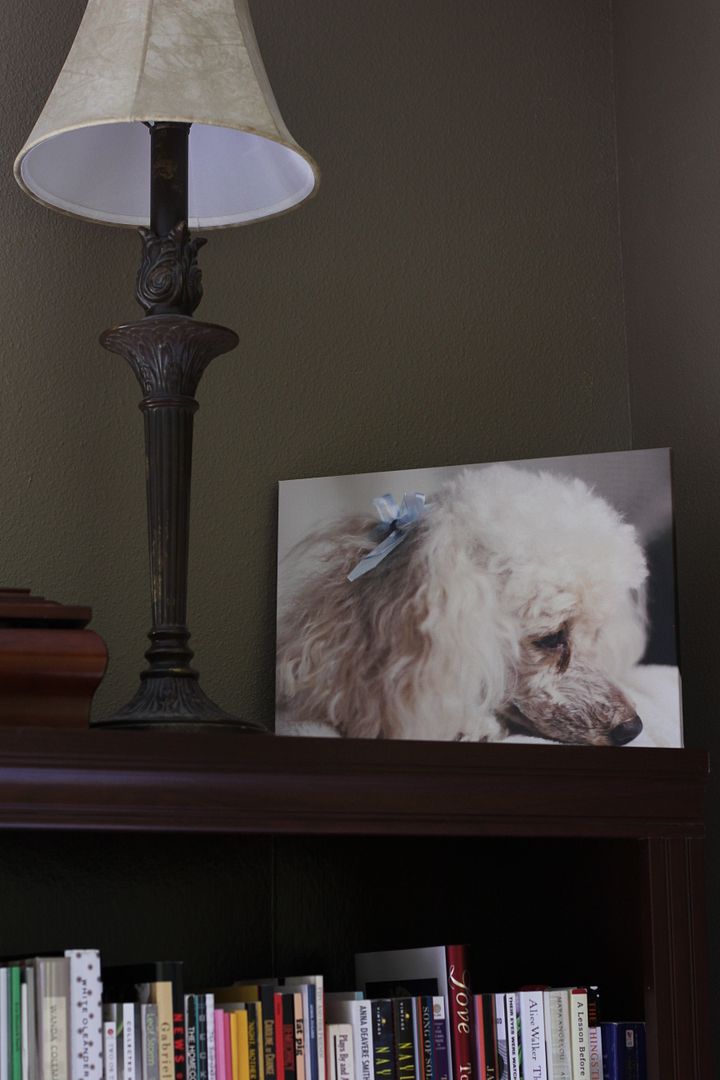 Awwww. Sweet haircut thanks to Tami at the Dog Salon.
In short, my experience with Easy Canvas Prints was a great one. It was an easy process with reasonable prices and a lovely result. I think you should go immortalize your pumpkin-wumpkin, too.
Now about that other pumpkin — Pumpkin Spice Pull-Apart Bread! Hopefully you've seen this lovely loaf being rebaked and reposted around other blogs, but Willow Bird Baking is the home of the original recipe. I cobbled it together from pumpkin yeast dough and cinnamon pull-apart bread recipes and had no idea if it would be the right texture or even come together at all. I'm so glad I had the courage to experiment, though, because it was phenomenal.
The aroma of yeast dough alone was enough to make it a success, but the sweet autumn flavors were the real victory. The buttery rum glaze complemented the mild pumpkin and cinnamon spice of the warm, tender yeast dough. The recipe takes a bit of time, but most of that is waiting for dough to rise — and of course the taste more than makes up for every minute of work.
Okay, spill it: What silly things have you done for your pets?
Pumpkin Spice Pull-Apart Bread with Butter Rum Glaze

---

Recipe by: Willow Bird Baking, adapted from All Recipes, Joy the Baker, and Pumpkin Tart
Yields: one loaf, about 8 servings
Prep Time: (including dough rising) about 3 hours

This sticky, sweet pumpkin pull-apart loaf is irresistible. It's made from layers of fluffy pumpkin yeast dough coated with browned butter, cinnamon, sugar, and nutmeg. Let it cool until it has just a hint of warmth left, drizzle on some glaze, and enjoy — preferably with the windows open to let in a crisp autumn breeze. Oh, and by the way, this recipe makes use of a stand mixer fitted with a dough hook, but there's no reason you can't knead this dough by hand. It'll just take a little longer (and a little more elbow grease).

Pumpkin Pull-Apart Bread Ingredients:
1/2 cup milk
3/4 cup pumpkin puree
1/4 cup white sugar
2 tablespoons unsalted butter
1 teaspoon salt
2 1/4 teaspoons (1 envelope) active dry yeast
2 1/2 cups bread flour

Filling Ingredients:
1 cup granulated sugar
2 teaspoons ground cinnamon
1/2 teaspoon fresh ground nutmeg
2 tablespoons unsalted butter

Butter Rum Glaze Ingredients:
2 tablespoons unsalted butter
1/8 cup brown sugar
1 tablespoon plus 1 1/2 teaspoons milk
1/2 cup powdered sugar
1/4 teaspoon rum (the original recipe called for extract, which I found too strong)

Directions:
Make the pull-apart bread dough: Grease and flour a loaf pan and set aside. In a saucepan over medium-high heat, brown the 2 tablespoons of butter. Let it bubble and foam and when you see it start to brown, stir it so that it browns evenly. When it's the color of dark honey, remove it from the heat and pour it into a large heat-safe mixer bowl to cool. In the same saucepan over medium-low heat, warm the milk until it bubbles. Remove it from the heat and pour it into the bowl with the butter. Let these cool until they're about 100-110 degrees F (use a candy thermometer to check). Set the saucepan aside for another use later. I use the same one throughout the entire recipe; why do more dishes?

Stir the sugar and yeast into the milk/butter mixture and let it sit for about 10 minutes to proof (it should foam; if it doesn't, discard it and try again with new yeast). Stir in pumpkin, salt, and 1 cup flour. If you haven't already, fit your mixer with a dough hook. Add the rest of the flour 1/2 cup at a time, stirring between each addition. When the dough is combined, knead on low speed with a dough hook until smooth and elastic (about 4 minutes with a mixer).

Place the dough in a greased bowl and cover it with a damp cloth. Let it rise in a warm place for about an hour until it doubles in size (After it rises, you can put it in the fridge overnight to use it in the morning, but let it sit out for half an hour before rolling if you do.)

Make the filling: While the dough is rising, whisk the sugar, cinnamon, and nutmeg together in a small bowl. Toward the end of the rising time, melt the 2 tablespoons of butter for the filling in the saucepan over medium-high heat and brown it as directed above. Put it in a small heat-safe bowl to cool for use later.

Shape and bake pull-apart bread: Knead a sprinkling of flour (about 1 tablespoon) into the dough, deflating it, and recover it. Let it sit to relax for 5 minutes. Flour a large work surface and turn your rested dough out onto it. Roll it out to a 20 inch long and 12 inch wide rectangle, lifting corners periodically to make sure it's not sticking. If it seems to be snapping back, cover it with your damp towel and let it rest for 5 minutes before continuing (I had to do this twice during the process).

Spread the browned butter over the surface of the dough with a pastry brush and then sprinkle the sugar mixture over the top, patting it down to ensure it mostly sticks. Joy the Baker encourages you to use it all even though it seems like a ton, but I admit I got squeamish at the amount and only used most. It was fine despite my nerves. Go ahead and pile it on.

With the long edge of the rectangle toward you, cut it into 6 strips (do this by cutting the rectangle in half, then cutting each half into equal thirds. I used a pizza cutter). Stack these strips on top of one another and cut the resulting stack into 6 even portions (again, cut it in half, and then cut the halves into equal thirds). Place these portions one at a time into your greased loaf pan, pressing them up against each other to fit them all in. Cover the pan with your damp cloth and place it in a warm place for 30-45 minutes to double in size.

While dough rises, preheat oven to 350 degrees F (or 325 if you have a glass loaf dish instead of a metal pan). When it's risen, place the loaf in the center of the oven and bake for 30-35 minutes until dark golden brown on top (if you take it out at light golden brown, it's liable to be raw in the middle, so let it get good and dark). Cool for 20-30 minutes on a cooling rack in the loaf pan while you make the glaze.

Make the glaze: In your saucepan, bring the butter, milk, and brown sugar to a boil over medium-high heat. Remove it from heat, add the powdered sugar and rum, and whisk it to a smooth consistency.

Assemble and serve: Use a butter knife to loosen all sides of the bread from the loaf pan and gently turn it out onto a plate. Place another plate on top and flip it to turn it right side up. Drizzle glaze over top. Serve each piece slightly warm with a drizzle of glaze.
Easy Canvas Prints offered me a discount on the canvas I ordered and asked for an honest review. My opinions are unvarnished and never influenced by products or discounts provided.
If you liked this post, please:
–Subscribe to Willow Bird Baking
–Follow Willow Bird Baking on Twitter
–Follow Willow Bird Baking on Facebook
–Give this post a thumbs up on StumbleUpon
Other ways to share this post with friends!