You know those "wreck the dress" photography sessions? A newlywed who probably spent her entire wedding day vigilantly guarding every last inch of white floof on her dress dons her bridal whites again. Only this time, she goes nutso and jumps in a lake or climbs a tree or runs through the rain while a photographer snaps away. Whatever she loses in wedding dress cleanliness, the bride usually gains in some amazing, fun photos.
It's an exercise in letting go, prioritizing things that really matter, allowing yourself to enjoy something temporary — all of those good things. I still don't know if I'd be able to do it. I did take baby steps last weekend, though, with a "wreck the croissant" session.
Here's the thing. When I make homemade croissants, I do not make them just to turn around and use them in other recipes. I do not make them to be shredded (perish the thought), toasted, or drenched with other ingredients. Imagining these things happening to my beautiful, pristine homemade croissants kind of makes me feel like hyperventilating a little.
I make them to EAT. To take pure, unadulterated bites of bliss — maybe with a smidge of butter and honey or jam if I'm feeling adventurous. But this weekend, something happened that changed all that.
Project Food Blog has pushed me out of my comfort zone on several occasions. I've been making dishes I've never made, hosting fancy dinner parties, and doing wacky phototutorials. I've been really pleased with how the competition has enriched Willow Bird Baking rather than detracting from its content — something I had vowed to monitor closely.
This is another one of those times. As much as I'd have loved to put my croissants under a bell jar in my living room to adore (until they disintegrated or got moldy, ew), I wanted to go the extra mile for the competition and show you a few croissant applications. So, with a heavy heart, I set about toasting croissants for Apple, Brie, and Toasted Pecan Panini and (eeek) soaking torn croissant pieces in custard for this bread pudding. I almost got teary. I think you can guess from the panini post, though (and these sweet individual bread puddings are no exception) — it was so worth the pain.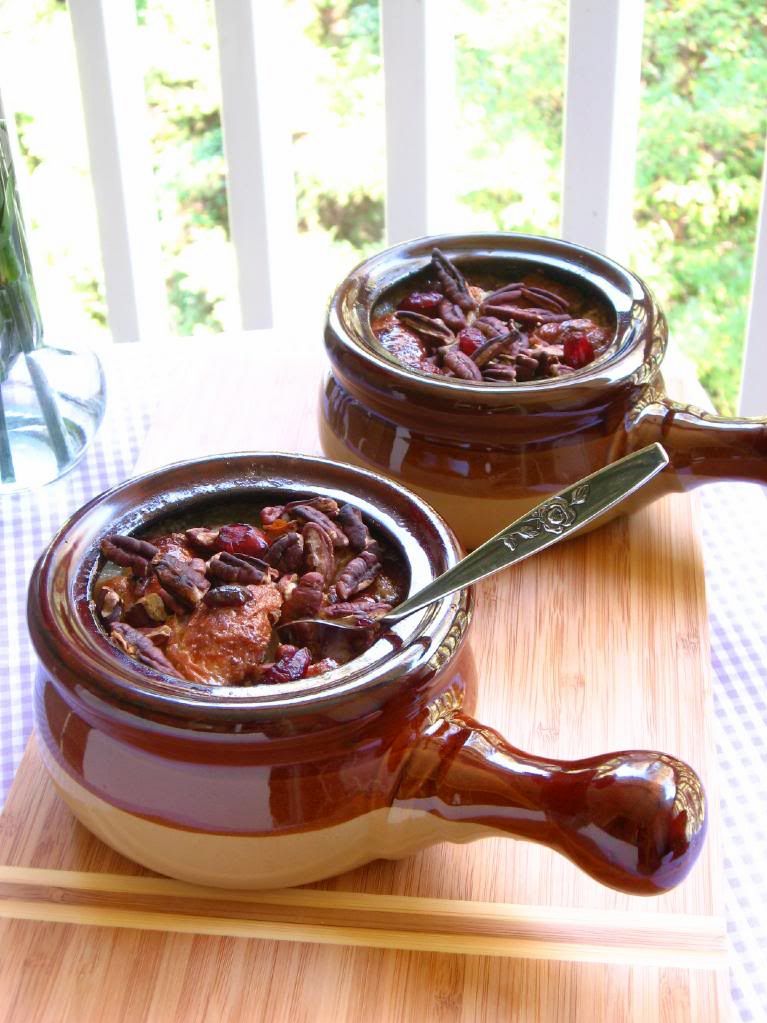 In fact, I would take my freshly baked croissants, shred 'em, and soak 'em again any day for this bread pudding. Each little bowl held a steaming, comforting combination of buttery, rich, creamy, hearty, nutty goodness. The cranberries added a festive flavor. In short, this was the perfect autumn dessert. I ate my whole bowl!
The original recipe was a little too sweet, so I've edited the version below to have the perfect amount of sweetness. One thing I particularly love about this "wreck the croissant" recipe is the fact that it makes two perfect-sized servings. You can always double it, but I was happy to make the exact amount I needed.
Happy wrecking!


Individual Cranberry & Pecan Croissant Bread Puddings


---


Recipe by: Adapted from Jessica Strand's Cooking for Two: Perfect Meals for Pairs
Yields: 2 4-inch bowls of bread pudding

Ingredients:
1/4 cup dried cranberries
1/4 cup pecans, chopped
2 cups heavy cream
1 vanilla bean (or about 2-3 teaspoons vanilla extract)
4 large egg yolks
3/4 cup sugar
1/4 teaspoon salt
3 large day-old croissants (preferably homemade! You can use fresh instead of stale if you don't have time)

Directions:
Preheat the oven to 350° F. Grease two ovenproof bowls (with 4-inch diameters) with canola oil or cooking spray.

Put the cranberries in a bowl and fill it with hot water. Let them sit for 20 minutes before draining. Toast the pecans: Place nuts in a dry skillet over medium-high heat and stir constantly. Once they begin to toast (when you start to smell them), shake pan to ensure all sides of the nuts are toasted evenly and none of them burn. Pour them out onto a plate and set aside.

Add the heavy cream to a medium saucepan and heat over low heat to a simmer. Add the vanilla bean: slice the bean in half lengthwise and scrape the seeds into the liquid; then add the pod (or just add extract). Simmer over low heat for 8 to 10 minutes before removing the vanilla bean pod.

Combine egg yolks, sugar, and salt in a medium bowl and whisk together. Slowly pour in the cream mixture while whisking quickly.

Tear the croissants into 6 pieces each and place in a medium bowl. Cover with the cream and egg mixture and allow the croissants to soak it up for about 10 minutes. Add the cranberries and mix gently. Separate the mixture evenly into prepared bowls and sprinkle toasted pecans over the top of each bowl. Place them on a baking sheet in the oven for 25 minutes or until set. Serve warm with whipped cream or ice cream, or with nothing at all!
If you liked this post, please:
–Subscribe to Willow Bird Baking
–Follow Willow Bird Baking on Twitter
–Follow Willow Bird Baking on Facebook
–Give this post a thumbs up on StumbleUpon
Other ways to share this post with friends!