In case you were wondering: No, I cannot eat all these desserts by myself. First of all, I'd rather not weigh 400 pounds — I just don't think that'd be a very fun way to live. Secondly, even if I developed some wonderful condition that kept me trim regardless of how much pie I ate, baking is no fun unless you can share it with people you love. For me, one of the most rewarding parts of being a food blogger is watching people enjoy the things I've made (that sounds creepy, like I sit and stare at them as they eat, but I'm sure you know what I mean).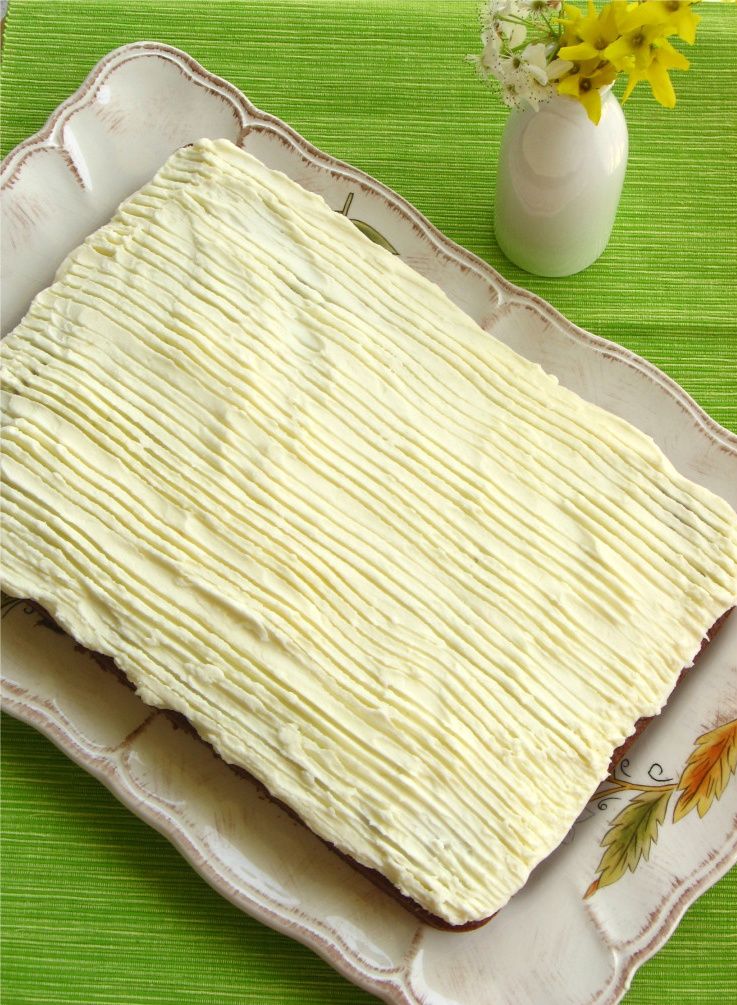 One group of folks I love to bake for is Mike's family. Each Sunday evening we gather at their house for dinner and I bring whatever dessert I've whipped up. His mom is a fantastic cook, so the meal is always devoured enthusiastically. Many times I almost don't think I have room for dessert! I say almost, because y'all know that there is always room for dessert.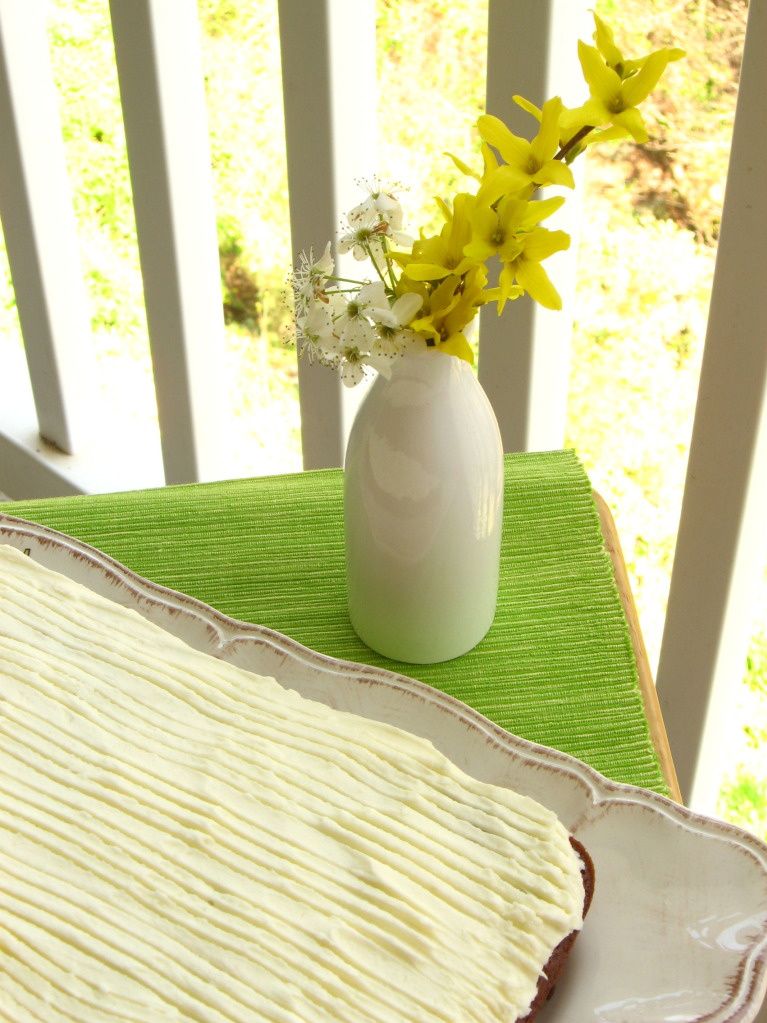 Yay, SPRING!!
One reason I love to bake for Mike's family is because they're always encouraging — even if the results of my culinary efforts that week are not perfect! Don't you love the people in your life who take one look at your runny pie and say, "Nevermind, it tastes delicious!" My own family deserves this praise as well, since they were served Coconut Cream Soup for Thanksgiving and ate it with cheerful smiles and compliments. Yep, those kind of folks are the keepers!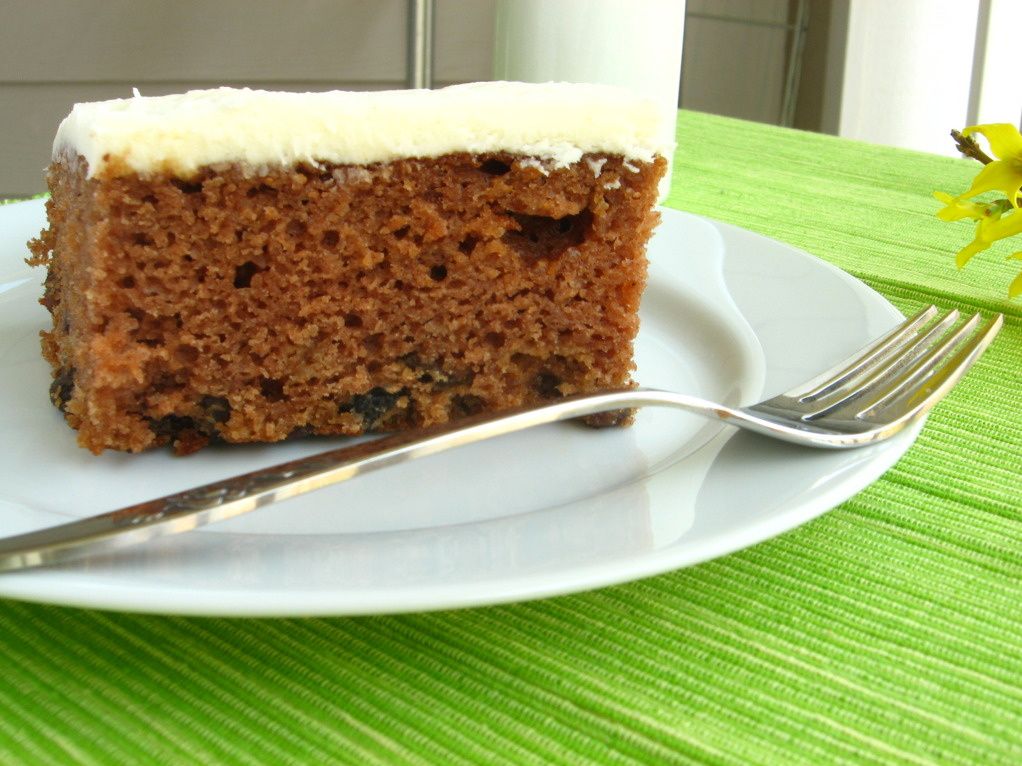 Because Mike's family has been so supportive of my baking, I jumped at the chance this past weekend to create something a little special for them. A couple Sundays ago, Mike's dad mentioned a cake his dad used to bring home from the old A&P store. The cake was called Spanish Bar Cake, and he described it as a dark brown cake with raisins and a creamy white frosting. I was so excited to recreate the memory that I started googling around that night.
What did I find? Well, first off, Mike's dad is not the only one by far who wants to recreate the cake! Many online forums had pages of nostalgic posters describing their childhood experiences with the cake. They discussed every facet of their vivid Spanish Bar Cake memories : the color, the texture, the pattern on the frosting, the shape, the packaging . . . ! I also found many copycat recipes that boasted an identical taste and appearance to the original.
Not having tasted Spanish Bar Cake myself, I found it difficult to settle on a recipe! There were a few key disparities I had to evaluate. First, some recipes used cocoa powder, while some were a more traditional spice cake. After asking Mike's dad to describe the color again, I decided to use the recipe that included the cocoa.
Another difference in the recipes I viewed was the frosting. Some used a standard cream cheese frosting, while others used white buttercream. I chose the latter, though I love cream cheese frosting. I reasoned that if the cakes were not refrigerated and had groove marks in the frosting, chances are the frosting would need to be safe when stored at room temperature and relatively stiff. Hence, buttercream. There were other, smaller decisions to make — things like nuts or no nuts (I chose no nuts), one layer or two (I chose one) — and then I was ready to bake!
One bonus of this cake is how simple it is to make! I must be on an easy cake kick. It's a two-bowl process (one for the cake and one for the frosting). In a nutshell, you mix the dry ingredients, add the wet, bake, cool, mix the frosting, frost. No fuss.
If you have fond memories of this old A&P cake, bake one up for yourself and enjoy a blast from the past. I'll add a note tomorrow to let you know how close to the original this recipe is, based on Mike's dad's reaction!
UPDATE: Score! Mike's dad said as soon as it touched his tongue, the memories came flooding back! Apparently this is it, folks! He even said it seemed a bit moister than the original. Hurray!
Spanish Bar Cake


---


Recipe by: compiled from various internet sources
Yields: one 9 x 13 in. cake

Cake Ingredients:
2 cups flour
1 1/2 cups sugar
1 1/2 teaspoons baking soda
1 tablespoon cocoa (I used Dutch process)
1 teaspoon cinnamon
1 teaspoon salt
1 teaspoon nutmeg
1 teaspoon allspice
1/2 cup vegetable oil
2 cups applesauce
2 eggs
1 1/2 cups raisins, soaked in warm water until plump and drained

Buttercream Frosting Ingredients:
1 cup white shortening
1 cup butter, softened
8 cups confectioner's sugar
1 teaspoon pure vanilla extract (can use clear if you want the frosting to be snow white)
4-6 tablespoons milk for thinning to desired consistency

Directions:
Preheat oven to 350 degrees F. Prepare a 9 x 13 in. baking pan with cooking spray (or butter and flour). Plump the raisins in warm water (I do this in a measuring cup that I'll use for wet ingredients later — one less dish to clean).

In a large bowl, whisk all dry ingredients together. Add oil, applesauce, and eggs. Mix well. Add in raisins and stir to combine. Pour batter into prepared pan, rapping 3-4 times on a counter to release trapped air bubbles. Bake for 30-35 minutes or until a toothpick inserted into the center comes out with only a few moist crumbs. Let cake cool completely before frosting.

To prepare frosting, mix all ingredients until well combined. Add more milk if needed for consistency. Frost completely cool cake. Use a fork to rake grooves into the frosting to resemble A&P's cake presentation.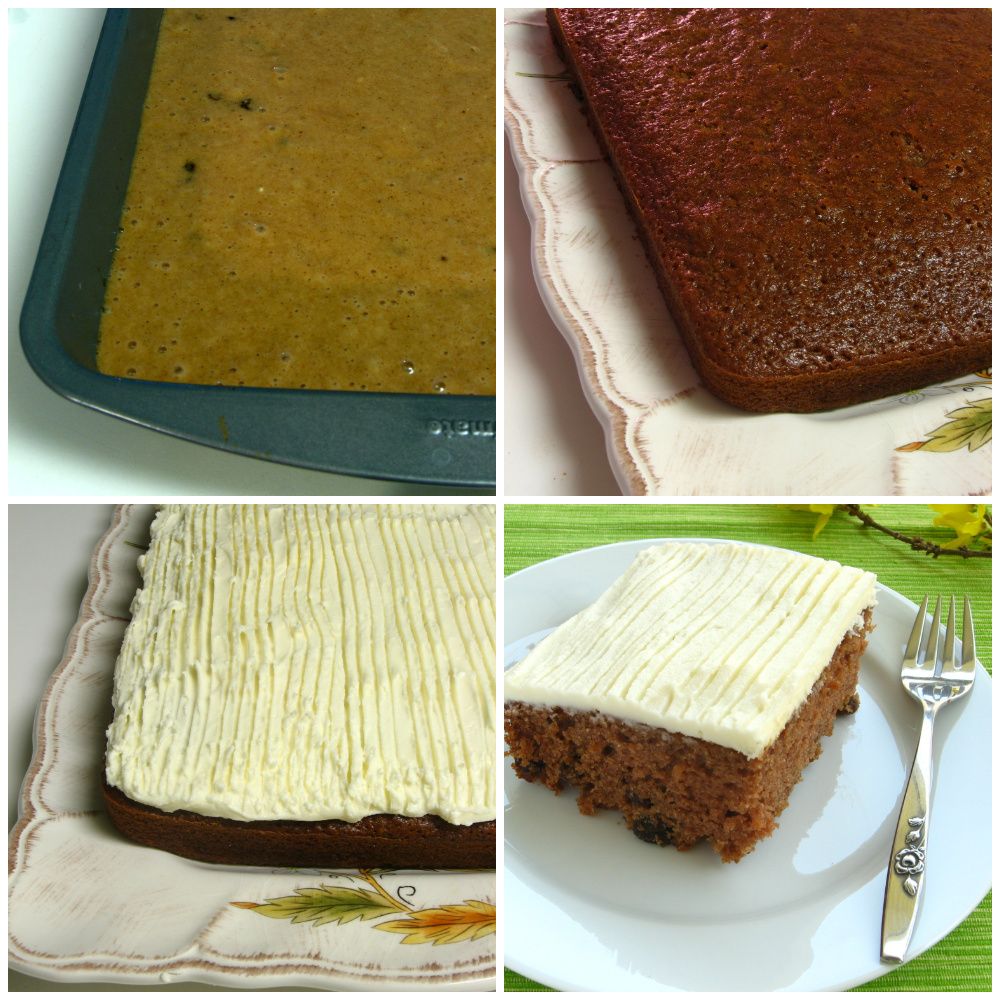 Share this post with friends!