I want to sing a song about these cupcakes. They're the most scrumptious combination I've tried to date: delicious little almond cakes, filled with creamy lemon and raspberry tartness and frosted with light-as-a-feather lemon buttercream. They tasted too BRIGHT to be called plain old cupcakes. I borrowed a bit from the British and named them fairycakes instead: Lemon Burst Fairycakes. I think you're really going to love these.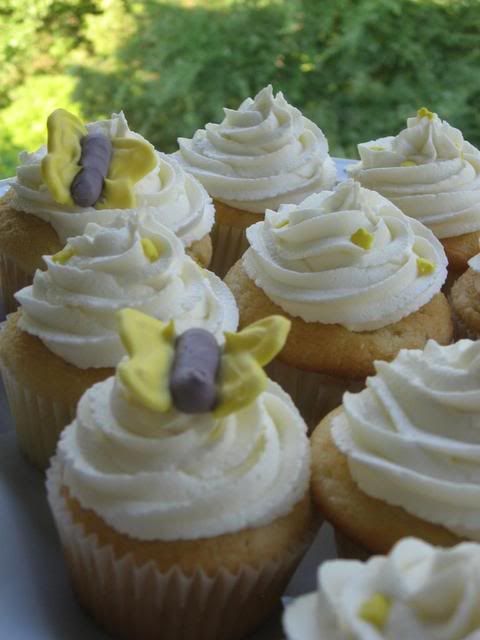 When you think of curd, perhaps you think of the nursery rhyme where an unfortunate child is accosted by an alarming arachnid; that is:
Little Miss Muffet
Sat on a tuffet,
Eating her curds and whey;
Along came a spider,
Who sat down beside her
And frightened Miss Muffet away.
The little rhyme refers to a cottage cheese like substance, but there are much more pleasant curds to be had. Fruit curds, to be exact, and lemon curd, to be even more exact. Lemon Burst Fairycakes are named such because they're bursting with creamy lemon curd.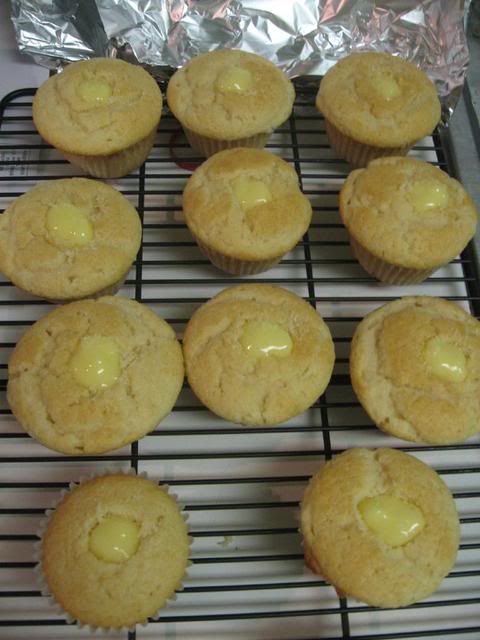 Lemon curd filling before the raspberry "surprise."
From what I've read about making lemon curd, some folks have trouble with the mixture curdling, but thankfully, I stumbled on a fantastic recipe that seems relatively fool-proof. Even if you're not planning on making the full cupcakes, do try the lemon curd. It's delicious on toast, on cookies, or on a spoon straight from the freezer, where it'll keep for 2 months! This homemade lemon curd is much better than the store bought kinds I've tried, by the way. Since it's so easy, it's worth making your own.
A word about the butterfly decorations on these fairycakes: they're, uh, not perfect. This was my first attempt at royal icing decorations, and I've decided it's not something you should do on a whim! I think I'll be better prepared next time. They're cute, but definitely . . . homemade. We'll say they have "character." Wait until you see the mess involved in creating them (in the process photos below)! I do hope you'll try some royal icing decoration, but maybe with a little more forethought than I gave. There are some tutorials online for creating lovely butterflies, as I discovered after I'd already piped mine!
If you're in a summery mood and would like some lovely lemon, whip up a batch of these fairycakes and enjoy! The recipe looks long because of the multiple parts (butterfly decorations, lemon curd filling, cupcakes, and frosting), but remember that you can leave the decorations out and still have a fantastic fairycake. I love to read about your results (and see photos!), so feel free to comment below.
Lemon Burst Fairycakes
---
Recipe By: Compiled and adapted by me, from:
–Cupcake Ideas Now! (cupcakes, slightly adapted)
–Nigella Lawson (royal icing for butterfly)
-Mom (buttercream, slightly adapted)
–Fine Cooking (lemon curd)
Yields: 24-30 cupcakes
Royal Icing Butterfly Ingredients:
2 large egg whites (or substitute powdered egg whites)
3 cups confectioners' sugar
1 teaspoon lemon juice
food coloring in desired colors
Cupcake Ingredients:
1 cup butter flavored shortening (at room temperature)
3 1/2 cups all-purpose flour
2 cups sugar
5 teaspoons baking powder
1 teaspoon salt
2 eggs
1 1/2 cups milk
1 teaspoon vanilla
1 teaspoon almond flavoring
1 teaspoon butter flavoring
2 tablespoons lemon juice (can use more, to taste)
grated lemon zest
30 raspberries for filling
Lemon Curd Ingredients:
3 oz. (6 tablespoons) unsalted butter, softened at room temperature
1 cup sugar
2 large eggs
2 large egg yolks
2/3 cup fresh lemon juice
1 teaspoon grated lemon zest
Buttercream Frosting Ingredients:
1 cup crisco (white) shortening
1 cup butter, softened
8 cups confectioner's sugar
1 teaspoon pure vanilla extract (can use clear if you want the frosting to be snow white)
1 teaspoon imitation almond flavoring
1 teaspoon imitation butter flavoring
2 tablespoon lemon juice
lemon zest, if desired
4-6 tablespoons sweet milk for thinning
royal icing butterflies for decoration
Directions:
Royal Icing Butterflies: Make your royal icing butterflies the night before you frost your cupcakes. Combine the egg whites and confectioners' sugar in a medium-size mixing bowl and whip with an electric mixer on medium speed until opaque and shiny, about 5 minutes. Whisk in the lemon juice, this will thin out the icing. Beat for another couple of minutes until you reach the right consistency. Separate frosting into separate bowls for each color you want and add food coloring; mix. Put frosting in pastry bag and pipe out individual butterfly wings. Once fully dry, create a "valley" by creasing wax paper or foil (see picture below) to lay each wing in. Pipe body in the middle. Let dry overnight.
Lemon Curd: Make lemon curd in advance as well so it has time to chill and thicken. In a large bowl, beat the butter and sugar with an electric mixer, about 2 min. Slowly add the eggs and yolks. Beat for 1 min. Mix in the lemon juice. The mixture will look curdled, but it will smooth out as it cooks. In a medium, heavy-based saucepan, cook the mixture over low heat until it looks smooth. (The curdled appearance disappears as the butter in the mixture melts.) Increase the heat to medium and cook, stirring constantly, until the mixture thickens, about 15 min. It should leave a path on the back of a spoon and will read 170°F on a thermometer. Don't let the mixture boil. Remove the curd from the heat; stir in the lemon zest. Transfer the curd to a bowl. Press plastic wrap on the surface of the lemon curd to keep a skin from forming and chill the curd in the refrigerator. The curd will thicken further as it cools. Covered tightly, it will keep in the refrigerator for a week and in the freezer for 2 months.
Cupcakes: While butterflies are resting and curd is thickening, make cupcakes. Pre-heat oven to 375 degrees. Put shortening in a mixing bowl. Sift dry ingredients together in separate bowl. With a mixer, mix the dry ingredients in slowly with the shortening. Add 1 cup milk and the eggs to the dry ingredients and beat until flour is fully moistened. Add the remaining milk and the vanilla, almond, and butter flavoring. Add the lemon juice and lemon zest and beat for about another minute. Place paper liners in muffin pan and fill halfway full with the batter. Bake at 375 degrees F for 15 to 18 minutes or until a toothpick inserted into the middle of a cupcake comes out clean.
When cupcakes are cool, cut a small hole in the center of each. Pipe or spoon in chilled lemon curd and top with one plump raspberry.
Lemon Buttercream frosting: Finally, make the buttercream frosting. Cream all ingredients together. Can add more sweet milk if needed. Frost completely cool cupcakes, using a pastry bag if available. I used star tip 1M. Use butterflies (dried overnight) to decorate!
Process Photos: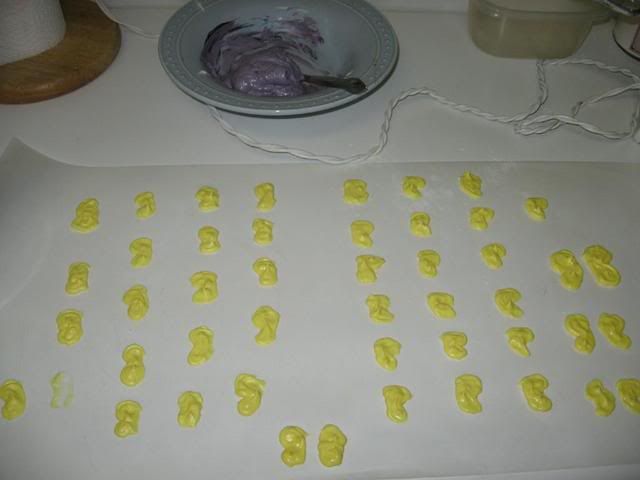 Royal icing butterfly wings piped out.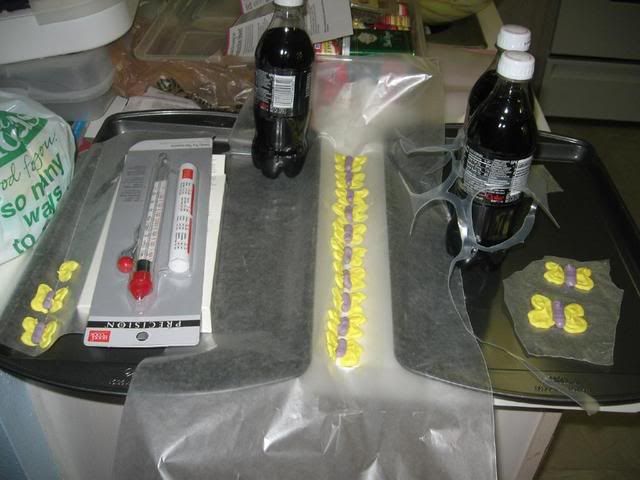 The crazy setup I used to create a "trench" for my butterfly wings. Butterfly
wings sit in the wax paper trench so that when their bodies are piped out, they
look like they're in flight. Notice the use of Coke Zero to hold the wax
paper in place. That delicious beverage is so useful.




Cupcakes ready for baking.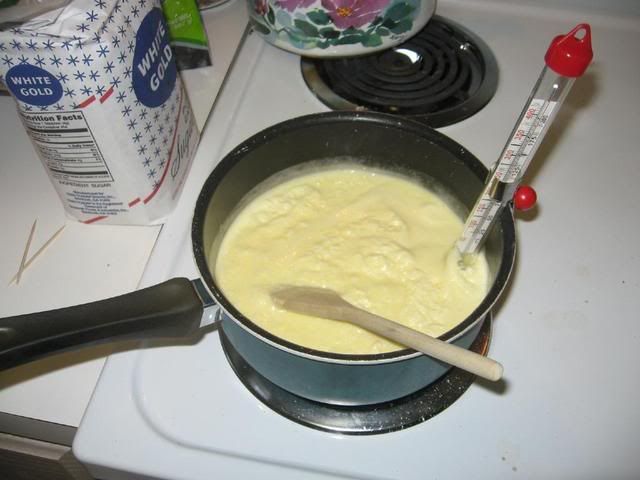 Lemon curd cooking.




Finished lemon curd!



Fresh from the oven.




Filled with lemon curd and raspberries.




All frosted and decorated!




Enjoy!